Some links on this page are monetized by affiliate programs - see disclosure for details.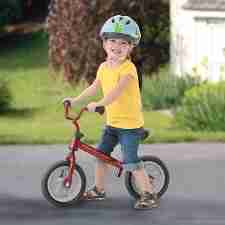 They say that you never forget how to ride a bicycle, but the problem is, you have to learn first. As many frustrated parents have found teaching a child to ride a bike without training wheels can be a painful and difficult experience.
Learning how to balance, use the brakes, and ride without training wheels can be overwhelming for a small child. This is why balance bikes are becoming more popular for teaching a child to ride a bike safely and more easily.
What is a Balance Bike?
A balance bike is a type of bicycle that is used to transition from training wheels to a bike without training wheels. These vehicles look just like any other bike. However, they differ in that they don't have pedals and they are used to nail down the basics of balancing before integrating brakes and pedals.
These are not meant to be rode forever, but they do help simplify the process of teaching a child without frustration. Once the child masters the basics, they can then move on to a larger bike without training wheels.
You may be interested in: Our guide to the best lunch boxes for kids
What are the Advantages?
Balancing a bike is crucial to riding it safely, and these bikes focus on teaching the child how to balance without the assistance of training wheels while removing the more complicated aspects of the bike, such as pedals and handbrakes. These bikes, when ridden with adult supervision, help a child master how to balance so that they can move on to a "big boy" or "big girl" bike.
What are the Different Types?
These have only very recently grown in popularity, so many parents may not know where to begin when it comes to purchasing one of these toys for their children. In order to ensure success, it is crucial to purchase a bike that is the proper size for the child that will be riding it, as well as evaluating the different types available on the market. A balance bike isn't useful at all if it's uncomfortable or difficult for the child, so before investing money, learn more about the different types that are on the market.
• Foam wheels – These bikes have foam wheels that are more lightweight, cheaper, and will not puncture. These are best for younger children who will be riding on smoother surfaces, as the wheels are not designed for use on rougher terrain. The lightweight design makes it easy for young children to pick the bike back up again when they take a spill, and the cheaper tired often result in a lower priced bike.
• Rubber wheels – These have wheels that are just like those found on regular bikes. They are made of rubber, are more heavyweight and durable, and they are good for use on all types of terrain. The drawbacks are that these are heavier, making it more difficult for a child to life the bike, they can puncture, and they are more expensive.
• Wooden bikes – These have a frame that is made of wood, and they are fairly durable when kept in an enclosed space. However, these are not as durable as steel-framed bikes, and they may not withstand riding on rougher terrain. These are very unique, though, and kids like the way they look more like a toy.
• Steel-framed bikes – These are more like regular bikes in that the frame is made of steel. These are more durable the wooden ones, but they aren't quite as unique.
Which Balance Bikes are the Best on the Market in 2015?
Chicco Red Bullet Balance Training Bike – This is a great teaching tool that kids will love to ride before they get their next big girl or big boy bike. This model boasts features like an adjustable, lightweight frame, adjustable seat, and sturdy design, all at a price less than $100, making this a great budget buy.
Smart Gear Classic Balance Bike – This bike has a retro, nostalgic look but it has everything you need to get your child safely riding without training wheels. The bike comes with an adjustable seat that grows with your child, a carrying handle that makes it easy to take to the driveway or even out to the park, and safety features like limited steering that help your child get the basics down pat before riding a traditional cycle.
EZee Glider Kids Balance Bike Cro-Moly with Patented Slow Speed Geometry – This bike isn't just built for performance – it also has a sporty look similar to more traditional bikes that kids will love. Standout features besides its design include a low and safe balance speed, a handbrake, tool-free seat adjustment, and a solid steel frame.
Features to Think About
Now that you know some of the basics about these types of cycles and you want to try one for your child, it's time to make your purchase. This is when you really need to begin looking at the unique features of each bike to ensure you make the right purchase. After all, you don't want to spend your hard earned money on something that's not comfortable or useful for your child. To begin your shopping experience, keep an eye on these four features for each bike you're considering.
Age range
You don't want to buy a bike that is too large or too small for your child, which is why you need to measure your child and look for a bike that is built for his or her size and recommended for his or her age range. A smart shopper will find a bike that has multiple adjustable features that grow with the child so it doesn't have to be replaced.
Safety features
Safety should always come first, and along with buying pads and a helmet for your child, you should also look at the included safety features on the bike, including durable wheels, a handbrake, and limited steering to prevent accidents.
Price
These bikes range in price from around $50 to several hundred for a top-of-the-line model. Evaluate all features before deciding solely based on price. The big expensive bike you're eyeing may be too large for your child, while the cheapest model may not be equipped with features that help keep your child safe.
Comfort features
No child is going to want to ride a bike that is uncomfortable or just downright painful. Look for features like a padded seat and adjustable handlebar to make their ride smooth and easy.
Age range
Chicco Red Bullet
This model is designed for use by children ages 3 and up.
Smart Gear Classic
This bike is recommended for children ages 2 and up.
EZee Glider
This model is best for kids ages 18 months up to 4 years.
Safety features
Chicco Red Bullet
This model comes equipped with adjustable frame, handlebars, and seat to make it the perfect and safe fit for any child.
Smart Gear Classic
Standout safety features include spokeless wheels, pneumatic tires, and limited steering radius.
EZee Glider
This has 40 fine-grip tweezers to provide you with faster results on all areas of the body.
Price
Chicco Red Bullet
With an entry-level price, this is an affordable option for parents on a budget.
Smart Gear Classic
This bike comes with a handbrake that is the right size for smaller hands. It also has a lower center of gravity, making it one of the most balanced bikes on the market.
EZee Glider
This is one of the more expensive models.
Comfort features
Chicco Red Bullet
Comfort features on this budget-friendly model include a padded seat, ergonomic frame, rubber handlebar grips, and soft wheels that make for a smooth ride.
Smart Gear Classic
Comfort features include a 5-position adjustable padded seat and rubberized handlebars.
EZee Glider
This has an easy to adjust seat, adjustable handlebars, a padded seat, and foot pegs for comfort.
Our Balance Bike Reviews
Some parents are hesitant to purchase a balance bike since they will have to purchase another bike once the child learns how to ride. For parents who don't want to spend a fortune, this model from Chicco is priced just right. This model comes in a classic red color, as well as pink.
This bike also has many of the great features found on more expensive models, including a padded, comfortable seat, rubber grip handlebars designed for comfort, and adjustable seat, frame, and handlebars. The bike is lightweight, so it's easier to lift and control, and it's designed for use by children 3 years old and up, up to 55 pounds. It is also equipped with soft tires that provide a smooth and comfortable ride.
Pros:
It is affordable. It has a lot of comfort features that make it easy to ride. It comes in two great colors. It is easy to assemble. It has classic styling that looks great. It feels very durable.
Cons:
It only has a 2-inch height adjustment, much less than other models. It is smaller than other models and may be outgrown quickly. The tires are plastic, so it's not for people who want real rubber tires. The plastic tires emit a strange odor.
This nostalgic wooden bike has a retro look and feel, combined with modern features that make it safer and more comfortable for children. Kids ages 2 and up can enjoy learning to balance a bike on this unique vehicle, which has a sturdy wood construction that is both durable and stylish. This bike is designed to grow with a child, boasting five adjustable seat positions.
This model has pneumatic wheels, limited steering radius, rubberized handlebars, and spoke-less tires for safe riding. When the bike falls over or needs to be moved indoors, it has a unique carrying handle that makes it easy to tote from place to place.
Pros:
It has a very unique look. It is made with renewable and sturdy birch wood. It has an attached carrying handle. It has a cushioned seat. It easily grows with a child.
Cons:
If not protected, heat, humidity, and rain can cause the wood to soften. The assembly instructions are a bit difficult to follow.
If your child wants a bike that most resembles others on the market or the one like his older brother or sister rides, this model fits the bill. It looks very similar to traditional steel-framed bicycles with the added benefit of not having pedals and being designed to teach the basics of balance and riding.
This model comes equipped with everything a child needs to stay safe and comfortable. The seat is easily adjustable and does not require any tools. It has a low speed geometry and center of gravity for the best balance. Removable foot pegs are also included that allow a child to learn how to balance more quickly. A handbrake is built in for safe and slow stopping. This, combined with the modern design, makes this a top choice for parents who want to teach their children to ride more easily and safely.
Pros:
It has a great design. It has a built-in handbrake, not found on many other models. It is perfectly balanced for easy riding. The 12-inch tires make it more stable and easier to ride. The seat is padded for comfort. The seat is very easy to adjust, so it grows with a child.
Cons:
It is one of the more expensive bikes on the market. The paint may chip over time.
Parents who want to get rid of the frustration of teaching a kid to ride a bike will find that a balance bike is a great solution that really helps kids learn the basics much easier than using training wheels or falling on a larger bike. When shopping for one of these miniature vehicles, the Ezee Glider is a top choice to consider. Although it does have a more expensive price tag than other models, it has many safety and comfort features that makes it a standout bike when compared to others. The styling, features, and balanced design make this an ideal pick for any young child who wants to learn to ride a bike.