Some links on this page are monetized by affiliate programs - see disclosure for details.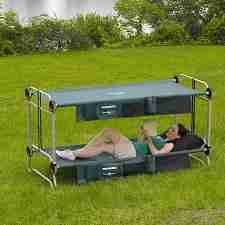 Staying in the great outdoors is a pastime that people of all ages enjoy. Going camping in the wilderness is a great way to unplug from all of the technology and stresses of the world, connect with nature, and just enjoy a laidback, low-stress vacation away from it all. One of the things that some people dislike about camping is that some of the comforts from home are taken away. This includes a comfortable bed.
Sleeping in a sleeping bag on a hard floor may result in aches and pains the next morning, and an air mattress may spring a leak that renders it useless. One thing that many smart campers make sure to pack is a camping cot for a comfortable night's rest in the great outdoors.
Introduction: What is a Camping Cot?
A camping cot is a type of portable bed that is used for camping, although it can also be used in other situations, like when you need an extra bed for an overnight guest. In most cases, though, it is used as a portable bed for outdoor excursions. It folds up easily so you can embark on a hike or fishing trip in the morning, and the design makes it easier to carry from place to place.
These cots provide comfortable sleeping areas for adults and children where a bed is not available.
What are the Advantages?
If you don't want to sleep on the hard ground and you want somewhere comfortable to relax, nap, or sleep overnight, a camping cot is the ideal solution. While these cots aren't comparable to fluffy pillow top mattresses, they are sturdy and comfortable enough to prevent aches and pains from lying on hard surfaces. These cots come with sturdy frames that are able to hold you comfortably while you sleep, and unlike air mattresses, you don't have to worry about punctures.
What are the Different Types?
If you enjoy spending time in the great outdoors, you know the importance of investing in good equipment and necessities, including a hiking backpack, a tent, and other items, and you should add a camping cot to your list. Before you buy the first cot you find, however, the first step is to just go distinguish between the two types of cots to find the one that will work best for you.
End bar cots – These have "X" shaped poles at each end. They are very supportive and sturdy. The one drawback, however, is that the poles can have sharp edges that can rip a tent.
No-end bar cots – Instead of X-shaped bars, these have rectangular poles distributed throughout the cot to offer support. These are very supportive and they do not have sharp edges, but they may not be as stable.
Which Camping Cots are the Best on the Market in 2015?
Coleman ComfortSmart – You don't have to spend a fortune to get a great cot, as showcased with this model from Coleman. This one boasts a sturdy, secure frame that is very supportive, and a comfortable mattress that makes sleeping outdoors more luxurious. When not in use, it folds into a compact size that easily fit in most car trunks.
Kamp-Rite Oversize Tent Cot – Reduce the load you have to carry to your campsite by investing in this innovative tent cot. Instead of carrying a separate tent and cot, you'll get two products combined in one. This product keeps you protected from bugs and the elements, and it is extremely versatile, going from lounge to flat cot to chair.
Disc-O-Bed Cam-O-Bunk – If you're going on a trip with family or friends, bunk together in this neat bunk cot, which comfortably sleeps two people without taking up too much floor space in your tent. Separate organizers also allow you to keep your personal items right at hand and organized.
Features to Evaluate
Once you decide that one of these cots is what you need to make your next outdoor excursion even better, the next step is to make your purchase. You want to make sure that you purchase a product that's comfortable, within your budget, and is easy to take with you on trips. Look for these four features to narrow down your purchasing options.
Price
Cots range in price from around $50 to a basic cot up to several hundred dollars for a more high-end product. Figure out your personal budget before making your purchase, but don't overlook key features that may be worth the extra expense, including built-in organizers, a lightweight design, and a more comfortable mattress.
Weight Limit
Cots are designed to hold up to a certain weight limit. If this limit is exceeded, the product may break and be useless, and it can be dangerous for you. Make sure to check the weight limit before you make your purchase to ensure you get a product that's going to work for you.
Height Limit
While being too tall certainly won't break your cot, it can make for an uncomfortable rest. If you're very tall, look for extra-long cots designed to comfortably fit your height.
Warranty
No one wants to buy a product that breaks on the first use. To avoid getting a lemon, look for a product that comes backed with a warranty that protects against defects in the craftsmanship and materials of the bed. With a warranty, something that breaks due to no fault of your own will be covered and can be repaired or replaced with no additional expense to you.
Price
Coleman ComfortSmart
This is one of the most affordable cots on the market. This is a great choice for the budget-minded camper.
Kamp-Rite
This model retails for quite a bit more. However, when considering that it also comes with a tent and no separate tent is required, this is actually a great deal for any budget-conscious shopper.
Disc-O-Bed Cam-O-Bunk
This is considered a more high-end cot. However, it is a great deal when you consider that you get two for the price of one.
Weight Limit
Coleman ComfortSmart
This cot is designed to support a person that weighs up to 275 pounds.
Kamp-Rite
This model is designed to hold amounts of weight up to 300 pounds.
Disc-O-Bed Cam-O-Bunk
This safely supports up to 500 pounds per single cot.
Height Limit
Coleman ComfortSmart
This product is the right size for users 5 feet, 7 inches and below.
Kamp-Rite
With a length of 90 inches, this product is the perfect size for campers of any height, including those 6-feet and taller.
Disc-O-Bed Cam-O-Bunk
Each bunk is 79 inches long, so it is the ideal size for people of any height.
Warranty
Coleman ComfortSmart
You can relax knowing that this product is backed with Coleman's 1-year limited warranty.
Kamp-Rite
A 1-year limited warranty protects the cot from manufacturer's defects.
Disc-O-Bed Cam-O-Bunk
This product comes backed with a 1-year limited warranty from the manufacturer.
Our Camping Cot Reviews
If you're traveling on a budget, you don't have to spend a fortune on your gear, like when you purchase this cot from Coleman. You won't sacrifice comfort, either, since this cot is designed to provide you with a comfortable place to sleep or just relax after a long day of hiking, fishing, and enjoying the great outdoors.
This cot is perfect for a variety of people, holding up to 275 pounds and supporting people up to 5'7". It has a comfortable, thick foam mattress, a stable, durable frame, and it folds up to 34 x 25 x 5 inches, so it's easy to pack in your car and carry with you to your camp site, and it is comfortable enough for a child or adult.
Why haul a tent, a cot, and a bunch of other gear when you can simplify your camping equipment with this combination tent and cot from Kamp-Rite. This model is unique in that it is a cot that is fully enclosed within a tent. This keeps you off of the ground, protected from the elements, bugs, and snakes, while allowing you to enjoy all that nature has to offer.
This cot is fully framed, sturdy, durable, and easy to set up. The nylon tent is fully enclosed, and it has mesh door panels that can be used if you want to enjoy viewing nature or take in some extra air. Even when fully closed, air still circulates, allowing you to stay comfortable in any condition. The cot is extra roomy, providing you with the space you need to sleep and relax. The tent portion folds down to convert to a flat cot, while you can also raise an end to convert to a comfy outdoor lounge chair. This tent measures in at 90 inches, making it long enough for taller campers, and safely supports up to 300 pounds. It also includes a rain fly for bad weather and a 1-year warranty for your protection.
If you have multiple campers in your tent, you know how sleeping bags, air mattresses, and multiple cots can take up too much floor space. This is why the Disc-O-Bed is so innovative. This allows you to use two different cots set up like bunk beds, so two people can sleep comfortably without cluttering up the tent. Each cot holds up to 500 pounds so it is very sturdy and durable enough for two adults.
The frames are rust resistant, the sleeping decks are well ventilated and can be removed for cleaning, and the cots are easy to set up with no tools required. Each cot has its own attached organizer that lets you keep your most important personal items close at hand. These organizers also help provide more space throughout your tent. There is a 21" clearance between the two bunks. Each camper can relax and sleep comfortably without feeling closed in.
In Conclusion
Whether you're planning a night out under the stars or you have house guests and no extra beds, a cot is a great way to provide a comfortable place to sleep without taking up too much space. The Disc-O-Bed Cam-O-Bunk is an ideal choice for a number of reasons. Despite its higher price tag, it sleeps two people with ease, has high weight limits because of its strong and durable materials, provides built-in storage options, and sets up in just minutes, making it the perfect choice for camping trips or overnight visitors.