Some links on this page are monetized by affiliate programs - see disclosure for details.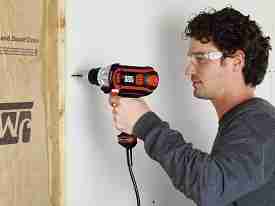 Corded drills are useful for heavy-duty hole boring as well as for a wide range of other tasks. Tasks that can be made easier with this power tool include removing paint (with a wire brush wheel), fastening pieces, and stirring compounds. Below you will find a detailed look at some of the best drills on the market.
The three drills covered in this review are the best in their respective categories. They represent the best of the budget corded drills, as well as the best of the high-end drills along with a best-of-both worlds option that balances both cost and value.
The 10 Top Rated Corded Drills to Buy in 2018

Our Corded Drill Buyer's Guide
Just to make sure that we are all on the same page, it is probably a good idea to take a look at what corded drills are.
A corded drill is a power tool that you connect to an electrical outlet built to drive a drill bit or attachment left or right. This is as opposed to a battery-powered cordless drill, which has its own power source but generally less power.
What are the Advantages Choosing Corded over Cordless?
Established Track Record
Corded drills have been around for a very long time and are widely used by everyone from contractors and carpenters to hobbyists and DIYers. This means that you will be able to benefit from the numerous tried and tested improvements that have been made by manufacturers over the years.
More Power
Cordless drills are now more affordable and are useful for many lighter duty jobs; however, they lack certain features that make corded drills essential tools. For instance, corded drills provide greater torque and that torque is more consistent than that provided by cordless drills.
Faster Top Speeds
The rotational speeds for corded drills are usually higher than the rotational speeds of cordless drills. This is important when using smaller bits that are designed for use at higher speeds. It can also be important when using accessories like wire wheels and buffing wheels.
No Battery
Cordless drills are heavier than corded drills due to the necessity of a battery – sometimes depending on how heavy duty the drill in question is. The battery also adds to the weight of the tool and of your toolbox. Consider the fact that you will likely need multiple batteries in order to get a large project done. The disadvantage here is that you'll always be tethered to an electrical outlet or extension cord while on the job.
No Battery Means Unlimited Power
A cordless drill's batteries are guaranteed to run out of power eventually. Its usefulness depends on whether you have a charged battery or not. When you grab your corded drill, all you need is an outlet and it will be ready to work.
What are the Different Types you can Buy?
Drill/Driver
These are the standard power tools used by most homeowners. They have a pistol grip and the user pulls a trigger to operate the tool. A drill/driver is adequate for most lighter duty projects around the home as well as the occasional heavy duty one.
Hammer Drill
These provide more power than a standard drill/driver due to their pulsing action as they rotate. The bit is forced in and out by two steel plates. You can switch this action on and off so that you have the hammer action only or the rotating action only. Hammer drills are designed for heavy-duty work such as drilling into concrete and wall installation.
Rotary Hammer Drills
These are known as masonry drills or roto hammer drills. They can be used to drill larger holes such as holes in concrete for lag bolts. They provide more power with less vibration.
Angle Drills
These are designed for work in tight spaces. They have bits that are perpendicular to the grip. They are perfect for electrical and plumbing work that may require the user to work in a tight space or around a corner.
Impact Drivers
These drills have no chuck. The chuck is the component that turns the bit on a standard drill. It uses a pair of vise grips attached to the shank instead. The result is that between two and three times the torque is transferred to the bit.
Drill Handle Styles
Pistol Grip
Drills with this type of handle are shaped like pistol, with the handle located below and to the rear the motor. This is the most common handle-style.
T-Handle
Typically seen on cordless drills, the T-handle shape has the handle located below and towards the front of the motor. This can reduce the strain on your wrists since the weight is more evenly distributed.
D-Handle
The handle and the trigger are both on the same level as the motor and are located behind it. The handle and trigger form a D shape.
Spade Handle
Drills with this type of handle are shaped like T-handle drills but with have another handle located behind the motor. This handle provides additional leverage for tougher jobs.
The Contenders for Best Corded Drill
This drill features Black & Decker's quick connect system. The system allows you to make tool-free changes between various attachments. The device comes with the drill/driver attachment and the base power unit. In addition, you can purchase six other attachments separately.
This allows you to grow your tool collection at your own pace. This drill's small size allows you to perform various tasks in small spaces without the problems that would be encountered with a larger drill. In addition, it provides adequate power with a relatively light weight.
The 1006VSR is a mid-range drill that has more than enough power for heavy-duty home maintenance/renovation projects as well as for many professional tasks. It has a number of features that make it comfortable to operate for extended periods while being easy to maintain and durable.
This drill has a 3/8-inch keyless chuck and a lock-on switch that is recessed in the handle so that it does not get locked on accidentally. This drill's other unique features include its service minder brushes which stop the tool when maintenance is needed. It also has a strong belt clip and a soft grip to make holding it more comfortable.
If you need a drill for rugged tasks that call for lots of torque, the DW130 is perfect. Along with the reputation for quality that comes with the DeWalt brand name, the DW130V has handles that provide leverage and make it easy to hold even while performing difficult tasks like mixing drywall mud and drilling through steel. It is the perfect high-end heavy-duty tool for the professional user and serious home handyman.
Considerations for Choosing the Best Quality Product
Power
The more power your motor has, the better your drill will be for a wide range of jobs. When choosing a drill, consider the tasks that you will be using your drill to perform. The power of a drill motor is measured in amps. While there is a great deal of variation when it comes to amperage, most drills are in the 5-10 amp range. The higher the amperage, the faster your drill will be and the better it will perform. Amperage will also affect the lifespan of your drill, as a higher amp motor will last for longer without burning out. When it comes to corded drills, it is always better to have more power.
Drill Speed
Factors that determine the speed that you should use for a particular task include the type of material, the type of bit and the amount of force you are using to push the drill. For most jobs around the home, you will need a drill that can drill at speeds between 700 and 1,000 RPM. You will also need the ability to vary your speed based on what you are drilling. For example, you will need a higher speed if you are drilling through metal than if you were drilling through wood.
Comfort
You should get a drill that is light enough to be used for extended periods without causing fatigue. Ergonomic features may include a side handle that may make the tool easier to hold for some drilling jobs. The ability to lock the drill on may also be helpful if you want to be able to drill without keeping constant pressure on the trigger.
The Chuck
Drill chucks come in three standard sizes. The size of the chuck is what dictates the maximum size of the bit that the drill can hold. Standard chuck sizes are:
1/4-inch
3/8-inch
1/2-inch
Drills with 1/4-inch chucks are for light-duty tasks and very small holes, while a 3/8-inch chuck will fit bits for typical tasks around the home. 1/2-inch chucks are for larger holes and heavy-duty tasks. The chuck will be able to fit the bits up to its diameter, so that a 1/2-inch chuck will be able to fit both 1/4-inch bits and 3/8-inch bits.
Power Features
Black & Decker BDEDMT
It has a 4.0 amp motor that can deliver enough power for numerous household tasks. Its impact driver attachment can deliver up to 1,300 inches-per-pound of torque.
Bosch 1006VSR
The ratio of power to weight is the best in this class with the 1006VSR's 6.3 amp motor and its 3.475lb weight.
Dewalt DW130V
The DW130V has a 9 amp 120 volt motor that provides ample power for most drilling tasks. It also has a 1/2-inch chuck and produces up to 550 RPM of torque.
Drill Speed Features
Black & Decker BDEDMT
The drill attachment for the BDEDMT has a speed of 1,200 RPM, which makes it effective for drilling holes in a variety of materials, including hardwoods and steel using medium sized drill bits.
Bosch 1006VSR
This Bosch drill delivers a maximum of 2,600 RPM, this makes it ideal for drilling in hardwoods and steel with smaller drill bits.
DeWalt DW130V
The speed of the DW130V with no load is 550 RPM, which means that it delivers higher torque for those jobs that need more power.
Comfort Features
Black & Decker BDEDMT
The BDEDMT has a T-Handle for better weight distribution and reduced wrist fatigue. At 3.8lbs, it is one of the lighter drills available. The low weight also helps to prevent fatigue.
Bosh 1006VSR
This drill has a soft grip for added comfort. Its two-finger trigger also makes it more comfortable to use when you are changing speed constantly. Its 3.475lb weight makes it easy to carry and less likely to cause fatigue.
DeWalt DW130V
The DeWalt drill's spade handle is useful when performing tasks that require you to drill in a downward direction. You also get side handles that can be adjusted to any of three positions thus ensuring that you get maximum leverage. The fact that it has a T-handle as well means that the weight is distributed evenly and will strain your wrist less. It also has a soft grip for added comfort in the hand.
Chuck Features
Black & Decker BDEDMT
With a 3/8-inch chuck, this drill is suitable for the vast majority of tasks around the home. The chuck is keyless, so there is no need to carry a separate piece in case you need to change bits.
Bosch 1006VSR
The chuck on this drill is a Jacobs ratcheting chuck that has a patented internal mechanism to hold on to the bit tightly. Use the 3/8-inch keyless chuck for most of the jobs that the serious DIYer or construction professional will be performing.
DeWalt DW130V
The DW130V's chuck allows for the use of larger bits as well as hole saws since most hole saws are designed for use in a 1/2-inch chuck. This drill has a keyed chuck that is useful for extra heavy-duty work as it provides additional torque on the bit to prevent slippage.
Conclusion: Our Top Drill Reviews Are In

The ability to have a powerful, lightweight drill/driver along with the tool's ability to accommodate various other attachments on the same power base makes this the best budget drill available. For a low price, users can have a tool with the power and flexibility to handle a variety of tasks around the home.
Pros
• Low price
• Compact size
• Adequate power
• Easy to hold and to use
Cons
• Not designed for heavy duty tasks

With exceptional power for the weight and price, the 1006VSR stands out as the best mid-range corded drill. Its 6.3 amp motor and 2600 max RPM make it more than adequate to handle both heavy-duty around-the-home jobs and some professional work as well.
Pros
• Jacobs ratcheting keyless chuck to minimize slippage
• Two-finger trigger
• Lock-on switch designed to prevent accidental lock-on
Cons
• Plastic chuck, which while durable is not as durable as metal

What makes this drill the best overall is the fact that it provides excellent power for a variety of high-torque jobs. It provides years of demanding work, which makes it ideal for a professional or a homeowner who takes on heavy-duty jobs. It's our winner for the best corded drill overall.
Pros
• Multiple options for handle placement, which provides leverage from various positions
• The 1/2-inch keyed chuck will provide both the size and slip-prevention needed for rugged tasks.
Cons
• Not suited for drilling small holes where a fast drill is needed
Final Thoughts
The right tool can make a big difference in the ease of performing a task as well as in the quality of the work done. A homeowner on a tight budget who wants to handle simple projects around the house may be willing to compromise on power for the versatility offered by the Black & Decker BDEDMT. Those who require additional power for more demanding tasks may find it worthwhile to spend extra for the Bosch 1006VSR. For anyone who is in need of a rugged and reliable tool for years of heavy-duty use, the DeWalt D130V is an excellent purchase.
If you need a tool that will provide ample power for the most demanding tasks, the DeWalt D130 is clearly the drill to own. It is a wise investment that no serious DIYer or professional is likely to regret.