Some links on this page are monetized by affiliate programs - see disclosure for details.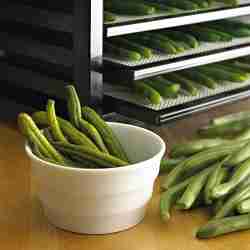 Being dehydrated isn't always a bad thing. While you never want to allow your own body to get dehydrated, removing the water from food is actually something that's very popular all across the world. When you dehydrate food, you remove the water, which results in something that tastes and looks different than before.
Some of the most popular snacks are dehydrated, including dried fruit in trail mix and beef jerky. The traditional method of hanging food to dry in a special room takes days, but there is a faster way to make your own dehydrated goodies and that is with a food dehydrator.
What is a Food Dehydrator?
A dehydrator is a small kitchen appliance that is used to remove the water content from different types of foods. These appliances have drawers where the food is inserted, which is then dehydrated using a combination of heat and air flow. Instead of having a large room that has to be kept in certain conditions for drying, a dehydrator allows you to dry foods quickly, more easily, and without taking up a ton of space.
What are the different types?
When shopping for this type of kitchen product, you need to first understand exactly what to look for to ensure you've made a sound purchase. Before you buy, the first step is distinguishing between the two different types and determining which one best fits your dehydration needs.
• Vertical-flow machines – These machines have a fan mounted on the top or bottom, and this is the most important part of the drying process. These machines are typically less expensive than horizontal-flow machines. However, the drawback is that drying may not be equal and drippings may clog up a bottom-mounted fan.
• Horizontal-flow machines – These appliances provide more even drying throughout, as the fan is mounted on the side. However, most of these are larger and cost more money than those that utilize vertical-flow technology.
What are the Advantages of Owning a Food Dehydrator?
If you want to make your own homemade food that is dehydrated, owning one of these devices is the best way to do that. You won't have to worry about having to use up a lot of space or wait a long time for your food to dry. You also won't have to use an oven at high temperatures for long periods of time, which can pose a safety hazard. You can enjoy many great, healthy snacks, including dried fruit, meat jerky, and fruit leather, that doesn't contain a lot of extra ingredients and preservatives. Owning one of these is a great way to make your own healthy snacks in your own kitchen, quickly and easily.
Who are the contenders for Best Food Dehydrator?
Presto 06300 Dehydro Electric Food Dehydrator – If you want an easy-to-use small appliance that dehydrates effectively and doesn't cost a fortune, this model from Presto really does the job. With four trays, you have plenty of room for small batches of dehydrated food, the nesting design makes it easy to store, it's a breeze to operate, and all parts are dishwasher safe for easy cleanup.
Nesco Snackmaster Pro Food Dehydrator FD-75A – If you need a little extra power and you're ready to invest more money in your dehydrator, but you still want an affordable price, this model from Nesco fits the bill. With 600 watts of power, you'll be able to dry any type of food in just hours – no more waiting for days. Flavors won't mix, so you won't have to rotate the trays, and the design is expandable from five trays all the way up to twelve, giving you the versatility you need to make any type of dehydrated food, even in larger batches.
Excalibur 3926TB Food Dehydrator – Nine different trays gives you a full 15 square feet of drying space. This high-end machine has an adjustable thermostat, timer, easy to use design, and plenty of space, making it ideal for even the largest family. You don't have to rotate the trays to preserve flavor, and the latest technology is utilized in this appliance to provide you with fast and consistent results.
Considerations for Choosing the Right Dehydrator For Your Kitchen
If you're new to dehydrating food, you may not know what features you should look for in a new product. You don't want to be stuck with something that's difficult to operate or doesn't fit your needs, so before you make your purchase, review these four features in every product you are considering.
Number of trays
If you want to make smaller batches, the number of trays really isn't going to matter. However, if you want to dehydrate a lot of food to store and save or for a large family or crowd, you'll want multiple trays and the ability to expand if needed.
Warranty
You don't want to get your product only to have it fail after a few uses. Avoid the issue of having a defective product by purchasing a model that comes fully backed with a manufacturer's warranty to protect your investment.
Temperature settings
Certain foods have to be dehydrated at different temperatures, so look for a model that allows you to change the temperature settings for the best results for your dried fruit, jerky, kale chips, and other healthy snacks.
Number of trays
Presto 06300 Dehydro
There are four trays included with your initial purchase, and an additional four trays (for a total of eight) can be purchased separately.
Nesco Snackmaster
Your purchase comes with five trays, but you can add an additional seven trays, sold separately, if desired.
EXCALIBUR 3926TB
You'll have nine large trays included with your initial purchase to make large batches of dried fruit, veggies, meat, and more.
Warranty
Presto 06300 Dehydro
Your product comes backed with a 1-year limited warranty from the manufacturer.
Nesco Snackmaster
A 1-year limited warranty is included with your purchase.
EXCALIBUR 3926TB
This product has a 10-year limited warranty, which is one of the best in the business.
Temperature settings
Presto 06300 Dehydro
This model does not have adjustable temperature settings.
Nesco Snackmaster
You can adjust the temperature from 95 to 160 degrees to make a variety of different dehydrated foods.
EXCALIBUR 3926TB
You can adjust the temperature from 105 to 165 to successfully make any type of dehydrated food.
Conclusion: Our Food Dehydrator Reviews Are In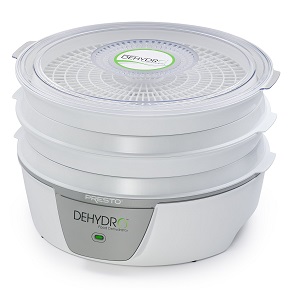 You don't have to pay a fortune to make your own healthy goodies at home, at least not when you purchase this great product from Presto. With four drying trays, you can make your own dried fruit and jerky in a fraction of the time of drying it using other methods. It's very easy to use, having just one temperature setting that is appropriate for most applications, like making jerky from cooked meats like chicken, beef, and turkey.
This product is very easy to store with its nesting design and cord storage option. It comes with four trays for plenty of space, but it can expand up to eight trays for even more drying area. A variety of accessories are also available, sold separately, including a jerky gun and fruit roll sheets. The bottom mount fan and heating element provide consistent drying and the see-through cover lets you keep an eye on progress without letting the heat out.
Pros:
It is very easy to use. It is expandable. It is easy to store. It is very inexpensive. It is BPA free. It operates quietly. It evenly dries most food.
Cons:
It doesn't have an adjustable temperature setting. It doesn't have a built-in timer. The racks are very thin and may warp over time. It doesn't have an on/off switch.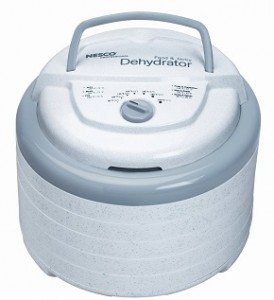 With this affordable dehydrating machine, you'll be able to make all of your favorite recipes, as well as experiment with new ones from the included recipe book, in no time at all. This machine is very easy to use and has adjustable temps up to 160 degrees, so you can speed up the drying process.
The top-mounted fan works with the heating element for consistently good results, and the opaque design blocks out light that can affect the taste. Flavors never mix, so you don't have to switch out trays, and it comes with everything you need to get started, including two solid sheets, two mesh sheets, and three jerky spice packets.
Pros:
It is affordable. It has adjustable temperature settings. It comes with a warranty. It expands up to a total of 12 trays. It is ideal for drying all types of foods, including semi-liquids. The Converga-Flow system provides you with fast and consistent drying. The plastic trays are BPA free.
Cons:
It does not have a built-in timer. It doesn't have an off/on switch and is controlled by plugging and unplugging it. The cord seems a bit flimsier than cords found on high-end models.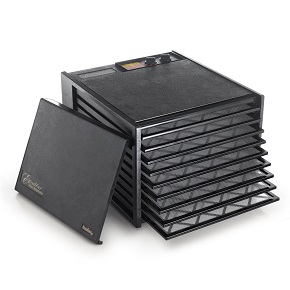 Whether you want to make a large batch to store for later use or you have a large family that's impatiently waiting for a healthy and delicious snack, this product is ready for the task. With nine trays and a total of 15 square feet of drying space, you can make everything your heart desires with this high-quality dehydrator.
You won't have to rotate or move the trays to preserve flavor, and you can adjust the temperature as needed to dry your food without overheating it. A built-in timer lets you time drying for up to 26 hours, which is a very convenient feature not found on less expensive models. The patented airflow system equipped in this model provides consistent, even heating for the best possible results. You can make a variety of your favorite items in this model, including jerky, dried fruit, kale and banana chips, and even dog treats.
The air temperature is high enough to effectively kill bacteria and yeast, keeping your food safe. This product is very easy to use and it comes with one of the best warranties you'll find, a full 10 years.
Pros:
It's easy to use. It has a timer and temperature controls. It has a patented heating and airflow system for results you can count on. It can be used for various foods, herbs, flowers, and pet treats. It is fairly quiet, especially when considering the size. It is big enough for large batches. It comes with nine trays with your initial purchase, so you don't have to buy more.
Cons:
It is quite expensive. Solid mats have to be purchased separately. It is quite large and not as easy to store as other models.
Whether you want to enjoy healthy fruit leather with the kids or you want to pack your own homemade trail mix with dried fruit for a tasty and healthy snack while out on a hike, a dehydrator is all you need to do this at home, eliminating the need to buy dried and dehydrated products that are full of sugar and preservatives. For the most effective results, try the Excalibur 3926TB. Its large size, built-in thermostat and timer, and performance make it a top choice in household food dehydrators, providing you with consistent results in one easy-to-use product.