Some links on this page are monetized by affiliate programs - see disclosure for details.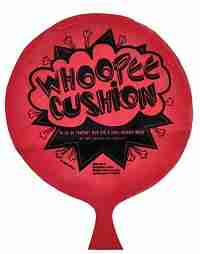 As a person gets older, it's a tradition for many to tease them about their age. Using terms like "over the hill" is actually quite common for those who hit milestone birthdays like 40, 50, 60, or even older. At these points in time, it's often appropriate to gift gag gifts. These gifts are usually given just to get a laugh out of the recipient, as well as other guests at the party. However, you have to make sure you know how to proceed when purchasing a gag gift, as sometimes, they can be offensive and instead of being a fun joke, can turn into something that is hurtful.
In order to ensure you buy the right gag gift for any milestone birthday or other occasion, follow these tips to ensure your gift is a hit. Gag gifts also aren't just for birthdays. They can also be fun for white elephant gift exchanges, kids' birthday parties, and other special and fun occasions.
Top 10: Our Favorite Gag Gifts for 2019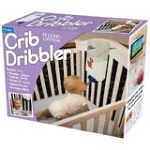 This hilarious box is perfect for a baby's first birthday or for a baby shower. The outside of this box depicts the Crib Dribbler, a fictitious product. The Crib Dribbler looks similar to a water bottle for a rat or hamster, but the images feature a baby drinking from it. Of course, this product does not really exist, but the recipient of this gift will nothing less than shocked when looking at six sides of graphics and text.
Inside, the box is empty, and you will pack your real gift here. This is a fun gift for a mom-to-be who has a great sense of humor.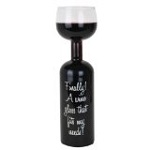 If you have a friend or relative who loves enjoying a glass or two of wine, this wine glass makes the perfect gag gift. It holds a full 750 ml wine bottle, and it has the words "Finally! A wine glass that fits my needs!" printed across the front.
It can be closed using a standard cork or a decorative stopper. This is a funny and inexpensive gift for anyone in your life 21 and over.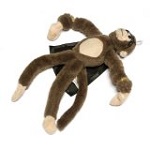 Pull the cord and watch him fly! This slingshot monkey flies all over your home or office just by pulling it back. As the monkey, dressed in a cap and eye mask, flies through the ear, it screeches. This is a fun gift for children and adults of all ages.
Be aware, however, that the monkey should never be pointed at anything breakable or at another person to avoid injury.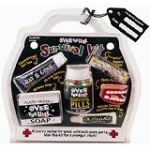 Help them get through the pains of getting older with this funny Over the Hill Survival Kit, which has everything they need to get through their milestone birthday. This gag gift contains Gray B Gone Hair Dye, Over the Hill Survival Pills, Oil of Old Age, Spare Parts, Dietary Fiber, and Anti-Aging Soap.
This pack makes a great and inexpensive choice for anyone who's getting older.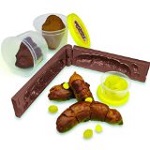 This gift is either funny or disgusting, depending upon whom you ask. It comes with brown Poo-dough and a mold that allows you to make your own disgusting creations. This is a funny white elephant gift you can pick up for your next gift exchange.
This product is for children ages three and up. If you opt to give this to a child, make sure it is approved by the parents.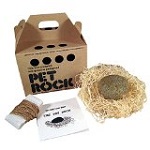 The Pet Rock was a hit in the 70s and it's back and ready to rock and roll. This funny gag gift is great for kids and adults. It comes with a pet rock, a pet bed, a leash, and a care manual for the new pet.
It all comes packaged in a cardboard box with holes so the pet can breathe, of course.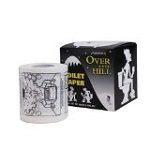 This gift is a funny choice for a bathroom reader. Each piece of this 2-ply toilet paper has a hilarious cartoon that can be read in the bathroom. This is a great over-the-hill gift, although it can be given for other occasions, as well.
Other designs are also available for other occasions, as well.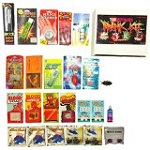 They can release their inner prankster with this fun gift, which comes loaded with 24 funny and harmless pranks. You can give the entire set as a gift, or you can split up the products for party favors.
Each kit comes with the following products: shock pen, shock gum, hand buzzer, whoopee cushion, car scratch, nail through finger, snap gum, rattlesnake eggs, squirt ring, dirty face soap, blood soap, blood capsules, hot toothpicks, itching powder, fake lottery tickets, disappearing ink, fart bombs, and garlic candy, making this truly an ultimate prank kit.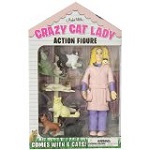 If you have a special friend or relative who loves her cats, this action figure set makes a wonderful and hilarious gag gift. It comes with seven different pieces, including a Cat Lady (made of hard vinyl) dressed in a robe and sporting a wide-eyed, crazy look, as well as her six cats.
This is a funny gift for any cat lover. However, as with other gag gifts, make sure you're positive the recipient will not be offended by receiving such a gift.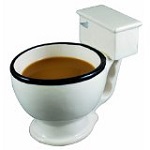 This ceramic coffee mug holds up to 12 ounces of coffee or any other hot beverage. What sets it apart is its funny shape – a toilet! This is a great gift for the coffee drinker in your life as a Christmas exchange gift or gag birthday gift.
If they just can't stomach drinking out of this toilet, it can also be used as a planter or a water bowl for pets. This is a gag gift that shows how funny gifts can be both hilarious and useful.
What Makes a Great Gag Gift?
You can't just pick up any gag gift and think it will be appropriate for giving at a party. You need to carefully plan what type of gag gift you're going to give. When shopping for a gag gift for any birthday celebration or special occasion, keep the following four things in mind in order to make sure that your gift is a hit and not a complete miss.
Is the birthday celebrant having a hard time getting older?
Not everyone accepts aging easily. In fact, it seems that for every decade, there are many people that just aren't that excited about their next birthday. If your friend or family member is having a difficult time coming to terms with their age, a gag gift is just not a good idea. While you may be trying to lift their spirits, this often may have the reverse effect, especially if they feel embarrassed in front of other partygoers. Make sure that you know that the guest of honor is okay with getting a silly gag gift that pokes fun of their age. If there are any doubts, just don't do it.
Keep it appropriate for the occasion
There are some gag gifts that use innuendo and adult humor. If you will be attending a celebration where children will be present, or if it's a more upscale setting, try to avoid the X-rated humor. If, however, you are celebrating with a group of your best girlfriends who don't easily get offended, you may consider these types of gifts. In any other situation, though, it could be crossing a line. Common sense should be used in all situations, such as avoiding giving alcohol or smoking related items to minors.
Balance the fun out with a serious gift
If you purchase a gag gift for laughs, it's also a good idea to buy a more serious gift, as well. Plan your budget ahead of time so that you know how much you're willing to spend for all gifts, then plan accordingly. In most cases, you'll want to spend more time, thought, and possibly money on the serious gift. If you're having a white elephant gift exchange or the whole idea behind giving the gift is to purchase the most ridiculous or humorous gift possible, then an extra gift is not necessary.
Consider a gag gift they might actually be able to use
A silly coffee mug for a coffee drinker or a funny coin bank for a kid are gifts that are hilarious but also useful. Instead of just purchasing something that will immediately be thrown away, consider gag gifts that are a good mix of humorous and functional.
Types of Gifts To Consider
Silly books
For a person celebrating a birthday, make light of them getting older with a humorous book. You can make this a really good gift by also purchasing a book by their favorite author and packing it in a basket with a coffee mug, a warm and fuzzy throw, and a pair of soft slippers so they can relax and read. There are books available for many different situations, including growing older and parenting.
Old age survival kits
You can choose a pre-packaged kit or create your own with various gag gifts packaged in a basket. These kits have multiple gifts designed to "help" a person who's getting older. Products you may find or use in these baskets include inflatable walkers, Over the Hill pills (packaged with candy or vitamins), and other assorted funny gifts.
Prank gifts
The recipient of these gifts can share the fun with others. These pranks are funny and harmless, and kids will love receiving these small gifts as stocking stuffers or in prize bags at a birthday party. "Buzzers" that "shock" a person when a hand is shaken, trick cards and coins, and whoopee cushions are all classic prank items that make fun and funny gifts. If presenting to a child, make sure that the parents approve of this type of gift before you bring it to the party.
Gag gift boxes
These are just boxes and not actual products. The boxes are designed to look like actual boxes with real products inside. The products described on the box and pictured are absolutely ridiculous things that would never really exist. However, instead of receiving the item pictured, these boxes are blank, so you can put your own great gift inside. These gift boxes are an inexpensive way to see how shocked a friend or relative is while opening things like the Bathe & Brew combination coffee brewer and soap dispenser for the shower.
Include a Funny Card
People who appreciate gag gifts also love a good laugh in general. Add a funny card to your gift. Of course, the same rules apply to cards as they do to gifts. Make sure the humor is appropriate for the person and situation.
You can find a variety of funny options. Milder cards, such as ones featuring Garfield and other popular characters, are appropriate for the workplace. You can also find many cards with more risqué humor.
A funny card is a great place to write something serious. Otherwise, the entire gift is funny, which can seem a bit insincere. A short, heartfelt message inside the card helps the entire gift feel fun and thoughtful.
How To Choose a Gag Gift They Can't Help But Laugh About
In order to choose the right gag gift, you have to keep their sense of humor in mind. If anything goes, you can purchase a more mature gift that will get lots of big laughs. If they have a good sense of humor but like to keep it clean, avoid gifts that contain bad language or mature themes. And if they're celebrating a birthday, gag gifts related to age are very appropriate, assuming, of course, that they feel great about getting older and can take a joke.
You should make sure that any gag gift you purchase is inexpensive enough that you still have plenty of money left over to purchase them something they will truly love and will use. These gift boxes are great for any occasion, including but not limited to birthday parties, family Christmas celebrations, office gift exchanges, and baby showers, just to name a few.
Conclusion
If you're attending a silly gift exchange or you want to add some humor to a loved one's birthday party, a gag gift is a great way to liven up the celebration. Just make sure to keep it appropriate for the age, as well as for the scenario in general. As long as you proceed with caution, take the recipient's humor into account, and come equipped with an actual gift for more serious parties, a gag gift is a great way to add some entertainment to any special occasion.