Some links on this page are monetized by affiliate programs - see disclosure for details.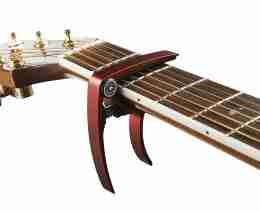 Buying a gift for your favorite guitar player isn't easy. If you don't play the guitar yourself, you probably have no idea about what guitar players need and why.
Getting a gift for your guitar player is fraught with the prospect of buying the wrong thing or buying something that is inappropriate for their age level.
In this article, we'll go over the top ten gifts for guitar players that are ready for you to purchase. You'll quickly understand who the gift is intended for, what the purpose of the gift is, and whether your guitar player will be enamored with you when you deliver it to their doorstep.
---
These Vincent Van Gogh Guitar Picks are an excellent choice to bring a dash of flair into your guitar player's life. Each of the picks contains a beautiful scene from Van Gogh, ranging from his magnum opus, Starry Night, to his other influential pictures.
You'll get 12 separate picks contained in a trendy little tin box. You'll also get a keychain which you can use to carry a pick so that your player will always have a pick with them no matter where they go.
This pick set is great for the guitarist who has an interest in the arts outside of music. There are also a handful of other artists with their pick prints if you think your player would prefer something different.
Pros:
Gorgeous Van Gogh images
Standard dimension guitar picks
Includes carrying tin
Standard sound quality
Cons:
May not be the ideal artist for your guitar player
Keychain is low quality
---
These Original Gibson Guitars Patent Art Prints bring a bit of beauty to your guitar player's room or practice area.
Each of the four prints contains an image of a famous guitar, complete with schematic markings and a little blurb about why the guitar is important to the history of music.
Especially for guitar players that enjoy reaching back into the history of guitar music, these prints are an aesthetically pleasing gift. There's nothing like a visual reminder of your favorite activity to spur you into action.
Pros:
Sepia tone schematic diagram of guitars
Beautiful sketches
Four separate prints
Cons:
---
The Bob Dylan on Guitar and Harmonica T-Shirt is a great gift for your guitarist because features one of the most iconic guitarists of all time.
On the shirt, you'll find a stylish rendition of Bob Dylan with his signature acoustic guitar. Bob Dylan is widely respected among musicians, making this shirt perfect for guitarists.
This bright yellow, 100% cotton shirt can be is sold by OldSchoolTees, an online retailer of vintage-inspired shirts. Check out their summer sale for the best deals on this shirt as well any others that interest you! Use code SAVE10 for 10% off!
Pros:
Great for Bob Dylan Fans
Fashionable cut
Doesn't rely on your player using it to produce music
Cons:
---
The Pick-a-Palooza DIY Guitar Pick Punch Mega Gift Pack is a great gift to the guitar player who loves to make their picks.
Many guitar players are creative in other aspects of their life. This includes the hardware of their guitar playing. Making picks with a press isn't very hard, and many players will appreciate the chance to express themselves even further than normal while playing and before playing.
The pick-making process is very easy. Unfortunately, the swatches of plastic provided with the unit don't exactly provide an infinite canvas for your guitar player's creativity.
Getting their ideal image printed onto a new piece of plastic will make punching future picks very easy, but the set doesn't include many inspiring patterns right out of the box.
Be prepared for your guitar player to need to invest a little bit of extra effort to get the ideal pick for their guitar playing.
Pros:
Enables making of any kind of guitar pick
Increases expression of creativity while playing guitar
Easy to use system
Cons:
Included plastic swatches are not very creative
Printing on plastic may be difficult
---
The GIGmate Guitar Tool Kit & String Organizer is a great mini-kit for your guitar player to use whenever they need to perform a bit of maintenance on their guitar.
Guitar players need to tune and adjust their instruments all of the time. Typically, they don't have a unified set of tools to do so. They often have messy conglomerations of their tools which can get lost or warped if they are not careful.
Giving your guitar player the gift of this kit will solve that problem. The kit itself is valuable because it will give your guitar player an idea of the things that they should have in their toolkit.
The tools in the kit will probably be of some use to your guitarist, but they will likely replace many of the tools with their preferred items. This means that you are giving them a gift they can modify to their liking — an excellent proposition.
Pros:
Neat carrying case
Helps organize guitar tools
Decent set of standard tools
Slot for batteries
Cons:
Guitar players will probably want to add more tools or remove some of the tools
---
The Bamboo Guitar Neck Shaped Kitchen Utensil Set is a great gift for guitar players that have a culinary flair.
Guitarists tend to be very creative, and they love to talk about their craft. They also love to hybridize their craft with other creative endeavors, which is exactly what this utensil set enables.
The utensils themselves are comfortable to use and are doubtlessly functional when it comes to slinging salads or mashed potatoes. You can probably find more durable kitchen utensils out there, but it will be hard to find utensils which are as creative as these.
Pros:
Brings creativity into the kitchen
Effective at moving food around when your player needs to
True-to-scale strings allow for impromptu air guitar practice
Cons:
---
This Nordic Essentials Guitar Tuner 2 Pack is an electric guitar tuner set which your guitar player will find is a substantial upgrade over tuning by ear.
Especially if your guitar player is starting out, they will need to tune their guitar frequently. Despite this need, they may not be very good at tuning the guitar because of how sensitive the differences between tones may be.
So, with the help of this electronic tuner, your guitar player won't need to rely as much on their ears to tune their guitar. While this is not a helpful feature for veteran guitarists, those who are starting out can correlate the perfect tone with the indicator's reading, which will help them to learn.
Pros:
Great for beginning guitarists
Provides simple tone guidance
Inexpensive
Prevents off-tone playing without knowing
Cons:
Won't be useful for experienced guitarists
Can build bad habits if the guitarist relies on it too much
---
The Nordic Essentials Guitar Capo 2 Pack  is a great toolset for guitarists who need clamps.
You should probably ask your guitarist if they need something similar to this set before you purchase it. If they need it, they'll be very grateful, but if they don't know how to use it, you will have given them something useless.
Pros:
Beautiful red and gold finish
Doesn't disrupt tuning
High-quality springs for minimal stress on guitar
Cons:
Many guitar players may not need them or know how to use them
---
The D'Addario NS Micro Clip-On Tuner is another option which your guitar player will love because it will help them to find the perfect pitch while offering them a few advanced features.
This tuner is excellent because it can be used for either a quick tune-up or an in-depth tuning modification session. Your guitarist will not need to know that much about tuning to make use of these advanced features.
The only downside is that the unit is a little bit bulky in comparison to other guitar tuners, but it has more features to compensate.
Pros:
Multifunctional guitar tuner
Big digital display
Clamps directly onto stock
Cons:
---
This set of Guitar Tools for Changing Guitar Strings is a minimalistic and lightweight guitar maintenance set that your guitar player will love to carry with them wherever they go.
Unlike many other guitar toolsets, this set doesn't try to have everything. It covers the bare essentials, which includes hex keys and polish spray. Your player can also use the string cutter if they desire.
More advanced tuneups will be beyond this kit, but your guitar player is very unlikely to be confused by superfluous tools, which is great for beginners.
Pros:
Lightweight
Has minimum viable toolset
Easy for beginners to use
Cons:
Not a comprehensive toolset
Final Thoughts On Giving Your Guitarist A Great Gift
Now that you know about ten of the top gifts for guitar players, it's time to send your choice to your favorite friend who loves to play the guitar.
Make sure you talk with your guitarist about what they need before making your purchase to make sure that they get something that they will love. If you succeed, they will think about you every time they pick up the guitar for a strum.