Some links on this page are monetized by affiliate programs - see disclosure for details.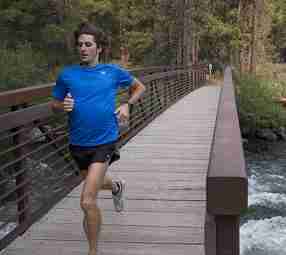 Running is a great way to keep yourself in shape. Millions of people run or job every day because it's easy to do, can be done just about anywhere outdoors, and you don't have to buy a lot of bulky, overpriced workout equipment that takes up all of the space in your home. Running keeps you in shape, helps you burn calories for weight loss, and helps keep your body healthy. Many people also love to run or job because it's a great way to clear the mind after a hard day of work, and it also allows you to explore beautiful natural areas.
If you're the adventurous type that likes to run beyond the track or the gym treadmill and prefer to explore your natural surroundings, a GPS running watch should be added to your workout gear.
What is a GPS Running Watch?
GPS technology has been utilized everywhere in the past few years, from units that direct you where to drive while in your vehicle to smartphones that give you voice-guided prompts to get where you need to go. But outside of your car, GPS can be very helpful as well. Many trail runners have relied on GPS to always pinpoint an exact location, help them find their way if they happen to get lost, and help them plot out new running routes.
The best way to bring this technology outdoors while on the go is with a GPS watch, which has the basic functions of any other type of watch with the addition of built-in GPS that provides maps and locational content right at your wrist.
What are the different types of GPS Watches?
If you're an outdoor runner, you'll find that one of these watches really helps keep you on track while you run. Before you run out to buy one, though, you need to make a smart purchase that's well thought out. The first step to making a purchase for a product that will get plenty of use is knowing about the types available, as well as the pros and cons of each.
Basic GPS models
These are just like regular wristwatches with the added GPS function. These are typically the least expensive, although brand, model, and overall design and materials may affect pricing. In general, these track time, date, and location.
Fitness watches
These are more expensive than basic models, which is a downside, but they provide fitness tracking tools that make the extra cost well worth it. These track things like speed, calories burned, and distance traveled, among other features. You can download this data to your smartphone, desktop computer, or laptop so you can easily view it. This is a great tool to have when you're training for an event, trying to lose weight, or just want to keep track of your progress.
What are the Advantages of Owning a GPS Running Watch?
If you're out in unfamiliar territory, it's always a good rule of thumb to carry a paper map with you. However, the latest GPS watches make it easy to know exactly where you are, preventing you from getting into a dangerous situation.
While most smartphones these days also have free GPS apps, carrying around your phone can be burdensome, and you have to stop, pull it out of your pocket, and interrupt your exercise to figure out where you are located. With these watches, you'll know exactly where you are and where you need to go just by looking at your wrist.
Who are the contenders for Best GPS Running Watch?
Polar M400 GPS Sports Watch & Activity Tracker – Kick up your next run a notch when you wear this comfortable and stylish watch. You'll not only have access to GPS so you'll always know exactly where you are, but you'll also be able to track your activity 24/7. From keeping up with how far you travel each day to monitoring your sleep time and the quality of sleep you get, this watch offers all of the functions you could want at an affordable price point.
TomTom Runner Cardio Watch – TomTom has become a leader in the automotive GPS business, and they've brought their innovative designs and technology right to your wrist with this model. You can track every aspect of your fitness, including keeping up with your heart rate without the burden of a chest strap. You can easily sync and share your data and keep up with your daily stats from your Mac or PC. This watch boasts a fashionable design and a high level of accuracy at a mid-range price point.
Garmin Forerunner 620 – Garmin is another brand known for GPS devices, and with this advanced watch, you'll see why they're such a coveted brand. This model tracks every fitness aspect and it automatically syncs and shares your data. It even provides you with updates and tips that can take your run to the next level. It is stylish, lightweight, and it packs more features than the majority of fitness and GPS watches on the market today.
Considerations for Choosing the Best GPS Running Watch
Once you've decided that this is a purchase that will benefit your lifestyle, you may be inclined to just go online or visit your local sporting goods retailer and purchase the first one you see. However, doing so may result in buyer's remorse. Instead of spending money on a watch that may or may not work for you, do your research first to ensure you make a sound purchase. To get started, keep these four considerations in mind as you shop.
Price
You should know before you shop that watches equipped with GPS are typically a bit expensive. Some, though, are more expensive than others. Instead of just buying one based solely on the price (although you should stick with your budget), consider the other features on this list and your own criteria. A well-made watch that costs a bit more is a much better investment than a very cheap model that isn't accurate or breaks in a short amount of time.
Warranty
Speaking of breaking, your watch shouldn't instantly fall apart after just a few times wearing it, and it also shouldn't just stop working for no reason. If your watch fails prematurely, it could be because of a defect in the design. With a warranty, this isn't something you have to worry about, as it will be covered by the manufacturer.
Info tracking
These watches all track where you're located, but many of the latest models track other important information that helps you reach your fitness goals. Find out all of the data that is tracked before you make your purchase.
Colors
These watches come in a wide variety of colors, from brights that add a pop of color to your workout attire to neutral colors that go with your everyday apparel. Pick your favorite color or choose one that blends in so you can wear it everywhere.
Price
Polar M400
This is one of the most inexpensive and budget-friendly units available.
TomTom Runner Cardio Watch
You'll invest a little more when you purchase this watch, which has a slightly higher price tag.
Garmin Forerunner 620
This high-end watch retails for the highest price in this group.
Warranty
Polar M400
This model comes backed with a 2-year manufacturer's warranty.
TomTom Runner Cardio Watch
Your purchase is protected with a 1-year warranty.
Garmin Forerunner 620
Your watch comes with a 1-year limited warranty from the manufacturer.
Info tracking
Polar M400
You'll be able to track your activity 24/7 with this model, including pace, distance, and altitude.
TomTom Runner Cardio Watch
Some of the features tracked on this watch include time, distance, calories burned, location, and your heart rate.
Garmin Forerunner 620
This watch tracks just about anything , including distance pace, recovery days, sleep activity, and can be paired with a Bluetooth heart rate monitor to keep you in the target zone.
Colors
Polar M400
You'll have your choice from Black or White when you select this unit.
TomTom Runner Cardio Watch
You can choose from basic Black or bright Green and White.
Garmin Forerunner 620
Choose from Black/Blue and Orange/White models.
Conclusion: Our GPS Running Watch Reviews Are In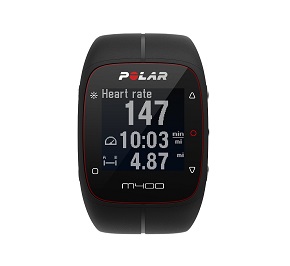 Take advantage of everything GPS has to offer with this affordable watch from Polar. To get started, you'll have your choice from Black or White. The stylish design looks great on and off the track, but it's what this watch tracks that makes it really stand out. You'll have 24/7 activity data right at your fingertips when you wear this watch.
This not only provides GPS functionality to keep you on the right path, but it also tracks steps taken, calories burned, and allows you to set up daily goals. You'll know the altitude and location everywhere you go, and you can also make sure you're on track with your goals, as this tracks your pace. It can easily be recharged, it is compatible with heart rate monitors, and it's water resistant, so you can wear it out in the rain or snow.
Pros:
It is affordable. Comes with a warranty. Very stylish. It has a unisex design. Inactivity feature lets you know when you need to move. It tracks your sleeping habits. It tracks multiple aspects off your daily activity. The app allows you to easily sync and share your progress. It has a rechargeable battery.
Cons:
You have to download an app to access your past data. It does not have a built-in heart rate monitor like similar watches. The inside of the USB port may accumulate rust over time. It is not as well-made as more expensive watches.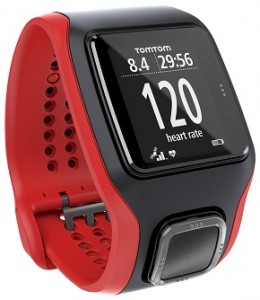 When you're ready to get your fit on, make sure you strap on a high-quality fitness watch like this one from TomTom. This watch has been tested to ensure the highest accuracy for low-impace or high-intensity runs and workouts. The GPS function lets you keep track of where you're at, and it helps you plan your next route.
You'll have all of your fitness data right at your wrist, including your distance, pace, time, and your heart rate with the built-in monitor. Exercising at your target heart rate is crucial for burning the most calories. You can even set your own target so you always know when you're working out as hard as you should be without overdoing it. This model is easy to use, has a stylish and sporty design, and comes backed with a warranty.
Pros:
It has built-in intensity zones to help you increase your level of fitness one step at a time, safely and easily. Built-in heart rate monitor. It is extremely accurate. It doesn't require a bulky chest strap for the monitor. You can sync, share, and plan routes with the free app. You can export data easily. It works with treadmills or outdoors. It is unisex, so it can be worn by men or women.
Cons:
Doesn't sync with all smartphones. It is a bit heavy. The heart rate monitor isn't as accurate as separate monitors that use chest straps.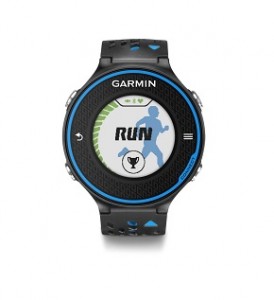 If you want the most functionality out of your watch, this model is sure to provide everything you need. This watch uses the accurate GPS that this brand is known for, so you'll always know where you're at and where you'll be going. The touchscreen interface is easy to use, and it allows you to access all types of data aside from the GPS tracking.
Distance, pace, time, and calories burned are just a few of the things you can track with this watch. Sync it with your computer with ease to track progress or share it with your friends and workout partners. It can be synced with Garmin Connect to give you tips personalized to your own workouts so you can improve your workouts easily and safely. The watch be paired with a heart rate monitor to keep you safe and working out at just the right pace. It can even estimate your oxygen levels. It provides you with helpful feedback based on your running stats, so you can improve with each workout.
Pros:
Provides a lot of great data about your workouts. It is stylish. It is lightweight. Comes with a warranty. It syncs with most smartphones. The app provides you with lots of tracking and sharing options. Measures your running metrics to help you improve your speed and form. It has an easy-to-use touchscreen design. It has a strap that accurately monitors your heart rate.
Cons:
Not good for interval workouts. It may reboot after the GPS function is used. It may have issues when syncing with Wi-Fi.
In Summary
If you enjoy running on a regular basis, whether it is training for a marathon or just to work up a sweat and keep your body toned and in shape, you'll wonder how you ever lived without a GPS running watch. You'll be able to keep up with your daily stats so you'll always know if you've hit your fitness goals, and you can even improve your runs with these wearable devices.
Instead of choosing an inferior product that doesn't perform as you expect, invest in the Garmin Forerunner 620, which puts you on the right track to better health.