Some links on this page are monetized by affiliate programs - see disclosure for details.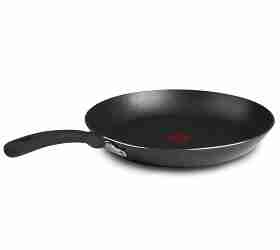 Cooking can be a fun hobby, not to mention the result is delicious food that you can eat for yourself or feed to your family. However, in order to make sure that any meal is a success, you have to make sure that your kitchen is stocked with everything you need. This includes flatware and dinnerware for serving, all of the ingredients for the meal you plan to prepare, and the right cookware.
When it comes to cookware, one things that can ruin any good meal is when your food sticks to your skillet, making it burnt and inedible. Instead of worrying about burning your food and potentially ruining your cookware, invest in a nonstick skillet to avoid this issue.
Top Rated: The Best Nonstick Skillets of 2018

What is a Nonstick Skillet?
A nonstick skillet is a type of pan that is used to cook a variety of different foods. From pancakes in the morning to stir fry for dinner, you can cook just about anything in a skillet. Skillets are available in a variety of different sizes, so you can cook for yourself in a smaller pan or cook for your whole family in a larger skillet.
What sets nonstick cookware apart is that it has a coating that keeps your food from sticking, which leads to burning your food and rendering the skillet unusable. These coatings help food slide easily around while stirring and makes for very easy cleanup at the end of your meal.
What are the different types of Nonstick Pans?
Whether you're replacing an old skillet or stocking up your new kitchen for the first time, you need to know what to look for when purchasing this type of cookware. There are several types of nonstick skillets to choose from, and each type has its advantages and disadvantages that should be carefully evaluated.
Classic skillets
These are the originals, and many people know them as Teflon cookware. This is generally the most affordable type of cookware, but the PTFE chemical coating can emit gases when used in high heat, so it should never be used for extreme temperatures. After multiple uses, you may also find that the coating begins to peel or flake off and the skillet will need to be replaced.
Ceramic skillets
These have a ceramic coating that prevents food from sticking while you cook. It is very resistant to sticking. However, it needs to be cared for properly or you may notice that the coating comes off.
Porcelain-enameled skillets
These have very fragile surfaces, so they should be handled with care. They are eco-friendly and very safe to use over any type of heat. You may find that porcelain-enameled cookware is more expensive than other types.
Stoneware skillets
These skillets use natural stone to provide exceptional nonstick properties. These are free from chemicals, so you don't have to worry about releasing harmful chemicals into your home or into the environment. Generally, these are the most expensive.
What are the Advantages of Owning One?
When cooking, it's important that your food doesn't stick because if it does, it will burn. This not only ruins your food, but it also ruins the cookware. With nonstick cookware, you also don't have to worry about using butters, oils, and other ingredients to prevent sticking, all of which add extra fat and calories to your meal.
With this type of cookware, you can heat your meal at very high temperatures without worrying about it burning to the bottom of the pan.
Who are the contenders for Top Nonstick Skillet?
Whether you're a cooking newbie or you have experience in the kitchen but you don't want to spend an arm and a leg on new cookware, this option from T-fal fits the bill. This unit is not only affordable, but it heats evenly and prevents sticking and burning. It is oven-safe, and it has additional great features like a heat indicator that shows when your pan is preheated and ready to use. It is durable, comfortable to hold, and comes in multiple sizes.
This mid-priced skillet boasts a lot of features found on high-end cookware at a fraction of the price. This includes a very durable anodized construction that is stronger than stainless steel, a scratch-resistant coating, and a handle that stays cool during cooking. It is safe for higher temperatures, and it can also be used in the oven. When you're finished using it, it's very easy to clean.
If the thought of chemicals in your cookware stresses you out, calm down and use this skillet from Ozeri. Instead of using chemicals, this innovative cookware uses a stone-derived coating that is fully safe for your household and the environment. This skillet is very durable, easy to clean, prevents sticking, and heats evenly, making it a top choice in cookware. It can be used for a variety of types of cooking methods, including on a traditional stovetop, on an induction stove, or even in your oven. It is able to withstand high heat, and it can be used to cook just about anything.
Considerations for Choosing the Right Pan For You
Before you just pull out your wallet and start buying cookware, you want to make sure you're fully satisfied with your purchase, and you can't ensure your satisfaction without doing research. This doesn't mean that you have to spend hours reading about every product on the market. In fact, you can easily narrow down your choices and make the best purchase just by looking for these four features.
Price
Cookware isn't necessarily cheap, but some skillets are priced more affordably than others. However, it is important to make sure that you look at other aspects beyond the price tag, especially durability to avoid having to replace your skillet prematurely, as well as warranties that protect against defects.
Warranty
You should expect to get many meals from your new skillet, so if something goes wrong due to no fault of your own, a warranty will make sure that you get reimbursed or that your cookware gets replaced at no additional expense to you.
Coating type
As mentioned earlier, there are several types of coatings available. You want to find one that you feel comfortable cooking with, as well as one that will last without peeling or flaking.
Size(s)
Different sizes of skillets are needed for different tasks. If you plan on cooking large meals or making food for multiple people, you'll want a larger size. If you just plan to make a small amount of food for yourself or someone else, you can choose a smaller size.
Price
T-fal E93808
The 12-inch version of this skillet is one of the most affordable skillets you'll find in this size.
Cuisinart 622-30G
The retail price for the 12-inch skillet is priced about average when compared to similar types and sizes of cookware.
12″ Stone Earth Frying Pan by Ozeri
This high-end pan comes with a slightly higher price tag. This skillet is in the high-end range when compared to similar products.
Warranty
T-fal E93808
This comes with a limited lifetime warranty against defects, so you don't have to worry about it falling apart after just a few uses.
Cuisinart 622-30G
You can relax knowing your product is free from defects and comes with a limited lifetime warranty.
12″ Stone Earth Frying Pan by Ozeri
This skillet comes protected with a lifetime warranty.
Coating type
T-fal E93808
This pan comes with a Prometal Pro nonstick interior and is PFOA-free.
Cuisinart 622-30G
This has a safe Quantanium nonstick interior that is very durable.
12″ Stone Earth Frying Pan by Ozeri
The nonstick interior is natural stone and is free of PFOA.
Size(s)
T-fal E93808
In addition to the 12-inch size, this pan is also available in 10.25-inch and 8-inch versions.
Cuisinart 622-30G
This skillet comes in two sizes, a 12-inch and a 10-inch version.
12″ Stone Earth Frying Pan by Ozeri
You'll have your choice from 8, 10, and 12-inch pans.
Conclusion: See Our Final Nonstick Skillet Reviews

Whether you're frying an egg, making a homemade omelet, or browning hamburger meat for spaghetti, this skillet is truly designed to do it all. T-fal has become a leader in quality cookware at affordable prices, and this skillet is a great example of what you should expect from the brand. There's no more guessing as to whether or not your pan is hot enough to add your food, as this comes with a temperature indicator.
The interior is made with a PFOA-free Prometal Pro nonstick material so your food won't burn, and it can be used with metal utensils. After cooking, you can just pop it in the dishwasher for easy cleaning. The riveted handle is easy to hold, it is safe for all cooking methods, and it can even be used in the oven up to 350 degrees.
Pros:
Affordable
Safe to use with metal utensils
Durable construction
Heats evenly
Use it for all cooking methods, including induction cooking
Dishwasher-safe
Available in multiple sizes
Cons:
It is thinner than other skillets
The coating may scratch or flake sooner than on more expensive cookware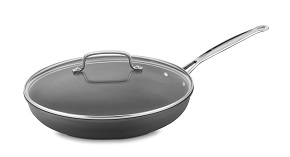 If you want a skillet that is designed to last but you don't want to pay a fortune, this is a great option. This skillet is made with hard anodized material that is more durable than stainless steel, and it features a Quantanium nonstick interior that prevents food from burning, is easy to clean, and is very long-lasting.
You won't have to worry about burns, as this skillet sports stay-cool handles. The handles are comfortable to hold, so you can move from stove to countertop with ease. It includes with a great warranty, and it works on the stovetop or in an oven up to 500 degrees.
Pros:
PFOA-free
Available at a decent price
Comes in several other sizes
Comes with the lid, so you don't need to purchase one separately
Withstands high stove and oven temps
It is easy to clean
The nonstick coating is very durable
Cons:
Not usable for induction cooking
The lid handle gets very hot
It is quite heavy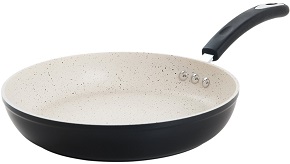 This innovative cookware uses natural stone to provide you with a nonstick interior that is truly unmatched. You don't have to worry about dispensing harmful chemicals through your home or into the environment when you use this skillet, which offers superior nonstick properties.
The hardened coating is very easy to clean and maintain, and it's extremely durable, so you won't have to worry about replacing this skillet after just a few uses. The die-cast aluminum construction is not only heavy-duty, but it also provides even heating for any type of food.
It features a silicon-coated handle that is comfortable to hold and resistant to high levels of heat. It can be used on the stovetop, including induction stoves, and is oven-safe.
Pros:
The handle is reinforced so it won't come loose
The interior is truly nonstick and more durable than other types of nonstick coatings
Free of chemicals
Very heavy-duty and durable
Easy to clean
Heats evenly
Cons:
Requires conditioning and extra care to keep the interior intact
Can be slow to heat
Expensive when compared to other skillets
All in All
Even if you don't go all out when you cook, you still need a few great pieces of cookware in your cabinets so that you can prepare basic meals. Whether you just want to make a grilled cheese or you're cooking a gourmet dinner for your loved ones, you just can't do it without a high-quality skillet, and the best type to choose is one that has a nonstick coating.
If you really want a skillet that does it all, is long lasting, and looks great in any kitchen, the Stone Earth Frying Pan by Ozeri is a solid overall choice for best nonstick skillet. Because it is so durable and the coating is long-lasting, you'll be able to use this skillet for years to come without having to replace it like you would with less expensive versions.