Some links on this page are monetized by affiliate programs - see disclosure for details.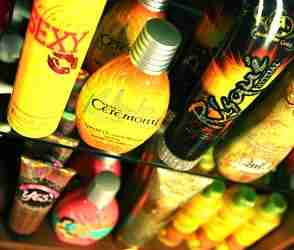 One of the best parts of summer is being outdoors in the warm sunshine. Whether you're just lazing around in a lounge chair, reading the latest best-seller, or taking a dip in the pool, lake, or ocean, being outdoors after a long winter is a great way to welcome in the season.
One other advantage of being outside in the sun is that you can get a glowing tan. Many women and men enjoy tanning because a deep bronze glow looks great, whether it's while rocking a swimsuit poolside or celebrating a big summer event like a wedding.
Get the best tan without the dry, itchy skin, uneven color, or worse yet, a painful sunburn. Slather on a high-quality tanning oil before you catch some rays.
Compare: Top Rated Tanning Oils of 2020

Choosing the Best Tanning Oil: Start Here
Tanning oil is one in a long line of beauty products that is applied to the skin. Exposure to UV rays, whether it's through the sun or a tanning ray, can give you a deeper color. However, it can also be damaging to the skin.
A tanning oil not only helps your skin get a deeper, darker glow, but it also keeps your skin moisturized, protecting against peeling and dry skin that can be very itchy and uncomfortable. Many tanning oils also contain sunscreen that filters out the most harmful rays for a safer, healthier tan.
What are the different types of Tanning Oil?
Whether you have a big special event coming up like a wedding, party, or prom or you just want to look great every day by showing off a great tan, you need to invest in a quality tanning oil. Before you buy, though, make sure you pick the right type of oil to meet your needs. When you shop, you'll encounter two different types: indoor tanning oils and outdoor oils.
Indoor tanning oil
This type of tanning oil is for indoor tanning beds. These are designed to keep your skin moist and may come with bronzers to give you an instant glow. These help you achieve a darker and more even tan in a shorter period of time while helping to prevent dry skin.
Outdoor tanning oil
These are not for use in indoor beds, as they could damage the acrylic. Instead, you use this while you are outside in order to get your best tan while eliminating dry, itchy, flaky skin caused by too much sun exposure. Many of these outdoor oils have sunscreen to help prevent painful sunburns, while still allowing you to get the tan you crave.
What are the Advantages of Using Tanning Lotion?
If you want to get the healthiest tan possible, it's a must to use a quality tanning lotion. Not only does skin tan better when moisturized, it is also less likely to peel. If you have dry skin, your tan may peel and become blotchy and uneven. Or it may itch and be very uncomfortable.
With moisturized skin, you can avoid this problem, and this is exactly what these tanning products handle. You can tan more quickly and evenly by using one of these products. Those that contain SPF can help you avoid burns, so you end up with a dark, even, and beautiful tan.
How is Tanning Oil Used Safely?
Tanning oil is different from sunscreen. Instead of reflecting radiation away, tanning oils concentrates and directs the sun rays towards your skin. Using tanning oil can increase your risk of developing skin cancer.
For the best protection, use a tanning oil which contains SPF protection. Also, avoid excessive sun exposure from 10 am through 4 pm. Just 15 to 20 minutes of sun in the morning should be enough to give you a deep, even tan.
Also, tanning oil can potentially stain. You'll probably want to sit on a towel when applying the oil. Otherwise, it can stain furniture, countertops, clothing and more.
If you have sensitive skin, check for any potential allergic reaction. Apply a small dab to the back of your hand. Wait about 30 minutes. You're watching for redness, itchiness or other signs of irritation.
Who are the contenders for Best on the Market?
If you want a great tan but don't have a lot of extra money to burn, this affordable oil is a great choice for best tanning oil. Hawaiian Tropic has long been known for their quality tanning products, and this oil is no exception. You'll get your deepest, darkest tan ever, and your skin will be soft, smooth, and well-moisturized after using this oil that contains vitamins and antioxidants to keep your skin healthy. The rare blend of exotic ingredients provides you with ultimate tanning power at a very low price.
Don't like to wait? Accelerate your tan like never before with this spray from Australian Gold. Whether you're on the beach in the hot summer months or getting a tan in the indoor tanning booths, you can use this spray for excellent results. It is loaded with natural ingredients and vitamins to nourish and keep your skin healthy while also enhancing your tan, so you can get your darkest tan in the shortest amount of time.
If you're tired of laying in the hot sun day after day and not seeing any results, invest in this lotion, which dramatically cuts down on your time out in the sun. It is ideal for all skin types, and it can even be used on sensitive skin. This product is made with a secret family formula that keeps skin soft, supple, and helps you get the golden glow you're looking for.
Factors to Think About
If you want to get a tan, you want to make sure you do it the right way by putting on a tanning product before you go outdoors or lay in a tanning bed. With so many products on the market, you might not know where to begin when it comes to choosing one that works, but by keeping the following four things in mind, you can more easily narrow down your choices and pick a tanning product that works best for your skin.
Price
Tanning products can get quite expensive, so you want to make sure that you pick a product you'll use. Instead of just looking at the price tag, though, consider other factors, including the size of the bottle and the effectiveness of the product to ensure you get the most bang for your buck.
Bottle size
You want to make sure that you have plenty of oil to last all summer long, so look for a larger bottle size to get the most for your money. It's also important to consider how much you'll need to use to achieve your desired results. A larger bottle of a product may not always be as good a purchase as a smaller bottle of a very concentrated product.
SPF
If you plan on tanning outdoors, look for a product that has added sunscreen. This helps you achieve a beautiful tan without the pain of a sunburn.
Best uses
It's important to purchase a product that is designed for your type of tanning. If you plan on tanning indoors, look for one made specifically for indoor use. If you plan on going outdoors, make sure to get an oil that works with the natural rays of the sun.
Price
Hawaiian Tropic Dark
This is one of the most affordable oils you'll find.
Australian Gold Dark Tanning Accelerator Spray
This oil sells for a moderate price, putting it in the mid-range category when compared to other oils.
Maui Babe Browning Lotion
This is one of the more expensive oils.
Bottle size
Hawaiian Tropic Dark
This product comes in an 8-ounce bottle that provides enough oil for multiple uses.
Australian Gold Dark Tanning Accelerator Spray
This 8.5 ounce bottle provides you with plenty of oil to use all season long.
Maui Babe Browning Lotion
This oil comes in an 8 ounce bottle.
SPF
Hawaiian Tropic Dark
This product does not contain any SPF to protect against sunburn.
Australian Gold Dark Tanning Accelerator Spray
Sunscreen is not an ingredient in this product.
Maui Babe Browning Lotion
This does not contain sunscreen, but you can combine it with a sunscreen to avoid getting a sunburn.
Best uses
Hawaiian Tropic Dark
This product is best used for outdoor tanning.
Australian Gold Dark Tanning Accelerator Spray
This versatile product can be used for indoor tanning or outdoors in the sun.
Maui Babe Browning Lotion
This product is best used for outdoor tanning.
See Our Top Tanning Oil Picks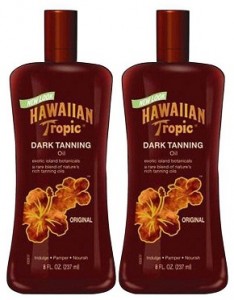 Treat your skin to a quality oil that doesn't cost a fortune every time you apply this product. This oil is designed to help you get a deeper tan than ever before, and it is also chock full of ingredients that make your skin feel better than ever. Natural ingredients include vitamins A, C, E, and a blend of exotic ingredients used to give you a beautiful, healthy tan.
The oil blends easily into the skin and keeps it feeling moisturized during the longest tanning sessions. It has a lovely coconut fragrance, and a little goes a long way, so a bottle can easily last through the entire tanning season.
Pros:
Very affordable
Smells great
The vitamins and antioxidants keep skin soft and smooth
An after-sun moisturizer is not needed
Helps you achieve great, natural color
Cons:
Feels a bit greasy and is difficult to wash off
It does not contain sunscreen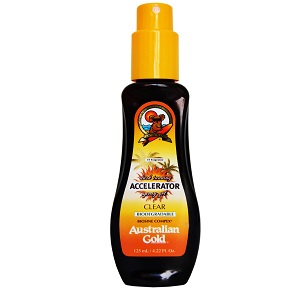 Get a great tan without breaking the bank with this great oil, which can be used for year-round indoor tanning or outdoor tanning at the beach or by the pool. This oil is loaded with ingredients designed to keep your skin soft, smooth, and moisturized while also accelerating your tan. If you've had difficulty getting a tan in the past or you've just hit a plateau, this is the right product for you.
Your skin will feel better than ever after being nourished with ingredients including olive oil, tea tree oil, and vitamin E. Not only is this good for your skin, but it will also help you get darker than ever before. It isn't greasy, it's easy to rub into the skin, and users report that despite its very low price, they obtained exceptional results comparable to more expensive oils.
Pros:
Affordable
Does not feel heavy or greasy
After-sun moisturizer is not needed
Prolongs the life of your tan by keeping skin moisturized
Indoor or outdoor tanning
Cons:
Does not contain any sunscreen
Strong smell
You have to use a lot of the product to completely cover your body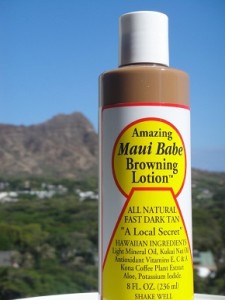 If you've tried oils and lotions in the past that just don't work, you might want to give this one a shot. This great product is made with a top-secret formula that combines a great list of quality ingredients that help pump up the look of your tan. You can cut down your time spent tanning and spend more time showing it off after using this great product.
This lotion contains ingredients like nut oils, mineral oil, and antioxidants to keep your skin moisturized to provide you with the best tan you've ever had. It also has aloe that soothes the skin and helps keep it protected and moisturized. It helps heal and soothe burns, and you can use  it with your favorite sunscreen. It's also water-resistant, so you can take a dip in the pool, lake, or ocean, and it doesn't attract bugs like other oils tend to do, so you can tan outdoors in comfort all day long.
Pros:
Absorbs right into the skin
Keeps skin soft, smooth, and moisturized
Use it with sunscreen
A little goes a long way
Ideal for all skin types
Can be used by those with sensitive skin
Provides excellent tanning results
Contains natural ingredients
It has aloe to help soothe the pain of burns
Cons:
It doesn't smell as good as some tanning products
A bit expensive when compared to other products
Feels a little greasy on the skin
All in All
If you find that it's difficult to get to the next level when it comes to tanning, you need to add an oil to your tanning routine. You shouldn't choose just any oil, though; you should make sure you select one that gives you noticeable results. Maui Babe Browning Lotion is one of the top picks in outdoor tanning lotions.
This great product takes you out of your tanning plateau and gives you a beautiful bronze glow in a fraction of the time of inferior products or using nothing at all. Not only will you have great color, but the formulation of ingredients leaves you with silky smooth skin that looks better than ever before.