Some links on this page are monetized by affiliate programs - see disclosure for details.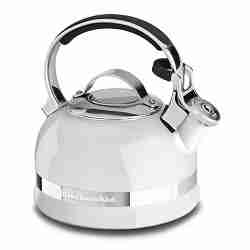 Sometimes, nothing is better than a hot cup of tea. Whether you drink a cup to get a boost of caffeine to keep you motivated in the morning or you drink a soothing cup of chamomile tea that helps you rest, relax, and fall asleep quickly, tea is not only delicious, but it can make you feel your best morning or night.
While making the perfect cup of tea isn't too difficult, the most important part is making sure that the water is just the right temperature. Boiling it in a pot can be a pain because it makes it difficult to pour. Boiling it in the microwave can result in burns, and you may not get it at just the right temperature.
Take the guesswork out of making tea by boiling your water in a tea kettle designed specifically for making the perfect cup every time.
Compare: The Top Rated Tea Kettles of 2018

Introduction: Tea Kettle Shopping Guide
A tea kettle is a pot that is designed for boiling water. It has a handle that is used to hold it and pour the water, and a spout which allows you to easily pour water into your cup. These are placed on top of your burner and heated until boiling, although there are are some that aren't used on the stovetop.
The best part is that you won't have to sit around and wait for the water to boil. Instead, most kettles will whistle when the water is boiling, so you'll know the exact moments it's ready to use. Kettles aren't reserved just for tea, though. You can also use them anytime you need hot water, including for noodles or oatmeal.
What are the different types?
If you regularly enjoy tea, make sure you make the perfect cup every time by using a kettle. Once you've decided to make the purchase, you have two types to choose from: stovetop kettles and electric kettles.
Stovetop kettles
These are very easy to use. All you do is fill them with water, put them on a burner, and wait until it whistles. These are generally the most affordable and come in a variety of colors, sizes, and styles. These are great for use at home or any place where you have access to a stove. However, they are not generally great for traveling or taking to places where you don't have a stove.
Electric kettles
These work the same way stovetop kettles work. However, instead of putting this one on the stovetop, you simply plug it into an electrical outlet. Once you plug it in and turn it in, you will have boiling water in just a few minutes. These are great for use at home, while you travel, or in your RV or camper. Electric kettles may be a bit more expensive than those used on your stovetop.
What are the Advantages of Owning a Tea Kettle?
Owning a kettle allows you to boil water quickly, and it also makes it easy to dispense into a teacup or bowl without the risk of burning yourself. You don't just have to use these for tea. You can use the hot water for instant grits, instant oatmeal, ramen noodles, or any quick meal that requires hot water. Kettles are very easy to use, clean up easily, and stovetop models can even be left on your stove when it's turned off to add a decorative touch to your kitchen.
Who will be our top 3 contenders for Best Tea Kettle Overall?
This affordable kettle is a great way to heat up water for your tea, instant noodles, cocoa, and more. This model can be used on gas or electric stoves, it is BPA-free, and it has a drip-free spout so you don't have to worry about leaks all over your kitchen or burning yourself while you pour. Because it is made of glass, it coordinates with all kitchen décor. This is a great basic model if you don't want all of the frills of the more expensive ones, but you still want a kettle that will last for several years.
This is an affordable option if you'd like to have an electric kettle that you can use at home, at the office, or while traveling. The stainless steel finish gives it a sleek, modern look that enhances the look of any kitchen. It has a cordless design for pouring, and it has an automatic shutoff feature to avoid boil drying to keep your home safe. It has a large capacity, and a cool-touch handle to round out the great features found on this mid-priced model.
Dress up your kitchen and boil your water safely with this great kettle, which comes in your choice of nine great colors, each accented with a stainless steel handle and trim. In addition to its great design, it holds a large capacity of water, has a loud, clear whistle when the water is boiling, and it has a silicon grip on the handle that makes it easy to handle and prevents burns while pouring.
Factors to Consider Before You Buy
If you just can't start your morning or head to bed without your cup of tea, an investment in a kettle is a wise choice. However, you can't just purchase the first one that you find and assume you'll love it, as not all kettles are made the same. You need to spend a few minutes of your time researching every model that catches your eye so that you can make a purchase that you will enjoy for years to come. You want one that not only performs well but also looks great in your kitchen.
Price
Kettles range in price from around $10 to more than $100 for an advanced electric model. You don't want to blow your budget, but you also don't want to purchase an inferior product simply because of its price. Make sure it's large enough to fit your needs, will coordinate with your kitchen décor, and is made with high-quality materials that won't break down, rust, or render it useless after a few uses.
Warranty
While most people think of warranties as something you get with high-end electronics, a warranty can actually come with just about anything. A warranty is designed to protect you, the consumer, from issues that may have occurred during the design or manufacturing process. These issues may cause a problem with your new product, resulting in costly repairs or replacements. If you don't have a warranty, this means you'll have to spend more money for a new product. However, with a warranty in place from the manufacturer, you can get the working product that you are entitled to without any additional costs.
Capacity
If you just make a cup of tea every day, the capacity of the kettle might not make a difference to you. However, if you make several cups for yourself or others in your household or use your boiling water for meals or other purposes, you want to purchase a model that has a higher capacity.
Type
As mentioned earlier, there are two main types of kettles. If you travel a lot and stay in hotel rooms that don't have a stove, an electric kettle may work well for you. This is also a great choice for offices that don't have stoves or kitchens. If you plan to boil your water on the stove, a traditional stovetop kettle is just what you need.
Price
Medelco Whistling Kettle
Kettles don't get much more affordable than this glass version.
Hamilton Beach 40870
Electric kettles don't have to be expensive, as is shown by the affordable price on this model.
KitchenAid KTEN20SBK
This is one of the more high-end stovetop kettles you'll find. However, the exquisite craftsmanship and the outstanding performance may make it well worth the money to you.
Warranty
Medelco Whistling Kettle
This product does not come backed with a warranty.
Hamilton Beach 40870
With the purchase of this unit, you'll receive a 1-year limited manufacturer's warranty.
KitchenAid KTEN20SBK
A limited lifetime warranty reassures you that you're buying a top-quality product.
Capacity
Medelco Whistling Kettle
You can boil up to 12 cups of water in this glass kettle.
Hamilton Beach 40870
This model has a 10-cup capacity, providing you with plenty of hot water for tea, cocoa, instant oatmeal in the morning, and more.
KitchenAid KTEN20SBK
This unit has a full two quart capacity.
Type
Medelco Whistling Kettle
This is a traditional stovetop kettle.
Hamilton Beach 40870
This is an electric kettle that is used in any standard power outlet.
KitchenAid KTEN20SBK
You can use this on your stove with heat to boil your water or leave it without heat to add a nice decorative touch to your kitchen.
Conclusion: Our Final Tea Kettle Reviews Are In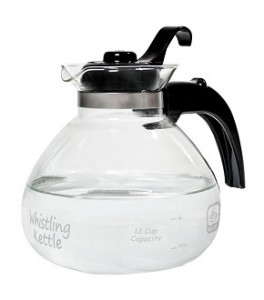 Often when shopping for a product, many people overlook the bells and whistles of the more expensive models and just want something that performs well. This is the case with this unit from Medelco. If the only whistle you want is the sound of your boiling water, this basic model is perfect for your kitchen.
It has a large 12-cup capacity, and it is made with thermal-shock-resistant borosilicate glass that is made in Germany and known for its durability. The glass design also looks great in any kitchen, from a classic one to a room that is very updated and modern. It is BPA-free, has a removable lid that makes it easy to fill and empty, and a drip-free spout to eliminate messes in the kitchen and burns on your skin. It is safe for use on all electric and gas ranges.
Pros:
Very affordable
It has a basic glass design that looks good in any kitchen
It has a loud whistle when it's finished
Large capacity
It is very basic and easy to use
Extremely simple to clean
Cons:
It does not come with a warranty
The handle feels a bit flimsy when compared to more expensive kettles
The glass can break if dropped or mishandled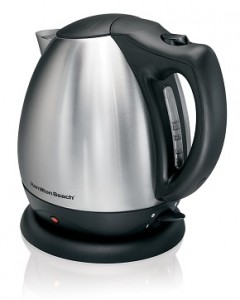 Traveling can be a pain, especially when it comes to cooking and making your own food and drinks. If you don't have a kitchen, you may not be able to enjoy your favorite hot drinks. You can put them in the microwave, but you risk burns. If you've encountered this problem, this electric kettle is just what you need. It isn't just reserved for travel, though. You can use it anywhere – at home, in the office, while you're camping, or anywhere you want to enjoy hot food and drinks. It's also a great choice for a college dorm room.
This unit holds 10 full cups of water, providing you with enough boiling water for yourself, your household, or your coworkers. The stainless steel design is very modern, and it has a clear water window so you can see how much water is inside. It is designed for cord-free serving, and the element is concealed. If there is no water in the unit, it will shut itself off so that the unit doesn't fail or a fire isn't started, which is a great additional safety feature.
Pros:
It is affordable
It is very portable
Use with any standard electrical outlet
It has a stay-cool handle and drip-free spout to prevent burns and messes
Modern look
It has a base that can rotate or be used without the cord
Boils water quickly
Cons:
It may rust over time
Thin metal doesn't insulate as well as more expensive kettles
The measuring window is in liters, which can be inconvenient if you typically measure in ounces
Lid doesn't remove completely, making it a little harder to fill and clean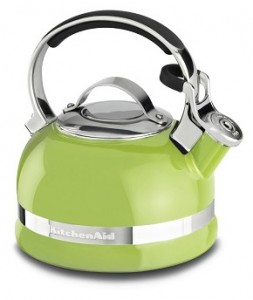 The first thing you may notice about this unit is the wide rainbow of color choices available, however, good looks isn't the only thing this model has going for it – it performs well above your expectations. If you choose this model, the first choice you'll make is the color. Pick from the nine different colors to perfectly match your kitchen. Choices include White, Cameo Blue, Citrus Sunrise, Doulton Blue, Empire Red, Mandarin Orange, Sunkissed Lime, Pyrite, and Onyx Black. Each color has stainless accents that give it a more stylish look.
This model has a comfort grip that makes it easy to hold. It has a levered spout that prevent drips and leaks, making it easier to pour. The whistle is loud and clear, so you can hear it almost anywhere in your home. It comes with a removable lid that makes it easy to fill and clean, and it's backed with one of the best warranties you'll find – a limited lifetime manufacturer's warranty.
Pros:
It has an excellent warranty
Comes in many great colors
The porcelain and stainless finish look great
The handle is comfortable and easy to hold
Doesn't drip or leak
It retains heat well
Use it on any stove top
Very durable and sturdy
Cons:
The handle gets a bit hot to the touch
It is more expensive than other kettles
In Conclusion
Stop making your tea the hard way in a pot on your stove and invest in a tea kettle that you can use for multiple purposes. You won't have a huge, heavy pot to clean, you won't risk burning yourself when you pour it out, and you won't have to hover over the stove waiting for it to boil. Its loud whistle will simply alert you to when your water is ready to go.
If you want the best tea kettle that not only looks great but is easy to use and clean and performs like a dream, the KitchenAid KTEN20SBK is a great choice for your home. With so many colors, a great design, fast heating, and a lifetime warranty, you'll find this kettle is certainly your cup of tea.