Some links on this page are monetized by affiliate programs - see disclosure for details.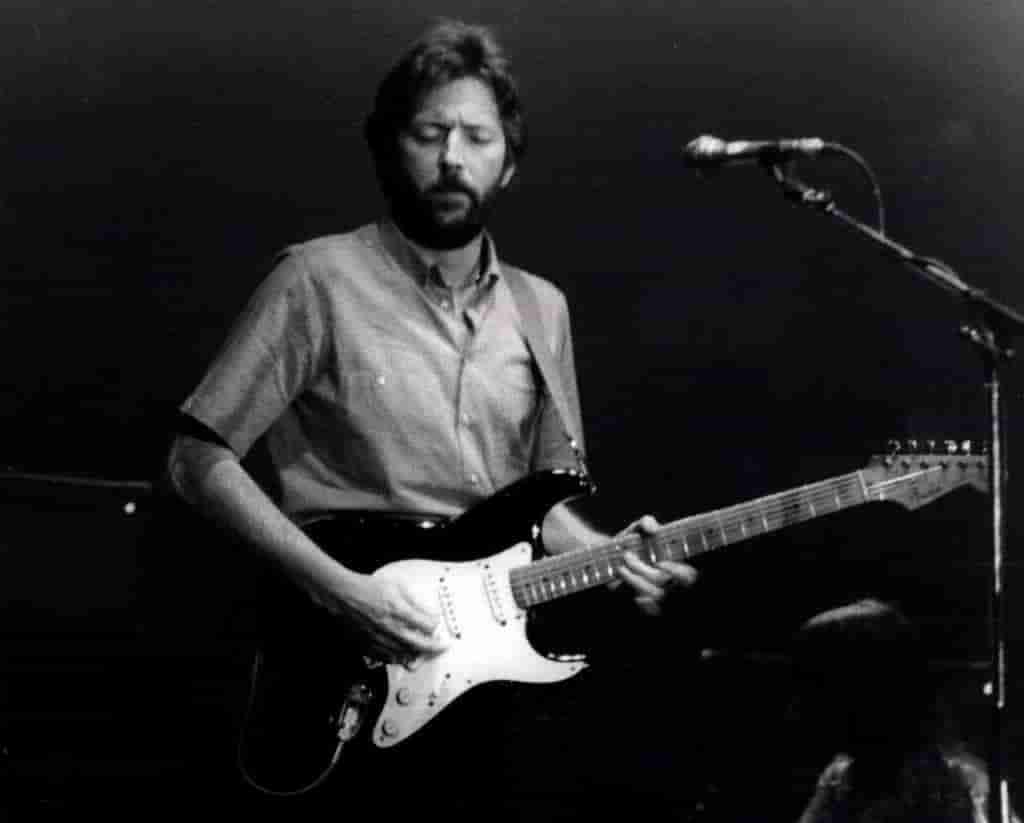 Ranking musicians is always a cause for controversy. There are so many great electric guitar players that it's impossible to give them all their due in such a short list. But we're going to try to pick the top 10. Here are, in our best estimation, the top 10 best electric guitar players of all-time.
1. Stevie Ray Vaughan
There were few things more powerful than Stevie Ray Vaughan with a guitar in his hands. Though he was deeply entrenched in the blues idiom, he took it to an entirely new and original level. Heavily influenced by Jimi Hendrix, his triple string bends and lightning fast double stops were things of absolute beauty. While every one of his songs is an electric blues guitar masterclass, perhaps his most impressive performance is in the song "Texas Flood."
2. Jimi Hendrix
When Jimi Hendrix came on the scene in the late 1960s, he was like nothing anyone had ever seen before. His ability to use volume, feedback, wah pedals, and other sonic devices to their maximum effect was awe-inspiring. Eric 'God' Clapton saw Hendrix for the first time and thought he would be the end to his career. There may be more technically impressive guitar players, but it's hard to find anyone who played with more adventure or spirit than James Marshall Hendrix.
3. Rory Gallagher
Almost criminally underappreciated, Irish blues rock guitar player Rory Gallagher was arguably the top guitar player of the 1970s. Capable of playing slide guitar as well as anyone that ever existed, he also excelled at blues improvisation. One of his best songs is "Tore Down," a hard driving blues rock song with a truly tasty guitar riff and inspired soloing. Hopefully, with time, Gallagher will start to get a little more recognition.
4. Duane Allman
Whether he was playing as a Muscle Shoals studio musician or as one of the lead guitarists in The Allman Brothers Band, Duane Allman was brilliant. Both his standard playing and slide playing were some of the smoothest and most adventurous the world has ever seen. To hear Allman at the height of his guitar playing prowess, give a listen to "The Allman Brothers Live at The Fillmore East."
5. Eric Clapton
After music fans heard his impressive blues rock playing on John Mayall's 'Beano' album, they began to spray paint "Clapton is God" on London, England infrastructure. It's safe to say that Clapton left quite an impression on people. His playing with Cream, Derek and the Dominos, and Blind Faith as well as in his solo work only helped to strengthen Clapton's legend.
6. Chet Atkins
If you've never listened to Chet Atkins, you should do it right now. The rockabilly player was a skilled instrumental guitar player, playing most of his songs without any backing from other musicians. For a great sample of his talent, give a listen to his version of "Mr. Sandman." His alternating thumb rhythm and syncopated melodies are marvels of beauty and precision on the instrument.
7. Charlie Christian
Considered by many to be the first master of the electric guitar, Charlie Christian was an unbelievable jazz player with stellar improvisational skills. His quick, fluent runs down the fretboard made for some of the most inventive and innovative jazz of all time. For a sample of Christian's great guitar work, give a listen to his song, "Swing to Bop."
8. Mark Knopfler
The great Mark Knopfler has arguably the cleanest, smoothest electric guitar tone of all-time. Playing without a pick, his fingers blaze from note to note without any hint of misplacement. Even when he's playing with blatant distortion, his notes ring out smooth and completely decipherable. While he has quite a few great guitar songs, a great sample of his playing can be found in the Dire Straits song, "Sultans of Swing."
9. Muddy Waters
Few guitarists play slide guitar with more raw emotion or feeling than blues legend Muddy Waters. There's perhaps nobody more important to the electric blues idiom, of which Waters became the primary spokesman. His playing was raw, dirty, raunchy, and everything else that makes the blues as great as it is. He undoubtedly inspired every great blues guitar player that came after him.
10. Frank Zappa
Frank Zappa was a lot of things. A writer of hilariously satirical lyrics. A composer of technically brilliant music. And a player of some of the most innovative and inventive guitar heard to date. His lightning fast fretting hand gave rise to some truly remarkable guitar improvisation. One of his best performances can be heard on the song, "Watermelon in Easter Hay." "Muffin Man" is another great example of his titanic ability.
Image Courtesy of Flickr User F. Antolin Hernandez