Some links on this page are monetized by affiliate programs - see disclosure for details.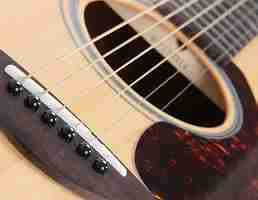 Acoustic guitars are awesome instruments. Learning them provides an interesting challenge, but the wide diversity of songs that an acoustic guitar player can perform means that at just about every stage of learning, there is some song you can play. It's a fun and rewarding experience.
However, it can be tricky to settle on the right acoustic guitar to buy. There are a lot of options out there. In this buyer's guide, I will explain some of the most important characteristics of acoustic guitars, compare the top ten sellers, and then talk about my three best recommendations for you depending on what kind of guitar you want and what your budget might be.
Comparison: The 10 Top Rated Acoustic Guitars of 2019

A Guide To The Best Acoustic Guitars
What are the Different Styles of an Acoustic Guitar?
When you think about an acoustic guitar to buy, it is important to keep in mind that there are several different types. For example, some acoustic guitars have some electric elements or can be plugged into an amp. This guide will only consider pure acoustic guitars.
There are also a few different broad body types that acoustics can have. There are two main factors that influence what body type you might want: your size and your influences. Some body types are specifically geared for smaller players.
Likewise, particular body types are associated with certain genres or musicians. The three top guitars I will review are all of the dreadnought type, which are generalist guitars.
What is the Advantage of Owning a Good Acoustic Guitar?
The acoustic guitar is an instrument with a lot of history. It appears in an diverse group of musical genres, and it's capable of acting alone, with a small group like a band, or as part of a large orchestra. Acoustic guitars have a wonderful tone, and a well-designed one is as beautiful as its sound. The acoustic guitar is a great instrument to learn for many people because of its versatility.
How to Care for Your Acoustic Guitar
Your new guitar is your baby. Fortunately, keeping it looking good and free from damage is usually pretty easy.
Keep your guitar in a padded case when traveling or not in use. Even small bumps can mess up the frets and strings. Treating your guitar gently prevents most damage.
Store your guitar in a cool, dry location. High temperatures and excess humidity can create small cracks in the guitars wood called lacquer checks. Ideally, keep your guitar in about 50 percent humidity and 75 degrees.
Clean your guitar regularly with a soft, dry cloth. Avoid using solvents or polishes unless they're specifically made for guitars. Most products aren't necessary as your guitar will already have a special coat of varnish.
What are the Top Contenders for the Best Acoustic Guitar?
Rogue RA-090 Dreadnought Acoustic Guitar – The RA-090 from Rogue has a mahogany back, rosewood fretboard, and spruce top. The body is whitewood. The guitar has 20 frets and a neck that is 16 inches in radius. It lists for $129.99.
Jasmine S35 Acoustic Guitar – Jasmine's acoustic S35 uses nato for the neck and uses agathis for the back and sides. Compared to the Rogue, it has a slightly longer scale. It still has 20 frets. The neck is slimmer, at 12 inches. The Jasmine lists for $169.99.
Yamaha FG700S Acoustic Guitar – Yamaha's FG line is well-known. The FG700S uses sitka spruce for the top, nato for the back and neck, and rosewood for the fretboard. It has a tortoise pickguard, die-cast tuners, and a hand-fitted dovetail neck joint. It lists for $322.00.
Most Important Features of an Acoustic Guitar to Consider

There are four important aspects of an acoustic guitar that should affect which one you purchase. Other elements of the guitar's construction and design are important as well, but these four are the most critical.
Price
Of course, the price of the guitar will determine whether or not it is worth it for you to purchase it. You will need to balance the price against the features list and decide if it fits into your budget. More expensive guitars usually have higher-quality wood and better construction, but that doesn't mean that cheaper guitars are poorly made.
The guitar market has many options for different budgets and price points. Please note that many of these guitars sell for considerably less than their original list price, so shop around for good deals.
Tone
There are many different physical characteristics that affect tone, but the bottom line is that different guitars have different sounds.. Ideally, you want a tone that is closest to the music you want to play. If you aren't sure about the kind of style of music you want to play, then choose a tone that sounds nice to you.
Comfort
When you hold and play the guitar, it needs to be comfortable and easy to use for you. Of course, there are some things in a guitar that you can adjust after you buy it, particularly the strings. I won't consider that here- I will only discuss fixed elements in the guitar design that affects its comfort. Practicing the guitar can take a lot of time, and you want to be sure you will be comfortable holding the guitar for that long.
Appearance

You want a guitar that looks good. Whether you are noodling in your bedroom or performing on stage, having a guitar with an appealing aesthetic is a big part of the experience, even it if that seems vain. Don't be afraid to let your feelings about how a guitar looks to affect whether you want to buy it.
Price
Rogue RA-090 Dreadnought
There's no doubt about it. Rogue's guitar is the cheapest on hand, even when accounting for sales. That makes the RA-090 an appealing first-time guitar. Considering the quality of the guitar, this is a good deal- you won't be compromising on quality at this price point, although it probably is not a good idea to go cheaper.
Jasmine S35
Jasmine's S35 is a step up from the Rogue when taking sales into account. That's actually quite a big discount from its original list price, and in fact I consider this guitar to be a hidden gem for that reason. It is a real steal. Keeping it below that $100 limit makes it a lot more appealing, because that is just about in the range of a big impulse buy.
Yamaha FG700S
Yamaha's FG700S is the most expensive. That jump in price reflects an increase in quality, but it is certainly enough to give a first-time buyer pause. This is an excellent guitar for reasons that I will go into later, but if you have never played an acoustic guitar before, it might be better to find one that is a little cheaper.
Tone
Rogue RA-090 Dreadnought
The RA-090 has a well-balanced tone that has good volume. The midrange notes are pronounced, and the nato gives it decent sustain. The neck joint hurts it a little, but considering the price, this is a good tone for a starter guitar. If you are looking to get started with acoustic, then this is certainly a good enough tone for your needs. But if you have played acoustic guitar in the past or have more room in your budget, it might be worth it to look at guitars with a little more individual attention in the construction.
Jasmine S35
The S35 takes tone up a step in quality compared to the RA-090. It has a nato neck, but the agathis in the body and the bracing Jasmine uses in construction provide a fuller, more resonant tone- it's a noticeable difference. You might find that the guitar sounds a little strange out of the box, but this is because the S35 tends to ship with an action that is too high. If you don't know how to fix this, you can take it to a guitar shop- it's a fast and cheap modification that will help you get the most out of the guitar.
Yamaha FG700S
There isn't much to say here- the FG700S has the best tone of three for obvious reasons. It has superior wood, a hand-set neck, better bracing, and a solid top. Not only do the craftsmanship and materials in the Yamaha give it a better tone, they also ensure that the tone will last longer. The tone is clean, clear, and balanced, showing off every note without making it sound too bright or sacrificing sustain. The FG700S unquestionably boasts the best tone, and it's a tone suitable to a wide variety of genres and playing styles.
Comfort
Rogue RA-090 Dreadnought
The RA-909 is comfortable and easy to play. The dreadnought body gives it a natural balance, and the guitar is extremely light. That lightness makes it easy to transport as well as play. It is just as easy to play standing up with a strap as sitting down. The action is a bit high, but that is adjustable as well as a matter of taste.
Jasmine S35
The main distinguishing element of the S35 when it comes to comfort is the slender neck. The 12 inch radius on the fingerboard means it is easier to reach the strings. This can make the experience of playing the guitar much better for someone with shorter fingers, although anyone will benefit from a slim neck. The guitar is a little heavier than the RA-090, but still quite manageable. If you are interested, then you can try the S34C, which is the same guitar but with a cutaway to make it easier to reach the upper frets.
Yamaha FG700S
The Yamaha is not particularly special in the comfort department. It is light and easy to handle, but the neck is not thin. In fact, some people might find this guitar to be a little bit too large for them. It is a good idea to try to get your hands on it at a store to see how it feels in your hands just to make sure.
Appearance
Rogue RA-090 Dreadnought
The RA-090 looks fairly good in the natural color scheme, but it suffers a bit due to the pickguard, which is a plain black and does not look particularly good. The same principle holds for the staining and inlay on the fingerboard- not impressive. This is the cheapest of the three, so it is not surprising that it doesn't hold up as well cosmetically. This is not a bad-looking guitar, but it tends to show its price.
Jasmine S35
The S35 suffers from the same pickguard issue as the RA-090, but it has a few improvements. The fingerboard looks significantly better and more natural. The body also has a darker wood color that I find more attractive than the RA-090's somewhat pale color. The tuners look decent, although not anything special. The Jasmine looks good with either nylon or steel strings.
Yamaha FG700S
The Yamaha is by far the nicest-looking guitar. The tortoise pickguard is beautiful, and the wood is pale, but shows off the natural grain in the wood. Yamaha uses black and white accents for areas like the body binding and the bridge in an effective way; it offsets the wood tones of the body and fingerboard without outshining them. The finish is especially striking, because it is glossy and catches the light. The die-cast tuners look good in the dark wood of the headstock, and the Yamaha insignia in gold is the perfect finishing touch.
Final Results: Acoustic Guitar Reviews
Pros:

The RA-090 has an unbeatable price. It isn't unbeatable because it is simply cheap- it also provides a lot of value. While it is priced at the bottom of the market, it doesn't play that way. That makes the RA-090 a good choice for people looking to try out the acoustic guitar for the first time- it's a small upfront investment that gives you the feel of the instrument at a low entry-level price. The RA-090 performs far better than other acoustics of the same price.
Cons:
Of course, it still remains a budget pick. The RA-090 will not sound as good as the other guitars on this list, nor is it as comfortable as them. In terms of durability, it will last, but the lower quality of the wood means better guitars will last longer and resist damage better. The ideal use of this guitar is for a brand-new player to buy and experiment with for a year or so, moving on to a better instrument if you like it.
Pros:

All of the guitars on this list provide a quality over and above their price, but the S35 really shines in this area. While it is only moderately more expensive than the RA-090, the jump in quality is significant- it plays like a guitar twice its price. The better tone of this guitar, along with its dreadnought design, mean that it functions well in many different genres. So if you are unsure about the kind of music you want to play, this guitar will let you experiment and find your own style at an excellent price.
Cons:
To a professional musician, this might be suitable as a travel instrument or backup, but it won't have the quality to be a main performance guitar. While it is a step above entry level, the S35 is still lacking the fullness of tone that a high-quality acoustic guitar has. So while it has a broader appeal than the RA-090, it still doesn't quite cut it for someone who wants to spend serious time with the guitar.
Pros:

Despite the value of the first two guitars, it is hard to argue with sheer quality. Don't get me wrong- the FG700S is a decent deal, but it is definitely priced more in line with its quality. The handmade neck joint is a major highlight, as is the wood quality. The demonstrably superior quality means that the FG700S is my pick for the best acoustic guitar without really breaking the bank.
Cons:
This guitar really is a step up in price, and it might be hard to justify for anyone who is not an experienced player. However, the increase in price has a corresponding quality boost, so this isn't just branding- it really is a better guitar.
Final Thoughts
These three guitars are all great choices for different reasons, and they share one common quality- they play much better than the price would lead you to believe. Depending on your experience and level of commitment, there is a guitar on this list for you.