Some links on this page are monetized by affiliate programs - see disclosure for details.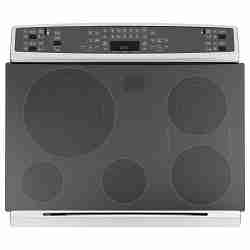 If you like to cook in your own kitchen, you know having the right tool is essential for a delicious meal. Whether you just want to make a simple grilled cheese sandwich and heat up some soup or you have to make a four-course dinner for your family, if you don't have the right stove top, you just can't get the job done right. Few things in your kitchen are more important than your appliances.
Appliances are designed to keep your food cold, your dishes clean, and of course, to heat up and thoroughly cook your food so it's safe to eat. This is why it's important to make sure that you have a high-quality range to cook all of your favorite meals, as well as to experiment with new recipes.
See: The 10 Highest Rated Electric Ranges of 2019

What is an Electric Range?
An electric range (also known as an electric stove top) is a large kitchen appliance that is used to cook food in a variety of ways. Baking, boiling, broiling, and frying are just a few things you can do on a range.
An electric model is distinguished as such because it runs exclusively on electricity and not natural gas like gas ranges. All you have to do is plug it in, and it's ready to use. A range has an over that can be used for baking and broiling, as well as a stove top that is used to boil, fry, and sauté. If you do any type of cooking in your home, a range is a necessity.
What are the different types to choose from?
If you've moved into a home without appliances or you're replacing an outdated range, you need to know what to look for in order to make sure you make the right purchase. Since ranges are investments that you should plan on owning for many years, it's best to purchase one that will best fit your needs. The first step to picking out your new range is learning about the different types to determine which one will best fit your home.
Economy ranges
These ranges are the most inexpensive. They may be equipped with a timer and easy to use controls, but for the most part, they have a no-frills design. These have burner elements that stock out from the top of the range.
Smooth top range
These ranges have a smooth ceramic top that is perfectly flat. The heating elements are located under the ceramic top. While these are more expensive, many love the more modern and streamlined look they provide.
Freestanding range
A freestanding range may have a smooth top, or it may have external burners. These are appliances that you can simply plug in and slide into place, although many people install a bracket that prevents it from tipping over.
Slide-in range
Freestanding models have a backguard, but slide-in models do not. This allows you to create a seamless look in your kitchen and add your own backsplash to the wall for a more customized look.
Range with double ovens
Most ranges only have one oven, but some are equipped with two that allow you to set separate times and temperatures if you are baking multiple dishes.
What are the Advantages of Owning an Electric Stove?
A stove in your kitchen is a necessity. Without a range, you will be unable to cook meals for yourself and your family. With these appliances, you can do everything from reheat leftovers to create a gourmet meal. Whether you have never cooked before or you consider yourself to be seasoned in the kitchen, this appliance is something that you must have in your kitchen.
Is an Electric Range Better than a Gas Range?
Gas and electric are the two most common types of ranges. While they'll both cook your food, they also have some key differences.
Electric ranges are cheaper to purchase initially. However, electricity is more expensive than natural gas. An electric range costs more to operate than a gas range in the long run, although the difference usually isn't substantial.
Electric ranges are considered the safer option. Gas ranges can potentially leak. An electric range has no such issue. Additionally, electric ranges help prevent accidental burns. When the burner on an electric range is hot, it glows an easy-to-see red.
Finally, electric ranges are typically easier to install. Almost every home can easily accommodate an electric range. However, not every home has a gas line in the kitchen.
Who are the contenders for Best on the Market?
Sporting five heating elements, this GE electric range is capable of cooking a variety of food simultaneously. With a 5.4 cu. foot oven, it provides quite a bit of room for a bevy of pans, trays, and other cookware. Possessing a self-cleaning mechanism, it is ridiculously easy to take care of.
Equipped with five heating elements, this Frigidaire electric range can handle your entire meal all at once. Sporting a spacious 6.3 cu. foot oven, it will have no problem accommodating your many pans and trays. Made out of smudge-proof materials, it is beyond easy to keep in working order at all times.
If you love experimenting in the kitchen, you'll love this high-quality range, which comes loaded with great features you won't find on cheaper models. It has easy-touch controls, five burners, and a double oven – both in different sizes so you can cook everything all at once without waiting. It's equipped with a timer that lets you set a time in the future to turn on, so your food will be cooked perfectly at the right time, every time. It heats evenly on the stovetop and in both ovens, and the black glass and stainless design adds a modern touch to your kitchen.
Considerations for Choosing the Right Range
An appliance is a big investment for your home, so you want to make sure you get your purchase right the first time. Before you just plop down money on the first range you see, make sure you know what you're getting ready to buy. A little research goes a long way, and the following four points can easily help narrow down your decision.
Price
Even the most basic ranges come with a price tag of several hundred dollars. More advanced, modern ranges may cost several thousand dollars depending upon the size, features, and brand. Before you begin shopping, set a budget for yourself. Make sure you also take into consideration the features you absolutely must have on your new appliance, and consider how much extra these may cost.
Number of elements and ovens
Most ranges come with four elements and one large oven. However, if you frequently cook larger meals, you might want to invest extra money in a dual-oven model that has more elements.
Type
If you have a backsplash that you don't want to cover, a slide-in range will best fit your needs. If you don't have a backsplash and don't want to install one, look for a freestanding range.
Warranty
Since you will be paying quite a bit of money for your range, you don't want a defective product. Make sure any appliance you want to purchase comes backed with a manufacturer's warranty.
Price
GE JS750EFES
Available at a middle of the road price, this GE range is the cheapest in our top 3.
Frigidaire FGIS3065PF
Falling somewhere between the two GE ranges in our top 3.
GE PS950SFSS
This GE model sells at the higher end of the pricing scale.
Number of elements and ovens
GE JS750EFES
Sporting five heated elements and a 5.4 cu. foot oven, this GE model is just a little smaller than the Frigidaire and GE ranges in our top 3.
Frigidaire FGIS3065PF
Equipped with 5 heating elements as well as a 6.3 cu. foot oven, this Frigidaire has everything necessary to bake a number of foods simultaneously.
GE PS950SFSS
You'll have all the space you need to cook for your family or a crowd with five elements and dual ovens.
Type
GE JS750EFES
This is a slide-in range that would work best with a backsplash.
Frigidaire FGIS3065PF
This is a slide-in range that looks best when paired with a backsplash.
GE PS950SFSS
This range slides right in between your cabinets for a customized look.
Warranty
GE JS750EFES
Like the PS950, this GE range is backed by a 10-year warranty on all major components.
Frigidaire FGIS3065PF
Your purchase is backed with a limited 1-year warranty on parts and labor and a 5-year warranty for cooktop elements.
GE PS950SFSS
This range is backed with a 10-year warranty on the major components.
Conclusion: Our Electric Range Reviews Are In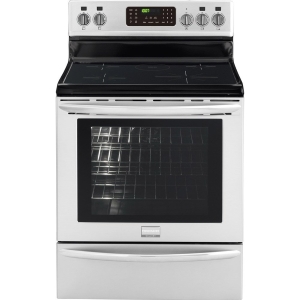 The fact of the matter is that electric ranges cost a pretty penny. Regardless of which one you purchase, you're going to be laying down quite a bit of money. That being said, you can still find great electric ranges at relatively cheap prices. One of these is this range by GE.
Equipped with five different heating elements and sporting a 5.4 cu. foot oven, it can accommodate a bevy of cooking all at one time. With the ability to self-clean, it will always look its best, cutting down on total upkeep time. If you're looking for a top-notch electric range at a decent price, this is definitely one you should look at.
Pros:
Contains self-cleaning mechanism
Possesses five heating elements
Looks great in any kitchen
Cons:
Its 5.4 cu. foot oven is smaller than seen in many other electric ranges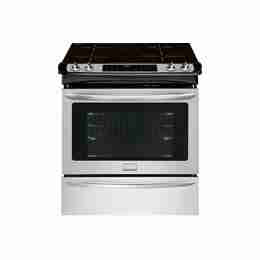 While this Frigidaire electric range isn't the absolute best electric range on the market, it is certainly close. And the fact that it's available for a downright reasonable price makes it all that more enticing.
Sporting five heating elements and equipped with a spacious 6.5 cu. foot oven, it can handle just about any amount of cooking you wish to throw at it. Possessing a smudge-proof surface, it is ridiculously easy to keep in working order. If you're looking for a truly elite electric range at a decent price, this is the one for you.
Pros:
Possesses five heating elements
Huge 6.5 cu. foot oven
Smudge-proof construction
Cons:
No major cons to speak of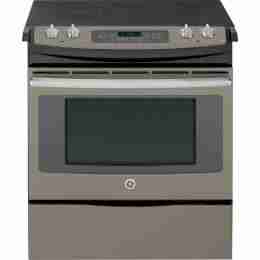 Get a stove worthy of a commercial kitchen without the bulk and price tag with this attractive and functional model from GE. This slide-in range will look like it was custom made for your home, but all you have to do is slide it into place. The stainless steel and black glass design is very modern and will perfectly enhance any décor.
It doesn't just look great, either – it cooks like a dream. You can enjoy many great features, including an easy to use touch control pad. You get five burners, two with adjustable sizes, for your stovetop cooking and two roomy ovens for baking. Other high-end features include a preset function to start cooking at a set time in the future, self-cleaning functions for both ovens three total racks, and convection features.
Pros:
Looks great in any kitchen
It has plenty of cooking space
Backed with a warranty
It has nine total oven rack levels
The touchpad is easy to control
Easy to install
Easy to use
It's very simple to clean
Broiling features are available in both ovens
Control locks for safety
It has a more custom look than freestanding ranges
Cons:
It is expensive
The controls are easy to bump and turn off (or on) if not locked
In Conclusion
If you're sick of going out to eat and want to cook delicious meals in your own kitchen, a new electric range is all you need. If you want performance, durability, multiple features, plenty of space for cooking and baking, and an attractive design, the GE PS950SFSS is an appliance that will upgrade the look of your kitchen and assist you in cooking the best meals for years to come.