Some links on this page are monetized by affiliate programs - see disclosure for details.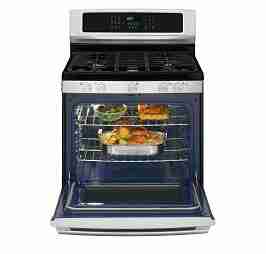 Whether you own a home or rent an apartment, you know that your kitchen is one of your most used rooms. Whether you're just grabbing a snack or making a full meal for your whole family, you know the importance of your appliances. From microwaves that reheat your leftovers to a refrigerator that keeps everything cold and fresh, you can't eat at home if you don't have quality appliances.
If you plan to cook or bake, you have to have a range, and if your home is set up with natural gas, a gas range is a must-have full-size appliance that should be in your kitchen.
Compare The Top Rated Gas Ranges of 2020

Start Here: Our Gas Range Reviews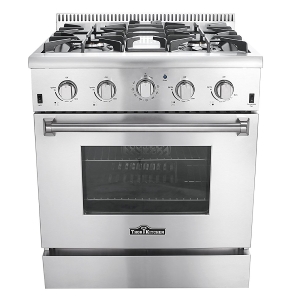 Regardless of what gas range you buy, you're going to spend a great deal of money. However, you can save some money by purchasing this Thor Kitchen gas range. Equipped with four top burners, it allows you plenty of room to boil water, cook soup, and perform a bevy of other cooking operations. With a 4.2 cu. foot oven, it's a mid-sized range capable of baking a number of different foods at once. If you're looking for a quality gas range at an affordable price, this is the one for you.
Pros:
Attractive and durable stainless steel exterior
Reasonable 4.2 cu. foot oven
Cons:
Only possesses four burners
---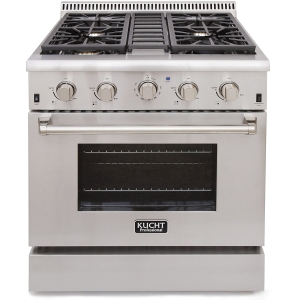 Priced between the Thor Kitchen and GE ranges in our top 3, this Kucht gas range provides top-tier performance at a reasonable price. Containing a total of 5 burners, it allows you to boil, cook, and bake a number of different dishes at once. With a 4.2 cu. foot oven, it is capable of cooking a number of different foods with ease. Equipped with heavy-duty cooking grates, it is as durable as any range you're going to find. If you're looking for the best gas range for the money, look no further.
Pros:
As durable as they come
Reasonable 4.2 cu. foot oven
Possesses five top burners
Cons:
Customer service is sub-par
---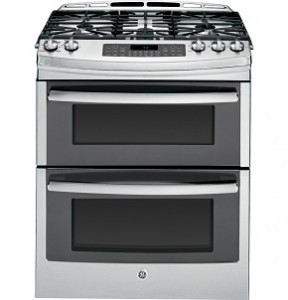 Update your kitchen with a range that will provide you with exceptional performance for years to come. This high-end model from GE has everything you could ever want in a household range. This includes five burners, including a large oval center burn that is excellent for use with your oversize pots and pans and a 20,000 BTU SuperBoil burner for fast boiling.
If you need to put more than one thing in the oven, not to worry – this model has two. With convection heating, you'll get evenly cooked food every time, and these ovens are some of the roomiest on the market without adding extra bulk to your range. Other standout features include a simmer burner for precise simmering, a griddle/grill attachment that comes included with your purchase, and a tri-ring burner that functions as three different burners.
Pros:
It has a sleek, modern design
The glass touch controls are easy to use
Gives any kitchen a more customized look
It is easy to install
It has five burners and two stoves for plenty of cooking space
Burners have various functions for exceptional cooking
It has one of the roomiest dual ovens on the market
Backed with an excellent warranty
Installs easily
Uses convection for even cooking
It has a warming drawer
Cons:
It is quite expensive
The control panel is a bit sensitive
A trim kit may be required for installation depending upon your counter height
---
Next Read Our Gas Range Buyer's Guide
A gas range is an appliance that has a stovetop with burners and an oven for baking. While some ranges use electricity to heat the elements, a gas range utilizes a combination of electricity (for things like the electronic ignition and the clock, timer, and temperature controls) along with natural gas that is used to provide heat to broil, bake, grill, boil, saute, and sear.
If you don't have a range in your new home and it has natural gas lines, this is the type you'll want to purchase. If you have a range that needs to be replaced and it uses gas, you'll want to purchase a similar product to replace it.
What are the different types of Gas Stoves?
If you need a range for your new home that did not come with appliances or you just want to replace an old, outdated, or broken one, you want to buy one that is just right for your kitchen. Since you will be spending several hundred dollars, even for the most basic range, it's important that you're happy with the purchase you've made and don't feel remorse because of a lack of research. Before you shop, the first step is knowing about the different types of ranges available.
Standard ranges
This is a very basic model and is usually the least expensive. These have very few additional features, and they're typically available in black or white, although stainless may also be available at an additional cost.
Mid-price ranges
These models have a few extra features which may include things like a built-in timer, a self-cleaning oven, and upgraded burners.
Premium ranges
You should expect to pay at least $1,000 for one of these higher-end models, which may come with features like high-performance burners, extra burners, and an electronic control panel.
Professional ranges
These are the best of the best and cost several thousand dollars. Most kitchens are not equipped with these, and typically, a person would only upgrade to one of these if he or she loves to cook or bake. These may have double ovens, extra burners, and perform much better than lower-end models.
Dual-fuel
These combine electricity and gas. The stove burners are fueled with natural gas, while the oven is powered with electricity.
What are the Advantages of Owning One?
If you plan to cook anything at home, a range is a necessity. If you have gas lines already ran through your house, a gas model is a great choice. Most people enjoy using gas because it heats more evenly than electric burners. Without a range, you won't be able to make your favorite meals, reheat leftovers, or even boil water, which is why this is one of the most important appliances in your kitchen. Whether your specialty is French food or just a mean grilled cheese, you have to have a high-quality range in your kitchen.
How Safe are Gas Stoves?
Generally, gas stoves are considered very safe. However, any appliance which uses natural gas and flame does pose certain potential dangers.
Gas stoves have safety valves which control the flow of gas. Turning on the burner ignites the pilot light. When the flame reaches an appropriately high temperature, a sensor opens a value inside the stove to allow the flow of natural gas. When the burner is shut off, the value closes, preventing gas from escaping.
Another key safeguard is the stove's electric ignition. Older gas stoves use an always-lit gas flame. It's effective, but also requires a constant flow of gas. However, stoves today use an electric ignition, which is far safer. Electric current builds up in the igniter, requiring natural gas only in the last stage of the process.
If you smell gas, turn off the burners and get out of the house fast. Don't light any flame or even turn on any light switches. Once you're safely away from the gas, call emergency services.
What are the top gas ranges available in 2020?
A high-level range with a mid-level price, the Kucht KRG3080U provides you with everything you could ever want out of a gas range. With a 4.2 cu. foot oven, it's a little on the small size, but still can accommodate a number of different dishes at once. Equipped with heavy-duty, cast iron cooking grates, it can take quite the beating, ensuring use over long periods of time.
Possessing a fairly low price tag, this Thor Kitchen gas range is highly capable of doing the same things that high-end ranges can do. Sporting a stainless steel exterior, it's very easy to clean and maintain, and is also very tough and durable. Equipped with a 4.2 cu. foot oven, it's on the small size, but it still capable of cooking many different foods at once.
Cooking will be your new favorite hobby when you try out new and exciting recipes on this great range from GE. It slides right in between your cabinets for that custom look, has easy to use controls, five sealed burners, and double ovens, so you have all of the space you need to cook everything from a frozen pizza to a Thanksgiving turkey.
Factors to Evaluate
So you've decided to replace your old range or you have to buy new appliances for your new kitchen, and you think that gas is the way to go. Once you've decided that this type of range is the right one for the kitchen, it's time to start looking at the little details that make certain models stand out. Before you buy, decide what features are most important to you and narrow down your selection based on this criteria. To get started, here are four key features that may be important to you in your new appliance.
Price
The fact is, you're going to end up spending at least a few hundred dollars on a high-quality stove, even the ones with the most basic features. If you find that you spend most of your time cooking it up in the kitchen, it might be worth the extra investment to purchase a high-end model that is designed for ultimate performance.
Warranty
Appliances have issues from time to time. Normal wear and tear or failure of components is normal after many years of use. It isn't normal for these things to occur early on in your ownership. If there was a problem during the manufacturing process that renders your range unusable or unsafe in a short period of time, a warranty helps you get the repairs you need without the added expense.
Oven space
If you frequently cook for a crowd for holiday feasts or you just have a large family, you want to ensure you have plenty of oven space for preparing large meals. Many of the latest models come equipped with dual ovens with separate temperature controls so you can cook multiple items at one time.
Number of burners
Just like oven space, the number of burners determines how much you're able to cook. While the standard four may be enough for some people, many new models now have five burners for additional cooktop space.
Price
Available at a mid-rage price, this Kucht gas range offers high functionality at a mid-level price.
This Thor Kitchen gas range can be purchased for a lower price tag than the competitors.
This range has the highest price of the three, placing it at the higher end of the pricing scale.
Warranty
This has a 2-year warranty on parts and labor.
You get a full 2-year warranty on all parts and labor for this model.
A 10 year warranty on all major components is included with your purchase.
Oven space
This model comes equipped with a 4.2 cu. foot oven, giving you a medium-sized baking space.
Like the Kucht in our top 3, this Thor Kitchen gas range possesses a 4.2 cu. foot oven.
You'll have plenty of space in the dual ovens. The upper measures in at 2.5 cubic feet, and the lower oven has 4.3 cubic feet of cooking room.
Number of burners
This Kucht model provides you with five top burners.
Four sealed burners top this modern slide-in range.
Five sealed gas burners provide plenty of room for cooking just about anything.
Conclusion
Going out to eat gets expensive, and sometimes, you'd just rather stay in and cook for yourself and your family. You can't do that without a range. if you have gas hookups, a gas range is exactly what you need. If you want a reliable, stylish, and range that is built for performance, the GE PGS950SEFSS is sure to impress. Not only will you be able to cook your favorite meals and experiment with new recipes, but you'll also give your kitchen a modern makeover with this high-end range.