Some links on this page are monetized by affiliate programs - see disclosure for details.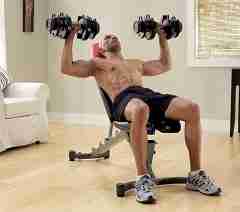 Lifting weights is a great way to stay in shape, but many people just want to gain strength and look more toned and muscular. This is where dumbbells play an important role in a workout routine. When combined with heart pumping cardio and a healthy diet, lifting dumbbells in various ways can help tone and tighter your body, boosting your self confidence and leaving you feeling healthier than ever.
Many people visit a gym several times a week in order to lift only dumbbells, but this can get very pricey with a monthly gym membership and annual membership fees, costing hundreds of even thousands of dollars throughout the years. Working out at home is not an option for many because weights just take up way too much space for those without a dedicated home gym. There is a way, however, that you can work out with multiple dumbbells without taking up your floor space and that is by using a set of adjustable dumbbells.
What are Adjustable Dumbbells?
Adjustable dumbbells essentially work as multiple sets of weights in one compact package. Instead of having multiple sets of weights, you have one bar and one weight set. You simply insert the bar into the set of weights, adjust the dial or pin to the weight that you wish to lift, and then pull up on the bar.
The weights will be solidly attached to the bar, so you can begin your workout. If you decide the weight is too heavy or too light or you just decide to do different workouts, simply repeat the process to change the weight. You don't have to worry about multiple dumbbells taking up all of your floor space, and when you're finished, the whole set stores easily in a closet or other small area of your home.
What are the different types?
Like other fitness equipment, you'll find quite a few different types of adjustable dumbbells. To get the most out of your workout, make sure you know about each type before diving in and making your purchase. There are three main types to look out for: dial-a-weight, spin-lock, and adjustor pin.
• Dial-a-weight – With this equipment, you simply use a dial to select the desired weight. Weight can be added or reduced with just the click of a dial. These are generally the best for smaller areas, and they are easy to use and can be switched quickly during your workouts.
• Spin-lock – These can be found in most commercial gyms, and the weight has to be manually added or removed. These have multiple plates, and you remove or add weight as needed, then secure with a collar. These often take up the most space, but they may be more durable than other types of adjustable equipment.
• Selector pin – These are very similar to models with dials, with the primary difference being that a selector pin is used instead of a dial. Some of these systems may use an integrated magnet system to lock the weights securely into place.
What are the Advantages of Owning Adjustable Dumbbells?
The main advantage of owning this type of equipment is that you can work out at home without having to take up too much of your living space. You'll avoid paying expensive gym dues, and you can get a great workout in your own bedroom or living room without having lots of weights just lying around.
You can get a great workout, tone your body, and work out whenever you want right at home with this equipment.
Which Products are the Best in 2015?
CAP Barbell 40-pound Adjustable Dumbbell Set with Case – Customize your workout and have fun toning up at home with this affordable set, which allows you to personalize your dumbbells with weights ranging from five pounds up to 40 pounds. You won't have to sacrifice space to keep your body in great shape with this set, which comes equipped with handles, eight plates, four collars, and a convenient storage case to keep everything organized and out of your way when you're not working out. This set is easy to use and very budget-friendly.
PowerBlock SportBlock 2.4 Adjustable Set – Adjust your weights from three to 24 pounds with an adjustor pin on this great set, which is so fast and easy to use, you won't have to stop your workout. This pair is compact, well-balanced, durable, and offers the versatility you need when trying to get into the best shape of your life. This set is very affordable when compared to a monthly gym membership, saves lots of space in your home, and is backed with an excellent warranty to protect your purchase.
Bowflex SelectTech 552 Adjustable Dumbbells – Bowflex is a brand that is known for its quality workout equipment, and these weights show just why this brand is so popular with those who strive for a leaner, meaner body. You'll get 15 sets of weight in one small product that saves space, and because it's so easy to use, you'll save time when switching out weights between your exercises. You get a great warranty and a durable design when you purchase these weights, which adjust from five to 52.5 pounds each.
Considerations for Choosing the Right Dumbbells For You
If you're intrigued by the idea of keeping in shape right at home, even in smaller, cramped spaces, than you may be considering purchasing a set of weights that adjust in just minutes, eliminating the need for a bunch of heavy, bulky equipment. Before you make up your mind, though, you need to know what to look for in your set of weights.
Once you're ready to begin shopping, keep these four things in mind so you know you're making the right product choice.
Price
Fitness equipment doesn't come cheap – not if you want quality products. However, some equipment is more inexpensive than others. If you're on a tight budget, look for budget-friendly weights that may not have as many features as more expensive equipment. While you may be able to sacrifice some convenience features, however, make sure that anything you purchase is durably constructed and has safety features to prevent injuring yourself.
Type
As mentioned, there are three main types of weights that are adjustable. Determine which set works best for your needs. Generally, weights that are easier to adjust may come at a steeper price than basic spin lock weights.
Warranty
You don't want to get your weights only to have them broken and useless in after just a few workouts because they aren't made quite right. Avoid the hassle of getting a defective product by checking for a manufacturer's warranty.
Weight range
You want to find a range of weights that are comfortable for you to use as first, as well as heavier weights that can be used further down the road when you have built up more strength.
Price
CAP Dumbbell Set
This set is an affordable option if you're following a budget but want to get in great shape.
PowerBlock SportBlock 2.4 Adjustable Set
You'll pay a bit more for this set of adjustable weights, putting them just about average when compared with similar products.
Bowflex SelectTech 552 Adjustable Dumbbells
With a moderate-to-high retail price, these are considered more high-end weights for use at home.
Type
CAP Dumbbell Set
This is a spin-lock set that comes with collars that are used to hold the plates in place.
PowerBlock SportBlock 2.4 Adjustable Set
A selector pin is used to easily and quickly change the weight of your dumbbells.
Bowflex SelectTech 552 Adjustable Dumbbells
These utilize the dial-a-weight design that allows you to change how light or heavy your weights are with the turn of a dial.
Warranty
CAP Dumbbell Set
You'll receive a 30-day warranty with your purchase of this dumbbell set.
PowerBlock SportBlock 2.4 Adjustable Set
Your purchase is fully protected from defects with a 10-year limited warranty.
Bowflex SelectTech 552 Adjustable Dumbbells
A 2-year warranty covers the weights and parts for these dumbbells.
Weight Range
CAP Adjustable Dumbbells Set
This set can be used with weights from a total of 5 to 40 pounds.
PowerBlock SportBlock 2.4 Adjustable Set
Each weight adjusts from 3 to 24 pounds, for a total of 6 to 48 pounds to customize your workout.
Bowflex SelectTech 552 Adjustable Dumbbells
The minimum weight for each piece is 5 pounds, and each weight increases up to 52.5 pounds.
Conclusion: Our Adjustable Dumbbells Reviews Are In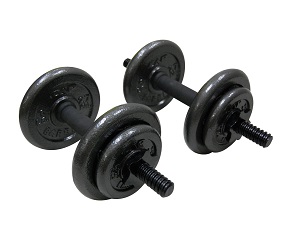 If you're new to strength training and working out or you just want a great deal on a set of quality dumbbells, this set is for you. This versatile set has more than just a great price, though. It has everything you need for a great workout, including a total of eight 2.5 pound and five pound plates, two handles, and four collars. All of it fits neatly inside a lightweight storage case for organization.
This set is rust-free and maintenance-free. All you have to do is attach the plates with the threaded collars and get to work. The plates are made of cast iron and designed to last through workout after workout. This no-fuss system is a great choice for beginners and pros alike who want versatility without the bulk of multiple dumbbells.
Pros:
They're easy to use. They're high-quality. They're inexpensive. They store neatly in a lightweight, durable carrying case. They're maintenance-free.
Cons:
The rubber coating emits an odor. They are not as convenient to use as sets with dials. They contain phthalate chemicals. The set does not have as good of a warranty as more expensive products.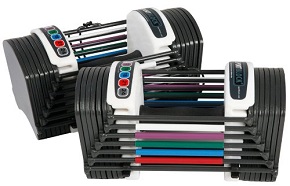 Don't fumble with putting on and adding weights and collars by purchasing a selector pin set of weights. These weights allow you to change the weight of your dumbbell with barely a pause in your workout. All you have to do is move the weight pin to the slot for your desired weight, lift, and you're ready to go. This product is very similar to weight stacks found at your local gym.
These weights are extremely versatile and comfortable, and they're available at a great price. Each weight ranges from 3 to 24 pounds, and increases in increments of three, so you have lots of choices without having to own a ton of weights that take up all of your space. They are extremely compact, durable, and have a padded handle to protect your wrist. They are also backed with a 10-year warranty, so you can feel good about your purchase.
Pros:
They are easy to use. It takes no time at all to adjust your weight. They are compact, so they can easily be stored when not in use. They are affordable. They come with a warranty. They have no odor like plastic-coated products.
Cons:
Pins can be easily misaligned if not paying attention. It is hard to change your selection on carpet or any other surface that is not hard and flat.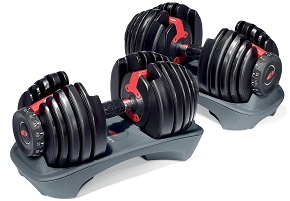 If you want a high-quality set of weights that you can use for years to come, it doesn't get much better than this pair, which is designed for the serious workout enthusiast but is still easy enough for beginners to use. Why fumble with weights and clips when these great dumbbells do all the work for you? Just select the weight you want by turning the dial and then life on the handle. That's all it takes to get an incredible workout with this quality set from Bowflex. With just one set, it's like owning 15 sets for all of your weight training exercises.
This space-saving set starts at just five pounds each, and increases in 25 pound increments up to 25 pounds. After that, you have the option for 30, 35, 40, 45, 50, and 52.5 pounds for each dumbbell. This set is built for durability, so you can use these weights for many years through hundreds or even thousands of workouts. They are also backed with a 2-year warranty on all weights and parts, so you know you're getting a great set.
Pros:
They are very high-quality weights. It is fast and easy to change the weight. They have a wide range of different weights. They are compact and easy to store. They come with a warranty.
Cons:
It is more expensive than other adjustable weights, although they are priced competitively when compared to purchasing 15 different sets.
All in All
If you want to add weights to your everyday fitness routine to tone and tighten to get into the best shape of your life, adjustable dumbbells get the job done without overwhelming your living space. For quality that you can count on, a space-saving design, and easy usage that lets you flow from one exercise to the next without missing a beat, consider adding the Bowflex SelectTech 552 dumbbells to your fitness routine.