Some links on this page are monetized by affiliate programs - see disclosure for details.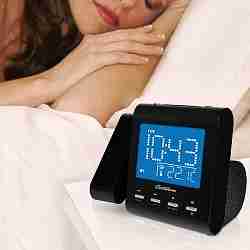 In the olden days, adults often rose at the crack of dawn, dragged out of bed by the rooster's loud crow. Today, however, few of us wake up to the sounds of nature outside our windows. Rather, we depend on the persistent ringing of the alarm clocks sitting on our bedside tables.
Modern alarm clocks are more complex than ever before. Whereas older alarm clocks often came with just a clock face and a single manual alarm, most bedside clocks today come with a host of additional features, including AM/FM radio, MP3 player connectivity, multiple alarm settings, and more.
A new alarm clock might be just what you need to get you out of bed in the morning. Read on to learn more about the best alarm clocks on the market today.
A Guide to Alarm Clocks
What are the types of alarm clocks available?
There are hundreds of alarm clock varieties available today. When choosing an alarm clock, it is important to focus on the features and functions that are most important to you. Be sure to consider the following aspects before purchasing a new alarm clock.
Analog or Digital Clock Display
Most alarm clocks today have digital displays. There are, however, many affordable alarm clocks that have traditional analog clock faces. Many individuals find it easier to comprehend a simple digital clock at night, rather than struggling with the hands on an analog clock face. Analog clocks, however, remain a great choice for those seeking simple, cheap alarm clocks.
Music, Radio, and Speaker Functions
Alarm clocks can vary dramatically in their range of audio functions. Many alarm clocks include an AM/FM radio. Other alarm clocks include MP3 player connectivity, allowing users to play music through the alarm clock's speakers or use songs on the MP3 player as alarms.
If you place a priority on sound quality, be sure to seek out alarm clocks with superior speakers. Higher-end alarm clocks and alarm clocks with MP3 connectivity tend to have higher-quality speakers, making for a more enjoyable listening experience. If you're a big fan of listening to the radio, consider opting for an alarm clock with a direct tuning feature, which will improve your ability to connect to the right frequencies for the stations you listen to.
Volume and Alarm Settings
If you're particular about how you like to be woken up, you should pay careful attention to the alarm capabilities offered by various alarm clocks. If you're a deep sleeper, consider opting for a clock that has a high upper volume limit or additional wake-up features, such as flashing lights. And i you hate waking up to jolting noises, you may wish to find an alarm clock that allows you to wake up to the radio, soothing nature sounds, or your favorite MP3s.
Display Features
Though most alarm clocks have digital displays that glow throughout the night, other alarm clocks only light up when a button is pressed. If you enjoy checking the time throughout the night, the former may suit you; if you prefer to sleep in total darkness, you may prefer the latter.
In addition to displaying the time, some alarm clocks feature other information on their displays. If you like seeing the date, temperature, or future alarms on your clock's display, be sure to seek out a model that features this information.
What are the advantages of owning an alarm clock?
For most of us, alarm clocks are essential to daily life. Without alarms in the morning, many of us would be late to work!
Amongst young adults, alarm clocks are regularly being forgone and replaced by cell phones. Though most smartphones possess alarm capabilities, these alarms are not always loud enough to wake individuals up in the morning. It can be too easy to set alarms and shut them off on cell phones, leading to poor sleep hygiene and tardiness. Studies are increasingly showing that sleeping with cell phones leads to decreased sleeping quality and increased technological dependence, too, as adults begin checking their phones both morning and night.
Alarm clocks with AM/FM radio or MP3 connectivity make for great entertainment centers as well. Instead of having a separate radio, iPod docking station, and clock, all of these devices can be combined in a single high-quality alarm clock.
What are the best alarm clocks of 2017?
Though there are many impressive alarm clocks for sale today, these three models are among the best. Whether you're looking for a multi-functional alarm clock on a budget or seek a durable and waterproof radio for your shower, we've found the device that will meet your needs.
This multi-functional alarm clock will meet the needs of almost every alarm clock user. The Electrohome Projection Clock is automatically programmed to set the time and date itself and will restore this information, along with scheduled alarms, even after power loss. The digital clock displays the time, date, and temperature on its screen and can project an additional display of the time onto the ceiling or wall of the user's home. The clock also features AM/FM radio, MP3 player connectivity, and multiple alarm options.
The Sonic Alert Sonic Bomb Jr is built to defeat deep sleepers! This unstoppable alarm clock features an ultra-loud alarm, six volt bed-vibrator, flashing red lights, and more. A USB cable can be plugged into the clock to charge phones and other devices. If you're in need of a powerful alarm clock that will get you out of bed each and every morning, the Sonic Bomb Jr will surely do the trick.
The Sangean H201 AM/FM is a great radio clock. Though not designed as a wake-up clock, the device is by far the best radio clock for bathrooms, showers, kitchens, and outdoor environments, as it is 100% waterproofed and capable of floating in water. The sound and reception quality on this clock radio is superior to nearly all competing devices, making it a great choice for radio connoisseurs. If you value great audio on a simple clock radio, the Sangean is the right device for you.
Read on to discover more about the specific features of each of these well-built alarm clocks.
Features to Consider When Purchasing an Alarm Clock
Visual Display
It is important to consider the visual display of an alarm clock before making a purchase. Most individuals look at their alarm clocks more than they actually interact with them, making the visual element of the clock the most important feature.
Be sure to find a clock that has a clear and bright display that can easily be read from a distance. If you like checking your alarm clock at night but dislike grabbing your clock to check the screen, consider opting for a clock that projects the time onto a wall or ceiling, too.
Radio and Music Options
If music is an integral part of your life, you may wish to purchase an alarm clock with AM/FM radio functionality. Many alarm clocks can be programmed to wake you up to your favorite radio programs.
For those who love listening to their MP3 players, it is worth considering alarm clocks that can be connected to MP3 players. MP3 players can generally be connected to alarm clocks through a USB port or an MP3 player docking station. If you like streaming your music through larger speakers, an alarm clock with MP3 connectivity may be the right choice for you.
Alarm/Wake-Up Features
The alarm function on an alarm clock is one of the most important features to consider before making a purchase. Basic alarm clocks may feature only a single alarm sound and a radio alarm feature. More expensive models may include multiple alarm sounds, advanced programming and snooze features, soothing wake-up noises, and/or MP3 player connectivity.
Most alarm clocks can be programmed at various volumes. Some deep sleepers, however, may sleep through alarms of a standard decibel. If you regularly sleep through multiple alarms, you may wish to consider alarm clocks with advanced wake-up features, such as lights, extra-loud volume, and/or vibration functionality.
Durability
Everyone wants to own a problem-free device that lasts for years. Unfortunately, not all alarm clocks are truly built to last. Some devices are waterproof and can withstand multiple accidents. Alarm clocks with many technical features (such as MP3 connectivity or extra lights) may not last as long as more "old-fashioned" alarm clocks with simple functions. Ultimately, buyers should seek durable alarm clocks at reasonable prices.
Comparison of Visual Displays
Electrohome EAAC601 AM/FM Projection
The visual display of the Electrohome Projection Clock is the best of any clock on our list. The screen features a large, clear, digital clock display along with smaller figures displaying the day of the week and current household temperature. Perhaps the best display feature, however, is the Electrohome's projection feature. The time can be projected onto the ceiling, wall, or floor in the user's home. This large visual display is the most unique and useful feature of the Electrohome alarm clock.
Sonic Alert SBJ525ss Sonic Bomb Jr
The visual screen on the Sonic Bomb Jr is fairly standard. The size of the Sonic Bomb Jr is smaller than the brand's standard-size Sonic Bomb alarm clock, and, as such, the display screen is slightly smaller. The clock's digital screen features only the time and no additional information. The clock face also features a bright red light that can be set to flash as the alarm goes off, making it easier for users to wake up during dark mornings.
Sangean H201 AM/FM/Weather
The Sangean H201 features a brightly-backlit LCD screen. This screen can easily be read from across the room, making it a good choice for people who are frequently checking their clock from a distance. The overall screen size, however, is relatively small. The screen only displays the radio station you are listening to while you are tuning the radio and for a short period after switching the radio on, allowing the clock display to remain in the foreground at almost all times. As the device is battery-powered, the battery level of the clock radio is also displayed in the upper left corner of the screen.
Comparison of Radio & Music Options
Electrohome EAAC601 AM/FM Projection
The Electrohome Projection Clock is by far the most versatile alarm clock on our list for music lovers. The clock features AM/FM radio in addition to MP3 connectivity, making it ideal for individuals who enjoy listening to music or radio programming while lounging in bed. Though the sound quality isn't top-notch, it's on par with most budget alarm clocks. Unfortunately, radio tuning is done via a knob on the clock, which makes precise tuning somewhat difficult. Even so, the Electrohome remains a great alarm clock for musical lovers.
Sonic Alert SBJ525ss Sonic Bomb Jr
Music fans will be disappointed by the lack of AM/FM radio and MP3 connectivity on the Sonic Bomb Jr. The Sonic Bomb is built to wake up deep sleepers, and, as such, only generates shockingly-loud alarm noises.
Sangean H201 AM/FM/Weather
The Sangean H201 emphasizes AM/FM radio functionality above all else. The clock radio does not feature any form of MP3 connectivity. Users, however, rave that the clock can pick up radio stations from dozens of miles away, offering crystal-clear reception and exceptional audio quality. For old-school radio fans, Sangean's clock radio is a winning choice.
Comparison of Alarm/Wake-Up Features
Electrohome EAAC601 AM/FM Projection
The Electrohome Projection Clock has a basic set of alarm functions. The clock allows for users to set two different alarms. These alarms may be set to a buzzer sound or to a radio station of the user's choice. Unfortunately, it is not possible to use songs on the MP3 player as alarms on the Electrohome clock. The alarm volume can be adjusted and can be made very loud, if desired. The alarms will automatically silence after 30 minutes if they are not manually shut off.
Sonic Alert SBJ525ss Sonic Bomb Jr
The wake-up functionalities of the Sonic Bomb Jr are the device's best features. The clock features an ultra-loud 102 decibel alarm that can be adjusted in both tone and volume. The clock also features a bright red light that will flash to wake up the user. An optional six-volt bed-shaker can be placed on the user's mattress to encourage a prompt rise from bed each morning. For those who truly struggle to wake up, the Sonic Bomb Jr is one of the best alarm clocks available.
Sangean H201 AM/FM/Weather
The Sangean H201 is not a fully functional morning alarm clock. The Sangean, however, is perfect for users who only want to use an alarm feature for reminders or short naps. This simple high-pitched beep alarm can be used for short rests of an hour or less.
Comparison of Alarm Clock Durability
Electrohome EAAC601 AM/FM Projection
The Electrohome Projector Clock has a durability on par with most alarm clocks in its price range. Most users found that their Electrohome clock lasted for years without malfunctioning. Some individuals claim that the clock has a cheap plastic feel. On the whole, however, most customers found the clock to be sturdy and long-lasting.
Sonic Alert SBJ525ss Sonic Bomb Jr
The Sonic Bomb Jr is not especially durable. This is one of the main complaints purchasers have regarding the clock. For under $40, however, most customers claim that they've simply re-purchased the clock when it malfunctions. Customers remain loyal to the Sonic Bomb Jr due to its many distinctive alarm features. For deep sleepers, the Sonic Bomb's efficacy is worth the trade-off in durability.
Sangean H201 AM/FM/Weather
The Sangean H201 is a clock radio that's built to last! The waterproof, marine-tough H201 can be submerged in water for prolonged periods of time and will suffer no damage whatsoever. Nearly all users of the Sangean are very pleased with the durability and high-quality build of this clock radio.
The Top 3 Alarm Clocks: Pros and Cons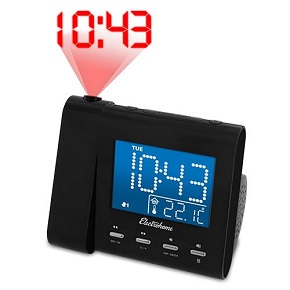 The Electohome Projection Clock wins the distinction of "Best Affordable Alarm Clock" for a number of reasons. For under $50, this alarm clock offers great visuals, including a bright screen that displays the time, date, and household temperature. According to most users, the time projection feature is the clock's very best attribute, making it easy to check the time simply by glancing at the wall or ceiling.
With full AM/FM radio functionality and MP3 connectivity, the Electrohome alarm clock is ideal for music lovers of all varieties. The audio quality on the device is equal to or better than the audio offered by most equally-priced alarm clocks.
The Electrohome Projector Clock has a handful of minor drawbacks. Many users complain that the clock's screen is too bright at night, even when set to the lowest brightness level. Though the clock can be connected to an MP3 player, users cannot use the music from their devices as clock alarms. The clock only has two alarms, too, which may not be enough for deep sleepers.
For the average customer, the Electrohome Projector Clock is a solid choice. If you're satisfied with a good display and aren't bothered by its brightness, the Electrohome alarm clock just might be the right device for you.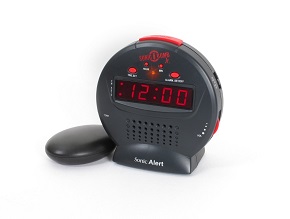 For those who regularly sleep through their alarms, the Sonic Bomb Jr is an optimal clock choice. With an alarm louder than a jackhammer, a bright red flashing light, and a bed-shaking wake-up feature, the Sonic Bomb is guaranteed to pull you out of even the deepest REM sleep.
Though customers rave over the life-saving alarm features of the Sonic Bomb Jr, the device is not without its faults. The device comes with a small screen that only displays the current time. The alarm clock has no radio capabilities and cannot play songs from MP3 players, though it can be used to charge phones through a USB port. Users complain that features of the clock, such as the bed-shaker, stop working after a few months of use. Overall, however, users find that the clock is a steal at its low price, and many opt to buy the clock again and again.
For customers who need a turbocharged wake-up call in the morning, the Sonic Boom Jr. is the alarm clock to buy.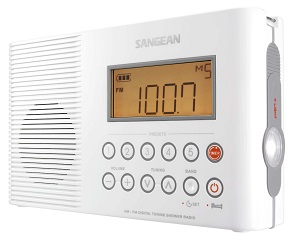 If you value an excellent radio signal above all else, the Sangean H201 is the clock for you. This marine-grade, waterproof clock is perfect for bathrooms, kitchens, beaches, and outdoor patios. The Sangean can be carried around or can be mounted on a wall. It's durable and great for picking up far-off radio stations.
The Sangean unfortunately cannot be connected to MP3 devices. Though it has a brightly-lit LCD screen, the display on the clock is relatively small. Some users are bothered by the device's unnecessary features, such as a loud weather alert feature and an emergency alarm button.
Though the Sangean is not a great overnight alarm clock, it has short-duration alarms that can be used for timing naps or showers, for instance.
For those seeking a clock radio that has excellent radio reception and few alarms, the Sangean H201 is worth considering.
In Conclusion
Ultimately, it is most important to find an alarm clock that meets your most pertinent needs. If you are a heavy sleeper, opt for a clock like the Sonic Bomb Jr. If you want to check the time easily throughout the night, choose a projection-style clock like the Electrohome Projection Clock. Simply find a clock that emphasizes the features that you most need and desire. Finding the right alarm clock just might put a smile on your face each morning!