Some links on this page are monetized by affiliate programs - see disclosure for details.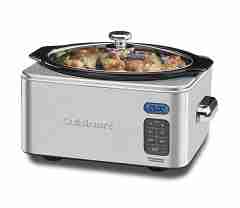 During the week, your life can get really hectic. Between dropping the kids off at school, going in to work, and running errands all throughout the day, by the time you're able to get home, the last thing you want to do is cook. Maybe you're a stay-at-home parent, and you've been doing laundry, chores, and playing chauffeur for the kids all day long. At the end of it all, you just want to eat but you don't want to slave over a hot stove.
For those days where life just gets in the way, you won't find an easier way to prepare a home cooked meal than with a crockpot.
Introduction: What is a Crockpot?
A crockpot (also known as a slow cooker) is a small kitchen appliance that allows you to cook a variety of great meals. You can do everything from make a tender, juicy roast to preparing a homemade soup or stew for the family. A crockpot consists of a removable pot (or crock) that slides into housing that contains a heater, as well as the controls. It also comes with a lid. Cooking in one of these appliances, which is also known as a slow cooker, couldn't be easier.
You simply add your meat, vegetables, spices, and other ingredients into a liquid like broth, soup, stock, water, or milk. Once all of the ingredients have been added, you simply put the lid on, set the temperature, and allow it to cook your food. Many people use their slow cookers overnight or turn it on before work so when they get home, a fresh, delicious meal is already prepared.
What are the different types of Slow Cookers?
If you find yourself pressed for time often or you're a beginner in the kitchen and you want to present your family or friends with a tasty meal, a slow cooker should certainly be a small appliance you add to your kitchen. Before you rush to make a purchase, though, make sure you know exactly what you're looking for. When shopping for these appliances, there are two types that you'll encounter: mechanical and programmable.
Mechanical models – These are the easiest to use, and they're very basic, so they're inexpensive. However, these do not have built-in timers, so you have to monitor the progress to make sure your food is getting cooked. All you have to do is set your temperature, put on the lid, and use your own timer to cook a great meal.
Programmable models – These offer you much more convenience, but they may be more complicated to use and may also come with a higher price tag. These models have built-in timers which alert you when your food is cooked. Some models even allow you to set a time for the cooker to start.
What are the Advantages of Owning a Crockpot?
A crockpot is a must-have item for any kitchen. It allows you to make entire meals quickly and easily, without having to stand over a hot stove. During the warmer months, you don't have to worry about using a stove, oven, or other appliance that adds heat to your home.
It's also great to use during the winter for favorite cold-weather meals like chili, beef stew, and homemade soup. Crockpots are convenient, and they cook your food thoroughly when timed correctly with little effort from you. The appliance does all of the work, so it's great for those on the go.
Who are the contenders for Best Crockpot?
Proctor Silex 33116Y Portable Oval Slow Cooker – You don't have to break the bank to get a quality slow cooker for your kitchen. This model from Proctor Silex is easy to operate, and it has a very low price tag. This manual model has three different temperature settings to cook a variety of your favorite recipes. It is great for using for appetizers and dips to feed a crowd, and if you have to carry it along with you, you don't have to worry about it spilling all over your car, as it comes with a lid latch strap that makes it ultra-portable.
MaxiMatic EWMST-325 Elite Platinum Triple Slow Cooker – If you want more than a one-dish meal, this triple slow cooker fits the bill. You'll have three different crock pots that you can use for just about anything, from hot dips to different soups, to mac and cheese, to pulled pork. Your family will love having a buffet of tasty foods, and you'll love the convenience of having three separate pots, each with different controls, that are simple to use and easy to clean up after you've eaten.
Cuisinart PSC-650 Stainless Steel 6-1/2-Quart Programmable Slow Cooker- LW45 – This pot is not only functional, but it will look very modern and stylish in your kitchen. Once you look beyond the stainless steel finish and streamlined control panel, you can see all of the cooking benefits this appliance provides, including different modes, a warming option, a programmable timer, and cool touch handles to prevent burns.
Considerations for Choosing the Best Crockpot
Once you've decided that a crockpot will be a great fit for your kitchen, it's time to start shopping. You don't want to be blindsided by hundreds of models, though. You want to make sure you're well-prepared to make a wise purchasing decision. Before you buy, keep these four things in mind to make sure you buy an appliance that best suits the needs of your household.
Price
Crockpots are one of the least expensive small kitchen appliances, so there's always something for every budget. However, it's worth nothing that larger models loaded with more features, like a handy timer that alerts you to when your food is ready, are typically more expensive than manual mechanical models.
Capacity
How much food do you plan to make? If you just want to heat up your homemade cheese dip, a smaller pot may work best for you. If you want to make a full meal for several people, you'll want to find a product that has at least a six quart capacity.
Portability
If your cooker is going to be used in your kitchen, you probably won't have to worry much about portability. However, if you plan to attend your community potluck dinners, frequently go to other parties where you bring food, or want to travel with hot feed, purchase a model that comes with latches or straps to avoid spilling your food while traveling.
Programmable options
If you're at home while your food is cooking, a mechanical model may be just fine. However, if you plan to leave while your cooker is running or you stay busy throughout the day and don't have time to monitor the cooking process, get a programmable model.
Price
Proctor Silex 33116Y
This is one of the most affordable slow cookers you'll find on the market that has great reviews and performs as well as more expensive models.
MaxiMatic EWMST-325
Get three great products in one with this affordable model, which is priced about average when compared to other products.
Cuisinart PSC-650
This is one of the more high-end crockpots you will currently find on the market.
Capacity
Proctor Silex 33116Y
With a 1.5 quart capacity, this pot is best suited for making dips, appetizers, and smaller portions of soups or stews.
MaxiMatic EWMST-325
Each of the three pots has a 2.5 quart capacity.
Cuisinart PSC-650
With a full 6.5 quart capacity, you'll have plenty of space to cook for your big family dinner or for a crowd.
Portability
Proctor Silex 33116Y
The lid has a rubber seal and the lid latch strap keeps everything in the pot where it belongs, even when traveling in a vehicle.
MaxiMatic EWMST-325
This model does not come with any additional items that assist in transporting the pots from place to place.
Cuisinart PSC-650
The cool-touch handles make it easy to transport from kitchen to table. No additional accessories are included for traveling.
Programmable options
Proctor Silex 33116Y
This is a mechanical model that does not have any programmable options or timers.
MaxiMatic EWMST-325
All three pots are controlled with separate controls that are manual and do not have timers.
Cuisinart PSC-650
This unit is equipped with a timer that makes it easy to ensure your food is cooked to perfection.
Conclusion: Our Crockpot Reviews Are In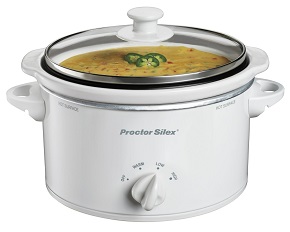 Before the main course, make up your favorite chili cheese dip or other appetizer in this ultra-portable slow cooker. You can choose to cook your favorite recipe all day long with the Low option or really cook fast with the High temperature setting, all of which are easily controlled with the temperature knob. If your food is complete but you're not quite ready to eat, there's a warming setting available.
This appliance couldn't be easier to use, and it's just as easy to clean. The stoneware pot and the glass lid are both dishwasher-safe for fast cleanup, and the included latch strap makes transporting it around a breeze.
Pros:
Very inexpensive
Easy to use
It performs very well
It's easy to clean
It's very durable
It cooks food evenly without burning when put on the proper setting
It has four different cooking temperature settings
Cons:
Doesn't have a power light
The cord is a bit short
It's only good for smaller portions
The stoneware pot may stain with certain foods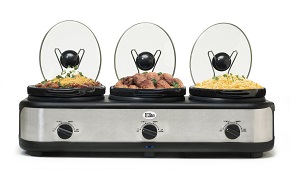 Why cook just one thing when you can cook three with this great device? Instead of making a one-dish meal, you can serve up your favorite sides or smaller portions of meat, soup, stew, or anything you can make in a slow cooker. This is a great option for families and parties where you have to cook multiple dishes but you don't have the space on your stovetop or inside your microwave.
Each pot measures in at 2.5 quarts, making it the perfect size for smaller portions or for your side items to serve along with your entrée. If you have to use different temperatures, don't worry – each pot has its own temperature control knob that can be set to Low, High, or Warm.
Pros:
Each pot is removable so it's easy to clean or bring to the table
It comes with lid rests that make serving fast and easy
The pots are easy to clean and dishwasher-safe
Perfect for parties and family dinners
It has rubber feet that prevent it from sliding on the countertop
Cons:
It takes some time to warm up completely, so you may need to start it ahead of time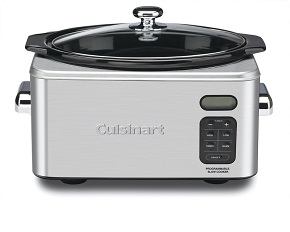 If the whole family is starving and you don't want to waste money going out to eat an expensive meal, you can still enjoy a home cooked dinner with this great unit from Cuisinart. At 6.5 quarts, it's roomy enough for large roasts, multiple cube steaks, or many bowls of soup or stew.
This model comes equipped with an easy to use touch-panel that lets you adjust the temperature settings. There is a 24-hour programmable timer, so you always know exactly when you're food is ready to serve. When the timer goes off, it automatically switches to the warm setting to keep your food warm without overcooking it.
The stainless steel design complements any modern kitchen, and the removable pot is dishwasher-safe, so it's easy to clean. This model is easy to use and performs better than many less expensive slow cookers.
Pros:
Comes with a cooking rack and recipe book
It is easy to use
It is very large
The brushed stainless steel design looks great
Easy to clean
It has a programmable timer
It automatically warms your food when the timer goes off
There is no lead in the ceramic glaze
The cool-touch handles make it easy to carry
Cons:
It is a bit more expensive than other units
The High setting cooks food at a very high temperature, so you may need to adjust your recipe timing accordingly
Instead of doing all of the hard work after your busy day, get an appliance that does the work for you, so you can enjoy a meal that's been cooked for you while you've been living your life. A crockpot is an excellent investment for any household, and you can't go wrong with the Cuisinart PCS-650. It looks great, is easy to use, and offers performance that's truly unmatched.