Some links on this page are monetized by affiliate programs - see disclosure for details.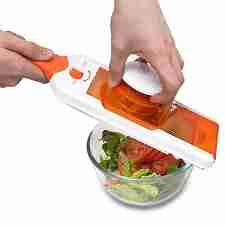 Whether you're experienced in the kitchen or you're just learning the basics, you may already know just how difficult and time-consuming prep work can be. Whether you're making hand cut fries to serve with your homemade hamburgers or you're slicing thin strips of peppers and onions for your stir fry or fajitas, cutting items with a knife can take a long time, and you risk cutting yourself.
If you want to perfectly slice your food and cut down on prep time, you need to add a mandoline to your kitchen.
What is a Mandoline Slicer?
A mandoline is a small kitchen tool that is used to cut through vegetables included cucumbers, peppers, and potatoes. This has a built in blade and a handle that allow you to slice and dice with ease without the risk of cutting yourself like when you work with a knife. It is best for slicing and julienning, although it can perform other prep tasks with various attachments.
What are the Advantages?
You can perform clean, even cuts with a mandoline much easier than with using a traditional kitchen knife. Thin cuts for your vegetables for things like salads and stir fried vegetables can be completed in just seconds with one of these products. This significantly cuts down on prep time, does not require as much work, and it lowers your risk of injuring yourself with a knife. Even those who have little experience in the kitchen can thinly slice a variety of different foods to make it more presentable to dinner guests.
What are the Different Types?
Even if you love spending your time in the kitchen, any tool that cuts with precision and works quickly is something you should add to your list, which is why you should consider a mandoline. There are two different types to choose from.
Traditional – These are designed to cut, slice, julienne, and create precise cuts. These vary in price, size, and color, but they have the same basic overall design.
Mandolines with attachments – If you want to get the most out of your product, look for a unit that comes with interchangeable attachments that can be used to perform more tasks in the kitchen, including grating and cubing. These are more versatile but often come with a larger price tag.
Which Mandolines are the Best on the Market?
Chef's Inspirations V-Blade Stainless Steel Mandoline – Cut your prep time in half with this versatile slicer, which comes with multiple inserts for versatility. This unit is well-made, but it's also affordable. This easy-to-use kitchen tool is also safe, so it's a great choice for beginners and experienced cooks alike.
GalleyFresh Professional V-Slicer – Get a slicer just like the pros use without the expensive price tag when you purchase this product from GalleyFresh. Its design makes it easy to use, the sharp stainless blades allow it to cut with ease, and it's designed to prevent cutting yourself. It comes with multiple blades, so it will quickly become your new favorite kitchen gadget.
HomeNative Adjustable Slicer – This complete set has everything you need to get cooking in the kitchen. You can do more than just slice with this unique piece, which has its own base for food storage as you cut. This unit is very durable, comes equipped with multiple sharp blades, and has a warranty that can't be beat.
Features to Consider
Whether your old slicer is showing signs of age or you want to experiment with new slicing methods in the kitchen, you'll need to know what to look for when purchasing one of these tools. Start your search by taking into consideration these four features.
Price
You should expect to pay at least $50 for a quality product, but professional-quality equipment can cost much more. If you work in a commercial kitchen or you're preparing food often, you may want to invest in a more high-quality piece. If you're new to using one of these slicers or you're following a tighter budget, you can easily find one for less than $100 that gets the job done.
Number of Blades/Inserts
You can save money by purchasing a piece that has multiple blades and inserts. This is because you can cut down on the number of tools you need. For example, if you have a grating insert, you won't have to purchase a separate grater. This not only allows you to get more use out of your slicer, but it also helps save space in your cabinets.
Additional Extras
Sturdy bases for food storage, recipe books, and additional extras may be included in your purchase and may bring more value to your purchase. Make sure that you know everything you're receiving in the box prior to making your purchase.
Warranty
You want to be happy with your product, and you want it to work as promised. If you find that your tool just isn't up to snuff and isn't performing because of a defect, a manufacturer's warranty will protect your purchase.
Price
Chef's Inspirations
This is a very affordable model that is perfect for the cook on a budget.
GalleyFresh Professional V-Slicer
This model is very comparable in pricing to similar products.
HomeNative Adjustable Slicer
This is one of the more expensive non-commercial slicers available.
Number of Blades/Inserts
Chef's Inspirations
You'll receive five different inserts with your purchase.
GalleyFresh Professional V-Slicer
Your purchase comes with five inserts.
HomeNative Adjustable Slicer
This comes with four different blades that perform different functions.
Additional Extras
Chef's Inspirations
This comes with a hand safety guard, storage caddy, and recipe e-books.
GalleyFresh Professional V-Slicer
You'll also receive a safe storage rack and slicing guard with your purchase.
HomeNative Adjustable Slicer
Your purchase comes with a recipe e-book, a safety hat, and a food storage container.
Warranty
Chef's Inspirations
This unit comes with a 30-day satisfaction guarantee and a 1-year limited warranty.
GalleyFresh Professional V-Slicer
This product doesn't come with a warranty, but it does come with a 30-day money back guarantee.
HomeNative Adjustable Slicer
This comes with a warranty that can be obtained by contacting the manufacturer.
Our Mandoline Reviews
The budget-minded chef will love the price tag on this, while the professional will appreciate the quality. Don't be fooled by the low price – this unit is designed to perform like the more expensive units, only at a fraction of the price. This model comes with five different blades, including three cutting/slicing blades and two julienne blades.
To keep yourself safe in the kitchen, this has a blade guard included, and it also has a storage caddy to keep it protected and stored safely when not in use. This unit is very easy to use, and it's easy to clean. All you have to do is rinse it with water or toss it in your dishwasher. It has a non-slip design for added safety, and your purchase also includes free recipe e-books to help you get the most out of your new tool. It also comes with a 30-day satisfaction guarantee and a full 1-year limited warranty.
Pros:
Comes with multiple inserts to perform a variety of cuts
It has a guarantee and a warranty
The stainless steel frame and blades are designed for durability
It has a blade caddy for safe storage
The feet fold away so it's easier to store when not in use
Cons:
The blades are very sharp, but they feel a bit flimsy when compared to more expensive blades
It's a little difficult to change out the blades
If you're new to this method of slicing and you don't want to spend a fortune on a new kitchen tool, you'll love the price and performance of this model. This slicer comes with five inserts, so you can perform a variety of different cutting functions with ease. You'll receive three slicing inserts and two julienne inserts, all made with sharp stainless steel.
Other standout features include a slicing guard to keep you safe and slip-resistant rubber feet that keep it firmly in place while in use. The feet fold up to make it more compact and easy to store, so it's great for those with limited storage space. It's very easy to clean when you're finished: All you have to do is run it under water, and it's even dishwasher safe.
Pros:
Comes with multiple inserts
It's affordable
It is easy to use
It has a slicing guard
Feels durable and sturdy
The blades are sharp
It is a compact size so it's easy to store
30-day guarantee
Cons:
It doesn't come with a long-term warranty
The plastic handle feels a bit cheap and may break if forced
Cutting through harder vegetables like sweet potatoes may be a bit difficult
Cut your vegetables thick or thin, grate cheese, and do so much more with this innovative product that's so much more than a traditional slicer. With this unit, you'll be able to do it all with just the switch of a blade. In addition to slicing and julienning, you'll receive additional blades for more kitchen functions, including a slicer, grater, fine grater, and julienne slicer.
You won't have to worry about your cut food going all over the place, as this has a plastic storage base that is used to hold your cut items. This has three different thickness settings that are easy to change so you can cut in a variety of ways, from grating chocolate into thin shavings to slicing potatoes for homemade fries. This unit is equipped with a non-slip base for safety, a safety hat, and a rotator lock to keep your blade in place. This model is very easy to use, and when you're finished, it cleans up easily under running water or in the top rack of your dishwasher.
Pros:
It comes with a variety of different attachments for different types of cuts
It can be adjusted for different levels of thickness
Easy to use
The stainless blades are very durable and sharp
Easy to clean
It comes with a warranty
It comes with a storage base to catch your cut pieces
Cons:
Might not work with softer fruits and vegetables like tomatoes
It is a bit expensive
The Bottom Line
Why spend all your time prepping food when you can cut your prep work in half and spend more time enjoying your delicious meals with your loved ones? Put down the kitchen knife and get straight, uniform cuts in a fraction of the time with the best mandoline slicer. If you want a high-quality tool that performs multiple functions, is easy to use, and outperforms your expectations, the HomeNative Adjustable Slicer is a product you should add to your kitchen.
You can cut, slice, julienne, and grate with ease with this piece, which is durable enough to last for years, even with daily use. This tool will quickly become one of your new favorites in the kitchen.