Some links on this page are monetized by affiliate programs - see disclosure for details.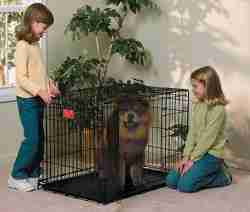 You love your dog, and you treat him or her as though they're a member of the family. However, just like humans, dogs sometimes need their space. Whether they've just had a bad day or just want to get away from the noise and clatter of your household for a good snooze, a dog needs a sanctuary, much like you use your bedroom to rest, relax, and recharge. Maybe you've just brought a new puppy into your household, and you don't know where to begin with crate training.
Whether you dog needs a special space to relax or you want to more easily train a dog that's not housebroken, a dog crate it the perfect solution.
What is a Dog Crate?
A dog crate is a type of cage that is available in multiple sizes and serves several different purposes. They can be used to house a dog comfortably while you're away at work if your pet has a tendency to scratch up doors, bite shoes or furniture, or dig through the trash. They can be used even when you're at home by a pet that wants to go to sleep or just wants to get away from noises.
What are the different types?
If you own a dog, you'll find that a crate is a great investment. If you've never purchased one for a pet before, you need to make sure you're aware of all types that are available to you. Since each type has different features, you'll want to purchase the one that best meets the needs of you and your pet.
Wire – If you plan to have a crate in your home to be used as a retreat for your beloved pet, one made of wire is the way to go. This has a more open design that ensures your dog gets plenty of fresh air. These are available in multiple sizes, and often have sturdy latches to prevent escapes while you're not at home.
Plastic – Plastic crates are typically less expensive than metal wire versions, and they may also have a handle that can be used to take your pet with you in your vehicle for a trip to the vet or on vacation.
Soft – These are ideal for small dogs because they are soft and easy to carry. These make a great resting place, or you can tote it along with you for trips to the groomers or the pet store.
What are the Advantages of Owning a Dog Crate?
You'll find that there are many advantages to owning a crate if your household has a puppy. One advantage is that it is a dog's personal space for sleeping or resting. It's also great to have a crate if you have a very curious and destructive dog that likes to make a mess while you're not at home. A crate allows you to lock up the dog safely.
If you travel, a portable crate model is a must-have item. When the correct size is purchased, dogs typically will not use the bathroom in this space, making it a great tool for house training.
Which Models are the Top Contenders?
Petmate Two Door Top Load Pet Kennel – If you want a functional and portable crate, this has just what you're looking for. This model is available in a variety of sizes and colors. If you have to take your dog to the vet, the groomers, or to the boarding kennel, this is an easy way to take him or her in your vehicle without fear of accidents or anxiety.
Petnation Port-A-Crate E2 Indoor/Outdoor Pet Home – Fabric crates have gotten a bad rep because of the quality, but this innovative design combines a strong steel frame and tightly woven mesh to give your dog a great place to sleep or relax. This product is very portable, doesn't require assembly, and it can be folded and put away when not in use, so you don't have to worry about an oversized crate taking up your floor space.
Midwest Life Stages Folding Metal Dog Crate – If durability is what you're looking for, that's what you'll get with this wire crate, designed to withstand years of wear and tear. It's easy to set up, folds for easy storage, and the plastic pan provides for hassle-free cleaning.
Considerations for Choosing the Best Product
If you're not sure of where to begin when it comes to making your selection, start with these four points, which many dog owners have deemed as important features to look for when buying a crate.
Price
Price should always be a consideration if you're following a budget, since some crates may cost a few hundred dollars. You don't want to sacrifice quality for price, though, as you will find that a more durable unit will last for years without needing to be replaced like cheaper units may over time.
Size
It's important that you purchase the right size for your pup. If you buy one that's too small, they will be very uncomfortable. If you buy one that's too large, your pet may make a mess. You want to purchase a crate where your dog can comfortably stand and move around but that doesn't provide too much extra space.
Portability
If your crate is just going in one room and won't be moved, you don't need to worry much about how portable it is. However, if you plan to move it around often from indoors to out or use it to transport your dog, you want to find one that's lightweight but durable and that has a comfortable carrying handle.
Warranty
No one wants to purchase a bad product, but sometimes, it happens, even with the most extensive research. To protect you from getting a dud that falls apart in no time at all, check to make sure the crate you wish to purchase has a warranty.
Price
Petmate Pet Kennel
This portable kennel comes with a low price tag for a 24.05″ x 16.76″ x 14-1/2″ model. Two smaller sizes are also available.
Petnation Port-A-Crate
This portable unit is priced just about average when compared to other kennels and crates.
Midwest Life Stages Crate
This is one of the more expensive pet crates you may buy, but it grows with your pet, so it may be a worthwhile investment for you and your pet.
Size
Petmate Pet Kennel
As mentioned with price, this particular model comes in a 24.05″ x 16.76″ x 14-1/2″ size.
Petnation Port-A-Crate
This model measures 36" x 25" x 25", so it's ideal for small and medium size pets. Five additional smaller sizes are also available, if you have a smaller dog.
Midwest Life Stages Crate
This crate measures 36" x 24" x 27". Smaller and larger sizes are available for other pets at different prices.
Portability
Petmate Pet Kennel
This kennel is easy to tote around with you and has a comfortable carrying handle. It is made of durable steel and plastic, so it's lightweight but still tough enough for your pup.
Petnation Port-A-Crate
You can easily set this up or tear it down in just seconds. The unique folding design lets you easily tote it from room to room or put it in your car for when your pet is traveling with you.
Midwest Life Stages Crate
While this cannot be carried with you with your pet in it, it does fold easily for putting in your car, moving around the house, or putting in storage.
Warranty
Petmate Pet Kennel
Your purchase is protected with a 1-year manufacturer's warranty.
Petnation Port-A-Crate
This portable unit comes with a 1-year warranty from the manufacturer.
Midwest Life Stages Crate
This comes with a full 1-year warranty from the manufacturer of the product.
Conclusion: Our Final Reviews Are In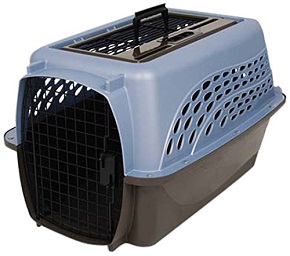 Give your canine friend a peaceful place to rest or make it easier on yourself when you have to take an anxious dog in your vehicle, this kennel does it all. It works great as a crate while you're at home, but it's also equipped with a handle to make it extra-portable. It comes with two different doors, so you can let your dog out or lift up your puppy from the top door. It's made of durable plastic and has a steel door that locks securely in place, so your pup won't be able to break out.
It comes in four great color combinations, including Metallic Pearl White, Pearl Honey Rose, Metallic Pearl Tan, and Metallic Pearl Ash Blue. It is available in three sizes, as well.
Pros:
It is easy to clean and maintain
The plastic is very durable
It comes with a warranty
It is easy to assemble
It's easy to open and close securely
Cons:
Because it is so well-made, it is a bit heavier than other carriers
No sizes are available for medium or large dogs
With the top door, it is not suitable for flying on some airlines if you plan to travel with your pet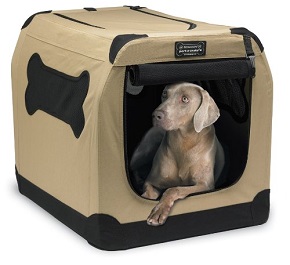 Give your dog a home of his own with this portable crate that utilizes a unique design for stability, security, and comfort for your pet. It combines tightly woven mesh for durability with a heavy-duty steel frame that keeps its shape. It is perfect for use indoors or out, and if you want to move it around, all you have to do is fold it and move it.
Even though it's lightweight, it's very strong, holding up to 70 pounds. It has top and front doors for easy entry and exit, and it's equipped with zippers and locks to keep your pet out of trouble while you're away. You won't have to worry about your pet getting overheated, either, as it has mesh panels to provide your dog with plenty of fresh air. This is an ideal crate for everyday use, and it's also a great option for bringing with you anywhere, even on long vacations.
Pros:
It weighs just over 11 pounds
It's very durable
It's easy to fold for transport or storage
Large enough for medium size pets
It supports up to 70 pounds
It's available in other small sizes if needed
It has a warranty
It's not too expensive
It is very easy to clean
Cons:
More aggressive dogs may be able to bite through the fabric
The zippers may pull away from the fabric over time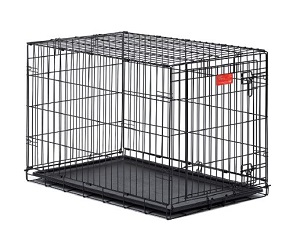 If you need a tough crate that you can keep around for years, this is a great choice. It is made of durable metal, but don't worry – it is coated to keep your pet protected. It also has rounded corners so your pet won't be injured, and it has very secure locks on the side and front doors, so you don't have to worry about your pet being able to break loose.
The plastic tray at the bottom offers plenty of space for your pet's bedding, and it's easy to keep clean. If the one you purchase is too big for your pet, there is a divider panel that can be used to make it smaller, so it grows with your dog, eliminating the need to keep purchasing larger crates.
Pros:
It is very durable
It is easy to assemble
The locks are very secure
It is easy to clean
Comes with a warranty
Grows with your dog
It can be assembled and folded up without the use of tools
It can be used indoors or out
Available in multiple sizes
Cons:
Some dogs may be able to chew through the plastic tray
It is more expensive than other crates
In Summary
A dog crate is a very functional purchase for your pet. It allows your pet to get some time alone for sleeping or just resting after a hard day of play. It also protects your home while you're away, and it aids in the house training process which can be a real headache.
If you want a durable crate that's easy to move, grows with your dog, and provides a great space for your precious pet, the Midwest Life Stages Crate is a great choice that offers all of the features you need at a price that's just right.