Some links on this page are monetized by affiliate programs - see disclosure for details.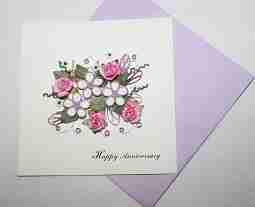 If you're married, you know just how much your spouse means to you. Your wife is the most important women in your life, and you always want to make sure that she knows just how special she is to you. You should always make sure that your wife knows that she is loved every day in order to ensure a happy and healthy marriage. However, marriage isn't always so grand, and if you've been married for any length of time, you know that it comes with the good times and the bad.
This is why an anniversary is celebrated annually, to celebrate another successful year of marriage spent having a great time together, as well as getting through the rocky moments. Your anniversary is a great time to spend reflecting on your relationship, reminiscing about your relationship, and enjoy knowing you're ready to spend the rest of your lives together.
It is also the perfect time to present your loving wife with a wonderful surprise that she won't ever forget.
Here's Our Top 10 Best Anniversary Gifts She'll Love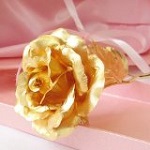 Roses make a great gift but after a few days, they wither and die. Like your love for each other, this rose is designed to last for a lifetime.
Each petal is crafted with 99.9% 24 karat gold foil, so it retains its beauty throughout the years. It comes with a certificate of authenticity, and it packaged in a gold gift box.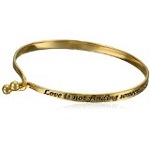 This 7-inch sterling silver bangle is affordable, thoughtful, and perfect for wearing for any occasion. It is inscribed with the quote "Love is not finding someone you can live with, it's finding someone you can't live without." This is an excellent way to show her just how much she means to you.
It is available in sterling silver or yellow gold flashed over silver, and it comes packaged in a gift box.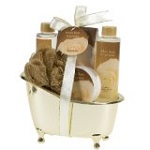 Give her an evening to kick back, relax, and focus on taking care of herself with this spa bath gift set. It comes loaded with everything she needs to turn your bathroom into her own personal spa, including bubble bath, body lotion, shower gel, bath salt, and body puff. All products come in an amazing white rose and jasmine fragrance.
It all comes packaged in a miniature gold tub that can be reused to hold other bath products or cosmetics.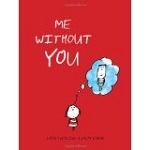 This adorable book, written by Ralph Lazar and Lisa Swerling, is a budget-friendly choice for your anniversary. It features page after page of cute illustrations showing her exactly why you can't live without her.
To make this gift more special, you can package it in a basket with a coffee mug, soft slippers, and a plush throw so she can lay back and read it in complete comfort.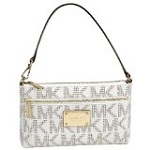 Give her a stylish place to store her cellphone, credit cards, and cash by surprising her with this fashionable wristlet from designer Michael Kors. The leather design is timeless and durable, and it is imprinted with the Michael Kors signature logo.
It is available in off-white or brown so she can carry it with almost any ensemble.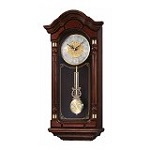 Dress up your household with this beautiful clock from Seico, a leader in quality timepieces. The dark brown oak case complements your other furnishings and décor. The metal dial and pendulum are ornate, adding a rich touch to this affordable wall clock.
It also has chimes that can be turned off and on, and the Quartz movement ensures accurate timekeeping.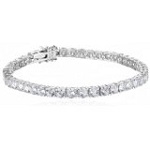 Dazzle her with this beautiful tennis bracelet. This stunning bracelet is sterling silver with platinum plate, so you get quality, durability, and beauty without spending thousands of dollars.
It is adorned with sparkling Swarvoski cubic zirconia that gives off the same beauty as diamonds at a fraction of the price.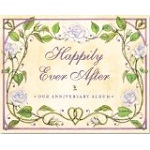 This thoughtful gift lets you add symbols of your marriage throughout the years, all the way up to your 60th anniversary. This book is full of memorable quotes, as well as yearly gift suggestions that help make shopping easier from year to year. You can add your photographs, as well as write about your most cherished memories on every page.
There is also space on the back cover for adding more photographs or mementos you've acquired throughout your marriage.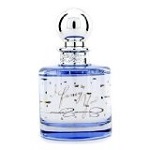 Show her how much you care by presenting her with this bottle of perfume from actress and singer Jessica Simpson.
The combination of White Musk, Lily, Apple, Pear, Tuberose, and Sandalwood combine to create an intoxicating scent that's perfect for day or evening wear for any occasion.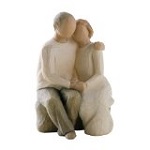 Our pick for best anniversary gift for her, this beautiful figurine is perfect to add to her collection. Or she can begin collecting these throughout the years. This handcrafted figurine stands 6 inches tall, so it's ideal for displaying on a shelf. It features an embracing couple, and it's a wonderful way to show your love for her.
It comes packed in a gift box with enclosure card so it's ready for gift-giving immediately.
You might also be interested in: The 10 Best Birthday Gifts for Her (Guide)
What Makes a Great Anniversary Gift for Her?
Whether you're celebrating your first anniversary or your fiftieth, you want to make sure you buy her a gift that she will adore. This doesn't mean you should buy the most expensive thing you can find. In fact, putting true sentiment behind the gift is what matters the most.
If she unwraps something that you know she'll love, it doesn't matter what the price tag says. Instead of focusing on just the price or rushing to buy something just because you have to, take time out of your busy life to plan a gift that's especially for her.
Budget accordingly
As mentioned, you don't have to spend an arm and a leg to find her a gift that she'll love. However, since gifts come in all price ranges, you do need to set a budget for yourself. If you know that she will love a piece of jewelry, for example, it's very easy to go completely overboard and blow a huge chunk of your savings. Instead of spending way more than you can afford, which can lead to stress caused by financial issues, decide ahead of time what your spending limit will be. If you're exchanging gifts with each other, you can even decide on a mutual limit that both of you cannot exceed. You want any gift you give her to be great, of course, but you can purchase her an amazing gift without overdoing it.
Put your heart and soul into the gift
You have to put your heart into a marriage in order for it to be successful, so use this same principle for giving her an anniversary gift. Grabbing a gift at the last minute is very obvious, and it can even be very hurtful for your wife. This is why you need to begin planning ahead of time. Think about everything you know about her and weave this information into your gift. You want to show her not only how loved she is, but that you truly know her inside and out.
Get crafty
If you've picked out a gift you'd like to buy for her but you feel as though it might be a little too impersonal, add a homemade gift to the gift box. This could be a poem that you've written for the love of your life, a handcrafted sculpture, or a handwritten love letter. You can even frame a great photo of the two of you and include it with your gift. This really shows you went the extra mile to provide her with a caring, sentimental gift she can cherish forever.
Make sure it fits her interests and personality
Think about everything you love about your life and use that when you're purchasing your gift. Is she obsessed with fashion and style? Purchase her a great accessory or stunning piece of jewelry. A professional makeup palette or a delightful new fragrance will be perfect for her bathroom or vanity. Does she love art? Consider taking her to a play, ballet, or show or buy her a new sculpture, wall portrait, or vase for decorating your home.
Types of Gifts To Consider
Jewelry
Jewelry is always a great, traditional choice. Diamonds and pearls are classics that you can wear for almost any occasion. Gemstone jewelry is also a popular and affordable choice. You can choose a stone in her favorite color, or select a piece that showcases her birthstone. If you want to go all out, pieces set in platinum and gold will last a lifetime, while sterling silver is durable yet affordable if you're on a tighter budget.
Handbags
Whether she has a full collection or she's just never spent the money to buy a great handbag, a designer bag makes a wonderfully thoughtful anniversary gift. If you want her to get the most use out of the bag, stick with traditional colors, styles, and fabrics like leather. If she likes to stand out in the crowd, get her a unique bag in bold colors and prints from a designer like Michael Kors or Coach.
Beauty and skincare
If she likes to take care of herself and could spend hours pampering herself in the bathroom, consider face, skin, and bath products. A spa basket is a well-thought out gift that she can use for an evening of relaxation in your own bathroom. A full line of skincare products helps her keep her skin smooth and supple, and cosmetics allow her to try out new looks for the office or for a night out on the town with her handsome husband.
Collectible items
Does she have a collection of figurines, snow globes, or another item? Has she expressed interest in starting a collection? If either of these apply to your wife, buy her something that either fits with her current collection or find something that she will enjoy collecting over the years. Crystal figurines, ceramic statuettes, and unique timepieces all make great collectible gifts. The best part is that you can continue this tradition year after year.
How To Choose the Perfect Anniversary Gift
If you favor more traditional gift-giving, use the annual anniversary chart to determine what gift to purchase for your anniversary. These lists have a category annually for each year of marriage from the first year through the 15th, then every five years through the 55th, then finally for the 60th.
There are two different lists, traditional and modern. For a fifth year anniversary, for example, the traditional gift is wood, which could include anything from a wooden jewelry box to a wooden clock, while the modern version is silverware. You can choose to purchase from either list each year to narrow down your gift choices.
It's also important, though, to remember what she would enjoy owning or using. If she doesn't have a need for silverware for the fifth wedding anniversary, you may want to choose something else that she can display in the home, use in the kitchen, wear, or just enjoy throughout the years.
Sentimental gifts are also something that you should always consider. Have your favorite wedding photo printed on a large canvas to mount on your wall, or put together a photo album of your past and current memories, leaving plenty of blank pages for your future times together.
Conclusion
An anniversary isn't just about gifts, but it's a great extra way to show how much your wife means to you. When purchasing an anniversary gift, just plan ahead and put your wife's interests first, and you are sure to find a gift that takes your anniversary from ordinary to extraordinary.