Some links on this page are monetized by affiliate programs - see disclosure for details.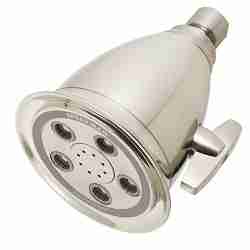 After a long day at work, a day spent outside, or just after going through the everyday motions of life, few things are more relaxing than hopping in a nice, hot shower. Whether it's just to wake up and get ready for the day or to get cleaned up before hitting the sack, a shower is somewhere that we spend quite a bit of our time, so why not make sure it's as relaxing and enjoyable as possible?
One of the most common complaints about a shower is the pressure of the shower head. If the pressure is too low, not only is it just not enjoyable, but you may not even feel very clean when you're finished. If your shower just isn't cutting it, give it an upgrade with a new high pressure shower head.
The Top Rated High Pressure Shower Heads of 2018

Introduction: What is a High Pressure Shower Head?
A high pressure shower head is installed in your bathroom in a standalone shower or bath tub and shower combination. It is designed to provide plenty of pressure that can not only help ease muscle tension and wash your stress away, but it also helps you get your cleanest.
With these shower heads, the soap and shampoo are blasted away in no time, leaving you feeling cleaner and more refreshed. These units make the most of the water pressure in your home to provide you with a relaxing and cleansing shower experience.
What are the different types you can buy?
If your shower head just isn't doing its job, it's time to look for a new one. Most are easy to install on your existing shower arm, so it can be ready for use in just minutes without the assistance of a professional installer. Once you've decided to improve your shower, it's important to be aware of the different types of shower heads you'll find while shopping.
Fixed heads
These are the most common. These shower heads affix to your shower arm and they cannot be removed. They can, however, be adjusted with different settings and at different angles for your comfort.
Handheld showers
These are shower heads that are in mounted holders that can be used like fixed heads, or they can be pulled down from the holder for more effective rinsing. These are also great for rinsing children and pets, as well as making cleaning your shower and tub much easier.
Combination heads
These combine the best of both worlds and include a fixed head and a separate handheld shower. Many models can be used separately or together.
High pressure heads for low water pressure
One of the biggest factors in your shower's pressure is the set water pressure in your home. Not everyone has high water pressure. However, these shower heads utilize unique spray patterns and designs to provide you with a feeling of higher pressure than typical shower heads.
What are the Advantages of Owning a High Pressure Shower Head?
People that use these types of heads in their shower feel cleaner. They don't have to worry about shampoo residue in their hair or soap residue on their body, both of which can be very drying. The best high pressure heads can cut down on the amount of time spent in the shower. In addition, many are equipped with various settings, including a relaxing massage option, so you can easily soothe aches, pains, and relieve stress just by hopping in your shower.
Even the nicest tiled showers aren't as good as they can be without a high-quality shower head that produces plenty of water pressure.
Who are the Contenders for Best High Pressure Shower Head on the Market?
Don't let the small size (and price tag) fool you – this shower head is built to perform. It's dense spray pattern provides you with amazing water pressure which can be adjusted to your own preferences, as well as to determine how much water you save, which leads to a lower water bill. This adjustable model is easy to install on your existing shower arm, moves as needed for your comfort, and has clog-free holes to prevent heavy maintenance and cleaning and to always keep your water pressure where it needs to be.
Showering will feel better than ever when you step under this shower head, which has 72 holes for a full coverage spray. It is available in your choice of six great finishes to enhance your bathroom and complement other fixtures. It is resistant to hard water buildup, and it's very easy to clean and install. In addition to all of these great features, it's also very affordable.
Taking a shower will never feel the same again after you install this shower head. Despite its simple design, it provides performance that is truly unmatched. Eight jets with 64 adjustable sprays provides great coverage and pressure, even if your home's water pressure isn't that great. You can choose from three different functions for your comfort, as well as six finishes to complement your bathroom décor and installed fixtures.
Factors to Consider Before Buying
If your old shower head just isn't cutting it, it's time you consider purchasing an upgrade. However, if you browse online or in your local home improvement store, you'll quickly see that the possibilities are virtually endless, making the shopping process a bit overwhelming. Instead of panicking and purchasing the first shower head you see, take the time to analyze each product to ensure that you get something you will be fully satisfied using.
These four features are just a few of the things you should consider before you make your purchase.
Price
The price of your new shower head depends upon a couple of different factors. If you want a basic plastic head that you plan to replace often, there are very inexpensive units available. However, if you want a high-end metal shower head that will remain in your bathroom for several years, you'll want to invest more money. Consider all other features of the shower head, not just price, before you make your final decision.
Warranty
Sure, your new unit looks great when you take it out of the package, but do you really want to worry about flaking finish after the first use? Many manufacturers provide warranties that cover defects in workmanship, as well as the finish of the product.
Finish
Speaking of finish, you want to make sure that you select one that complements your bathroom. Consider the other types of fixtures you have (including your tub and sink faucets), as well as the paint and décor to purchase a product that fits right in.
Functions
If you just like a basic coverage while you shower, you don't need anything fancy. However, if you prefer to change up your settings, look for one with different functions, including a full drench or massage. Generally, heads with multiple functions cost more than units with just one basic function.
Price
Delta 75152
This affordable shower head looks great and performs well, making it a great investment for the budget-minded consumer.
KOHLER K-10282-CP
This head comes at a price in the mid-range category when compared to other units.
Speakman S-2251
This is a more expensive shower head when compared to other models currently on the market.
Warranty
Delta 75152
Feel confident in your purchase knowing it is covered with a limited lifetime warranty that covers defective parts and the finish of the shower head.
KOHLER K-10282-CP
This unit is covered with a limited lifetime warranty that protects against leaks, drips, and ensures the finish does not rust, corrode, or flake over time.
Speakman S-2251
This comes with a lifetime limited warranty to protect your purchase from defects.
Finish
Delta 75152
The chrome finish of this unit is easy to match up with other chrome fixtures and flows perfectly with a variety of colors and styles.
KOHLER K-10282-CP
Choose from six different finishes to find the perfect match for your bathroom. Finish options include Brass, Brushed Chrome, Polished Chrome, Brushed Bronze, Brushed Nickel, and French Gold.
Speakman S-2251
This unit comes in six different finishes, including Brushed Nickel, Nickel, Oil Rubbed Brass, Polished Brass, Polished Chrome, Polished Nickel.
Functions
Delta 75152
You can adjust this unit from a high-powered spray to a soothing full body coverage spray. You can easily adjust the pressure from 2.5 gallons per minute to 1.85 gpm.
KOHLER K-10282-CP
This model has a fixed, full coverage spray and does not feature any other settings.
Speakman S-2251
You can set this unit to three different settings to fit your personal preferences. Choose from Intense, Full, and Drench modes quickly and easily.
Reviews: Our Final High Pressure Shower Head Picks Are In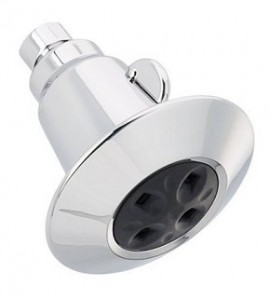 If you want to replace your old shower head but you don't want to spend a fortune, this model from Delta, a leader in bathroom shower heads, faucets, and fixtures, won't break the bank. This easy-on-the-wallet shower head looks great in even the most updated bathrooms, and it performs unbelievably, allowing you to easily adjust from a high pressure 2.5 gpm spray to an efficient 1.85 gpm.
You'll find that you save money over time with this unit, which saves up to 36 percent more water than a standard shower head. You won't feel a difference in the pressure either, so you get to enjoy a great shower while saving money and water. It has four large holes that provide plenty of pressure while you bathe, and you won't have to worry about clogs, maintenance, or heavy cleaning.
Pros:
Contemporary design looks great in any bathroom
Easy to install on your existing shower arm
Does not leak when installed correctly
Easy to change the settings
Very affordable
Limited lifetime warranty
It Doesn't clog
It saves water
Cons:
Only available in a chrome finish
It doesn't have a wide coverage spray
It doesn't have different settings other than a water-saving efficiency option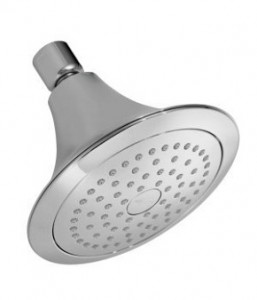 If you don't want to spend a fortune but want a quality product, this unit from KOHLER fits the bill. You won't have to worry about getting a cheap shower head that flakes and breaks in no time at all. This unit is designed to perform well and look great while doing so for every shower you take. Start off by choosing from six great finishes, and then install on your existing shower arm in just minutes.
Your skin will be drenched by the 72 different shower nozzles that provide a wide, high-pressure spray. The face of the shower head is resistant to hard water and mineral buildup, so you don't have to worry about losing pressure or having to perform heavy cleaning or maintenance. The contemporary design looks beautiful in any shower, and your purchase is includes with a lifetime warranty.
Pros:
It is great for homes with hard water, as it is resistant to buildup
Provides wide, even coverage
It is adjustable
Installs easily without tools
Offers plenty of water pressure and a nice, continuous flow
It has a durable metal (not plastic) connector
The finish is resistant to corrosion, rust, tarnish, and scratches
You have multiple finish options to choose from
Cons:
It does not have any other functions
Some of the outer pieces on some finishes are plastic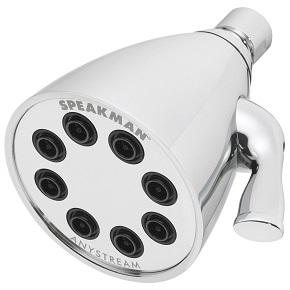 Luxury hotels have some of the best shower heads in the business to keep guests happy, so why not take that same luxurious design home with you by purchasing this unit from Speakman? Not only will you get a contemporary head in your choice of six colors that looks fabulous in your bathroom, but you'll get a high-pressure shower like you won't believe.
You'll have your choice from three great settings. It has eight jets that combine to provide 64 different sprays for complete coverage. Choose from the wider Intense spray, the full coverage Full spray, or the more concentrated Drench spray. Each feels different, but they all utilize Anystream technology to provide you with a shower experience unlike any other. This model is easy to install on your existing shower arm, adjusts for your comfort, and adds the perfect finishing touch to any modern shower.
Pros:
Comes in six great finishes
It has three different settings
It is easy to install without tools
Offers plenty of coverage and a high-pressure shower on any of the three settings
It is made of solid metal, not plastic like cheap shower heads
It comes backed with a warranty
The low-profile design looks great in any bathroom
Cons:
The price is a bit expensive when compared to other units
Lime and calcium can build up, requiring you to remove and soak the shower head to get full flow again
Conclusion
After a long day at work, out on the beach, or just cleaning up around the house, a hot shower is a great way to wind down and relax. If you want to get the most out of your shower, try a high-pressure shower head that provides plenty of coverage. Instead of throwing your money down the drain on an inferior product, give the Speakman S-2251 a try. This high-end shower head has a simple and classic design, comes in your choice of color to complement other fixtures, and simply outperforms the rest.