Some links on this page are monetized by affiliate programs - see disclosure for details.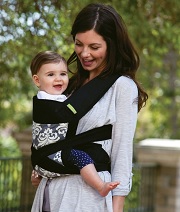 Having a baby in the home is a wonderful experience, and this time is a stage that you'll treasure forever. As a parent, you want to spend all of your free time with your child, but sometimes, carrying him or her around just isn't practical. Not only can it be uncomfortable for you and your child, but you may also need your hands for other household tasks throughout the day.
If you want to spend precious time bonding with your baby but still be able to perform your daily tasks, a baby carrier may just be the solution you're looking for. A baby carrier not only makes carrying your child safer and easier, but it also helps promote bonding.
What is a Baby Carrier?
A baby carrier is a wearable accessory that is used to fully support your child, leaving your hands free while still allowing you to be close to your bundle of joy. You can use a baby carrier in your home, or you can even use one in place of a stroller while you're out enjoying the sights and sounds in your town.
Baby carriers have been shown to help improve colic and fussiness in babies and may even lower your risk of postpartum depression. By wearing your baby in a carrier, you can move easily while your child is safe and comfortable snuggled up beside you.
What are the Different Types of Baby Carriers?
There are a few different baby carriers on the market. All types have their own advantages and disadvantages, and some women find that one type may be more comfortable or feel more secure than others. With a little information about each type of carrier, you can make a more informed purchasing decision when you decide to wear your baby.
Baby slings – A sling is worn across the body and hangs across one shoulder. This type of baby carrier is best suited for younger babies that weigh less than 10 to 15 pounds.
Baby wrap – A wrap is a type of baby carrier that is made of fabric. It is loved by many mothers because of its versatility, since it can be worn in many different ways.
Front baby carriers – A front baby carrier is designed for older babies who can hold their heads up without support. It features straps that go over each shoulder and a seat that supports the baby's weight. A baby can face his or her mother or can be turned around to get a close-up view of the world.
What are the Advantages of Owning a Baby Carrier?
One of the biggest advantages of owning a baby carrier is the bonding time that you will enjoy with your child. Supportive carriers help distribute a child's weight, so your arms don't get tired and your back doesn't get sore. Crying babies may easily be soothed by the closeness of a caregiver when being worn in a carrier.
A baby carrier also allows you to move freely about and have use of your hands. You won't have to choose between simple household chores and holding your baby. With a carrier, you can do both things with ease.
Who are the Contenders for Best Baby Carrier?
Boba Baby Wrap – The Boba Baby Wrap is one of the top-rated baby wraps on the market. You no longer have to fumble with snaps, buttons, zippers, or straps with these lightweight wrap that's easy to use and offers maximum versatility.
The Mo+m Carrier – The The Mo+m Carrier is a popular baby sling that offers the support your child needs while promoting healthy hip and spine development. You'll bond with your child while comfortably carrying him or her around with this soft cotton baby carrier.
BabyBjorn Baby Carrier One – The name BabyBjorn has become synonymous with high-quality baby carriers, and the Carrier One is no exception. This versatile carrier allows you to carry your baby many different ways, including on your back.
Considerations for Choosing the Right Baby Carrier
You know you want to try a baby carrier, but you're just not sure of where to begin. With so many options, the decision about which carrier to purchase can be a difficult one. However, when you consider the different features and find the type that best fits your lifestyle, you can easily narrow down the choices. Before you make your purchase, consider the following features to ensure you find the right carrier for you and your child.
Weight limits
Like other baby gear, baby carriers have weight limits. One of the biggest decisions that can impact what carrier is right for you is how long you plan on wearing your baby. If you want to begin wearing your baby from birth, a carrier that requires a child to hold his or her head unsupported isn't a good choice. If you would like to wear your baby as long as possible, a carrier with a larger weight limit will give you the most value.
Price
Just like with any other purchase, price is a big factor for most shoppers. Fortunately, baby carriers are available at a variety of different price points, ranging from less than $50 to $150 or more. However, pricing should not be the only thing considered. A cheap carrier, for example, may not be as safe or may be more complicated to use than more expensive versions. Consider other factors in addition to price when selecting your new baby carrier.
Comfort
When purchasing a carrier, two people need to be considered when it comes to comfort: you (or your partner or other caregiver) and your child. Does your baby chafe easily? A carrier that sits between his or her leg may contribute to this problem. Does your child prefer looking at your face? A carrier that allows him or her to face you, instead of outwards, would be most ideal. If you suffer from your own aches and pains, you'll want to find a carrier that evenly distributes weight and provides plenty of support for your child.
A larger toddler needs much more room than a tiny baby, so a side by side stroller would be a poor choice. A child that doesn't like standing for long periods wouldn't benefit from a sit and stand model. Consider the ages and needs of your children in order to ensure optimum comfort while on the go.
Safety
Because you are relying on the carrier to support your baby, you want to ensure that it is safe to use. Does the carrier offer adequate head and neck support for your newborn? Is your baby comfortably secured to lessen the risk of falls and injuries? These are questions you should consider before your purchase.
Weight limits
Boba Baby Wrap
The Boba Baby Wrap supports a maximum weight of 35 pounds. It is a great carrier for newborns, and it generally works for children up to around 18 months of age.
The Mo+m Carrier
This sling is recommended for babies 4 months of age and older. The minimum weight of a child being carried in this carrier is 12 pounds, and it supports children up to 36 pounds.
BabyBjorn Baby Carrier One
The BabyBjorn can be used with newborns, provided they weigh 8 pounds. You can continue to use this carrier with babies and young toddlers up to 33 pounds.
Price
Boba Baby Wrap
As far as price goes, the Boba Baby Wrap is one of the least expensive carriers available. However, don't be fooled by the price tag. The Boba Baby Wrap has become known with moms throughout the world as one of the best baby wraps around.
The Mo+m Carrier
This baby sling has a mid-range price tag. This highly rated sling comes backed with a full refund if any customer isn't fully satisfied.
BabyBjorn Baby Carrier One
This BabyBjorn carrier is a more high-end product. However, with such versatility, this product easily pays for itself with continued usage throughout your baby's first few years.
Comfort
Boba Baby Wrap
The Boba Baby Wrap cradles your child in a soft cotton and spandex blend. With no snaps, straps, or buckles, you don't have to worry about your baby being pinched, and if he or she doesn't look his position, you can adjust the wrap as needed to make sure you're both comfortable.
The Mo+m Carrier
This carrier is perfect if you suffer from back pain. The design takes pressure off of your back, so you can hold your baby all day long without pain. The soft cotton blend and sleep hood provides maximum comfort for your child's naps or daily adventures.
BabyBjorn Baby Carrier One
You won't suffer from back pain with this carrier, which has a waist strap that helps relieve back pressure. The padded straps are comfortable on your shoulders. If your baby isn't comfortable in one position, you have many options to choose from to put a smile on your child's face.
Safety
Boba Baby Wrap
When tied properly, your baby is secure in the Boba Baby Wrap. The fabric has enough stretch to support your child without sagging, so you don't have to worry about falls and injuries.
The Mo+m Carrier
Buckles and safety straps are attached to this carrier, ensuring that your child is snug, safe, and secure while he or she is being worn.
BabyBjorn Baby Carrier One
Safety buckles keep your child right where he or she needs to be. Years of research combined with high-quality materials make this one of the safest baby carriers available.
Conclusion: Our Baby Carrier Reviews Are In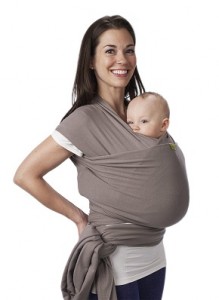 The Boba Baby Wrap is the ideal choice for mothers who want freedom without the hassle of belts and buckles. This wrap is designed to fit most adults, is easy to tie, and is ideal for nursing mothers.
This product is available in multiple colors, including Black, Grey, Light Blue, Navy Blue, Orange, Organic Turquoise, Yellow, Purple, Sangria, and Stardust and Wildflower prints.
Pros:
Machine washable fabrics make this easy to clean. Carrier is for newborns, including preemies. Wrap is a great choice for nursing mothers. Manufacturer's warranty is available. Price fits almost any budget.
Cons:
This wrap doesn't offer as much support as other carriers. Wrapping securely can take practice.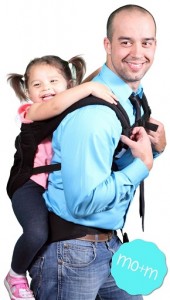 This sling allows you to carry your baby comfortably, whether it's on your back, your hip, or your chest. All-natural cotton design is soft for baby and easily washable.
The ergonomic design allows your baby to explore the world while snuggled close to you. You won't have to worry about aches and pains while you comfortably carry your child wherever you go.
Pros:
Carrier comes with a satisfaction guarantee. Ergonomic design makes it simple to get baby in and out without assistance. The lightweight design makes it easy to fold, pack, and go. This sling is a great option for nursing mothers. A vented mesh window prevents your child from overheating.
Cons:
This sling not for babies under 4 months of age. This carrier may not be as durable as other carriers. Straps need more padding.
The BabyBjorn brand has always been a top-seller in baby products, and this carrier is no exception. A built-in head support allows you to comfortably carry your infant, while it can be folded down for an older child. The padded seat and non-chafing seams provides a comfortable ride for your baby.
Face your child outward, inward, or put him or her on your back as you explore the world and make memories together. With strong latches and quality materials, you never have to worry about the safety of your baby.
Pros:
Carrier for infants and toddlers. Your baby gets full support for comfort and safety. Adjustable straps for the perfect fit. Adjustable leg holes fit babies of all sizes. The ergonomic design enhances comfort and promotes healthy growth and development.
Cons:
The price point is higher than other baby carriers. Larger size makes it more of a hassle to pack in a suitcase or diaper bag. Exterior buckles can rub the parent's skin.
In Summary
Why choose between your daily routine and snuggling your baby? With a quality baby carrier, you truly can do it all. When shopping for a carrier, get the most out of your investment by choosing a carrier that offers versatility and safety. The BabyBjorn Baby Carrier One provides excellent value for the priceless memories you'll make with your child.