Some links on this page are monetized by affiliate programs - see disclosure for details.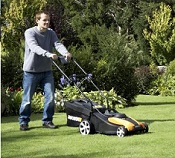 All across the country, homeowners and property managers are turning towards electric lawn mowers to provide environmentally-friendly maintenance of gardens, lawns and green areas. With very little noise, and absolutely no toxic or irritating exhaust, electric lawn mowers are appreciated by homeowners and neighbors alike for their low atmospheric footprint.
Whereas once electric lawn mowers were underpowered wonder gizmos, unable to handle longer swathes or higher grass levels, today's models pack a powerful punch of cutting power and efficiency. With a wide variety of grass and mulch discharge options, today's electric lawn mowers are perfect for small to mid-range lawn, garden and green area maintenance.
What are the different types of Electric Lawn Mowers?
Today's electric lawn mowers come in a pleasing variety of stylish colors and designs. Some smaller units are designed only for small garden or lawn maintenance while larger, more powerful models can handle bigger yards and landscaping duties. Most models have adjustable blade heights and offer a selection of different grass discharge options.
What are the advantages of owning a Electric Push Mower?
No messy fuels or oils to contend with, electric lawn mowers offer homeowners and property managers much lower operating costs. With advanced, powerful electric motors, energy costs are streamlined. With no exhaust, and virtually no noise, today's electric mowers allow homeowners and landscapers an environmentally-friendly way to cut grass and maintain green spaces.
Which models are the contenders for the Best Electric Mower?
Sun Joe MJ401E Mow Joe 14-Inch 12 Amp – The Mow Joe catches your eye right away with its attractive, bright colors and compact modern design. The one-button push to start makes operating the Mow Joe super simple, and the mower is rated to handle grass up to 2.5 inches tall. With its cheerful and fun design, it makes maneuvering and cutting easy and pleasant. Features a rugged, hard-top grass catcher than is simple to unload for disposal.
GreenWorks 25022 12 Amp Corded – While some electric lawn mowers have a definite cute appeal, the GreenWorks looks like the toughest model on the block. With a brawny green and black design, the GreenWorks 25022 is equipped with a powerful 12 amp motor. The cutting deck measures 20 inches across, making quick work of larger areas. The Greenworks 25022 has a three-way system for multiple grass discharge options. This powerful mower is rated to handle grass as high as 3 and 3/4 inches.
Considerations for Choosing the Top Electric Lawn Mower
Grass Discharge – Many models offer a wide variety of grass discharge options. Some mowers exhaust all grass clippings straight into a bag or box that captures the clippings. Other mowers feature a side port, where grass clippings can be vented during operations. Many modern mowers offer a mulching option which gives homeowners and property managers an additional way to help contribute to the environment.
Motor – Mowers are only as strong as their motor. While originally many electric mowers were weak, today's advanced models use top-quality performance and high torque motors. More powerful motors can spin the cutting blade more rapidly, which helps the machine tackle taller and more fibrous grasses and plant materials.
Grass Adjustment – Not every property is the same, and different areas may need different blade heights or angles to work best. Today's models feature a range of height and position adjustments to allow homeowners and landscapers the best cut possible for their yards and green areas.
Bagging – Depending on circumstances and the needs of the yard, garden or green area, it may be advisable to use the bagging feature on electric lawn mowers. Different models offer a variety of bagging options, including both rigid box grass catchers as well as the more traditional flexible bag method. A good bagging system provides efficient capture of grass clippings while being easy to uninstall and unload.
Grass Discharge
The Sun Joe MJ401E Mow Joe 14-Inch 12 Amp
Right now the Mow Joe doesn't offer a mulching option, so you're forced to use the 10.6 gallon hard-top grass catcher. The clippings are caught very efficiently during operation, and it is a simple affair to dump and unload them. However, the bag capacity isn't that high, so anyone attempting to use the Mow Joe on a bigger lawn will need to dump frequently.
The GreenWorks 25022 12 Amp Corded
Easy to use discharge system allows users to select direct side discharge, divert to the rear bag, or mulch the clippings. Environmentally-friendly users will enjoy the mulching option, as it allows organic content to return directly to the soil. Rear bagging system is standard, and does an efficient job of capturing clippings.
Motor
The Sun Joe MJ401E Mow Joe
The 12-Amp motor is plenty powerful for this mower, and in fact may almost be too big for it. With its compact design and small bagging system, the Mow Joe is definitely meant for smaller jobs, which the motor can handle with ease.
The GreenWorks 25022
The robust 12-Amp motor can definitely handle the bigger jobs, as it powers through larger swathes of thicker and taller grass than many of its competitors. With the motor giving ample power to the large 20-inch cutting deck, this electric mower will make short work of most lawns and yards.
Grass Adjustment
The Sun Joe MJ401E Mow Joe
This model features a 14-inch cutting deck that can be adjusted to handle grass from 1.18 to 2 and 1/2 inches high.
The GreenWorks 25022
The GreenWorks has seven different position heights possible, and can be adjusted to handle grass from 1 1/2 inches to 3 and 3/4 inches. The 20-inch cutting deck and wide 10-inch rear wheels can handle just about any grass condition or height.
Bagging
The Sun Joe MJ401E Mow Joe
The hard-canopy collecting box is definitely more efficient and neat than comparable bag models. However, the bag inside holds only about 10 gallons of clippings before it needs a refill, meaning that larger jobs will require several stops.
The GreenWorks 25022
Features an ample rear-bagging system that handles a lot of grass clippings before it needs emptying. Usually one or two bags are all many homeowners need for regularly-maintained lawns of small or average size.
Conclusion: Our Electric Lawn Mower Reviews Are In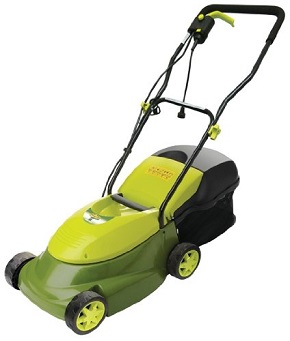 The Sun Joe Mow Joe looks absolutely great, and is compact enough to be stored almost anywhere. The Mow Joe has a great eco-friendly look and is nearly whisper quiet as it easily handles the regular maintenance needs of small gardens and yards. With a rugged but modern exterior, the hard-shell rear bag efficiently catches clippings, allowing for tidy and quick mowing jobs.
Pros:
Slim and energy-efficient design really does look great. The rear bag system is easy to detach and holds about 10 gallons of clippings. It's smaller design gives it outstanding maneuverability in gardens and yards. Small and easy enough to maneuver even for slender and more frail users. With its colorful, cheerful exterior, the Mow Jow looks great in any shed or garage.
Cons:
The mower often ships with a 16 gauge extension cord, they should upgrade to a 12-gauge cord. Meant for smaller jobs, as big back yards or high grass would be too much for this mower to handle. The interior of the motor tends to get dirty after extended use, and may need cleaned to restore efficiency. With its colorful shell and whisper-quiet operation, can nearly resemble a toy to some people.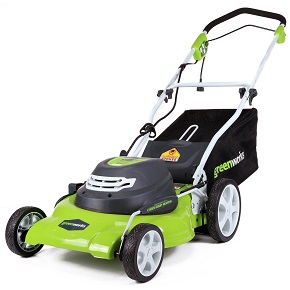 The GreenWorks 25022 looks absolutely cool as it slides out of the shed or garage. Were it not for its nearly whisper-quiet motor, most people would assume it is a gasoline-powered model. With a bold green and black design, the GreenWorks offers one of the best all-around electric lawn mowers on the market today.
Pros:
Plenty of power to the cutting deck, which at 20 inches across means fewer passes and mowing larger swathes in less time. The mulching option offers homeowners and property managers an additional way to contribute to the environment. Rear bag system holds a generous volume of grass and yard clippings. By relying on an electric motor, there's no need for poisonous and toxic petroleum products. Homeowners will enjoy lasting reliability for maintaining their yard while helping contribute to the health of the environment.
Cons:
Although it is powerful, large patches of wet, tall grasses may be too much for this mower to handle. Untended and overgrown properties will require a more powerful mower than the GreenWorks 25022. As with all electric lawn mowers, it is important to ensure that you use the right type of extension cord. Although the GreenWorks 25022 is great for larger areas, maintaining boutique gardens or ornamental trimmings may be difficult for this big bruiser.