Some links on this page are monetized by affiliate programs - see disclosure for details.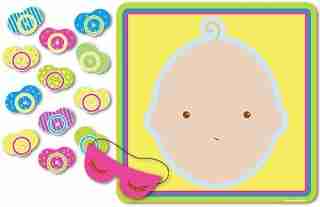 When a woman announces her pregnancy, friends and family eagerly await the arrival of the precious bundle of joy. A pregnancy is an exciting time, not just for the mother and father, but for friends and family of the parents-to-be. This is why almost every woman is thrown a baby shower by her loved ones. A baby shower is the perfect opportunity to get together to share in the joyful experience of a new baby entering the world.
Not only is it a time for celebration, games, and a delicious baby shower cake, but it's also a time to help out a new mom and dad with the necessities that a baby needs. Preparing for babies is very expensive, costing hundreds or even thousands of dollars to prepare the nursery, which is why a baby shower is not only fun, but it's helpful to the parents.
If you've been invited to a baby shower and you just don't know what to purchase, this guide is designed to help you choose the best babyshower gifts that mom, dad, and baby will enjoy.
Our Top 10 Gift Ideas the Parents and New Baby Will Love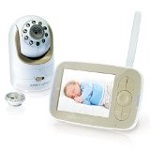 New parents won't have to worry about their baby because he or she will always be in sight with this video baby monitor. The camera is easy to mount in a nursery, and the interchangeable lens allows them to change the viewing angle for the perfect view.
The handheld monitor is equipped with a 3.5-inch screen that gives them a crystal-clear picture of a sleeping or playing child, and it also features clear, static-free audio.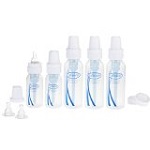 For bottle-feeding parents, Dr. Brown's bottles are a great choice. The innovative design eliminates air that leads to painful gas, helps prevent fluid in the ear, and has a natural flow.
This great newborn feeding set comes with five bottles, travel/storage caps, and bottle brushes that make these easy to clean.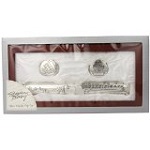 This beautiful keepsake box is a perfect way for parents to preserve some of the first milestones of their child. This rosewood box is lined in white satin and holds a hospital birth certificate, baby's first tooth, and baby's curl after the first haircut.
This is a beautiful memento that looks great in a nursery and can be cherished for a lifetime.
A high chair is a necessity for any home, but once a baby gets too large, it's no longer useful. With this great seat from Graco, a baby will always be safe and comfortable.
This seat grows with a child, going from an infant high chair to a toddler feeding seat and as a child grows, from a toddler booster to a youth seat. It can be used interchangeably and can even be used twice by two kids of different ages.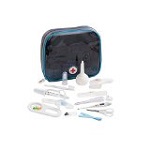 This 17-piece kit is a necessity for any household with a baby. It contains many products needed to keep a baby happy and healthy, including a nasal aspirator, nail clippers, medicine dropper, comb, brush, and a digital thermometer.
It comes with a convenient storage bag that keeps everything neat and organized, and it's also ideal for packing in a diaper bag or suitcase.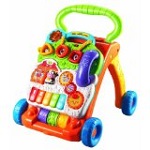 This is a great toy that grows along with a child, so it will get plenty of use during the first year. The removable play panel is ideal for younger babies who have just learned to sit up. As they begin to stand and walk, the panel can be attached to the walker which glides easily along, providing the child with the support he or she needs to build up leg strength for walking unassisted.
It has great features like piano keys that play music, spinning rollers, songs, sound effects, and much more.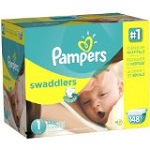 These diapers are loved by parents and babies for good reason. The blanket-like softness ensures a baby is comfortable, while providing the protection needed to avoid messes.
Purchase the economy pack along with a large pack of wipes for a very useful and affordable gift for any new parent.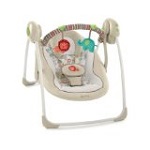 Many babies love to swing, and this one is perfect for even the smallest spaces. Its smaller, lightweight design doesn't take up much floor space, and it is portable so you can take it just about anywhere.
It has six different speeds, six original melodies, and a toy bar to entertain the baby.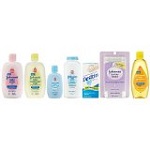 Bath time will be a splashing good time with this great set that new parents will love having on hand. This set is packed with all of the essentials a baby needs.
This 7-piece set features some of the best products from Johnson & Johnson, including baby wash, baby powder, lotion, baby shampoo, bubble bath, diaper rash cream, and safety swabs.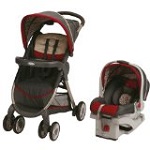 This travel system is designed to make a busy parent's life much easier while on the go. This system comes with a stroller that is compatible with the Click Connect 30 carseat, or it can be used alone. The carseat comes with a base that's strapped into a vehicle, and it detaches for carrying a sleeping baby inside.
This travel system is also affordable when compared to other models on the market. This is the ideal gift if you have a larger budget or if you want to combine your funds with other shower-goers.
What Makes A Great Baby Shower Gift?
If you walk into any department store or a children's specialty store, you're inundated with thousands of different products. Some you may know, especially if you've had children yourself, but others may be foreign to you. This can lead to an extremely overwhelming shopping experience, and you may not know what to purchase.
Instead of picking up the first thing you see, take a little time to understand what the parents will need for their new baby. Think about something that will be useful to them throughout the first weeks, months, or years of their child's life. Before you buy, take the following points into consideration to ensure you select a gift that's just right.
Check the registry
Most new moms and dads who are having a shower create a baby registry that makes shopping a breeze. Find out if the parents are registered, and access their list online, if possible. Look for products that are within your own personal budget. If you would like to buy something more expensive from their list but just don't have the funds, consider pitching in with a few friends or relatives to purchase the gift.
Remember, you don't necessarily have to purchase from where they registered. You can shop around and find better prices by comparison shopping. If you do purchase something from the registry somewhere else, make sure to get a gift receipt so it can be returned if someone else purchases the same thing.
Put function first
Sure, that cradle swing looks nice, but do the parents live in a cramped apartment that doesn't have much extra space? The high-end baby monitor looks really cool, but reviews indicate that it has too much static and doesn't work properly. Instead of purchasing something just because it looks great, consider whether it will be functional for both the parents and the baby.
You want something that they'll be able to use; not something that's used once and shoved to the back of the closet because it's too big.
Think over the long term
Lots of people will be purchasing newborn size diapers and teeny tiny baby clothes, but what happens as the baby grows? Consider purchasing clothing or diapers that the baby will grow into, or toys that can be put away for a later date.
Most parents get things that they can use immediately, which is important of course, but receiving 50 outfits for the first month and nothing for when they're bigger results in parents having to spend a lot of extra money. Think into the future (but not too far) when choosing your gift.
Make sure it is useful
There are so many things a new parent needs, from a breast pump or bottles to diapers and wipes. Make sure that anything you purchase is something that will be used often and something that will help make a new parent's job easier.
Types of Gifts To Consider
Travel system
If you have a larger budget or you plan on splitting the cost of an existing gift with other guests, a travel system is something that is functional in many different ways. A travel system typically consists of three different pieces: a stroller, infant carseat, and a carseat base. This is the perfect way to make vacations or even just trips to the store more convenient for parents.
You may also consider purchasing the stroller, infant carseat, or a convertible carseat separately if that is what the parents have requested.
Diapers and wipes
Every baby goes through thousands of diapers and wipes in their first few years. If you can, talk to other guests who have purchased diapers to find out what sizes have already been purchased. Newborn and smaller sizes are grown out of quite quickly. You may want to consider purchasing larger sizes.
If the parents have a preferred brand, make sure to find out before the shower so you can purchase the right kind. If you're feeling really crafty, you can make a diaper cake, rolled diapers (which can be used later) that are tied with ribbons and stacked up to create a fun and festive faux cake.
Feeding necessities
Before you purchase anything for baby's mealtime, find out how the baby will be fed. If the parents are choosing to formula-feed, pick up a gift pack of high-quality bottles in various sizes that grow with the child.
Does brand you chose use liners? Buy a few refills to save the parents the hassle of having to go to the store to buy them. If the mother plans to breastfeed, a breastpump, milk storage bags, and other accessories are very useful.
Fun toys and gear
New parents love snuggling their babies all day long, but sometimes, they just need a break. Not only that, but playtime is important for a baby to stimulate his or her senses.
Look for soft stuffed animals, toys that light up and play music, or gear like swings and bouncy seats for hours of entertainment for baby and maybe even a little bit of relaxation for mom and dad.
Fun in the tub
Babies need lots of things, and bath time is no exception. Plopping an infant in a regular bathtub is not only really difficult, but it can also be dangerous. For bath time, look for a small infant tub that keeps baby safe while getting clean, hooded towels, and sweet-smelling baby wash and shampoo.
You can even buy several less expensive items (like diaper rash cream, baby wash, and washcloths) and put them in a decorative basket that is perfect for nursery storage.
How To Choose The Best Baby Shower Gift
When shopping for a baby shower gift, there are three very important things to keep in mind. First, consider your own budget. You don't have to empty your bank account to give a great shower gift. In fact, baby items come in a variety of price ranges, from a few dollars for a cute toy to several hundred for a crib.
Next, think about what will be most useful for the parents. If you don't have a shower registry list, just ask what they would most benefit from having. You want to buy something that they need. Finally, consider the style of the parents. This is particularly important to remember if you're purchasing decorative items for the nursery or clothing. If their style is more shabby-chic, don't go with something that's ultra-modern and trendy. If they like a simplistic look, stick with basic colors and designs for crib bedding, outfits, and decorative pictures.
Conclusion
Whether it's for a friend, sibling, relative, or other loved one, a baby shower is the perfect opportunity to present the guest of honor with a useful gift for a new baby. Take the time to consider what the new parents need to ensure you purchase a gift that will help make the difficult task of raising a new baby just a little bit easier.