Some links on this page are monetized by affiliate programs - see disclosure for details.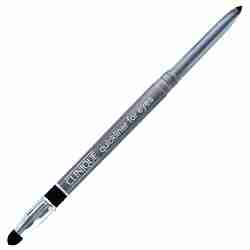 If you're like many women, you love wearing makeup. Maybe you wear it everyday or just put it on for special occasions. Whether you're polishing up your look for the office or trying to make a good impression on your date, makeup is perfect for enhancing your appearance or even transforming your face to give you a whole new look. One of the main things that women focus on is their eyes.
By adding a great shadow, thick, clump-free mascara, and soft lines to your upper and lower lids, you can really make your eyes pop. If you're in the market for a new liner and you want something that is easy to apply, blends perfectly, and looks beautiful for any occasion, an eyeliner pencil is what you need to add to your cosmetics collection.
The 10 Best Eyeliner Pencils of 2018

A Guide to Eyeliner Pencils
An eyeliner pencil is a beauty product that is used to line and define your eyes. These pencils look just like pencils you would use in school, expect instead of using graphite, they are made with a combination of ingredients like wax to make it glide smoothly over the skin, minerals to add pigment, and a variety of other ingredients that are safe for use on the skin and around the delicate eye area.
You can use these pencils to draw lines along your upper and lower lash lines. You can opt to keep it simple with a thin line, go bold with a thicker line, or do a more dramatic look by drawing winged lines.
What are the different types?
Every girl should have a great eyeliner pencil in her makeup case. If you want to try out a new product or you want to start using eyeliner to really draw attention to your eyes, a pencil is definitely the way to go. Before you just buy a product without doing your research, learn more about what to look for in an eyeliner, including the two different types you'll encounter while shopping.
Traditional pencils
These pencils consist of wood with the eyeliner run through the middle, like a school pencil. These require sharpening when they get dull or the point breaks. Some even come with their own sharpener on the cap so you don't have to purchase one separately.
Retractable eyeliners
These are also known as self-sharpening pencils. These are typically encased in plastic, not wood. You don't have to sharpen these. The tip always stays sharp, and if it becomes dull or breaks off, you simply twist the base and more eyeliner appears. Once you're done using it, you can simply twist it the other way to retract it back into the base.
What are the Advantages of Using High Quality Eyeliner?
Eyeliner allows you to enhance your natural beauty. You can pull of a stunning smokey eye for a night out on the town, add a hint of brown liner just to define them and make them stand out, or you can use a brightly colored liner that really makes your eye color pop. Like other cosmetics, eyeliner is designed to help you create a new look for yourself or just enhance your best facial features.
Pencils are so popular because they are inexpensive when compared to other types of liners, they don't leave harsh lines, they are very blendable, and they can even pull double duty as brow pencils in a pinch. In short, a pencil eyeliner is something that every woman should have, even if she just pulls it out for the most special occasions.
Who are the contenders for the Best Eyeliner Pencil on the Market?
You never have to worry about working with a dull pencil again with this mechanical eyeliner, which can be sharp and ready to use with just a few twists. This liner glides across upper and lower lashes with ease, has a creamy texture that blends perfectly and stays moisturized, so it doesn't get dry and flaky, and it comes in a rainbow of hues to complement every eye color and skin tone. This liner is very inexpensive, so you can stock up your makeup bag with a variety of colors from dramatic black to cool blue.
Get a clean line for a more polished look or get the perfect smudges smokey eye for more drama with this versatile pencil. It is easy to apply, smudge-proof, and provides all-day staying power. It is a mid-priced beauty product, and it comes in your choice of five great colors.
If you dread putting on eyeliner because it's such a hassle, you may change your tune after you use this product from Clinique. This high-end liner is designed to not only give you perfect lines for definition, but it glides on smoothly and easily, so your makeup look will be finished in no time. One side features a twist-up pencil that's always sharp and ready to line, while the other end has a sponge tip designed for perfect smudging. The color is highly pigmented and is designed to last all day long.
Considerations for Choosing the Right Eyeliner
If you're ready to change up your look with a new eyeliner pencil, it's time to get shopping. Shopping for cosmetics, as you may already know, can be a bit frustrating if you don't know what to look for. However, with a little bit of research and planning before you get started, you'll know exactly what to expect, so it's easy and fun to find the right product. These four features are all things you should look for in your purchase, and you can also set your own criteria to find the best product to add to your beauty arsenal.
Price
If you want a lower-end liner, you should expect to pay around $5. Mid-priced liners are about $12, while high-end liners can be priced at around $20 or more. Consider your budget, but then look at other features. Does the cheaper liner wear off in no time, while the more expensive liner goes all day or night? If so, you may want to pay the extra money for a higher quality product. Evaluate the overall quality and features of each product, in addition to the price, to find the right eyeliner.
Type
Do you want a more defined line? If so, opt for a true pencil that requires sharpening with a sharpener. If you want a less-defined, slightly smudged look, a retractable pencil has a softer consistency and will work well for this purpose.
Colors
What color do you want to wear on your eyes? Many women change it up day to day or for special occasions. You can choose from basic black, soft neutrals, or bold colors that really stand out and look great with bold shadows and lots of black mascara.
Longevity
You want a liner that's really going to last, not smudge or feather an hour after you put it on. Look for long-lasting formulas for when you really need your liner to stay in place, like for a full work day, a wedding or formal event, or a late night date.
Price
NYX Mechanical Eye Pencil
These liners are affordably priced, so grab your favorite color and a few new ones to try at this low price point.
L'Oreal Paris Le Kohl Pencil
You'll pay just a bit more for this smooth liner.
Clinique Quickliner for Eyes
This luxury liner has a price tag placing it in the high-end category.
Type
NYX Mechanical Eye Pencil
This pencil is retractable to give you smooth lines.
L'Oreal Paris Le Kohl Pencil
This is a traditional pencil that allows you to create thick or thin lines that are very defined.
Clinique Quickliner for Eyes
This retractable pencil even comes with a smudging tool to give you the perfect makeup look.
Colors
NYX Mechanical Eye Pencil
You'll have your choice from 18 great colors that range from neutral to bright. Choices include Aqua Green, Black, Blue, Bronze, Brown, Deep Blue, Deep Purple, Gold, Golden Olive, Gray, Gypsy Blue, Lime Green, Pink, Purple, Silky Cashmere, Silver, Turquoise Blue, and White.
L'Oreal Paris Le Kohl Pencil
Choose from five colors including Cafe, Black Sable, Carbon Black, Onyx, and Smoke.
Clinique Quickliner for Eyes
This product is available in 13 colors, including True Khaki, Roast Coffee, Smoky Brown, Slate, New Black, Dark Chocolate, Violet, Moss, Black/Brown, Navy, Blue Grey, Grape, and Really Black.
Longevity
NYX Mechanical Eye Pencil
You should expect to get about 10 to 12 hours of wear with the application of this process. It lasts longer on the top lash line than on the bottom.
L'Oreal Paris Le Kohl Pencil
In normal conditions, you should expect to get around 8 hours of wear when applying this product.
Clinique Quickliner for Eyes
This color truly stays all day, and in most cases, needs to be removed with eye makeup remover.
Conclusion: All Reviews Are In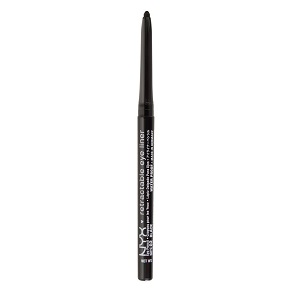 You don't have to pay a fortune for great makeup, and this liner from NYX exhibits many of the treats of the higher end liners at a fraction of the price. This pencil has a creamy texture that goes on smoothly. It doesn't feel dry, and it doesn't pull or tug like many other pencil liners. Because it is so creamy, it is easy to get a smooth line, but it's just as easy to smudge to perfection.
You should expect to get a full day of wear out of this product, and you'll love the rich pigmentation that really defines your eyes. You can choose from 15 different colors, many of which aren't available from other brands like Pink or Aqua Green. Because it is retractable, you don't have to worry about a sharpener, and you don't have to worry about a blunt edge – your pencil is always sharp and ready to apply.
Pros:
It has a creamy, moisture-rich formula that goes on easily.
It's easy for beginners to apply.
It comes in many different colors.
Long-lasting. It is very affordable. It is self-sharpening.
Does not irritate eyes.
It doesn't pull when applied.
It doesn't smear or run as easily as other liners at this price point.
Cons:
May get flaky with extended wear.
May not be suitable for sensitive eyes.
Does not apply well to waterlines.
L'Oreal Paris Le Kohl Pencil – Best Pencil Eyeliner for the Money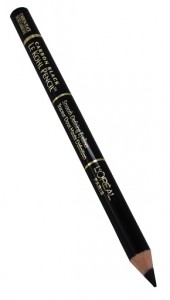 If you've tried traditional pencil liners in the past without much success because they tugged on your eyelid, pulled your eyelashes, didn't apply smoothly, or was just too difficult to apply, you should give this one a try. This pencil glides on smoothly and delivers great pigment to make your eyes stand out. You can create a thin, defined line or go a little bit dramatic with a thicker line – this pencil is extremely versatile.
This pencil is smudge-proof and lasts for hours, so it's great for wearing to work or for a fun night out with your friends. It comes in five fantastic shades, and it's very affordable.
Pros:
It is smudge-proof.
It lasts for a long time.
Comes in a variety of colors.
It can be used to achieve a variety of different looks.
It goes on smoothly.
It's simple to apply.
Cons:
It wipes off quite easily if your eyes water.
Some of the colors are very light.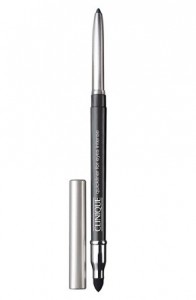 Skip the lengthy makeup applications and cut down on time with this liner, which is more than an eyeliner – it's a Quickliner. Simply turn to dispense the product, then apply it to your lash lines. You'll be amazed at how it just glides across the skin and evenly distributes the pigment-rich color. Once you've drawn your lines, simply flip over the pencil to use the smudge tool to get your look just right.
This comes in 13 amazing shades, and it is one of the longest lasting liners on the market. You can wear it through the work day and into the night without it budging an inch. To remove it easily, use Clinique's Eye Makeup Remover, sold separately.
This pencil never goes dull, doesn't require sharpening, and is so pigmented, you won't have to keep making pass after pass, so it lasts longer. The formula is designed to give you a more natural look without leaving harsh lines, and it's very easy to apply, even if you've never worn eyeliner before.
Pros:
Goes on smoothly without being dry or cakey.
It comes in a variety of bold shades.
It has a built-in smudge tool.
Self-sharpening.
It doesn't run or flake.
It works equally well on upper and lower lashes.
Doesn't irritate eyes.
Cons:
It is a bit more expensive than other liners.
Over time, the pencil may not twist as it should so liner does not come out.
Final Thoughts
Eyeliner is a must-have item for any girl who wants to look her best. You can go over-the-top or subtle and natural with a versatile pencil liner. For the best results, Clinique Quickliner is an excellent choice. It is easy to apply, provides true color, and lasts all day or night. This liner is priced a bit higher than other products, but the outstanding performance makes this a top-choice when it comes to quality cosmetics.