Some links on this page are monetized by affiliate programs - see disclosure for details.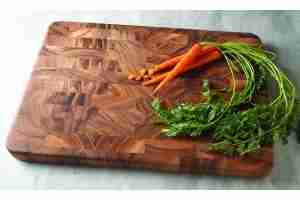 A wood cutting board is one of the most crucial tools in every chef's cupboard. That's true whether you are making a light salad at home or are a professional chef at a fancy restaurant. Every chef encounters materials that they need a sharp knife to cut through and a wood cutting board helps you handle that task. Owning a high-quality wood cutting board can make the difference between improperly or perfectly-cut pieces.
Compare: Top 10 Best Wood Cutting Boards of 2018

A Guide to Wood Cutting Boards
A wood cutting board is a special kind of cutting board, produced out of varying types of wood that is intended to facilitate the cutting of dense meats, vegetables, fruits, and fish. A knife-edge is a delicate structure and can rapidly be blunted by an abrasive surface. If the surface is too hard, your knife can be chipped.
Therefore, the best cutting boards must be made of easy of clean, soft, and non-abrasive materials, the most prevalent being wood. However, it should not be fragile enough so that it is easily destroyed.
What are the Advantages of a Wood Cutting Board?
The best wood cutting boards are much softer compared to plastic and glass cutting boards. With plastic cutting boards, you have the potential for small plastic pieces ending up in your food without your knowledge. Nothing too terrible would happen if a tiny piece of wood slipped into your meal since it made of natural material.
Not only that, while it might seem that plastic is non-porous and cannot absorb liquids, the surface becomes easily knife-scarred. This rough material is tough to clean, even with running water or bleach. By contrast, wood halts the growth of and kills bacteria at its surface. Even used cutting boards effectively block bacteria growth.
What are the Different Types of Wood Cutting Boards?
If you want the best wood cutting board for the task at hand, you should ensure that the type of the cutting board matches up to the kind of material you are cutting through. The best wood cutting boards come in at least three different construction styles. Therefore, you can purchase your wood cutting board based on your budget and intended use. Below is a breakdown of the three top wood cutting board types:
Flat Panel
These cutting boards are usually constructed simply by gluing boards together edge to edge, similar to a wooden tabletop. You can easily spot these by the individual wood pieces that make up the top of the surface. If you look at the board from the very end, you can see the arched appearance of each board. One kind of flat panel cutting board is a face grain board. These boards are the cheapest variety and thus they have a higher potential for warping and splitting over time. This warping effect is due to the movement of wood as it releases and takes on moisture.
Edge Grain
Advancing slightly in quality and price, edge grain wood cutting boards offer an improvement in functionality. Much like the construction of bowling lane wood flooring, edge grain boards comprise a series of boards that are glued face to face, which leaves thin narrow bands running across the surface. These boards are thicker than the face grain varieties. Therefore, they are less vulnerable to warping than flat panel boards. If you are on a budget but do not want to sacrifice functionality, this style of board is a perfect option.
An additional benefit of their design is that it does not need to be as thick as end grain boards to achieve the same amount of crack and split protection. In other words, the binding of material is stronger, lighter, and easier to lift in and out of the sink. The biggest disadvantage is that edge grain cutting boards tend to show scratch marks and other signs of wear over time.
End Grain
These are the most expensive wood cutting boards and have a traditional "butcher block" appearance. The wood that comprises these styles joins together so that the end grain faces the work surface. The properties of these boards enable these styles to effectively "self-heal" themselves. The biggest advantage of the end grain design is that you do not have to worry about splinters.
Splintering is impossible with butcher-block styles of boards since the wood fibers face entirely different directions. In addition, end grained constructed butcher blocks are typically thicker than any other type of unit so the chance of warping is minimal. They can provide an extremely stable platform with no risk of flexing. Unfortunately, these boards can be upwards as ten times as expensive as a face grain unit since they are usually hand made by skilled craftsman.
Consider This
All wood has movement that occurs as a result of the soaking up of airborne water or from washing it in the sink. Because wood cutting boards come in contact with water so frequently, it is more susceptible to warping when compared to many other similar cutting board materials.
The Top 3 Models on the Market
Ironwood Gourmet Large End Grain Prep Station – The Ironwood Gourmet Large End Grain Prep Station has a stunning contrasting pattern that complements the dark acacia wood. While it might not be handmade, it still provides strong resistance from warping. Due to the softer composition, it effectively reduces damage to the knife and the board. This board also makes a nice serving board and a preparation station. It has a simple cleaning process since all you need to do is use warm soapy water and leave it out to dry.
Michigan Maple Cutting Board – The Michigan Maple Cutting Board is manufactured with lovely hard maple. It is reversible, functional, and stands the test of time. You will be happy that you can switch between sides, thus quickly changes between cutting materials. It has a compact, space-saving design that makes it easy to store.
Teak Rectangle Edge Grain Cutting Board – The Teak Rectangle Edge Grain Cutting Board has a juice groove and a convenient corner hold. It is a common choice for chefs because of its basic appearance and its simplicity of use. While it may be a cheaper model, it can handle large amounts of constant cutting.
Factors to Consider when Choosing
Price
An important consideration is the price. If you only plan on using it a few times every month, it is smarter to buy a more cost efficient model. If you are a professional chef who is going to be washing their board multiple times a day, you will need to invest in a more efficient type of board.
Type of Wood
You should understand what kind of wood that your cutting board will be comprised of. Different varieties serve different purposes and have their own sets of advantages and disadvantages. When you are using very expensive knives or ones that are difficult to sharpen, it helps to have a softer wood to keep your blade as sharp as possible.
Design
Depending on what you intend to use your cutting board for; you should get a design that matches up to your visual or functional preferences. If you plan on serving your main entrée on the board, seek out a design that looks stunning. For chopping up onions to put in a morning omelet, you can settle for one that does not look as formal.
Price
Ironwood Gourmet Large End Grain Prep Station
Because it is made from Acacia wood, this style is on the pricier side.
Michigan Maple Cutting Board
Due to the use of maple, this variety is a moderately priced choice.
Teak Rectangle Edge Grain Cutting Board
Since it is built from a standard mass-produced design, this is the most economical model.
Type of Wood
Ironwood Gourmet Large End Grain Prep Station
Because it is composed of Acacia wood, it leaves your knives perfectly sharp and your guests amazed.
Michigan Maple Cutting Board
Since it is built from higher quality maple, this board perfectly balances aesthetics and functionality.
Teak Rectangle Edge Grain Cutting Board
The teak composition gives you less of a material advantage because it is easier to turn your knife dull and is prone to warping.
Design
Ironwood Gourmet Large End Grain Prep Station
This board is comprised of dark wood that complements the appearance of miniature two by one-inch rectangles joining together.
Michigan Maple Cutting Board
This model balances aesthetics and functionality with its lighter color and longer streaks that run the length of the board.
Teak Rectangle Edge Grain Cutting Board
Teak cutting boards look like one large piece of wood taken out of the trunk of a tree. While it is not exactly an eyesore, it is considered to be on the lower end of the spectrum in regards to wood cutting board aesthetics.
Conclusion: Our Results Are In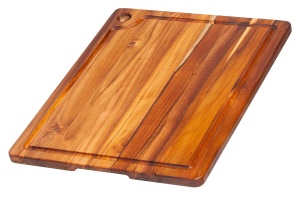 The Teak Rectangle Edge Grain Cutting Board features a corner holder and a juice groove. It is a favorite among chefs due to the pure aesthetics and ease of use. Even though it is a more economical model, you can use it for small prep work and large dinners. The wood is sourced from sustainable plantations.
Pros:
It is the most economical model. You can customize the included features. It is easy to use.
Cons:
It will have a short life span. It may crack and splinter. Cheaper varieties of wood make knives duller, faster.
The Michigan Maple Cutting Board is the best wood cutting board for the money. It is built with beautiful hard maple. It is functional, durable, and reversible. You have the ability to use one side for chopping vegetables and the other or slicing meats. Therefore, this cutting board is suitable for a variety of purposes. It comes with a one-year warranty.
Pros:
It is built for cutting through many different materials with its alternating sides. You can get company support if it breaks down in one year.
Cons:
It will not last as long as more deluxe models. It runs the risk of warping, cracking, and splintering.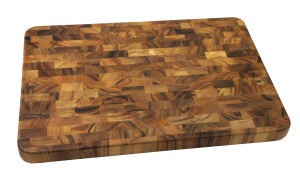 The Ironwood Gourmet Large End Grain Prep Station is comprised of acacia wood, which has unique and natural contrasting patterns. Even though it has a lot of protection from warping, it is still built from cost-effective material. End grain wood reduces wear and tear on both the knife and the board. Not only can you use it as a cutting board but also a prep station and a serving board. It is easy to maintain and clean, all you have to do is wash it with warm soapy water and leave it out to dry.
Pros:
It is easy to clean. Serves a variety of purposes and looks fantastic with the contrasting pattern. It will last a long time.
Cons:
It is a bit bulkier than similar models. It will take up more cabinet space.
Conclusion
When it comes to serving sliced items to your patrons or guests, you want to impress them with your evenly sliced portions positioned on a beautiful wood cutting board. With the best wood cutting boards, you do not have to worry so much about the wood warping or your knives getting dull as quickly. Like every investment, understand the benefits of upgrading at each price level. You should always be over prepared for any cutting task at hand.