Some links on this page are monetized by affiliate programs - see disclosure for details.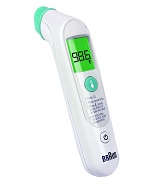 Your baby is fussy, and nothing seems to be helping. You just can't figure out what's going on, until you feel his or her forehead. It's what every parent dreads: your baby is sick and has a fever.
While feeling the forehead can let you know if your baby is warm, it isn't a good indicator of exactly what you're dealing with. This is why every parent should have a quality baby thermometer in their medicine cabinet.
Guide: What is a Baby Thermometer?
A baby thermometer is a device used to measure your child's temperature. With a baby thermometer, you are able to see if your child is running a fever, which is an indication that your child is sick. This helps you determine whether you need to take your child to the doctor, or even just call your doctor to see if the fever is worth a visit.
Because babies are unable to hold an adult's thermometer under their tongue, these are useless because you never get an accurate reading. Baby thermometers are designed to provide you with an accurate temperature that is easy to take, even on a squirming, fussy baby. Baby thermometers are designed to be accurate but also take your child's comfort into consideration.
What are the Different Types?
Manufacturers have utilized the latest technology to create thermometers for babies and children that provide accurate readings using methods other than placing it under the tongue. Many different methods have been tested and have been proven to be accurate, which is why there are several different types of thermometers to choose from.
Rectal – It has been proven that this is the most accurate way to take a child's temperature. Doctors still rely on this method, and the latest rectal thermometers offer quick readings to make the process fast and easy for your child.
Ear – These thermometers are designed to gently fit in the ear to provide you with a fast digital reading. Most ear thermometers can take an accurate temperature in just seconds.
Forehead – A forehead thermometer is placed against the forehead to provide a quick temperature reading, typically in less than 10 seconds.
Pacifier – If your child sucks on a pacifier, using this thermometer will be simple and quick. Your baby sucks on this pacifier, which has a digital display that's easy for you to read.
A baby thermometer is a must-have item for any home with children. If you suspect that your child is getting ill, you can use this thermometer to find out whether he or she is sick enough to visit a doctor. You can also use the thermometer to monitor a child who has been sick to ensure the fever drops. A thermometer helps you make more sound judgement on when you need to seek medical intervention for a sick child.
Read: Choosing a Baby Gate to Keep Your Child Safe
Who are the Contenders for Best Baby Thermometer?
The First Years American Red Cross Digital Pacifier Thermometer – If your baby takes a pacifier, you'll have no problem finding out if he or she has a temperature with this thermometer. This model by The First Years looks and feels just like a regular pacifier to your baby with the added convenience of providing you with a temperature reading.
Braun ThermoScan 5 Ear Thermometer – You no longer have to worry about struggling with a fussy baby with this simple thermometer by Braun. Designed to fit comfortably in the ear, you can have an accurate temperature reading in just seconds.
Just-Brill Digital Thermometer – Get the quickest reading with this Just-Brill thermometer, which provides you with an accurate reading in just one second.
Considerations for Choosing the Right Baby Thermometer
Looking through the different brands, types, styles, colors, and price ranges for baby thermometers can be overwhelming for any parent. You want to make sure that you get the best product for you and your child, so consider these features to determine what's important to you to help make your purchasing decision less complicated.
Accuracy
There are tons of thermometers on the market that use fun colors, unique designs, and the latest technology to produce a really cool looking product. However, all of this means nothing if the reading you get isn't accurate. You want to make sure that no matter what type of thermometer you buy, the temperature reading is as accurate as possible for the safety of your child.
Price
Almost every family follows a budget, so you want to make sure that the thermometer you purchase fits within your own. However, price should never be the primary deciding factor. Inexpensive thermometers may provide inaccurate readings, break easily, or malfunction, while the most expensive may have more features than you'll ever need. Consider all other factors along with price in order to choose the perfect thermometer to use in your home.
Comfort for your child
You'll never get an accurate temperature reading if your child is uncomfortable and won't sit still. Consider all of the different types of thermometers to find one that your child will be comfortable using.
Memory features
If you're trying to track your child's temperature over a period of time, don't struggle to remember the last reading. By purchasing a thermometer with memory settings, you can access previous readings with just the touch of a button.
Accuracy
The First Years American Red Cross
When used properly, this pacifier thermometer provides a reading that's generally about one degree different from taking your child's temperature rectally. In order to achieve an accurate reading, your baby's lips must stay locked around the thermometer until the temperature registers.
Braun ThermoScan 5 Ear Thermometer
The Braun ThermoScan 5 Ear Thermometer is used in the ear canal, which has been shown to provide an accurate reading of the body's core temperature. Because of its high rate of accuracy, this model is found in doctor's offices and hospitals all around the country.
Just-Brill Digital Thermometer
Similar to the ThermoScan 5, this model also uses infrared technology to measure your baby's temperature through the ear canal. As long as the thermometer is placed in the ear correctly, you can rest easy knowing that you are getting an accurate reading.
Price
The First Years American Red Cross
This thermometer is priced low enough that you can buy one as a spare if needed. This budget-friendly thermometer is the cheapest of the three on this list.
Braun ThermoScan 5 Ear Thermometer
This thermometer is priced as a mid-level model. However, the extra features, accuracy, and quality design make it comparable to more high-end thermometers.
Just-Brill Digital Thermometer
This high-end thermometer is the most expensive on this list. With the added features, including 10 temperature memory recall, parents may find it to be a worthwhile investment.
Comfort for your child
The First Years American Red Cross
If your child sucks on a pacifier, he or she will have no problem with this thermometer. Your child won't even know the difference! If your child does not take a pacifier, getting him or her to use this one can prove to be a challenge.
Braun ThermoScan 5 Ear
The small, soft tip makes this a gentle option for taking your baby's temperature. The audible and visual guides help you ensure proper placement for comfort and accuracy. Since the temperature is measured in mere seconds, even the fussiest babies won't complain too much.
Just-Brill Digital
Simply place this thermometer in your child's ear, and you'll get a reading in just one second. Your baby won't even have time to fuss because the process is so fast and easy with this model.
Memory features
The First Years American Red Cross
The memory recall feature displays the last temperature reading as soon as you turn on the thermometer.
Braun ThermoScan 5 Ear
When you switch this baby thermometer on, you are able to view the last read temperature that was taken.
Just-Brill Digital
It's easy to keep up with your child's progress by accessing the 10 temperature memory recall with the touch of a button.
Conclusion: Our Best Baby Thermometer Reviews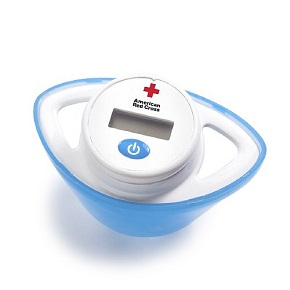 One of the most convenient ways to take a baby's temperature is with a pacifier thermometer. Children that already suck on a pacifier will have no problem using this one for just 90 seconds, the time it takes to get a reading on the digital display.
This thermometer is licensed by the American Red Cross, so you know it has been designed with quality in mind. The soft silicone nipple mimics those on traditional pacifiers, and the included cover keeps the thermometer clean and sanitary when not in use. The budget-friendly pricing makes this a great item to keep in your diaper bag, medicine chest, or first aid kit.
Pros:
Your child's temperature is displayed in as little as 90 seconds
It is easy to use with children that are used to pacifiers
It provides accurate readings when used correctly
The price is just right for any budget
Cons:
Children that do not take pacifiers will not enjoy using this thermometer
If lips are not closed completely, the reading may be off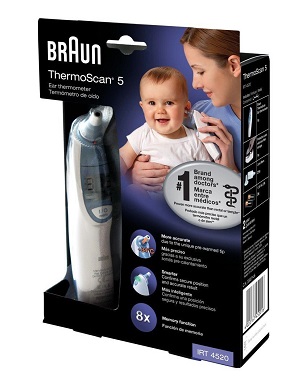 If you're looking for a quality thermometer that's used by doctors and hospitals that doesn't break the bank, the ThermoScan 5 fits the bill. This thermometer utilizes infrared technology to accurately measure a child's body temperature right from the ear canal. The tip of the thermometer is small and soft enough for the tiniest ears, so you won't have to worry about your child's comfort.
This top-rated device uses a pre-warmed tip for higher accuracy, something that less expensive ear thermometers do not use. This thermometer is very easy for any parent to use. Once it is in the proper position, the display, along with sounds, will let you know it's ready to go. Each thermometer comes with a starter box of lens filters, which protect the ears from scratches and provide you with a more accurate reading.
Pros:
In-ear design is so comfortable, so temperatures can be taken while a baby is asleep
Accuracy is high, comparable to the accuracy of rectal thermometers without the discomfort
Pricing is affordable for a high-quality thermometer recommended by pediatricians
The thermometer is easy to use
Cons:
Lens filters must be purchased, which is an added expense
Must use lens filters or an error message will prevent you from using the thermometer
It may take some practice to figure out the proper position on the first try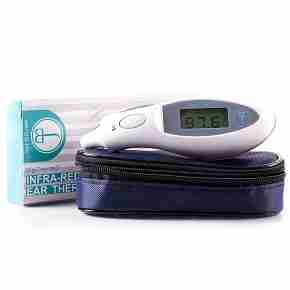 It's obvious that taking the temperature from the ear is one of the easiest, most accurate ways to get your child's temperature. This thermometer takes it a step further by providing you with an accurate temperature reading in just one second. This is far faster than most other thermometers on the market.
Tips aren't required for this model, so there is no extra expense involved. Keeping the thermometer clean between uses is as easy as wiping it down. You also have the option to get your reading in Celsius or Fahrenheit.
Pros:
It is small and easy to store in its included zippered storage case
It recalls the last 10 temperature readings
Automatically shuts off after one minute of inactivity to save your battery
It uses infrared technology for accuracy you can count on
Cons:
It is more expensive than many other thermometers
You have to switch from Celsius to Fahrenheit with every use
Finding the proper position for accuracy may take some practice
If you suspect your child is getting sick, don't hesitate to check his or her temperature. By getting an accurate temperature, you can decide how to proceed to make your child well again. With the Just-Brill thermometer, you get the accuracy you need and the innovative technology needed to quickly process your child's temperature.