Some links on this page are monetized by affiliate programs - see disclosure for details.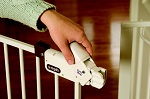 When babies begin crawling, the world becomes their playground. A baby's curiosity kicks in once he or she is mobile, and there's something exciting around every corner. Once a child graduates from crawling to walking, the need to explore grows even greater. This is an exciting milestone in a young child's life, but as every parent knows, it can also be a scary one.
While a mobile child is full of wonder, a parent is often full of fear. High steps, bathrooms, laundry rooms full of cleaners are just a few of the seemingly innocent things in your home that may be dangerous for your child. Instead of spending your days worrying about what your child is going to get into next, give yourself a little peace of mind with a baby gate that keeps your child safe.
What is a Baby Gate?
A baby gate is a safety device that is used in your home to keep your baby out of forbidden places. Gates are particularly useful for rooms that don't have doors, like hallways or kitchens. They are also ideal for use at the top of stairs. While a baby gate isn't a substitute for parental supervision, it is an extra precaution that many parents use to keep children safe once they begin crawling and exploring.
Baby gates also may be used for pets. Whether you want to keep your child and your pet separated or you just want to keep your pet in one area while you're away from home, a baby gate is an excellent solution.
See Also: This Year's Best All Around Crib Canopies
What are the Different Types of Baby Gates?
If you're babyproofing your home for your little mover, a baby gate should be at the top of your list. However, you will find that there are many different gates available, making your purchasing decision quite difficult. By knowing about what types of gates there are, you'll be better prepared to make a purchase that works for your home and your family.
Wall-mounted baby gates – Wall mounted gates are affixed to your walls using special hardware. These gates offer more security, and they are the top choice for installation at the top of stairs.
Pressure-mounted baby gates – These gates are not permanently attached to the wall. Instead, they are tightened to fit the doorway opening tightly. These are a great choice for most rooms and hallways where there are no stairs.
What are the Advantages of Owning a Baby Gate?
Owning a baby gate gives you a better sense of security when your child is crawling or walking. Forbidden areas are easily blocked off so your child doesn't have access. While you should always watch your child to prevent accidents from happening, a baby gate provides parents with an additional security measure that allows kids to explore without entering forbidden areas that hold hidden dangers.
Read: The Top 10 Booster Seats to Keep Your Children Safe
Who are the Contenders for Best Baby Gate?
Regalo Home Accents Extra Tall Walk Thru Gate – This isn't your typical baby gate. This well-designed, pressure mounted gate blends beautifully with your décor while keeping your baby protected from danger.
Supergate Deluxe Décor Metal Gate – Whether you want to keep your child protected while on the back porch or want to block off access to your stairs, this gate is easy to adjust and mounts to the wall for extra security.
North States Industries Superyard 3 In 1 – Get the most versatility with this 3-in-1 baby gate. Even the largest sections of your home can be blocked off with this expandable gate that doubles as a safe play yard.
Considerations for Choosing the Right Baby Gate
Shopping for safety devices like baby gates doesn't have to be overwhelming if you know what you're looking for. These four important features are something that you should consider before you begin babyproofing your home.
Safety
The first priority when buying a baby gate is determining whether it is safe enough to properly protect your child from danger. A few things to consider are height, how the gate is installed, and whether or not the gate is made of materials that are durable and sturdy enough to stand up to the wear and tear caused by a child.
Width
The secret to an effective baby gate is purchasing one that fits your door opening perfectly. A gate that it too wide will not be able to be mounted, while one that is not wide enough may easily fall and injure your child. Before purchasing a gate, make sure that you accurately measure your doorway to ensure the perfect fit.
Style
Baby gates of the past only considered safety and never style. These old gates were eyesores. Modern gates of today are more stylish than ever and actually blend well with a home's décor. From arches at the top that add decorative appeal to steel, wood, and other beautiful accents, today's baby gates are as decorative as they are protective.
Ease of installation
When you purchase a baby gate, you want to make sure that you can install it properly. An improperly installed gate is more dangerous than it is beneficial, so you want to find a gate that's secure yet easy enough for you to install correctly.
Safety
Regalo Home Accents Extra Tall Walk Thru Gate
The hardwood and steel design makes this gate sturdy and secure. It also meets all standards put in place by the American Society for Testing and Materials and is certified by Juvenile Products Manufacturers Association.
Supergate Deluxe Décor Metal Gate
The childproof double locking system on the swinging gate ensures that your child can't make a break for it. Both sides open, and each side has its own safety latch for security. The heavy-duty mounting kit goes right into your wall to provide you with security in hallways, doorways, or at the top or bottom of staircases.
North States Industries Superyard 3 In 1
This model also comes equipped with a double locking system that keeps your child safe. This gate can be used indoors and outdoors, and works on any surface, so you can use it on your porch, inside of your home, or even as a fireplace screen. The heavy duty metal construction makes this a strong and durable choice in baby gates.
Width
Regalo Home Accents Extra Tall Walk Thru Gate
This gate perfectly fits openings between 29 ½ and 44 inches. Need a little extra width? 4-inch and 6-inch extension kits are sold separately.
Supergate Deluxe Décor Metal Gate
If you have a wide space that traditional baby gates just won't cover, this gate does the job right. This gate is designed to fit in spaces that measure 38 ½ to 71 inches. At a height of 30-inches, this gate is tall enough to keep your baby where he or she needs to be.
North States Industries Superyard 3 In 1
It doesn't get much wider than the Superyard. With six panels, you can easily barricade openings up to 12 feet wide. Need a smaller gate? Just remove the panels to customize the gate for any opening indoors or out. If you need even more width, you can add unlimited panels to fit your space perfectly. When used as a play yard, it covers 10 square feet.
Style
Regalo Home Accents Extra Tall Walk Thru Gate
Forget about those old, ugly plastic gates. The hardwood and steel materials used on this gate give it a stylish look while keeping your baby safe.
Supergate Deluxe Décor Metal Gate
Two color options are available to complement your home. The Linen gate is all white and matches all interiors, while the Brown comes in a matte bronze finish that gives it a more elegant look.
North States Industries Superyard 3 In 1
Three different color and material choices are available for a personalized look. Choose from white metal, bronze metal, or wood.
Ease of installation
Regalo Home Accents Extra Tall Walk Thru Gate
You don't even need to pull out the toolbox to install this safety gate. This pressure-mounted gate has four pressure mounts that are each adjustable for the perfect fit. This gate can be installed and ready to use in just minutes.
Supergate Deluxe Décor Metal Gate
This gate is wall-mountable for added security, so installation is required. All hardware is included with the gate, as well as instructions. When instructions are followed, users find that installation is quite easy.
North States Industries Superyard 3 In 1
This versatile gate allows you to decide how to mount it. You can use hardware to mount it securely to your wall or pressure mount it for a less permanent but still safe installation option.
Conclusion: Our Baby Gate Reviews Are In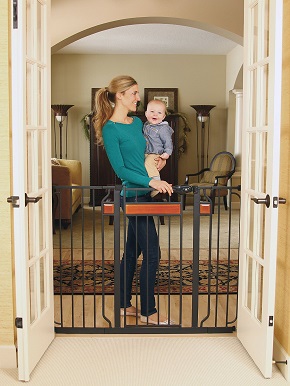 The Regalo Home Accents gate proves that inexpensive doesn't have to look cheap. This stylish gate uses hardwood and steel to not only provide a more elegant look but to also provide security.
Not only is this gate safe and stylish, but it's also convenient and easy to use. Once it's mounted, the simple design allows you to walk through without a hassle. The Easy Close handle allows the gate to be securely closed with just one pushed, and it is equipped with a safety lock to keep your little one protected.
Pros:
The stylish design fits with most décor. Wall cups provide additional security. Gate is easy for adults to open and close, yet difficult for children. Installation is easy as 1-2-3 and no tools are required. Extensions are available separately to provide the perfect fit. And this gate fits within most budgets. Extra tall 38" height offers further protection.
Cons:
When using it at full-width, the gate is not as stable and an additional extension should be purchased for best fit. Latch may stick after regular use, but this can be resolved with a lubricant.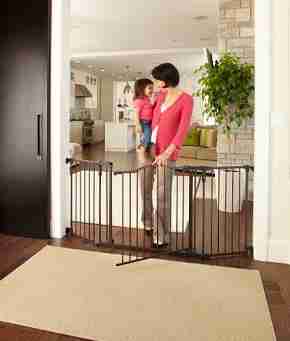 If you have doorways that are wider than usual, a wider stairwell, or an open space that most baby gates are too small for, you'll find that the Supergate Deluxe is wide enough for these spaces. This gate provides the safety features you're looking for, along with a stylish design that includes an arched gate.
Getting in and out is a breeze for adults, but the safety latches keep little ones where they belong. The swinging walkthrough panel allows you to get in and out without having to remove the gate, and the wall-mounted design makes this gate durable and ready to withstand anything.
Pros:
This mid-range gate is stylish and affordable. The metal construction is durable and looks great with your existing décor. The swinging gate is extra wide and easy to walk through. Double safety latches keep both sides safe for your child.
Cons:
No extensions are available for this model. This gate may not work with certain types of molding or baseboards. Latch is stiff and may be difficult for some to open.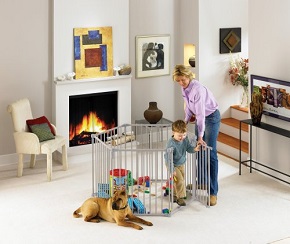 Make the most of your baby gate with this stylish, secure, and customizable gate and play yard. Whether deciding between pressure mounting and wall mounting to using it as a safety gate, fireplace screen, or play yard, this is one of the most versatile safety gates on the market.
The innovative design won't scratch your walls or floors, and it works on any surface, even outdoors. You can add or remove panels as needed, and you can use it as a freestanding play yard to give your baby his or her own special space.
Pros:
The design of this gate makes it easy to install, even over crown molding. The versatile design allows this gate to be expanded, which makes it easy to fit in any opening. Gate works for children and pets. Hold open feature allows you easy access, and double locking system keeps your child safe.
Cons:
This is one of the more expensive gates. Wood version can be easily chewed up by pets. This gate is not for use at the top of stairs (but works for the bottom.)
Conclusion
If you're ready to invest your money in a baby gate, why not get the most versatile version that can be used anywhere in or outside of your home? The North States Industries Superyard not only provides you with a secure gate that helps you protect your child, but it also pulls triple duty as a fireplace screen and a baby play yard, giving you the most bang for your buck.