Some links on this page are monetized by affiliate programs - see disclosure for details.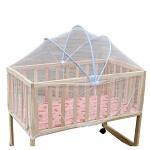 Before your baby arrives, you spend days organizing your nursery. From choosing the perfect functional furniture to selecting an adorable crib bedding set, there are many things you can do to a nursery in preparation of your little bundle of joy's arrival.
One of the most important parts of your child's room is the crib. Not only is this a comfortable place for your baby to rest and sleep, but with its large size, it's generally the focal point of the room. Make your child's crib really stand out by adding a simple yet beautiful crib canopy.
What is a Crib Canopy?
A crib canopy is made of fabric, and it flows from the ceiling around the baby's crib. The soft, billowy fabric gives a dream-like effect that creates the perfect spot for a peaceful snooze. It is also great for protecting your child against mosquitoes and other bugs that may find their way into your home. Crib canopies are available in a rainbow of colors, sizes, and styles so it's easy to find the ideal canopy for any crib.
It should be noted that while this decorative item enhances your décor, it can be dangerous if not used properly. Crib canopies should always be securely mounted following the manufacturer's instructions, and the loose fabric should never hang into the crib or be easily accessible to your child.
What are the Different Types of Crib Canopies?
If your nursery needs a little extra something, a crib canopy is an affordable solution that allows you to fully customize the look of your little one's room. When looking for a crib canopy, there are several available to choose from.
Ceiling-mounted canopy – This is the most common type of crib canopy. It is mounted securely to the ceiling directly over the crib using durable mounting hardware.
Wall-mounted canopies – If your child's crib is centered on a wall or you're just not sure about hanging a canopy on the ceiling, a wall-mounted canopy is another option available to you. These canopies are mounted directly to the wall above the crib and give the same effect as canopies that hang on the ceiling.
Attached canopies – Attached canopies are mounted directly on the crib. These canopies only work with cribs that have tall posts that are designed to hold a canopy.
What are the Advantages of Owning a Crib Canopy?
The biggest advantage of owning a crib canopy is that it's a fast and easy way to make a nursery stand out. A flowing pink canopy is ideal for a little princess, while a rainbow canopy adds a whimsical touch to any baby's room. Canopies are inexpensive, and they are very easy to install. In just minutes, a canopy can transform a room.
If your nursery is very bright, a canopy can also help keep the inside of the crib darker. This is ideal for naptime when too much light is disturbing your child.
Read: This Year's Most Loved Changing Table Cribs
Who are the Contenders for Best Crib Canopy?
StillCool Baby Crib Canopy – This affordable canopy is a basic version that's easy to install and looks great over a crib, toddler bed, or adult bed.
ToJoy Baby Crib Canopy – This high-quality white mesh canopy is the perfect addition to your baby's nursery.
Hawk Bed Net with Hanging Ring – Available in three colors, it's easy to coordinate this canopy with your baby's crib bedding and other decor.
Considerations for Choosing the Right Crib Canopy
Buying a crib canopy does not have to be complicated. In fact, most parents find that decorating with a crib canopy is quite simple, from selecting the perfect size to installing it safely over baby's crib. When purchasing a canopy for your nursery, there are a few features you might want to take into consideration.
Price
Some canopies are priced more expensively than others for many reasons. Wall-mounted canopies with intricate mounting hardware or a canopy that attaches to a bed will be more expensive that a simple hanging canopy. Don't just consider the price of the purchase. Instead, also take into consideration the quality of the canopy. Is the mounting hardware safe and sturdy? Is the material high-quality? Investing a bit more for a better product is sometimes worth the extra expense.
Ease of installation
If you're not very handy with a screwdriver, you want to avoid any canopies that are difficult to install. Not only will it be frustrating for you, but if not installed properly, it could be dangerous for your child. Look for canopies that come with mounting hardware so you have the perfect match. There are even canopies that can be installed without tools.
Quality
Most crib canopies are made of mosquito netting, although there are canopies made of other materials like chiffon. Make sure that your canopy is made of a high-quality, durable material that won't easily rip, tear, or become damaged.
Color choices
Most crib canopies come in basic white, which matches any décor. However, you may want a more customized look for your child's room. If so, find a canopy that's available in a rainbow of colors to meet your needs.
Price
StillCool Baby Crib Canopy
This canopy is affordable enough for any budget. You'll be amazed at how beautiful your baby's nursery will be for such a low price.
ToJoy Baby Crib Canopy
The ToJoy Baby Crib Canopy is another affordable option. It's a budget-friendly decorating option for your nursery, child's room, or even your own room.
Hawk Bed Net with Hanging Ring
This canopy is the most expensive of the three on this list.
Ease of installation
StillCool Baby Crib Canopy
This canopy comes with everything you need to easily mount it above your child's crib. Best of all, installation is so easy, it doesn't even require tools.
ToJoy Baby Crib Canopy
This product is extremely easy to install. It comes with a safe suspension system that's easily mounted in just one spot in your ceiling, so there's little damage, making it a great choice for renters.
Hawk Bed Net with Hanging Ring
The convenient hanging ring on this bed canopy makes it a cinch to hang it over a crib or bed of any size.
Quality
StillCool Baby Crib Canopy
This canopy is made of mosquito netting, and it is 100 percent latex-free.
ToJoy Baby Crib Canopy
The ToJoy Baby Crib Canopy is extremely high-quality and durable, with 25 holes per square centimeter. The material is soft, stretchy, and there is enough material to beautifully surround even the largest cribs.
Hawk Bed Net with Hanging Ring
This canopy is built to last. It is crafted out of 100% polyester sheer mesh, and it is extremely resistant to wear and tear.
Color choices
StillCool Baby Crib Canopy
This crib canopy is available only in white. However, since white is neutral, it does complement all decors, from green and brown to pink and purple.
ToJoy Baby Crib Canopy
This crib canopy is available in neutral white, making it a great gender-neutral canopy that goes with any theme and color scheme.
Hawk Bed Net with Hanging Ring
With three color choices, you can easily coordinate your canopy with your child's room. This canopy is available in Olive Green, White, and Blue.
Crib Canopy Reviews
If you're looking for a basic, no-frills canopy, this model is the ideal solution for you. Priced at just $10, this is an affordable way to give your baby's room a more stylish look.
The canopy comes with everything needed for ceiling installation, and you don't even need tools to securely fix it in place. If you leave the windows open in your nursery, this model also helps keeps bugs away from your child.
Pros:
The canopy can be installed in just minutes. With no tools required, anyone can install it correctly. This canopy is both stylish and functional. It is one of the least expensive canopies on the market.
Cons:
The quality of the mosquito netting is not quite as good as more expensive canopies.
The generous length, easy installation, and quality materials make this a great choice. The lightweight fabric makes it easy to drape around a crib or bed, but don't be fooled by its weight. It's durably constructed to resist wear and tear.
The fabric measures 88 inches long and it is attached to a supportive ring that mounts in just seconds. It also offers protection against mosquitos and bugs.
Pros:
This canopy can be used over cribs, bassinets, and beds of all sizes. The price is inexpensive. Installation is easy. It is machine washable, so it's easy to keep clean.
Cons:
There are no color options available other than white.
Whether you want to add a touch of elegance to your child's room (or even your own) or you want to protect your baby from mosquitoes and other insects that may creep into your home, this canopy has you covered. With over 8 feet of fabric, this canopy has plenty of fabric to surround a crib or bed.
Three great colors and fringe detail make this a stylish choice in canopies. Once your child graduates from the crib, you can use it around a toddler bed, outdoors, or even on a porch. This canopy offers great versatility, and the quality fabric makes this a canopy you can keep around your home for years to come.
Pros:
It adds style or protection to your child's crib. It is easy to install. Doesn't hinder air circulation. The mounting ring folds for easy storage when not in use.
Cons:
It is slightly more expensive than other canopies. You have to cut your own slit. It may require laundering before use to eliminate manufactured smell of the polyester.
In Summary
A canopy is a great addition to your nursery. It adds a bit of style and also protects your child from pesky flying bugs in the summertime. A canopy is a very affordable addition to your nursery. If you want to jazz up your baby's crib without spending a fortune, the Hawk Bed Net with Hanging Rim is an excellent choice. With three great colors, plenty of fabric, and versatility, this canopy is one of the most stylish and high-quality choices available.