Some links on this page are monetized by affiliate programs - see disclosure for details.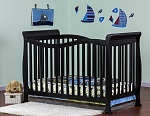 After spending an exciting day feeding, snuggling, and playing with your baby, he or she needs a comfortable and safe place to sleep. The safest place for your baby to sleep after a long day is in his or her very own crib.
A crib is a place where your child will wind down after a long day, so it needs to be comfortable. It also needs to be safe so your child cannot get injured, and it also needs to fit the size and décor of your nursery. With so many styles, colors, and sizes available on the market, you might not know where to begin in your search for the ideal baby crib. However, by knowing more about these beds, why they're so important, and what you should look for, you'll quickly be on the way to finding the crib of your baby's dreams.
What is a Baby Crib?
A baby crib is a bed that is designed to keep a baby safe while he or she naps or goes to sleep for the night. A crib is simply a smaller bed that is the perfect size for babies and younger toddlers. Because babies could roll off a traditional bed and get injured, a crib is designed to have four walls made of slats to keep him from falling out. Firm crib mattresses that are designed to perfectly fit on the bed keep your baby safe and comfortable all night long.
What are the Different Types of Baby Cribs?
Depending on your needs, there are several different types of baby cribs available. Whether you want a crib that grows with your child or a bed that is easy to move from room to room, there is a crib that will fit your needs.
• Standard cribs – A standard crib is a stationary bed that is set up in one area of your home, usually your baby's bedroom. This is the most common type of baby crib.
• Portable cribs – If you need to move your crib for any reason, a portable crib may be what you need. Whether your child has trouble sleeping or you're just short on space, a portable crib is a crib on wheels that can easily be moved around your home.
• Convertible cribs – If you don't want to have to keep upgrading your child's bed, a convertible crib may be something you want to consider. Convertible cribs convert to other types of beds, including toddler beds, twin beds, and even a full-sized bed.
• Crib/changing table combo – If your nursery is too small for a large changing table and a crib, a combination gives you everything you need but takes up a fraction of the space of regular-sized baby furniture.
• Travel cribs – If you're on the road a lot, a travel crib may be a piece of baby gear that you want to keep in your home. A travel crib is a lightweight, portable crib that you can take the Grandma's, use on vacation, or take anywhere else when your baby needs to rest.
What are the Advantages of Owning a Baby Crib?
The American Academy of Pediatrics recommends that all infants sleep in their own bed. Co-sleeping with a parent or sleeping in a traditional bed that isn't protected can be very dangerous for a child, so a crib keeps your child safe while sleeping.
A crib is also great for giving your baby his or her own space. While children love spending time exploring the world and spending time with their parents, sometimes it can all become just too overwhelming. A safe, comfortable crib is the perfect place for an overstimulated baby to calm down and relax.
Who are the Contenders for Best Baby Crib?
DaVinci Emily Mini Crib – If you have limited space and a smaller budget, this affordable crib is a space-saving option you can add to your nursery.
Million Dollar Baby Classic Ashbury 4-in-1 Convertible Crib – Your baby will feel like a million bucks when going to sleep in this crib that showcases classic styling and a convertible design that grows with your child.
Athena Daphne Convertible Crib and Changer – The Athena Daphne is an elegant piece of baby furniture that combines a crib and changing table for space-saving functionality.
Considerations for Choosing the Right Baby Crib
Parents typically buy just one crib for their babies' first years, so it's important to choose the right crib. You want a crib that looks great in your nursery and flows well with the room's décor, but you also know that your baby has needs too. When choosing a crib, keep a few things in mind to help you choose from the thousands of models available on the market today.
• Safety
Safety always comes first when it comes to your child. When purchasing a crib, you want to ensure that it is made of durable materials, doesn't have latches or anything that will pinch tiny fingers, and has slats that are spaced perfectly so you never have to worry about your child getting injured.
• Size
If you have a small nursery or your baby will be bunking with you in your bedroom for the first few months, you might want to consider a space-saving crib that is large enough for your baby, but small enough to fit comfortably in your home.
• Color
Coordinate your baby's room perfectly by selecting a crib that matches and enhances the other furniture and décor.
• Price
Cribs range in price from around $100 into the thousands. If you're on a budget, a basic standard crib fits the bill, and if money is no object, you might want to consider a crib made of higher-quality materials or a convertible crib that grows with your growing baby.
Safety
DaVinci Emily Mini Crib
This crib is constructed from New Zealand pine wood, so it's sturdy and built to last. It is also painted with non-toxic, lead-free, and phthalate-free paint. This crib meets all international and US safety standards.
Million Dollar Baby Classic Ashbury 4-in-1 Convertible Crib
This luxurious crib is completely safe for your baby. It is JPMA certified, and it also meets all safety standards. The finish is non-toxic and free of lead and phthalate.
Athena Daphne Convertible Crib and Changer
You can sleep comfortably at night knowing that you child is, too. This crib is JPMA certified and meets all federal US regulations on safety.
Size
DaVinci Emily Mini Crib
As the name suggests, the mini crib is smaller than a standard crib, so it's perfect for smaller spaces. This crib measures 39.5" x 28" x 37.9" and weighs under 35 pounds.
Million Dollar Baby Classic Ashbury 4-in-1 Convertible Crib
This sleigh crib is a standard sized crib. It measures 59.1" x 30.6" x 50", and it weighs in at 78 pounds. The drawer underneath provides extra storage space without taking up more room.
Athena Daphne Convertible Crib and Changer
This crib is larger than the average standard crib. However, the combination of the crib and the changing table saves a lot of space when compared to a separate crib and changing table. This crib measures in at 30" x 72" x 41", and it weighs 126 pounds.
Color
DaVinci Emily Mini Crib
With six different finishes available, you're sure to find a color that works for your nursery. Color choices include Ebony, Espresso, Cherry, Honey Oak, Natural, and White.
Million Dollar Baby Classic Ashbury 4-in-1 Convertible Crib
This convertible crib is available in two classic finishes to complement your nursery perfectly. Choose from Espresso or White when selecting this crib.
Athena Daphne Convertible Crib and Changer
This piece of furniture is available in Cherry or White. The great thing is that you do not have to worry about purchasing a matching changing table, since both pieces are combined and match perfectly.
Price
DaVinci Emily Mini Crib
Baby gear can be expensive, so if you're on a tight budget, DaVinci's Emily is a crib you want to put on your list. This affordable crib has all of the features you want in a crib without breaking the bank.
Million Dollar Baby Classic Ashbury 4-in-1 Convertible Crib
Thishis is a mid-range crib. Many parents will find that this convertible crib which can be used past infancy is a worthwhile investment.
Athena Daphne Convertible Crib and Changer
This crib is more high-end than a lot on the market today. However, since there is no need to purchase a separate changing table, this could be a great investment for your nursery.
Conclusion: Our Baby Crib Reviews Are In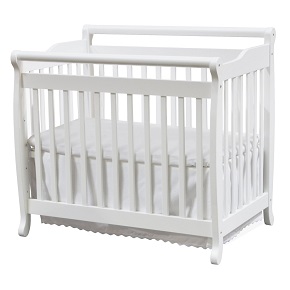 Some modern baby cribs are huge and take up a large portion of your nursery, leaving less space for other furniture or for your child to crawl around and play. The Emily Mini Crib is a great solution for tight spaces. Its smaller size makes it fit easily almost anywhere but still provides plenty of room for your baby to be comfortable.
This crib is sturdy, so you don't have to worry about your child's safety. Want to get more use out of your crib? When your child outgrows the crib, you can even convert it into a twin bed with a separate rail kit.
Pros:
This crib is perfect for any budget. Smaller size fits anywhere in your home. It can be used as a twin bed. The mattress height is easily adjustable.
Cons:
A separate teething rail has to be purchased. A portable crib mattress is used, which may be harder to find than standard crib mattresses. Twin bed conversion kit is sold separately. The soft pine wood scratches easily.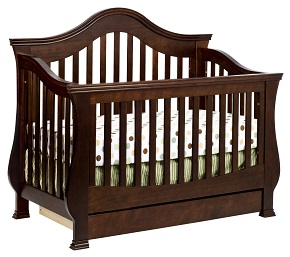 Why settle for just a crib when you can have four different options for your growing child? This 4-in-1 crib converts from a crib to a toddler bed, daybed, and full-size bed, so it can easily go the distance through infancy, toddlerhood, and adolescence.
The four mattress positions and the hidden hardware keep your baby safe every night, and the durable wood construction is built to last. Arches, curved posts, and winged corners add a touch of elegance that will make your baby's room look like a million dollar nursery.
Pros:
Classic design and finish with elegant touches looks perfect in any baby's room. Storage drawer underneath is perfect for extra bedding, clothing, or other baby items. Convertible design gives you more for your money.
Cons:
The wood of this crib scratches very easily.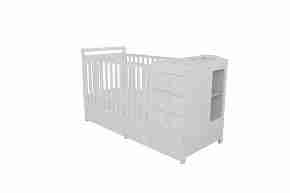 Buying baby furniture can be a stressful process. You have to worry about whether the furniture will fit in your space, and you also have to make sure it matches. With this crib, you get a functional piece that saves space by combining a matching crib and changing table.
With five drawers (two underneath the bed, three under the changer), you'll have plenty of space to store your baby's necessities. The sustainable pine wood construction makes this a sturdy piece that will last for years. Once your baby graduates from the crib, this can be used as a daybed or youth bed.
Pros:
Space saving design and plenty of drawers make this a great space-saver. The beautiful, classic design looks great in any nursery. Assembly is not too difficult.
Cons:
The mattress sits very low. The wood is prone to scratches and chips. A standard-size changing pad doesn't fit, and finding the right size may be a challenge.
Closing Thoughts
If you're tired of searching for the perfect crib and changing table, why not save time with the Athena Daphne Convertible Crib and Changer? You get the beauty of a convertible crib and a changing table in a great design that fits a nursery of any size. Even though it is on the more high-end pricing side, the versatility and functionality of this piece of nursery furniture makes it a solid investment. It's safe, comfortable, and is designed to give you the nursery of your dreams.