Some links on this page are monetized by affiliate programs - see disclosure for details.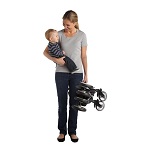 All parents know just how difficult it can be to travel with a child. Whether you're flying across the country or just going to your neighborhood market, you have to load your car down with all of the essentials your baby needs. A bulky diaper bag, a huge car seat, and other items take up a large amount of space in your vehicle. If you drive a smaller vehicle, you know how tight space can be. You know a stroller makes getting your baby around much easier, but how will it ever fit?
In situations like these, an umbrella stroller is beneficial. Whether you're planning a trip on an airplane or you just want to explore your local park with your child, you'll never have to worry about leaving your stroller behind with an extra portable, lightweight umbrella stroller.
What is an Umbrella Stroller?
An umbrella stroller is a wheeled buggy that you use to get your child from place to place. A stroller not only alleviates the aches and pains you may feel when carrying a heavy child, but it's also ideal for children that aren't walking yet, as well as older children that tire easily. An umbrella stroller gets its name from its handles, while are curved and look like umbrella handles. These handles are just part of the great design that makes these products easy to use and convenient for parents of young children.
These strollers are lightweight and take up little space in your backseat or trunk. If you and your family travel often, these are easy to take on a plane or train so you never have to leave home without it, no matter where you go.
See Also: The 10 Most Wanted Double Strollers
What are the Different Types of Umbrella Strollers?
Umbrella strollers have been a parenting staple for years, and while older strollers were all pretty similar, the newest models implement different styling and construction to meet the growing needs of different families. If you're thinking about purchasing an umbrella stroller, there are two basic types on the market.
Basic umbrella stroller – A basic umbrella stroller is a no-frills stroller that's just used to get your child from point A to point B. These strollers are typically the most inexpensive types of strollers, and parents that don't need a lot of bells and whistles may prefer this type of stroller.
Advanced umbrella strollers – If you want all of the features of a traditional stroller packed into a smaller design, an advanced umbrella stroller is what you're looking for. You get all of the advantages of a basic stroller with extra features that provide comfort and convenience to you and your child.
What are the Advantages of Owning One?
An umbrella stroller makes life outside of your home more convenient. Instead of having to hold a heavy child, both of you can be more comfortable with a stroller. Tired children that don't feel like walking around the mall, park, or amusement park will get relief and relaxation when being pushed around in their umbrella stroller.
When compared to other types of strollers, the most obvious advantage is the smaller size and the weight, which make it easy to load and unload it, even in the smallest vehicles.
Read: This Year's Top 10 Travel System Strollers
Who are the Contenders for Best Umbrella Stroller?
BeBeLove USA Single Umbrella Stroller – If you want a budget-friendly stroller that offers sturdy craftsmanship, a lightweight design, and an affordable price, this product will meet all of your needs.
Summer Infant 3D Lite – If you love the convenience of umbrella strollers but want additional comfort and convenience features for you and your baby, the Summer Infant 3D Lite adds these little extras at a price point that's still easy on the wallet.
Mountain Buggy Nano Stroller – When you want an umbrella stroller that's functional, stylish, and loaded with unique features, this model has it all. This top-of-the-line umbrella stroller provides the ultimate in comfort for your precious cargo.
Considerations for Choosing the Right Umbrella Stroller
Shopping for baby gear can be a real hassle, and shopping for the right umbrella stroller is no exception. What fabric do you prefer? Is the stroller large enough for your child but small enough for your vehicle? Is the stroller safe enough for your small child? These are just a few of the questions that you may ask yourself and with so many models to choose from, the decision is made easier by looking for a few important features.
Portability
All umbrella strollers are portable but some have additional features that make them easier to carry in a car or on a plane. A stroller that folds without trouble and is extremely lightweight is at the top of the list of features that many parents want in an umbrella stroller.
Safety
Strollers should be convenient and comfortable, but most importantly, they should be safe. Straps that are easily adjustable and clasp securely, quality parking brakes, and a durable frame are just three things that a parent should consider when looking at safety features.
Comfort
Owning a stroller is pointless if your child hates to ride in one. Easily adjustable straps that don't pinch, extra cushy seats, and adjustable footrests all provide your baby with the most comfortable ride.
Style
When shopping for a stroller, you'll find everything from basic models in neutral colors to stylishly designed versions with bright colors and prints.
Portability
BeBeLove USA Single Umbrella Stroller
At just 7.2 pounds, this stroller can be lifted with just one hand. The small, compact design easily folds up with little effort, making loading and unloading it from your vehicle hassle-free.
Summer Infant 3D Lite
The Summer Infant 3D Lite weighs in at less than 12 pounds, so it's extremely portable for all types of travel. The unique 3-step folding process makes this stroller the perfect size for your trunk or for taking with you on the plane.
Mountain Buggy Nano Stroller
The Mountain Buggy Nano is ideal for traveling. This stroller folds and goes into a small satchel with an exposed handle make this an easy and convenient carryon. Folding is fast and easy, so you can get to where you need to go without struggling with your stroller.
Safety
BeBeLove USA Single Umbrella Stroller
This basic umbrella stroller features a footbrake that can easily be engaged when your stroller isn't in motion. The 5-point harness keeps your child snug and secure while the stroller is in motion.
Summer Infant 3D Lite
Safety features like an adjustable 5-point harness and lockable rear wheels combined with a durable aluminum frame make your child feel safe and secure on every ride.
Mountain Buggy Nano Stroller
Locking rear brakes and a 5-point harness are designed to keep your child safe and secure, giving you peace of mind wherever you are.
Comfort
BeBeLove USA Single Umbrella Stroller
This model features a soft cloth seat that is just enough for trips to the park, short walks around the park, and other quick errands.
Summer Infant 3D Lite
Let your child relax by reclining the seat, which has extra padded for added comfort. The adjustable canopy is perfect for keeping the bright sun or strong winds away from your baby.
Mountain Buggy Nano Stroller
The adjustable leg rest provides your child with a comfortable ride and improves circulation. The seat has more padding than basic umbrella strollers to provide additional comfort.
Style
BeBeLove USA Single Umbrella Stroller
This no-frills stroller is available in many bright colors, including Yellow and Red.
Summer Infant 3D Lite
This stylish stroller has a classic design that really pops with bright color choices including Black, Lime, Hibiscus Pink, and Tropical Green.
Mountain Buggy Nano Stroller
This model is available in Black, Nautical, and Ruby. This stroller uses classic colors and a classic design combined with modern upgrades to create a stylish, modern umbrella stroller.
Conclusion: Our Umbrella Stroller Reviews Are In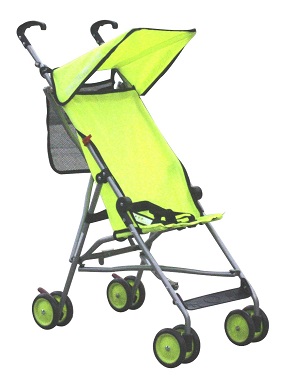 If you want an affordable stroller that is ideal for running errands and other short trips out with your child, the BebeLove USA stroller fits the bill. Priced competitively, this stroller is easy on your wallet.
For your convenience, this stroller weighs less than 10 pounds and is easy to fold and store. A mesh pocket is attached that allows you to store your personal items while on the go.
Pros:
Affordable price makes this a stroller that fits any budget. Lightweight design makes it easy to take on planes, trains, and car trips. Bright colors make you more visible when walking on the street.
Cons:
No reclining option available, so children may be uncomfortable. Fabric may fray or show wear and tear easily with normal use. No extra convenience features for parents.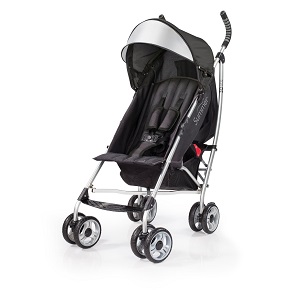 If you desire the simplicity and portability of an umbrella stroller but want extra features found on traditional strollers, you'll find everything you need on the Summer Infant 3D Lite. What stands out the most is the unique folding design that makes it smaller and easier to store. A carrying strap makes it easy to tote around when not in use.
Unlike basic umbrella strollers, this model is equipped with extra comfortable seat padding that's perfect for short or long trips. The anti-shock front wheels, which swivel or can lock into place, ensure a smooth ride every time. This mid-range stroller is a great investment for parents who want a lightweight stroller that performs as well as the larger, more expensive versions.
Pros:
Stroller features an extra-large storage basket. Stroller lies flat for naptime or diaper changes while on the go. Seat easily reclines and can lie flat for naptime or diaper changes on the go. This model is easy to fold and double folding process makes it smaller and easier to store.
Cons:
Back rest may be too hard for some children. The canopy tends to fall down. The larger than average size may make this stroller more difficult to push.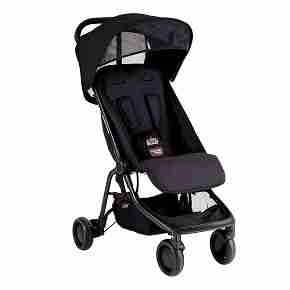 If you want an umbrella stroller that passes the test of time, the Mountain Buggy Nano has you covered. One of the best things about this stroller is that with adapters, your infant seat is easily and securely attached, so you can use this stroller from birth throughout toddlerhood.
This stroller is lightweight and folds into its own satchel so you can take it with you on your next vacation without being overloaded. With its durable frame, modern design, and portability, this stroller is the only one you'll need for the first years of your child's life.
Pros:
Stroller comfortably accommodates infants (in a car seat carrier) and children up to age 4. Weight distribution provides better performance and even allows parents to pop the front wheels on a curb with ease. Ventilation panel keeps baby from becoming overheated. 2-position recline allows your child to ride in comfort.
Cons:
This is one of the more expensive models on the market. Canopy pops open on occasion. Canopy material shows wear and tear with continued use. Handle doesn't adjust. Expensive price may be off-putting to parents on a budget.
All in All
Whether you're a frequent flyer or you just enjoy exploring your town with your family, a high-quality umbrella store is an absolute necessity. Because of its portability and its ability to be used with newborns, infants, and toddlers, the Mountain Buggy Nano Stroller is a great choice. Since it doubles as a smaller, lightweight version of a travel system, it's the only stroller you'll need from the time your child is born.