Some links on this page are monetized by affiliate programs - see disclosure for details.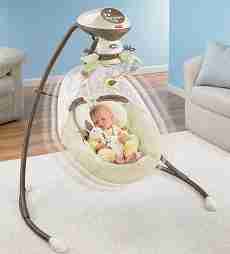 Parents of new babies love spending time with their babies. From feeding time to snuggling, time spent with a new baby is time well spent. However, new parents also deserve a break, even if it's just to catch up on household chores. When a baby needs to be distracted, especially a baby that's fussy, what's a new parent to do?
A baby swing is an excellent solution to this problem. Baby swings are entertaining for young children, as well as soothing to fussy babies when feeding, diapering, and swaddling just don't seem to work. A baby swing, one of the most popular baby registry items, is truly a lifesaver for many moms, dads, and caregivers.
Compare: The Top 10 Best Baby Swings of 2018

What is a Baby Swing?
A baby swing is a freestanding swing that rocks back and forth to entertain and soothe a child. While a swing isn't a substitute for contact with mom and dad, it is a safe and effective way to calm fussiness and to allow parents to get a short break from the rigors of parenthood.
A baby swing also gives a baby a little bit of independence to check out the environment. When a child seems overwhelmed, a few minutes in a soothing swing can be a relaxing and enjoyable experience for the child and his or her parents.
What are the Different Types of Baby Swings?
Just like all babies are different, so are baby swings. When purchasing this kind of baby gear, it's important to have an idea of what types of swings are available in order to assist you in making the most informed decision.
Full-sized swings – Full-sized swings are best for indoor use, and these are the most common type of swings found in living rooms, nurseries, and bedrooms. Full-sized swings weigh about 30 to 40 pounds on average, and generally stay in one place, although they can be moved from room to room within the home if needed.
Portable swings – Parents with limited space or who plan to travel often with their new baby will appreciate the portability of these small swings. Portable swings are smaller and more lightweight than full-sized swings. This type of swing can be taken outdoors on nice days, brought along on vacation, or can go with baby to a relative's home for entertainment on the go.
Hybrid swings – Hybrid swings are the most modern type of baby swings. Hybrid swings typically rock back and forth like a traditional swing, but they also have other settings, including side-to-side gliding or gentle rotations. These swings offer different types of movement to make it easier to find something a baby enjoys.
What are the Advantages of Owning a Baby Swing?
A baby swing is a great tool to use when a baby is just too fussy. When all option options like feeding, checking temperature, and rocking in a rocking chair have been exhausted, a swing is effective at calming many babies. In fact, some babies even fall asleep within minutes of going into a swing.
A swing also allows a parent to get some free time without having his or her hands occupied. Many parents use a swing while they clean up, pay bills online, or enjoy a favorite TV show. As long as the baby is secured in the swing and closely monitored, this is a great way for parents to get a quick break.
Who are the Contenders for Best Baby Swing?
Comfort & Harmony Portable Swing – No matter where you go, the Comfort & Harmony Portable Swing can come right along with you. The ultra-portable design is the perfect thing to bring on vacation or on your next trip to Grandma's house.
Graco Glider LX Gliding Swing – Soothe your baby with this swing, which provides gentle gliding motions that mimic your own cuddles. This swing offers all the great features of a full-sized stationary swing in a smaller size.
Fisher-Price Cradle 'N Swing – With back and forth and side-to-side options, you're sure to find something that soothes your baby with this stationary swing.
Considerations for Choosing the Right Baby Swing
Since baby swings are generally more expensive than other types of baby gear, it's important that you select just the right one. Whether you're registering for your baby shower or purchasing it yourself, it's necessary to know what to look for in a baby swing to ensure that you purchase one that your baby will enjoy. By looking for the following features, you can narrow down your choices to pick the swing that works best for your family.
Size
With cribs, changing tables, diaper pails, and toy boxes galore, a nursery can become really crowded really fast. If you have a larger home, a full-sized stationary swing won't be an issue. However, if you live in a smaller home or apartment, space may be a serious problem. If you just don't have extra room for any more baby gear, a portable swing may be better suited for your home.
Settings
Not every baby likes to swing, but choosing a swing with multiple options helps you find a setting that your baby enjoys. Multiple speed settings, music options, moving mobiles, and lights are all options that should be considered when purchasing a baby swing.
Power options
Battery operated swings are certainly convenient and most modern swings run on batteries. However, if your baby enjoys using the swing daily, batteries drain quickly and this expense really adds up. If your swing is going to get a lot of use, a model equipped with an AC adapter helps save on the cost of disposable batteries.
Comfort
Anything you use for your baby needs to provide ultimate comfort. When shopping for a swing, look for options like reclining features, padded seats, and comfortable straps.
Size
Comfort & Harmony Portable Swing
This portable swing is the smallest of the bunch. Its lightweight design and small size makes it easy to transport in your vehicle or to take outside on warm days. This small swing folds up and takes up very little space in a corner, closet, or other area of your home.
Graco Glider LX Gliding Swing
This swing is considered a full-sized swing, but its innovative design makes it smaller than traditional swings by about 40 percent. This is a great space saving swing that offers you all of the features of other stationary swings without the bulk.
Fisher-Price Cradle 'N Swing
This full-sized swing weighs in at 24 pounds and is the largest of the bunch. This swing is better suited for homes with more space, where the swing won't be moved often.
Settings
Comfort & Harmony Portable Swing
Don't let its small size fool you. This portable swing features 6 melodies and 6 speed settings, making it comparable to larger stationary swings.
Graco Glider LX Gliding Swing
Nature sounds, soothing melodies, gliding speeds, and vibration settings are just a few of the features packed into this hybrid model.
Fisher-Price Cradle 'N Swing
16 songs, nature sounds, two different motions, and six speeds are sure to sooth even the fussiest baby. This swing even sets its speed depending on your child's weight!
Power options
Comfort & Harmony
Like most portable swings, this model runs on batteries only. 4C batteries are required and last approximately 3 hours.
Graco Glider LX
This swing has several different power options. Use 4 D batteries for the gliding motions, one D battery for vibrations, or to save battery power, use the AC adapter for uninterrupted movement.
Fisher-Price
This swing operates on 4D batteries. If your batteries die and your baby is fussy, don't worry. Just plug it in the closest outlet to make your baby smile again.
Comfort
Comfort & Harmony
A recline option allows your child to swing comfortably. For smaller babies, a removable head support insert helps support weak neck muscles, keeping your baby safe with every motion.
Graco Glider LX
The plush padding and roomy design of this model cradles your baby comfortably. Three adjustable reclining position increases baby's comfort while gliding.
Fisher-Price
The comfy padding on this swing is enough to make your baby feel like he or she is floating on a cloud. The seat adjusts to two different positions to keep your baby relaxed.
Conclusion: Our Baby Swing Reviews Are In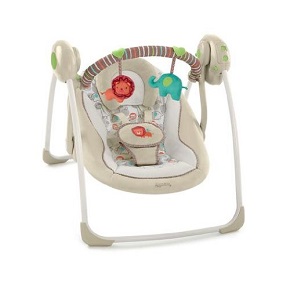 The Comfort & Harmony Portable Swing is a great option for many parents. If you just want to try out a swing, this is an affordable option, priced comptetitively. This is a great space saving option, and it also makes a great extra swing to take to the babysitter's house, on longer trips, or even to the park.
If the six different speeds aren't enough to entertain your child, the six original songs and the foam toy bar with plush toys may do the trick. For convenience, this swing folds up easily and has a machine washable cover.
Pros:
At just 7 pounds, this swing is easy to move and transport. The small size fits in almost any space. Despite its size, this model has a very sturdy design. Adjustable straps keep your baby safe during use.
Cons:
Speed control knob makes loud clicking sound that may wake or disturb your baby. Seat does not recline enough for newborns who cannot support their own heads. Battery operation can be costly.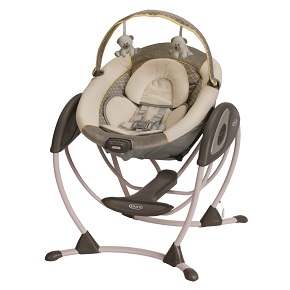 This mid-range swing, offers many of the features of the more expensive models without the larger price tag. Your baby will have a blast enjoying the six gliding speeds, two vibration settings, 10 melodies, and five nature sounds.
A mobile with plush animals is also attached for additional sensory development. While your baby is relaxing, you can too by knowing that your child is secured with a sturdy 5-point harness.
Pros:
The soothing motions mimic your own cuddles and rocking for a more relaxing experience. AC plug reduces the expense of purchasing disposable batteries. Extra cushioned seat keeps baby comfortable. The dynamic and unique design takes up to 40 percent less space than other stationary swings. The swing movement is very quiet.
Cons:
This swing does not collapse, so it may be difficult to store. Buttons are too close together. Music may be too loud for your child.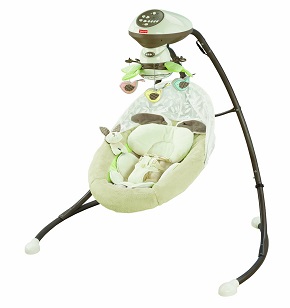 Find the perfect speed every time with the Fisher-Price Cradle 'N Swing. This swing determines the speed based on your child's weight. Back and forth and side to side motions can be customized along with 16 songs, 2 melodies, and the motorized mobile to provide your child with a fun and relaxing experience.
Save power with the included AC adapter, clean spills and accidents easily on the machine washable cover, and rest easy knowing your child is safe in this sturdy swing that features a 5-point harness.
Pros:
Swing folds up for easy storage. The motor is very quiet. Swing is available in multiple fun designs. Cozy fabric keeps your baby comfortable. The many settings make it easy to customize your baby's ride.
Cons:
This swing is more expensive than other models. The 24 pound swing is heavier than other models. Even when folded, the swing can be bulky and cumbersome for storage.
Closing Thoughts
If you want the best swing that you can set up especially for your baby, the Fisher Price Cradle 'N Swing may be just what you're looking for. With so many different settings, you're sure to find one your baby will love.Even the pickiest baby can be soothed and entertained with the many features of this swing, while you can relax knowing that you've bought a sturdy, durable, and high-quality product.
When nothing less than the best will do, you will find that this swing is a great investment to add to your baby's nursery.