Some links on this page are monetized by affiliate programs - see disclosure for details.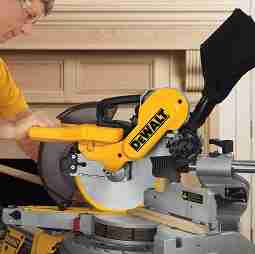 Miter saws combine the flexibility of a lightweight, portable tool with the high-RPM blade speed and precision cutting of a power saw. Miter saws come equipped to adjust the cutting angle on any piece of wood, allowing for precise miter cuts every time. Compound miter saws allow the blade to be beveled to allow for cuts on two dimensions, perfect for framework, molding and other specialty carpentry jobs.
While originally miter saws were suspended on rollers, today most home improvement specialists and builders prefer to use more modern power miter saws. With blade guards made from durable, shatterproof materials and the use of a fence, miter saws can be used to quickly and safely make a wide variety of cuts for home renovation and construction projects. Precise angled cuts can be calculated and cut using a miter saw to form perfect woodworking angles and joints.
Top Rated: The 10 Bets Miter Saws of 2018

Introduction: What is a Miter Saw?
All power saws use a rapidly rotating disc edged with sharp cutting teeth to rapidly cut through wood. A miter saw is a form of table saw, attached to a workbench or table for stability. The position of the blade can be carefully adjusted both on a horizontal and vertical angle and then briefly dropped onto the wood, quickly slicing it, allowing carpenters and home renovators to make crown molding and cut boards for angles and trim work.
In essence, think of a miter saw as a special table saw used for when you need to make cuts at precise angles.
What are the different types of Miter Saws?
Some construction and building professionals will use miter saws on a daily basis, but many homeowners and property managers need a miter saw for occasional use or special projects. Other miter saws come with larger blades and brawnier construction but often weigh more and are less portable. Some of today's advanced models come with laser guides to maximize cutting precision.
One handy feature that some modern miter saws contain is an automatic dust collection system to minimize mess and discomfort during work inside the house. Miter saws use a variety of different systems to adjust the bevel, allowing for precision angled cuts.
What are the advantages of owning a Miter Saw?
Ordinary table saws are fine for repair and construction work where precision cutting or angled cuts are not necessary. But for repairing and sizing molding or other wood trimwork, it is absolutely essential that angled cuts are performed precisely to produce professional-looking results. Many homeowners know the value that crown molding can add to the resale value of a house, and use miter saws to add beauty and appeal to their house.
Miter saws also have a variety of woodworking and home repair applications, including creating frames and shadowboxes or other projects where angled cuts are necessary.
Which models are the contenders for the Best Miter Saw?
The Homecraft H26-260L 10-Inch Compound Miter Saw – This elegant red and steel workhouse uses a 10-inch blade powered by a 14-amp motor. Includes miter gauge stops pre-set at the 0, 15, 22.5 and 31.6 degrees – commonly used for molding – as well as the 45-degree marks. The Homecraft H26-260L comes included with a dust collector, miller lock knob, blade wrench, horizontal work clamp, and 2 AAA batteries.
The Hitachi C10FCE2 15-Amp 10-inch Single Bevel Compound Miter – This elegantly modern miter saw has an outstanding bevel range for more flexibility in achieving unusual cuts. With a cleverly designed flip fence, the Hitachi C10FCE2 can be raised as high as 4″ to achieve perfect vertical cuts for crown molding. With a powerful 15-amp motor and 10-inch cutting blade, the C10FCE2 can easily master any home improvement or construction job.
The DEWALT DW715 15-Amp 12-Inch Single-Bevel Compound Miter Saw – This powerful compound miter saw has a 15-amp motor under the hood that can spin up to 4,000 rpm, allowing the generous 12-inch blade to sink through wood like butter. With a stainless steel detent plate and 11 positive stops, home renovators and builders can make pinpoint perfect cuts. Bevels over a 51 total angle degree span and uses a sliding fence to cut base moulding up to 6 1/2 inches vertically.
Considerations for Choosing the Best Miter Saw
Motor and Blade – Different models come with different-sized blades, depending on how deep the cuts are required to be for a given project. The strength and power of the motor will determine the revolutions-per-minute (RPM)s, with higher numbers indicating faster and more precise cuts.
Bevels – Any common table saw can be used to cut at an angle, but what sets a miter saw apart is its ability to adjust the cutting angle of the blade as it enters the wood, permitting compound cuts with one pass of the saw.
Miter Stops and Adjustments – Different miter saws offer different methods of adjusting the miter angle, with many models featuring notches or "stops" preset to commonly-used angles.
Comfort and Control – A miter saw needs to be portable between jobs but stable when working, with a smooth and controlled operation. Saw operators need to feel a great deal of comfort and control around potentially dangerous power tool equipment.
Motor and Blade
The Homecraft H26-260L – With a large 10-inch blade and a strong 14-amp motor, the Homecraft H26 can easily handle any home repair job with ease. Running off corded, standard 120-volt home outlet power, the Homecraft H26 can make precise slices through even a 4×4 piece of board without any difficulty.
The Hitachi C10FCE2 – The Hitachi C10FCE2 comes equipped with a powerful 15-amp motor that quickly spins up the included 10″ blade. The C10FCE2 is designed to allow users to access the carbon brush, as periodically replacing it greatly increases the functional longevity of the saw.
The DEWALT DW715 – Able to ramp up to 4,000 rpm, the large 12-inch blade can handle anything you throw at it. Powered by a rugged 15-amp motor, the DEWALT DW715 can finesse fine crown molding or slice through 2×6 timber board with ease.
Bevels
The Homecraft H26-260L – The Homecraft comes with a red laser light that guides even beginning home renovators through perfect cuts. Can handle up to a 2×6 at bevel setting with a single pass.
The Hitachi C10FCE2 – This compound saw can be adjusted from 0-45 to the left, allowing home renovators and builders perfect precision in their cuts. Using the raised flip fence, the C10FCE2 can easily be angled to make perfect crown molding cuts.
The DEWALT DW715 – Can be beveled up to 3 degrees to the right and all the way to 48 degrees to the left, giving home renovators and builders the ultimate flexibility in making compound cuts.
Miter Stops and Adjustments
The Homecraft H26-260L – This model uses a standard gauge for precision adjustments but also comes equipped with pre-set positive stops or click notches at the 0, 15, 22.5, 31.6 and 45 degrees, giving excellent feedback for extra assurance that cuts will be at the right angle.
The Hitachi C10FCE2 – The Hitachi C10FCE2 comes with notched positive miter stops that can easily be selected with a lever. The flexible C10FCE2 can be rotated to the right or left from 0-52 degrees for perfectly mitered cuts on any project. The notched stops can be overriden when needed by a locking mechanism.
The DEWALT DW715 – The DEWALT DW715 can accurately be adjusted from 0-50 degrees both to the left and right, and comes with a customizable stainless steel detent plate with 11 pre-set positive stops to provide accurate cutting angles for both small and large home improvement and building jobs.
Comfort and Control
The Homecraft H26-260L – Once it is securely clamped down to the work surface, the Homecraft's ergonomic handle and sturdy construction allows for very stable operation. Although this saw is lighter in weight compared to other models, it looks and feels very robust and durable, and can cut through 4×4 and 2×6 timber boards like butter.
The Hitachi C10FCE2 – Includes a large dust collecting bag to minimize spillage and to protect the interior of the saw from dirt and damage. The C10FCE2's handle comes with the company's patented Elastomer Grip that reduces vibration while increasing ergonomic control and stability.
The DEWALT DW715 – Although this beast can ramp up to 4,000 rpm at maximum power, it is well-designed to be sturdy, maintaining great control and stability during cuts. Once adjusted, it is simple and natural to quickly make a series of identical cuts without sacrificing precision or control.
Conclusion: Our Miter Saw Reviews Are In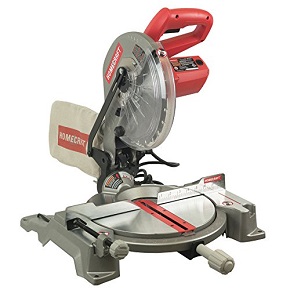 Even though the Homecraft is surprisingly affordable, it is well-built out of rugged materials, nearly all the working parts out of high-quality metal and the rest out of resilient advanced polycarbonate materials. Any home renovator or weekend builder will be able to easily and swiftly make miter cuts to complete just about any project with the Homecraft H26-260L. Although designed to be lean and efficient, this precision saw has allowed thousands of DIYers and professional builders alike to make meticulous compound cuts.
Pros:
Comes with a handy laser light to make absolutely precise cuts without having to rely on faint or fudged pencil lines. Engineered to have a low center of gravity to help stabilize the saw. Comes with a laser site and a dust-collector to minimize mess and dust particulate entering and clogging the saw. Drawing just 10 amps, this miter saw has just about all of the features and capabilities any home renovator or DIY-er could ask for. Although not recommended, the Homecraft H26 can also handle plastic boards, laminate and other non-wood pieces.
Cons:
The saw has four mounting holes for connecting to a sturdy work surface. The commended 3/8″ diameter machine bolts, lock washers, and hex bolts are not included with the saw.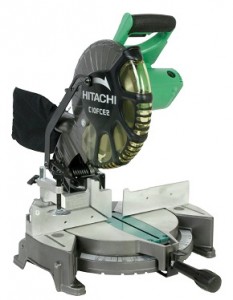 This cheerful green and metallic silver professional-grade miter saw provides both the power of precision and the convenience of portability, as this well-designed tool can quickly and efficiently complete just about any home renovation or building project with ease. With a voluminous dust catcher and polycarbonate blade shield, the Hitachi C10FCE2 offers outstanding security while providing precision crosscuts and miter cuts. With a laser guidance system, even beginner home restorers and project builders can use this miter saw with ease. The ultra-sharp and durable 10-inch blade won't bog down even with harder woods or larger pieces. With a well-engineered 15-amp motor, the Hitachi is both powerful and yet agreeably far quieter than other models out there on the market.
Pros:
Can handle pieces as large as 2×6 timber boards. Very light and portable, and comes with a five-year warranty from the manufacturer. With its excellent design, the miter stops give outstanding positive feedback. The patented horizontal anti-vibration handle works great and does a fantastic job of increasing control and stability. Flawless when handling crown molding and quarter-round. The fresh modern design definitely makes this miter saw look great on your work bench or table.
Cons:
Although the laser is aligned at the factory, it may need to be re-aligned before using the saw for the first time. While the saw needs to be mounted to a sturdy surface to operate, it does not come with any mounting bolts.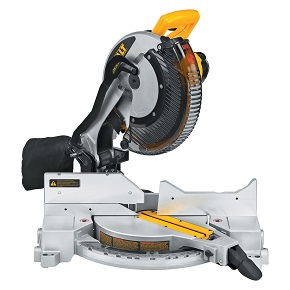 DEWALT is renowned for their line of top-quality miter saws, and the DW715 compound is an excellent tool for both professional builders as well as DIY renovators. With its powerful motor and deep blade mitered and beveled to the correct angles, the DEWALT DW715 can make compound cuts with a single pass even through the thickest or most stubborn pieces of wood. Designed for long-lasting durability, the DEWALT DW715 provides professional-grade precision mitering capabilities at a very reasonable price.
Pros:
Looks great bolted to your work bench or table top, and is a cinch to assemble out of the box. Adjusting the mitering and beveling is simple and quick, and even a first-time home renovator or repairer can use this table saw to make perfect cuts every time. Handles crown molding up to 5-1/4 inch nested, and is extremely stable and easy to use. The rugged design means it can be used all day and will easily withstand hard usage.
Cons:
Doesn't include a dust-collection system. Because this is a full-powered tool, it can be a little heavy for some users to transport, and a bit bulky when placing it in long-term storage.
In Conclusion
Professional builders, construction workers, jobbers and home renovators will need a more powerful miter saw capable of long-term abuse across a wide range of job sites and building projects. Homeowners and DIY-ers who want to add beauty and value to their home need a professional miter saw that can efficiently allow users to create and repair crown molding or make precision cuts in timber boards, paneling or other wood pieces. Anyone considering buying a miter saw should carefully assess the kinds of tasks they plan to use with the tool, and focus on a saw that has the capability to handle those needs.
After careful consideration, the DEWALT DW715 is our choice for the best miter saw. With excellent flexibility in mitering and beveling, and a powerful motor and wide cutting blade, this saw can accurately slice through any piece. Although not recommended, some adventurous users of the DEWALT DW715 report that the saw can even provide accurate cuts on hardwood pieces studded with nails and broken glass. The rugged housing and top-quality performance of the DEWALT DW715 makes it the perfect saw for any home renovation or construction job requiring precision mitered cuts.