Some links on this page are monetized by affiliate programs - see disclosure for details.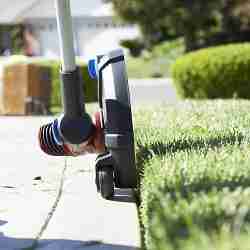 When the spring and summer seasons arrive, it brings with it a lot of outdoor activities. Laying out by the pool, splashing around in the lake or ocean, cookouts with family and friends, and quality time spent with your loved ones outdoors are all great ways to welcome in the warmer weather. With the warm weather, though, comes the outside chores that you neglected throughout the winter. This includes planting flowers, weeding your flower beds, and, of course, mowing your lawn.
Even if you have the best mower out there, you may be frustrated by the amount of weeds it misses, especially along sidewalks, walkways, and driveways, around trees and flower beds, and other tight spots. Instead of trying to fit a large lawn mower in these smaller areas, remove weeds with ease with a weed eater.
What Is A Weed Eater?
Unlike what the name suggests, a weed eater does not actually eat the weeds. However, it does use a plastic cable that rotates very fast to cut through weeds in flower beds, along edges of paths, and anywhere in your yard. This handheld tool is easy to use, and many are lightweight so they're easy to carry through even the largest yards. Simply turn on the machine, lower it to the ground, and watch as weeds are cut easily, even thicker weeds.
What are the different types of Weed Eaters?
Anyone that likes to maintain a neat and tidy yard will need to add a weed eater to their outdoor shed. While a mower is an essential item to have for lawn care, one of these tools takes care of anything the mower misses, whether it's just because it's too thick to cut through or because it's in a tight space or corner that the mower can't reach. If you're ready to improve the look of your yard, this tool will certainly help but before you buy, you need to know about the two types available and the pros and cons of each type to help you make a more informed purchase.
Electric trimmers
These are powered using electricity, so there's no need to use gas, which can be an additional expense. Some are powered with extension cords that stay plugged in during use while most have a rechargeable battery that is charged with a charger. The main drawbacks of these models are that they aren't as powerful as gas-powered ones, and the battery life may be too short for larger yards.
Gasoline trimmers
These do not require a power outlet, cord, or charger, and they are powered with gasoline. These often pack more power and can run as long as the tank has gas, but gas can get expensive over time.
What are the Advantages of Owning a Weed Wacker?
A weed eater, also known as a trimmer or weed whacker, is a great way to keep your yard in tip-top shape. You can ensure that all of your grass is perfectly even, even in those hard-to-reach places. You won't have to worry about tall, thick weeds taking over your yard, flower beds, and other areas. Your home or business will have more curb appeal, and you won't have to go throw out your back pulling and picking weeds by hand.
Who are the Contenders for Best Weed Eater on the Market?
Eliminate those weeds easily with this trimmer, designed for the budget-minded consumer. This model boasts many great features that make cleaning up your yard easier than ever, including an adjustable handle, a no-feed, continuous line, and an option for higher power or longer continuous run time. This model is cordless, easy to use, and very easy on the wallet.
Trim the weeds anywhere in your yard with ease with this combination trimmer and edger. This model is cordless, so you don't have to worry about cords tripping you up while you work. This has many great features that make it stand out from the rest, including an extended runtime and an auto feed feature that automatically feeds out the right amount of line without the need to measure or cut.
Anyone looking for a more powerful trimmer will enjoy using this one, which packs enough power to plow through the thickest, most stubborn weeds that the mower just can't cut. This model has a quick start system, eliminating the frustration of trying to get it started, and it also has an air purge system that removes air from the working parts for ultimate power with every use.
Factors to Consider Before You Buy
If you're ready to increase the curb appeal at your home or office, adding a trimmer to your lawn and garden tools is something you have to do. Before you make the crucial decision of which model to purchase, though, look for these four features, as well as any other features that are important to you in a new product.
Price
You should expect to pay, at a minimum, $100 for a trimmer. However, models with more features and more power that come from top name brands in the industry may cost several hundred dollars. Consider your own budget, but remember that you may get a more powerful and long-lasting machine if you invest a little more money.
Type
If you want power, choose a gas-powered model. If you would rather have a machine that doesn't require the work and expense of adding gasoline or mixed gas, a cordless rechargeable model should do the trick.
Warranty
You want to make sure that you buy a product that's going to last from season to season. However, sometimes things happen that we just can't prevent due to a defect in craftsmanship or a fault somewhere in the design. You shouldn't be left without your equipment because of something that is beyond your control, which is why it's good to buy a product with a warranty that covers these issues.
Additional features
Some trimmers can easily be converted to edgers, which let you cut along the edges of patios, walkways, sidewalks, and driveways evenly without going too low to the ground. These may be a bit more expensive initially, but it saves space and money to buy a 2-in-1 machine.
Price
Black and Decker LST420
This trimmer is a great choice for anyone on a budget.
Toro 51487
This model is available at a lower price point but is designed to perform well in yards of all sizes.
HUSQVARNA 224L
You can own this powerful trimmer for a slightly steeper price tag. It's in the high-end category when compared to other residential trimmers.
Type
Black and Decker LST420
This model has rechargeable batteries and a cordless design.
Toro 51487
This cordless unit has a rechargeable lithium-ion battery, and it is designed for cordless operation.
HUSQVARNA 224L
This model uses gasoline. You don't have to worry about mixing the gas with oil, either, making it easier to refill your tank.
Warranty
Black and Decker LST420
When used for residential purposes, this trimmer comes with a 2-year warranty.
Toro 51487
This model is backed with a 2-year warranty directly from the manufacturer.
HUSQVARNA 224L
This model is backed with a 1-year manufacturer's warranty.
Additional features
Black and Decker LST420
This unit pulls double duty by functioning as both a trimmer and an edger.
Toro 51487
This is a trimmer/edger combo that can be converted easily without any tools.
HUSQVARNA 224L
This device functions only as a gasoline-powered trimmer.
Conclusion: Our Final Weed Eater Reviews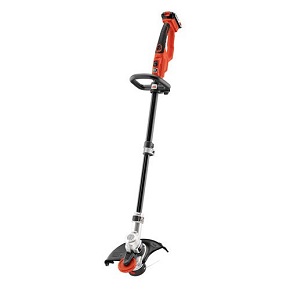 For anyone looking for a trimmer that's affordable, easy to use, and lightweight enough to carry around for extended period of times, this model from top brand Black and Decker certainly fits the bill. This is one of the most affordable trimmers you'll find, but don't think that the low price means it doesn't cut or won't perform as well as more expensive models.
With this trimmer, you'll get up to one hour of runtime per charge, so you don't have to worry about running out of power in a larger yard, and you don't have to lug around a bulky extension cord. You can also choose between the longer lasting runtime mode or the more powerful high-powered mode for thicker weeds that are more difficult to trim. This model has an automatic feed function for continuous line feeding, functions as an edger, and comes with two batteries so your trimmer will always be ready for use. These batteries can also be used in a variety of other Black and Decker tools.
Pros:
It is affordable.
Weighs less than six pounds.
Telescopic, pivoting handle gets the hard-to-reach areas and adjusts to fit your height.
Comes with a warranty.
It's easy to use.
Cordless design.
It has two power options.
It comes with two long-lasting batteries.
It's easy to charge.
It cuts efficiently and evenly.
Functions as a trimmer or edger.
Cons:
It doesn't run very long in the high-powered mode.
The trigger button is located in an awkward position.
The smaller trim line doesn't cut through very thick brush like more powerful gas-powered models with thicker lines.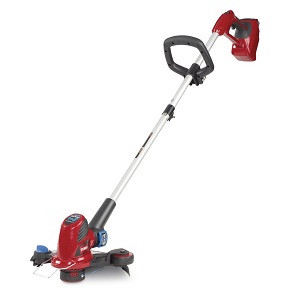 Doing yard work can be a real hassle, but you can make your job much easier with this trimmer, which also works as an edger. This trimmer is easy enough for anyone to use and has a lot of features that make it one of the most convenient you've ever used, including an onboard battery life indicator for the 24V battery, an extended shaft for getting into tighter spaces, and an ergonomic handle that's easy to grip.
Other features that may be important to you in making your purchasing choice include auto feed, power saving adjustable cutting option, and the edger conversion option that takes just seconds and doesn't require any tools. This model comes with a storage hook to keep it out of your way and neatly stored, a battery that is compatible with several other Toro products, and a full 2-year warranty.
Pros:
It comes with a great warranty.
It's easy to use.
It has a comfortable, ergonomic handle.
Extended shaft for easier cutting.
It has a power saving mode for longer running times.
Long-lasting battery.
The battery has LED indicators that can be used to gauge just how much juice is left.
It is powerful.
It is affordable.
Converts to an edger.
Cons:
It is a bit heavy.
Over time, the battery power may be drastically reduced.
Some of the plastic parts feel a little cheap.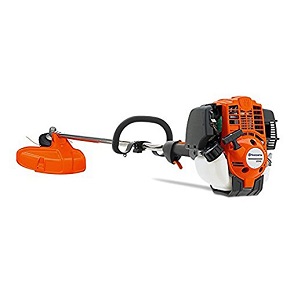 Some people avoid battery powered electric trimmers because they just aren't strong enough. If you prefer a gas-powered model, consider this unit from Husqvarna, which is ready to tackle the toughest lawns. Many of the problems found on gas models have been addressed in this unit, including making it more lightweight.
This model weighs in at less than 12 pounds, so it isn't as heavy as some gasoline models. It has a powerful 25cc 4-stroke engine that cuts easily through tough, thick weeds. It is equipped with a Smart Start system combined with an air purge system that requires less effort to start, so you won't have to deal with the frustration that comes with trying to get your trimmer to turn on.
You won't have to mix oil and gas anymore – simply fill the tank with straight gasoline, turn it on, and transform the appearance of your yard. To extend the line, all you have to do is bump it. The engine on this model runs smoothly, doesn't vibrate as much as other models, and comes backed with a warranty for your protection.
Pros:
Easily cuts through weeds, bushes, and other things in your yard.
It is easy to start.
Doesn't require mixed gas.
It is fairly lightweight.
It has a warranty.
Very easy to use.
Fairly quiet while in operation.
It can be used with a shoulder strap for extended use.
It boasts a lot of power.
The bump feature makes it easy to extend the line.
It's easy to restring the spool.
Cons:
Not quite as powerful as models with 2-stroke engines, but it has enough power for most residential jobs.
A Final Word
Keep your yard looking its best with a weed eater that gets rid of those unsightly weeds. With one of these machines, your yard will look like it's being kept up by a professional without having to pay expensive landscaping fees. If you want a powerful unit that's easy to use, the Husqvarna 224L is a great choice for a residential trimmer. The additional cost is worth the extra power, easy start features, and lightweight design that makes it stand out from other gas-powered trimmers.