Some links on this page are monetized by affiliate programs - see disclosure for details.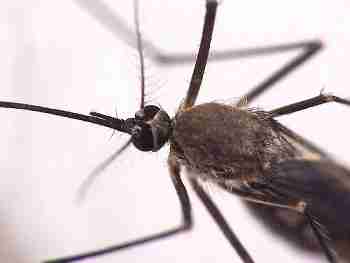 Imagine enjoying a nice summer night outdoors. Maybe you've spent the day playing in the yard with your kids or just taking it easy by lounging at the pool. At the end of a long day, you're relaxing outside, maybe enjoying a cookout or a bonfire with friends and family. Everything seems perfect until suddenly, you have an itchy bump. Then two. Then a few more. Suddenly, your perfect evening has been ruined by mosquitoes.
Mosquitoes can be a real pain in every sense of the word, but you don't have to let them ruin your family barbecue, yard work, or day out in the sun – not when you can use a mosquito repellent to keep those pesky insects at bay.
Top Rated: Compare The Best Mosquito Repellents of 2018

What Is Mosquito Repellent?
Mosquitoes can be found just about anywhere, and while they may not bother you in most places, you might find that out in your yard or in other places, mosquitoes tend to flock around you. A repellent is designed to repel the mosquitoes, preventing them from biting you. Mosquito bites are not only itchy, but they can be painful if scratched too much and in rare cases can lead to deadly diseases.
Instead of putting your health and comfort at risk, a repellent can be used on or off the skin depending upon the type you choose. While these products aren't foolproof, they are very effective at keeping mosquitoes away from you, your family, and your guests.
What are the different types of Repellents you can buy?
Virtually any home is prone to mosquitoes, particularly in certain parts of the country. You may find that if you live close to a body of water, you can have a real problem with these flying insects. If you're tired of dealing with these creatures consider one of the following types of repellents for your home, office, or anywhere that you have an issue.
Sprays
There are two different types of sprays. Skin sprays put a thin barrier on the skin that keeps mosquitoes away. These are very effective. However, they have to be applied to exposed skin each time you go outdoors and they may have a smell that's not too appealing. There are also sprays that can be used in your yard and around the perimeter of your home to help reduce the occurrence of these bugs around your outdoor area.
Bug zappers
These are hung on your porch or other common areas outdoors. They feature an electronic grid that zaps and kills mosquitoes, as well as other bugs. These are effective, but you still risk getting bitten by mosquitoes that have not been zapped, and the zapping process can be quite loud.
Candles
Candles in various sizes that are made using citronella, a natural mosquito repellent, are easy to use and are great for using on patios and porches.
Torches
Citronella torches utilize the same natural plant, but these are larger and can be put in the ground or tabletop units are also available.
Mosquito bands and wearables
These are bracelets, necklaces, and even clothing that are made with materials that repel mosquitoes.
Why Should You Be Using Mosquito Repellent?
The benefit of owning some sort of mosquito repellent is that you can enjoy being outdoors without getting bitten by mosquitoes. This makes it easier to enjoy lazing around in the sun, eating a picnic outdoors, or just enjoying time outside with your family and loved ones on beautiful days. You won't have to worry about constantly swatting away these pests and best of all, you won't have to deal with the itch hours later, either.
What are the Best Mosquito Repellent Brands?
Repel 100 Insect Repellent – Keep the mosquitoes at bay for 10 full hours with just one spray of this highly concentrated repellent. This is ideal for days out in your backyard or even in more extreme environments, like camping out in the woods. All you have to do is spray the exposed parts of your body to keep the bugs away – and it's not just for mosquitoes either, as it repels multiple other biting insects for your complete comfort while enjoying the great outdoors.
ThermaCELL Mosquito Repellent Pest Control Outdoor Lantern – Who says repellents that sit on your front porch or back deck have to look bad? This lantern looks great when placed on your outdoor table, deck railing, or anywhere else out in your yard. It is available in three different styles to enhance your outdoor space, and it doubles as a light to add ambiance to your outdoor party or gathering.
Flowtron FC-8800 Diplomat – Rid your property of all sorts of bugs, including mosquitoes, with this electronic repellent. The UV light attracts bugs from up to two acres, and then eliminates them once they fly inside. This can be used outdoors or indoors, including in barns, and it is easily mountable to keep you protected anywhere in your yard.
Considerations for Choosing the Best Brand
If you just can't even walk outside without getting bitten by mosquitoes, a repellent is a must-have item to keep you comfortable this summer. You shouldn't have to stay indoors because of pesky mosquitoes and with a high-quality repellent, you won't have to. Before you make a purchase, though, you want to ensure you buy the right product for your household, which is why you should consider the following four features.
Price
Price will always be a factor in almost every purchase, and it shouldn't be ignored for this type of product. Don't solely base your decision on price, though. For example, if you want personal protection, you can probably save money by buying a spray but if you want to keep your outdoor party free of pests, you'll likely have to spend more for an electronic repellent.
Type of repellent
Determine what type of repellent will best fit your needs. If you're in the great outdoors camping, hunting, or fishing, bringing along a heavy electronic device doesn't make sense, and a small bottle of spray would best fit in your backpack. Decide how and where you will be using the repellent to narrow down your choices.
Types of bugs
Mosquitoes aren't the only insects you have to worry about. Moths, flies, and chiggers can also disrupt your time spent outdoors. If you have to deal with more than just mosquitoes, look for repellent that effectively rids you of all sorts of insects.
Level of protection
If you just want to protect yourself, you can pretty much purchase any type of product. However, if you want to cover your entire property or a large space in your backyard, you'll need to make sure you purchase repellent that covers this amount of space.
Type of repellent
Repel 100
This is a spray repellent that you apply to the skin. It is very portable and easy to use.
ThermaCELL Outdoor Lantern
This is a lantern that uses a butane cartridge to repel mosquitoes and insects.
Flowtron FC-8800 Diplomat
This is an electronic bug repellent that can be used outdoors or indoors.
Types of bugs
Repel 100
In addition to mosquitoes, this spray also repels chiggers, ticks, and biting flies.
ThermaCELL Outdoor Lantern
This repels mosquitoes, black flies, and other flying insects that bite.
Flowtron FC-8800 Diplomat
This repels and eliminates any type of flying bug, including mosquitoes.
Level of protection
Repel 100
This provides protection on your skin where it is sprayed. Anyone around you that wants to repel insects will also have to apply the product.
ThermaCELL Outdoor Lantern
This provides a 15 by 15 square of coverage, providing you with a total of 225 square feet of repelling action.
Flowtron FC-8800 Diplomat
Up to two acres can be covered with just one small unit.
Conclusion: Our Mosquito Repellent Reviews Are In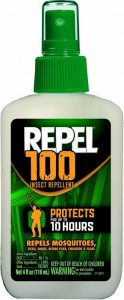 Whether you're just kicking back in your backyard or you're hitting the trail for a summertime hike, this is a perfectly portable option that's easy to use and extremely affordable. This concentrated formula comes in a spray bottle, so it's easy to apply. With 98.11 percent DEET, it is the most concentrated, strongest, and longest-lasting repellent sprays available.
DEET is a safe and effective ingredient, and it effectively repels insects for up to 10 hours. It can be used along with sunscreen, and it also helps repel biting flies, chiggers, and ticks for all-in-one protection.
Pros:
The bottle is large enough for several uses but small enough to be very portable. Extremely inexpensive. It is easy to use. It repels multiple bugs, not just mosquitoes. Poses no health concerns. It doesn't have a smell like other sprays. Lasts for up to 10 hours in most conditions.
Cons:
It is a bit greasy. The bottle may leak, so it should be stored in a protective bag before packing it in a backpack with your belongings.
Get rid of the pests and dress up your outdoor space with this great outdoor lantern. It is available in your choice of three designs, Black, Dark Bronze, and Dark Green, to give your patio, balcony, or deck a more decorated look. Not only is it a repellent, but it also functions as a lantern to provide you with soft lighting.
Features eight LED lights and is battery operated, so you don't have to worry about it increasing your electric bill. It is cordless, portable, and comes backed with a 1-year warranty. It operates using a butane cartridge, so you don't have to worry about the danger of having an open flame. The cartridge is replaceable, so you can get lots of use out of this product.
Pros:
It functions as a repellent and an outdoor lantern. Does not require electricity. Does not use fire, so there's no risk of danger. Pepels more than just mosquitoes. It is affordable. Comes in three attractive designs and colors. Doesn't have any odor. It silently repels. It is portable.
Cons:
The butane cartridges run out quickly. It is not quite as effective as the larger electronic repellents.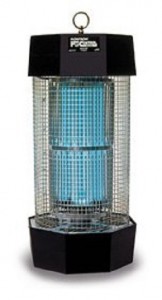 Keep your family, friends, and yourself protected from the sting of biting insects with this electronic bug zapper. Up to two acres of property will be bug-free when you mount this model, which can be mounted vertically or horizontally, so it fits just about anywhere. It can be used outdoors or inside, and it's great for barns and other structures on your property.
The 120-watt UV light is designed to attract a variety of flying bugs, and the once they hit the grid, 5,600 volts are used to eliminate pests for good. The grid is chrome-plated and the rest is made with high-quality plastic for durability. Its 360 degree design provides you with coverage all around, so you don't have to worry about the sneaky flying insects crashing your next bonfire, cookout, or summer party.
Pros:
it provides a wide area of coverage. Gets rid of pesky insects for good. It eliminates all flying insects. It has a collection tray that makes cleanup easy. Quieter than other zappers. It is easy to mount. You can mount it vertically or horizontally. Made of quality materials so it's built to last. It has a lengthy cord so it's no hassle to plug it in.
Cons:
One of the most expensive repellents. A bit loud when bugs hit the grid.
All in All
You shouldn't have to spend the whole summer indoors because mosquitoes have taken over your yard. Take back your property and enjoy spending all of your time outdoors without the pain of mosquito bites with a quality repellent product. If you want to get the most coverage without having to apply sprays, light candles, or do anything other than plug it in, the Flowtron FC-8800 Diplomat is a superb choice.
It attracts bugs from up to two acres, then eliminates them quickly so you don't have to worry about them again. It doesn't just work for mosquitoes, either, so you can get rid of all of those flying insects that really put a damper on your outdoor plans.