Some links on this page are monetized by affiliate programs - see disclosure for details.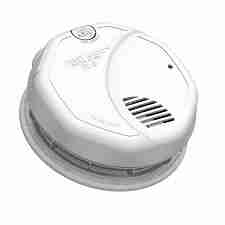 Keeping your home safe for your family is always your first priority. Household safety means keeping poisonous chemicals out of the reach of young children, making sure that small appliances like curling irons and coffee makers are shut off and unplugged, and ensuring that everything in your home is sound and secure.
One of the most important things you can do for your home is make sure you're prepared in the event of a fire. This means keeping a fire extinguisher in your kitchen, turning off the stove when not in use, and of course, making sure you have working smoke detectors installed throughout your home.
Top Rated: The Top Ten Best Smoke Detectors of 2018

Introduction: What Is A Smoke Detector?
A smoke detector is a device that is installed on your wall or ceiling that detects the presence of smoke in your home or office. Once smoke is detected, a sound will emit from the device, which allows anyone sleeping or occupied in other areas of the home to get out safely.
All homes should have multiple smoke detectors to protect them in the event of an unexpected fire.
What are the Advantages?
The biggest advantage of owning a smoke detector is the safety factor. Accidental fires happen all the time, whether it's from a major appliance or the wiring in your home. You don't want to put your family in danger by being unprepared for such an unfortunate event. With these devices, you will be alerted when smoke is detected in your home or office, giving you the opportunity to escape the building.
When installed properly and used with fresh batteries, you'll be protected from events that may occur in other rooms of the home, and you can be alerted while sleeping if something is amiss.
What are the Different Types?
You want to make sure that your home or commercial property is equipped with the best detectors, and in order to do that, you have to make sure that you know what types are available to you. There are three main types to choose from, and by knowing the differences in the three, you can pick the best safety product for your home or office.
Ionization alarms – These work with radiation in a chamber. When smoke enters the chamber, the current of this radiation is broken and the alarm notifies you of the smoke by emitting a sound. These respond most to high, fast-burning fires.
Photoelectric alarms – These use light beams that, when disturbed by smoke, cause the alarm to sound. These are most effective with slower, smoldering fires.
Combination alarms – These alarms combine both types of technology to effectively alert you, your family, coworkers, friends, and others on your property when there is a fire.
Which Smoke Detectors are the Best on the Market in 2018?
Nest Protect Smoke & Carbon Monoxide Alarm – Affordable but reliable is a way that you can describe this unit, which comes with a very affordable price tag. That doesn't mean that it's any less safe than other units on the market. In fact, this unit is easy to install, very loud, and extremely effective in detecting smoke, making it a great choice for any household on a budget.
Kidde 1275 – One of the main drawbacks of a smoke alarm is that it can go off even when there's not a fire, such as when you cook. Bypass these nuisance alarms with just the push of a button with this unit, which can be temporarily silenced for non-emergency situations. This unit is affordable, easy to install, and works exactly as it should to protect your property and loved ones.
First Alert 3120B – Get the most protection for your property with this unit, which utilizes photoelectric and ionization technology for the most protection. This unit is durably made, easy to install, and very effective, making it a top choice in smoke detectors.
Features to Consider
Although no one ever wants to think about a fire or other disaster, it's something that we all must plan for. Being unprepared puts you, your family, and your property at risk, so you want to make sure that your home is protected with smoke detectors. Now that you know a little bit about them and how they work, you may be inclined to just make your purchase. However, before you end up with a product that's not quite right for you and your home, take a careful look at each product, starting with the evaluation of these four features, to ensure you make a sound purchase.
Price
You just can't put a price on safety, and when it comes to your smoke detectors, you should be mindful of your budget, but you shouldn't cut corners or buy a cheap product that could put your property and family at risk. Balance the price of the unit with other features to make a smarter purchase.
Type
As mentioned earlier, there are three different types of detectors. No matter what type you choose, make sure you select a highly-rated unit that functions as it should.
Power
How do you want to power your smoke detector? With battery-operated ones, installation is quick and easy, although you have to purchase batteries throughout the years, and many with low batteries make very loud beeping sounds which can be bothersome. With wired units, you don't have to worry about batteries, but you do need to know about wiring in your home to install them, or you may even have to pay a contractor to install them for you.
Number of Detectors
Sometimes, you may get a better deal purchasing multiple detectors at once. While the investment may seem larger at first, you'll save by purchasing a contractor's pack, plus you'll have enough to evenly distribute throughout your home or office.
Price
Nest Protect Smoke & Carbon Monoxide Alarm
This is a very high-quality smoke alarm available at a downright reasonable price.
Kidde 1275
This is a very affordable unit, especially since you get two for the price of one.
First Alert 3120B
These are a more expensive investment. However, each pack comes with multiple units, so you may end up saving money over the long term.
Type
Nest Protect Smoke & Carbon Monoxide Alarm
This unit detects smoke using a split-spectrum sensor.
Kidde 1275
This unit uses ionization to detect smoke in the building.
First Alert 3120B
These utilize both ionization and photoelectric sensors for maximum protection.
Power
Nest Protect Smoke & Carbon Monoxide Alarm
This unit is easy to install, as it runs on a battery.
Kidde 1275
This is a hardwired unit that does require installation. It also works with a battery backup in case of a power failure.
First Alert 3120B
This brand is hardwired to your home, but it also has a backup battery for added protection.
Number of Detectors
Nest Protect Smoke & Carbon Monoxide Alarm
You'll receive one detector when you purchase this unit.
Kidde 1275
You'll receive two units for one great price with the purchase of this model.
First Alert 3120B
You'll receive four alarms with your purchase.
Conclusion: Reviews Of The Best Smoke Detectors
For its extremely high level of quality, this Nest smoke alarm is priced exceedingly well. With the ability to connect to an app on your phone, it can be silenced remotely from wherever you are in the house. Also possessing a carbon monoxide detector, it performs double duty, ensuring that your home is safe and protected at all times. While there are cheaper smoke alarms on the market, none of them come anywhere close to the quality of this alarm.
Pros:
Extremely easy to install
Very loud
It detects smoke quickly
It comes with a warranty
Syncs up with a phone app
Cons:
Some have trouble keeping it connected to the internet
Feel safe and secure 24 hours a day with this unit, which is easily hardwired to your house but also has a backup battery for times when your power goes out. You'll get double the protection from this unit, which uses ionization to detect the presence of smoke and fire in your home. You'll also receive two units per pack, which really makes this even more affordable.
This unit has a quick-connect wiring scheme that makes it easy to install, and you can even wire it to other units in your home. This unit is loud enough to be heard throughout your home, and it comes backed with a 5-year limited warranty.
Pros:
It is easy to install
It is very affordable
You get two units for the price of one
It links to other Kidde units
It comes with a backup battery
Excellent warranty
Cons:
They can be a bit too sensitive
They may become discolored over time
Instead of arming your home with just one alarm, how about four? This pack has four alarms that can be used to give your home ultimate protection from fire. Not only will you get four alarms, but each is equipped with ionization and photoelectric technology, so they're equipped to detect any type of fire.
With a loud 85dB alarm, you'll be able to easily hear this unit, even while sleeping or in another area of your home. These are hardwired to your home, but they also come with backup battery power. Each unit offers 360 degrees of protection, is equipped with quick connect harnesses for easy installation, and come with two silencing features. You can also rest easy knowing you have a great product with the included 10-year limited warranty.
Pros:
They utilize two different types of technology
You get four in a pack
The alarms are very loud
They come with exceptional warranties
They still work through a power failure
Two different silencing features and two latching features
Cons:
They are a bit expensive
Installation may be a bit difficult
Closing Thoughts
When it comes to your loved ones and your property, you can never be too safe. You should always be prepared for a fire, even though it's not something you want to think about happening. You never want to be put in a dangerous situation with effects that could have been prevented. This is why it is a smoke detector is an absolute necessity.
If you want the best smoke detector with the best protection, add the First Alert 3120B pack to the top of your list. With advanced technology, 360 degree detection, easy installation, and a pack of four that can be used all throughout your home, these detectors are a great way to keep your home or business safe and secure.