Some links on this page are monetized by affiliate programs - see disclosure for details.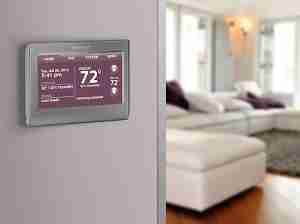 You and your family are coming home from a week-long vacation. To cut down on energy costs while you were gone, you turned off the air conditioning in your home. You step into your house, and it feels like you just stepped into an oven. This could have been avoided had you been able to operate your thermostat in the car.
A WiFi thermostat can be adjusted from just about anywhere, whether it be from 3 feet away or 2,000 miles away. To help you make an educated purchase, this guide will inform you on the best WiFi thermostat, what to look for in a thermostat, and a bevy of other information.
Comparison: Top Rated WiFi Thermostats of 2018

What is a WiFi Thermostat?
A WiFi thermostat allows you to operate your HVAC system without the use of wires, allowing for maximum flexibility and convenience. Syncing up to the majority of HVAC appliances with ease, it allows for a relatively simple and straightforward setup that doesn't necessitate a professional.
With the use of a cell phone app, users can control these thermostats from anywhere that has an internet connection. Providing people with the opportunity to alter the climate of their homes at any given time and place, these thermostats will keep houses comfortable and help to cut down energy costs.
What are the Advantages of Owning a WiFi Thermostat?
A WiFi thermostat allows for the temperature inside your home to be adjusted from just about anywhere, whether it be from the comfort of your bed, or from thousands of miles away while you're on vacation. As long as you have a cell phone and the thermostat's app installed on it, the climate of your home can be changed instantly.
While these types of thermostats are often more expensive than wired ones, they require less maintenance and will help to reduce energy costs in the long run. Nothing allows you to control the temperature of a home quite like a WiFi thermostat.
Who are the Contenders for Best Wifi Thermostat?
The 3rd generation of the Nest Learning Thermostat boasts a thinner design and sharper digital display than previous models. While this is certainly a worthwhile improvement, what really makes it great is what has always made Nest Learning Thermostats great: superb programmability and exceptional ability to learn your preferences. Suitable for 95% of homes with low-voltage HVAC systems, it is highly compatible and easy to install.
Just a step behind the Nest Learning Thermostat is the ecobee4 Smart WiFi Thermostat. Though it's just as compatible as the Nest, it is a little more difficult to install. It does, however, possess very similar learning and programming capabilities, ensuring that your home is always at its correct temperature at the correct time.
Though not as HVAC-compatible as the ecobee4 and Nest, the Honeywell WiFi Smart Thermostat is very easy to set up. With a bright, easy-to-read touchscreen that's highly intuitive, it's simple to program both remotely and in-person. Designed to conserve energy, it will save you hundreds of dollars a year in heating and cooling costs.
Considerations for Choosing the Right WiFi Thermostat
While the primary purpose of a WiFi thermostat is to be able to alter the temperature of your home remotely, there are a number of other aspects to consider. HVAC compatibility and ease of installation are incredibly important to consider as they will directly affect the overall cost of the thermostat. It's also important to consider programming capabilities because they will have a direct influence on how much energy your thermostat is able to conserve.
HVAC Compatibility
Before purchasing a WiFi thermostat, it's important to make sure that it's compatible with your HVAC system. The majority of in-home systems operate on a low-voltage 24v power supply. While most thermostats will be suitable for a system of this size, it's a good idea to be absolutely certain before putting down the money.
Programming Capabilities
While many thermostats must be adjusted manually whenever you want to change the temperature, a great number of them can be programmed to automatically change the temperature at given times. A few of them are even capable of learning your heating and cooling preferences, and changing temperatures automatically without being programmed.
Energy Conservation
Programmable and learning thermostats are capable of automatically turning off air conditioners and heaters at given times, helping to conserve energy. Before making a purchase, it's wise to confirm that the thermostat is able to set heating and cooling schedules. This will save you tons of money in the long run.
Ease of Installation
A hefty professional installation fee will drastically drive up the price of any thermostat you choose. Fortunately, a great number of thermostats can be installed quickly and easily by the user. In many instances, it's just a case of attaching two wires and connecting the device to your WiFi network.
HVAC Compatibility
Nest Learning Thermostat, 3rd Generation
Made for low-voltage systems, the Nest Learning Thermostat works adequately with 95% of 24v systems. Compatible with everything from gas and electricity, to geothermal and solar energies, it can support 3 heating stages and 2 cooling stages. It also works suitably with heat pumps, humidifiers, and fans.
ecobee4 Smart Thermostat with Built-In Alexa
With compatibility similar to that of Nest, this thermostat is capable of supporting 95% of 24v systems. It's compatible with gas, oil, and electricity, and can support 2 heating stages and 2 cooling stages. If need be, it's also capable of working with humidifiers and heat pumps.
Honeywell RTH9585WF1004/W Wi-Fi Smart Color Programmable Thermostat
This Honeywell thermostat is compatible with systems of 110v or higher and requires that your system contains a C-wire. It is suitable for gas and electric systems, and supports both heating and cooling. While it supports heat pumps, it does not support ones with electric baseboards.
Programming Capabilities
ecobee4 Smart Thermostat with Built-In Alexa
This ecobee thermostat possesses programming capabilities that outweigh both the Nest and Honeywell thermostats, ultimately making it the best WiFi thermostat in terms of programmability. Allowing you to place up to 32 sensors in different rooms of your home, it can detect which part of your house is in need of temperature changes and react accordingly. With the ability to be operated remotely via cell phone app, it allows for temperature change scheduling that will always have your home thriving at the correct temperature.
Nest Learning Thermostat, 3rd Generation
The Nest has the ability to program itself, learning your temperature preferences over time and enacting them when necessary. It also comes with a cell phone app that allows you to set temperature schedules remotely, ensuring that can always change your home's temperatures to coincide with changes in the weather.
Honeywell RTH9585WF1004/W Wi-Fi Smart Color Programmable Thermostat
Capable of being operated remotely with the use of a cell phone app, this Honeywell thermostat offers a bevy of different programming features. Allowing users to schedule temperature changes, it will automatically alter climates and learn each user's preferences over time. Its touchscreen is easy to navigate and can even be customized with different colors and styles.
Energy Conservation
Nest Learning Thermostat, 3rd Generation
Saving around 12% on heating and 15% on cooling annually, the Nest is as good as they come in terms of energy conservation. Sensing when you aren't in your home, it has the ability to use less energy when it's not required.
ecobee4 Smart Thermostat with Built-In Alexa
ecobee4 users save an average of 23% on heating and cooling expenses annually. This is made possible by sensors that can detect when someone is in the house and adjust operating habits to conserve energy.
Honeywell RTH9585WF1004/W Wi-Fi Smart Color Programmable Thermostat
When set in programmable mode, this Honeywell thermostat is capable of cutting down both heating and cooling costs. Though it has no ability to sense when someone is in the house, it can follow a temperature change schedule and alter energy use accordingly.
Ease of Installation
Nest Learning Thermostat, 3rd Generation
The Nest installs with great ease and most users are able to get it up an running within 30 minutes. After attaching it to the wires that were attached to your previous thermostat and screwing on the screen, you are ready. It will be as simple as syncing it to your WiFi network and changing the temperature.
ecobee4 Smart Thermostat with Built-In Alexa
While not as simple to install as the Nest, you can definitely install the ecobee without a professional. It's simply a matter of attaching it to the wall, connecting four wires to the correct inputs, and screwing the screen onto the back plate. All in all, it takes the average user around 45 minutes to install by him or herself.
Honeywell RTH9585WF1004/W Wi-Fi Smart Color Programmable Thermostat
Like the Nest and ecobee4, the Honeywell Smart Thermostat is fairly simple to set up. It requires no tools and is as simple as connecting existing wires to the thermostat's inputs. After screwing on the front screen, it's simple to sync it up to your WiFi network so that you can get it up and running.
Conclusion: Our WiFi Thermostat Reviews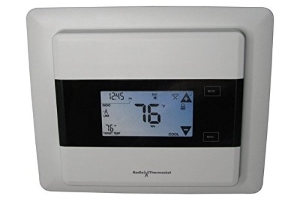 For a thermostat in its price range, the Iris Smart Thermostat is exceedingly intelligent and programmable. Capable of scheduling up to four different temperature changes a day, it learns user preferences over time and automatically enacts changes. With a cell phone app that's compatible with Android and iOS, it will allow you to control your HVAC system from just about anywhere. If you're looking for the best WiFi thermostat at a budget price, you should definitely give it a look.
Pros:
Highly intelligent and programmable
Very simple to set up
Cons:
Minor WiFi connectivity issues
Programming preferences require a couple of minutes to take effect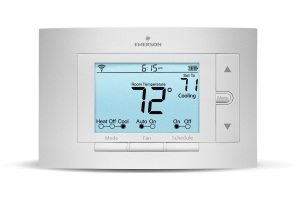 With HVAC compatibility similar to that of higher-priced thermostats, this Emerson Sensi thermostat delivers high-end value for a reasonable price. Though not as intelligent as other thermostats on the list, it allows for 7-day programming that will ensure your house is always at its correct temperature. Easy to install and ridiculously accurate, its quality far exceeds its price. If you're looking for a great WiFi thermostat at a fair price, this is the best WiFi thermostat for you.
Pros:
As accurate as they come
Superb programmability
Cons:
LCD screen can be difficult to read
Though the description says otherwise, it does, in fact, require a C-wire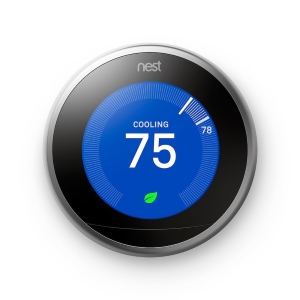 With the exception of the ecobee4 Smarter WiFi Thermostat, the Nest Learning Thermostat is miles ahead of any other WiFi thermostat on the market. As intelligent as any thermostat you're going to find, it learns your temperature change habits quickly and enacts them seamlessly. Simple to install and highly compatible, its cell phone app allows for simple temperature manipulation whether you're near of far.
Pros:
Ridiculously intelligent
Superb programming capabilities
Top-notch compatibility
Cons:
Doesn't display the actual temperature; only displays the set temperature
All In All
WiFi thermostats are revolutionizing the way that people control the climates of their homes. Allowing for nearly effortless manipulation of temperatures through the use of phone apps, these thermostats have made indoor climate control easier and more efficient than it's ever been before.
Precision devices like the Nest Thermostat provide users with the temperatures that they want, when they want them. No more sweaty, sleepless nights. No more unnecessarily high energy bills. Nothing but relaxation and comfort on command.