Some links on this page are monetized by affiliate programs - see disclosure for details.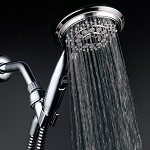 The most important part of your shower is the shower head. You want a shower head that doesn't waste water, has plenty of pressure, and is designed to get you your cleanest. With most fixed shower heads, you have to rinse off for what seems like forever because it's hard to get all of those hard to reach places.
If you want more convenience while you're in the shower, consider a versatile handheld shower head. These shower heads allow you to move them all around the tub as needed to ensure you got your cleanest without wasting water. Best of all, it makes cleaning your pets, bathing your kids, or even cleaning out your bathtub easier and more convenient than ever.
Side by Side: The Top 10 Best Handheld Shower Heads of 2018

Introduction: A Guide to Handheld Shower Heads
There are a number of different types of shower heads, including rain shower heads, dual shower heads, and handheld shower heads. A handheld shower head is attached to a bar that mounts in your shower, and can be easily installed. You can remove the shower head from this mount for easy rinsing and cleaning during your shower. These shower heads are connected to hoses (typically made from stainless steel for durability, although some may be made of thin, flexible plastic), so they can be stretched the entire length of your shower and even used while in the bathroom. Handheld showers make bathing more convenient, and they're great to use for kids and pets.
What are the Different Types?
Whether you're replacing a broken or malfunctioning shower head or you just want to upgrade, a handheld model offers you all of the features you're looking for in a great product. When shopping for a handheld shower head, keep an eye out for a few main types.
Low flow handheld shower heads – These are the most efficient on the market, and they conserve water, which also helps you save on your monthly water bill.
Adjustable handheld shower heads – These shower heads have multiple spray settings, including relaxing massage or misting functions.
Combination shower head – These dual models provide you with a mounted shower head, as well as a handheld version.
What are the Advantages?
There are several advantages to owning a handheld shower head. You can adjust it in its holder or take it off and spray it on yourself to rinse soap and shampoo easily. With these shower heads, you're able to completely soak your body with little effort. Handheld shower heads are also great to use when bathing pets, as it makes rinsing them off much easier. You can also use it to rinse off kids who are using the bathtub, especially after bubble baths. Finally, these types of showers makes it simple to rinse off the walls and sides of your tub and shower after you've cleaned it.
Who are the Top 3 Contenders?
You'll save water without sacrificing performance with this affordable massaging shower head.
Enjoy five different functions on this elegantly styled handheld shower, available in multiple finishes to complement your bathroom décor.
Shower time has never been more fun than with this luxurious handheld shower that features fun, colored LED lights.
Considerations for Choosing the Right Shower Head
After you've made the decision to purchase a handheld shower head, the next step is to choose the one that's right for your shower. Before making your final purchasing decision, consider these key features to ensure you get the best bang for your buck.
Settings
Most people like a shower that has plenty of settings that can be adjusted as needed. A massage setting is perfect after a long day at work, while a steady stream makes it easy to rinse off soap and shampoo. If you enjoy having the ability to change your settings, look for a model that has multiple functions. If not, select one with one fixed stream.
Installation
If you don't have any plumbing or shower installation experience, you'll want to find a shower head that easily fits your existing shower arm with no additional installation required. If you purchase a more complicated model, you may have to hire a professional to ensure it gets installed properly.
Finish
You want to choose a shower head that matches your other fixtures, including your bath and shower faucet and your sink fixtures. Handheld shower heads are available in many different finishes, including white, black, chrome, and nickel.
Price
Handheld shower heads are surprisingly affordable. Basic plastic models are the least expensive, while a more durable one crafted mostly with metal will be priced accordingly. It's not only important to consider price but also consider what you're getting for the price. If you won't have to replace a more expensive shower head for several years, it could end up being cheaper for you in the long run than purchasing a cheap one that breaks easily.
Settings
Niagara Chrome Handheld Massage Showerhead
This model comes with three adjustable settings. Those settings are Niagara, which has a steady stream of water with great pressure, Shower, which is similar to a rainfall setting, and Power, which provides even more pressure.
Moen 23015 Banbury Handheld Shower
When you purchase this shower head, you will get to enjoy five different settings, including a pulse setting and full spray.
HotelSpa Neon Color-Changing Handheld Shower
Choose from seven different settings to personalize your shower experience. Settings include Power Rain, Pulsating Massage, Hydrating Mist, Mist/Massage, Rain/Mist , Water-saving Economy Rain, and Pause.
Installation
Niagara Chrome Handheld Massage Showerhead
You won't encounter any problems when you install this showerhead. It fits on all standard shower arms, and no tools are required for installation.
Moen 23015 Banbury Handheld Shower
This product comes with everything you need for easy installation, including the shower arm bracket. It most cases, this shower head can be installed in just a few minutes, no tools necessary.
HotelSpa Neon Ultra-Luxury Temperature Color-Changing Handheld Shower
You don't even need tools to install this shower head. It's so easy to install, it will be ready for use in just minutes.
Finish
Niagara Chrome Handheld Massage Showerhead
This high-quality shower head is made of durable plastic with a chrome finish that perfectly matches your existing chrome fixtures.
Moen 23015 Banbury Handheld Shower
You can easily coordinate this shower head with your existing fixtures. It is available in Chrome, Bronze, Nickel, and White.
HotelSpa Neon Color-Changing Handheld Shower
This HotelSpa shower head is available in a polished chrome finish that complements your other fixtures, paint colors, and décor.
Price
Niagara Chrome Handheld Massage Showerhead
You don't have to go broke to own a great shower head. You'll love the price tag on this model, which costs less than $20.
Moen 23015 Banbury Handheld Shower
Since Moen is known for quality, this is a steal for a shower head that will easily make it through thousands of showers.
HotelSpa Neon Color-Changing Handheld Shower
The price of this luxury shower head makes it the most high-end handheld shower head on the list.
Conclusion: Our Handheld Shower Head Reviews Are In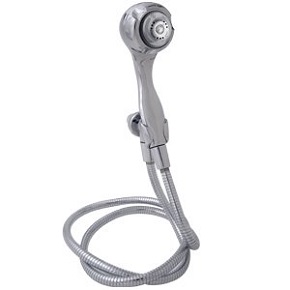 If you want to replace your existing shower head with a handheld model, but you don't want to spend a fortune, this shower head by Niagara is a great choice that won't disappoint. You'll enjoy using three different settings available on this durably constructed plastic shower head that's backed with a 10-year guarantee.
Installation is easy, so you can enjoy your new shower in just minutes. The chrome finish looks great in any bathroom, and it only uses 2.0 gallons of water per minute, which conserves 20 percent more water than other shower heads. This means that you'll be doing your part to be eco-friendly while also saving money on your monthly water bill.
Pros:
The price is ideal for any budget
Doesn't require tools for installation
It comes with a 72-inch tangle-free hose
It has nine jets for ultimate coverage
Great flow, especially for a water saving shower head
The plastic is corrosion-resistant
Cons:
The hose is more cheaply made than other hoses and may burst with extended use
The settings are a bit difficult to change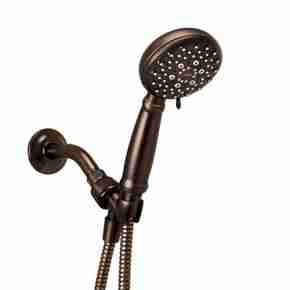 When you think of shower head brands, Moen is probably one of the first to come to mind. This is because Moen has built a reputation of quality, and this shower head is no exception. You'll have five functions to choose from, as well as four different finishes to match your bathroom.
This shower head has everything you need for installation, including a 55-inch hose, shower arm, and clear installation instructions. No tools are necessary to install this shower head. Using just 2.5 gallons of water per minute, it also helps conserve water and keep your water bills low. The styling is elegant, and this model looks great in even the most modern bathrooms.
Pros:
It comes in your choice of finish
The metal hose is very durable
The sprayer is made of durable metal and high-quality plastic
Installs in minutes
It is priced affordably
It has great flow, despite its water saving design
The hose is durably made
Cons:
If you want a shower head made with mostly metal, you will be disappointed, as this one is mostly plastic
The hose is a bit stiff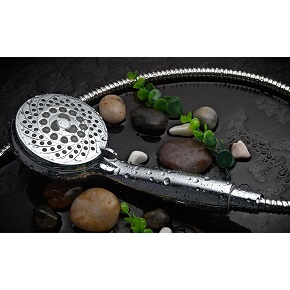 This shower head is so loaded with features, you'll see that it's worth every penny. Once you purchase this, you'll find that it installs in minutes so you can begin using it immediately. You'll have your choice from seven functions, including water saving options that conserve water and help you save money.
This product is versatile, and it can be used as a handheld or overhead shower. It has LED lights that change color according to your water temperature. This is a unique feature that also doubles as a safety feature, since it will alert you with a flashing red light when the water is too hot. It has an extra-large face that is made completely of chrome, and it has modern styling that will look great in your bathroom.
Pros:
Built-in LED lights change to three different colors depending on the water temperature
LED lights last over 100,000 hours
LED lights are powered by water pressure, and no batteries are required
It comes backed with a 1-year warranty
The chrome construction means it's built to last
Installation is a breeze
It is easy to clean
You can easily adjust the angle of the shower head for comfort
It fits any standard shower arm
It does not reduce water pressure
Cons:
It is more expensive than basic handheld shower heads
LED lights could be brighter
Final Thought
When you decide to install a handheld shower head in your bathroom, why not go with one of the most unique choices on the market? With the HotelSpa Neon Color-Changing Handheld Shower, you'll not only be pleased with the durability and multiple functions, but also with the color changing LED lights that add a nice touch of atmosphere. Adults and kids of all ages will love showering with this functional, stylish, and fun shower head. That's why it's our pick for best handheld shower head.