Some links on this page are monetized by affiliate programs - see disclosure for details.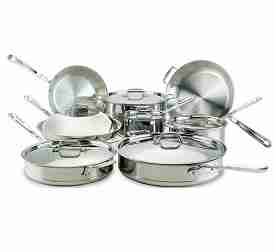 Whether you're a veteran in the kitchen or just starting to make your own meals for yourself or your family, your kitchen should be stocked with a few essentials. Cutting boards, a set of flatware, a set of knives, a variety of place settings, and glassware are all needed for serving your culinary creations, but you can't prepare a delicious meal without the right cookware. Even if you're just making scrambled eggs, you'll need a set of pots and pans that can be used to create your tasty meal on your stovetop.
While many people in the past have turned to nonstick cookware, in recent years, stainless steel cookware has been growing in popularity because of its outstanding performance in the kitchen.
The Top Rated Stainless Steel Cookware in 2018

The Best Stainless Steel Cookware: A Buyer's Guide
Stainless steel is a durable, long-lasting material that has been used in a variety of kitchen items, from your flatware to your kitchen sink. This sturdy metal has also been used in cookware, which has been growing more popular because of recent findings that using cookware with a nonstick coating can be hazardous to your household and the environment.
Depending upon the set that you purchase, you may get a variety of pots and pans in various sizes, including sauce pans, skillets, dutch ovens, and matching lids. This can help you make any type of meal in your kitchen, from a simple pot of soup to a gourmet steak dinner.
What are the different types of Stainless Steel Cookware?
When shopping for this type of cookware, there are a few important numbers to look for which indicate the grade of the cookware. These numbers distinguish between the different types, so you should know what these numbers mean before you make your purchase.
• 18/8 and 18/10 – This is the most common number you'll see on high-quality stainless steel cookware and items for your kitchen. These numbers refer to the amount of chromium and nickle found in the cookware, and this type is the most rust and corrosion resistant because of its high content. These may also be referred to as 300-series stainless steel. These are the best stainless steel cookware sets you will find on the market.
• 18/0 – This cookware contains almost no nickel, so it is more likely to show corrosion over time. It is typically less expensive than 300-series metals, though, and it is still considered to be high quality.
• 200 series – This is generally the least expensive of all of the types of stainless steel, but it is prone to corrosion and rust, so it will need to be replaced fairly quickly.
What are the Advantages of Cooking on Stainless Steel?
In recent years, it has been observed that cookware made with nonstick coatings can release harmful gases into the air, which is dangerous for your home and not good for our environment. Not only can this occur with every use, but you also have the risk of this coating chipping or flaking off into your food, which just isn't safe. Many people also find that nonstick cookware just feels cheap and isn't long-lasting.
With stainless cookware, you'll get high-quality, durable cookware that doesn't have this potential danger. This cookware can easily last for many years with proper care, it heats evenly, looks great, is resistant to rust and corrosion, and can be very affordable. When used with nonstick spray, butter, or oils, your food won't stick and burn. It also gives your food a pure taste without the potential for leaching, which can occur with some other types of cookware.
These Are Our Top 3 Favorite Choices for Best Stainless Steel Cookware
Cookware doesn't have to be expensive, and if you're moving out on your own for the first time or suddenly replacing an old set, you want to save as much money as possible. You don't have to sacrifice quality by saving some money when you purchase this set from T-fal. While this product isn't a professional set, you can expect to get lots of use out of it when cared for properly. It has multiple pots, pans, and lids so you can cook up anything in the kitchen, from a grilled cheese to a four-course dinner. Each piece features a multi-layered base for fast, even heating, attractive stainless steel design, and handles that are comfortable to hold.
Once you've decided to do away with your old, cheap cookware, this makes an excellent replacement set that won't set you back too much. This mid-priced set is designed for even heating and ultimate performance no matter what you're making. It comes with all of the pieces you need to create a delicious meal, cool-touch handles, flavor-lock lids, and many other great features found on sets that are double or triple their price.
This professional-quality set is truly unrivaled, and it's a set that you can expect to last for a lifetime. The bonded layers of metal provide for even heating, so you don't have to worry about burning your meal, stainless steel interiors that don't leach into your food, and an exceptional warranty that protects your purchase. These pieces can be used for any type of cooking, even on induction ranges.
Considerations for Choosing Right Cookware For Your Kitchen
Stainless cookware may look similar, but it's important to remember that there are features that you can see, as well as features you can't see, that make some better than others. Going shopping unprepared can result in spending too much money or getting a product that doesn't last. You should know what to look for before you purchase to make sure that you get a long-lasting set that lives up to your expectations. You can start by looking for these four features.
Warranty
You should never misuse your pots and pans because they can become damaged. However, even with proper use, sometimes things can go wrong. A handle may come off, the cookware may break or rust with proper care, or something else may occur that affects the functionality of your set. If this happens, a warranty protects your purchase.
Number of pieces
If you cook frequently, you want plenty of pots, pans, and lids that you can choose from to create your entree, side items, or just a homemade snack. You can also compare the price to the number of pieces to make sure you're getting the best bang for your buck.
Included pieces
Once you've determined the number of pieces in the set, you want to identify what pieces are included. Buying a 5-piece set that consists of only frying pans won't do much good if you also need pots. Make sure you get an even mix or at least a combination of products that you'll be able to use frequently.
Warranty
T-fal C798SC
A limited lifetime warranty comes standard with your purchase.
Cuisinart 77-10
This set comes with a limited lifetime warranty against defects.
All-Clad 600822
Your purchase is protected with a limited lifetime warranty.
Number of pieces
T-fal C798SC
This set comes with 12 different pieces that can be used to whip up all of your culinary favorites.
Cuisinart 77-10
This set comes with 10 pieces, providing you with everything you need to make a great meal.
All-Clad 600822
You will receive 10 different pieces with the purchase of this set.
Included pieces
T-fal C798SC
You'll receive one 8-inch frying pan, one 10.5-inch pan, a 1-quart pot, a 2-quart pot, and 3-quart pot, each with matching lids, as well as a 5.5-quart Dutch oven with lid, a spoon, and a slotted turner.
Cuisinart 77-10
This set comes with an 8-inch fryer, a 10-inch fryer, 1 ½ quart saucepan, 3 quart saucepan, each with matching lids, a 3 ½ quart saute pan with lid, and 8-quart covered stockpot.
All-Clad 600822
Your set comes with 8-inch and 10-inch fry pans, 2 quart and 3 quart saucepans, 3 quart saute pan, 8-quart stockpot, and four lids.
Conclusion: All Reviews Are In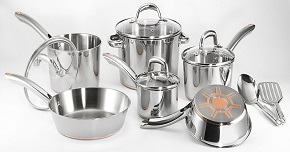 This 12-piece set has several great features, but the first thing you may notice is the budget-friendly pricing. Once you've made the purchase, that's when the other features come into play. Each piece is made with attractive and modern stainless steel. The bases use a combination of steel, copper, and aluminum for faster, more even heating.
Each piece has a riveted handle that's comfortable to hold. The lids are made with tempered glass that is designed to withstand high heat and regular wear and tear, and they are designed to trap in heat and moisture for better cooking. Each piece is dishwasher safe, so cleanup is a breeze, and the cookware can be used in any oven up to 500 degrees. If that is enough to sell you on this set, a lifetime warranty is also included.
Pros:
It is a great set that is very affordable
It heats evenly
The high-quality construction is durable and not prone to warping
All pieces are dishwasher-safe
The set comes with a warranty
You get a wide assortment of pieces you can use to create your favorite meal
It works on any cooking surface, including induction cooktops
Cons:
These don't have true copper bottoms, and the copper may wear off after time
White spots may show up on the interior over time
The handles get very hot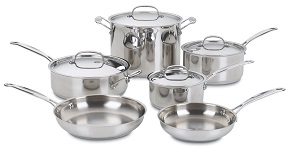 Cusinart has long been a leader in kitchen items, and this stainless set proves why they continue to be a top-seller. This classic set has 10 pieces that you'll use again and again, and the quality of this set ensures you'll be able to use them for years to come. They have a stainless finish which gives them an attractive look for any modern kitchen. But this set is about more than just good looks.
The bottom of each pot and pan contains aluminum for more even heating and cooking. The riveted handles feel secure, and there are even helper handles that make these easy to transfer from stovetop to countertop. The lids fit tightly, cooking your food quickly and sealing in the flavor. They have tapered rims for easy pouring, and have cool-touch handles so you don't burn your hand.
Pros:
It is an affordable set
It comes backed with a lifetime warranty
They are oven safe up to 500 degrees
They are safe to store in the freezer
Heat up quickly and the design eliminates hot spots
Very easy to clean
It has a variety of sizes and pieces for your biggest dinners
The lids fit very tightly
Cons:
Spots may appear over time, even with proper care
These do not work on induction cooktops
They do not perform well with extended periods of high heat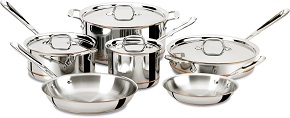 This cookware is a great choice if you see your kitchen items as an investment that will last for many years without having to be replaced. This professional set is comparable to what you'll find in the best commercial kitchens, providing you with unparalleled heat dispersion, the ability to cook in any way (even on induction cooktops), and outstanding performance overall.
Some people stay away from stainless cookware because the metal leaches into the food, giving it a metallic taste. With this cookware, you don't have to worry about that problem at all. Another common issue is uneven heating that results in burned food or hot spots. This has 5-ply bonded layers consisting of steel, copper, and aluminum for faster, more even cooking. This doesn't just have copper plating like less expensive sets, either. It has a true copper core that is able to withstand years of use and high heat for many, many years.
This set is made with high-quality 18/10 stainless, so you don't have to worry about rust, corrosion, or other issues when you maintain it properly by handwashing and drying it after every use. Each piece has a riveted handle that feels extremely durable in your hand, and the handles stay cool. You can use each piece in the oven, on an induction cooktop, or even on the grill. The entire set comes backed with a lifetime warranty against all defects. For these reasons, this set is our winner for best stainless steel cookware overall.
Pros:
It comes with all of the pieces you need
Each piece has a true copper core for even heating
The lids fit tightly to keep in the heat, moisture, and nutrients of whatever you're making
More resistant to corrosion and rust than other sets
They are very durable and sturdy
The handles stay cool
Oven-safe up to 500 degrees
Food doesn't stick like it does in cheaper cookware
They are very heavy
Lifetime warranty
Cons:
They are very expensive when compared to other cookware
They can be a pain to clean
All in All
Anyone who cooks on a regular basis should have a high-quality set of cookware on-hand to make any type of meal. While buying a cheap set may seem like the best thing to do, you'll find that they won't perform as well or last as long as a more expensive set. Start cooking like the pros by adding the All-Clad 600822 set to your kitchen collection. With a copper core, sleek stainless design, and a variety of pieces, you won't need another set of cookware for a long time to come.