Some links on this page are monetized by affiliate programs - see disclosure for details.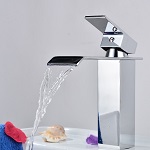 When you're at home, you spend a lot of time in your bathroom. From getting dressed each morning to winding down at night with a hot shower or bubble bath, your bathroom is a vital room in your home. While it is designed to be functional and useful, more and more people are upgrading their bathrooms to create a more comfortable, relaxing, and modern space. The best bathroom faucets are an easy upgrade and a good first place to start if you want to redo your bathroom. But knowing what to look for in a good bathroom faucet is important.
Whether you're renovating your entire bathroom or replacing a broken fixture, the best bathroom faucet is a great upgrade that you can add. The latest bathroom functions are not only functional, but they also add a touch of style and elegance.
Comparison: The Top 10 Best Bathroom Faucets of 2021

What is a Bathroom Faucet and How Does It Work?
A faucet is a fixture that is in every bathroom. Running water flows from a faucet into a sink or bathtub, allowing you to take a bath, brush your teeth, or use water just by turning a handle. While these are functional and necessary in your home, the newest bathroom faucets have beautiful designs, use quality materials, and are more intricate than ever to add a unique touch to your bathroom and enhance your décor.
Any bathroom with indoor plumbing should have a good bathroom faucet. This allows you to adjust the water temperature and dispense water as needed. However, bathroom faucets don't just have to be functional. With the latest improvements in bathrooms, an upgraded faucet is just another way that you can customize the look of your bathroom.
See Also: 10 Beautiful Shower Rods Faucets Everyone Will Admire
What Are the Different Types of Bathroom Faucets?
Years ago, the selection of faucets was quite limited, utilizing only a few finishes and designs. These days, with more styles of bathrooms, there are thousands of good bathroom faucets on the market. If you're considering replacing your old faucet with a new one, there are a few types that you can select.
Center set faucet
A center set faucet has a single faucet in the middle and two handles, one placed on either side. One handle is used to dispense cold water, while the other is used for hot water. The faucet and handles are all attached to one unit.
Single handle faucet
These faucets have just one handle that can be tilted in different directions to adjust water temperature accordingly.
Spread fit
This type of faucet consists of a faucet and two handles, all mounted separately. Typically, one handle is for hot water and the other releases cold water.
Wall-mounted faucet
Instead of putting this faucet on a countertop, this faucet is centered and mounted on the wall above the sink.
Waterfall faucet
This faucet has water flowing over the top of the faucet instead of coming from the bottom spout to create an interesting effect (yes, similar to a cascading waterfall).
Read: 2020's Best Handheld Shower Heads
What Features Are Available for Bathroom Faucets?
Faucets do more than simply control the flow of water. You can find faucets with a variety of useful features. In most cases, these features don't add much to the price.
Will kids or seniors use the faucet? Consider Anti-Scald Protection. Water temperature is automatically restricted to prevent accidental burns. Water can still get warm but not hot enough to be harmful.
Built-in filtration systems are another useful feature, especially in areas where the drinking water is heavily mineralized. A filter gives you pure, fresh water right on tap.
Finally, consider a flow-rate restrictor. It allows you to adjust the water flow, which helps you conserve water. Flow-rate restrictors are an environmentally-friendly choice.
Who Are the Best Bathroom Faucets on the Market in 2021?
American Standard Reliant – This one-handled faucet is easy to control and glides smoothly from cold to hot temperatures.
Moen 6410BN Eva – This center set faucet takes classic styling and adds modern finishes and improvements to make it a top choice in bathroom faucets.
Pfister Jaida – This stylish faucet has one attached handle that's easy to use, and a spout design that adds a modern touch to any bathroom.
What Makes a Good Bathroom Faucet?
If you're considering changing up your bathroom with the installation of a new bathroom faucet, there are a few features that you should look for to ensure that you purchase the right one for your home. By looking at each of these considerations, picking a great faucet that will look beautiful in your bathroom is simple.
Price
Before you begin shopping, set your budget. Since faucets range in price from under one hundred dollars to several hundred, it's important to know what you're willing to pay before you begin searching for a faucet. You should also consider all other features offered by the faucet in addition to price to ensure you get the most for your money.
Finish
Like many other people, your bathroom probably has a theme and is decorated in colors that you have chosen. You want your new bathroom faucet's finish to not only coordinate with your décor but to also match any existing fixtures.
Ease of installation
If you're not experienced in installing faucets, you'll want to stick with a basic design if you're installing it yourself. Converting a traditional faucet to a wall mounted faucet, for example, takes a lot of additional work, and you may have to call in a contractor to get the job done correctly, which is an added expense.
Water consumption
Your bathroom faucet doesn't just have to look good. Many of the latest faucets decrease your water consumption, leading to savings on your water bill each month.
How Do the Best Bathroom Faucet Brands Compare to Each Other?
Price
American Standard Reliant
This is a great budget-friendly bathroom faucet. It is a good choice for anyone on a budget who wants a high-quality faucet, and it's a great value for those replacing old or broken fixtures.
Moen 6410BN Eva
This stylish faucet is priced moderately, making it a mid-level faucet that's easy to use and install and improves the appearance of your bathroom.
Pfister Jaida
Invest a little more of your money to purchase this top-rated faucet. You'll love the combination of function and modern style on this model.
Finish
American Standard Reliant
This faucet is available in two different finishes to enhance your décor and match other fixtures. Choose from shiny Polished Chrome or matte Satin Nickel.
Moen 6410BN Eva
You can personalize the look of your bathroom by choosing from three great finishes: Brushed Nickel, Chrome, and Oil Rubbed Bronze.
Pfister Jaida
This faucet comes in four great finishes to match any bathroom. You can choose from finishes including Brushed Nickel, Polished Chrome, Polished Chrome and White Porcelain, and Tuscan Bronze.
Ease of installation
American Standard Reliant
With the Speed Connect Drain, you can have your new faucet installed and ready to use in almost no time at all.
Moen 6410BN Eva
With a 4-inch center set design, this faucet is very easy to install, even for beginners. It comes with a popup drain assembly that contributes to the ease of installation.
Pfister Jaida
The deck plate allows you to install in existing three hole installations, or you can use it with just one hole if you wish. This versatility makes it simple to install your stylish new faucet.
Water consumption
American Standard Reliant
This faucet has been labeled with the EPA's WaterSense label to show that it meets all of the EPA's standards. This model consumes water consumption by about 20 percent.
Moen 6410BN Eva
This faucet meets all criteria set by WaterSense so you can relax knowing that you're saving water, which puts more money in your pocket, without affecting performance.
Pfister Jaida
When you purchase this faucet, you'll be reducing your water consumption by up to 30 percent because this product makes all WaterSense regulations.
Our Final Reviews Are In: What is the Best Bathroom Faucet?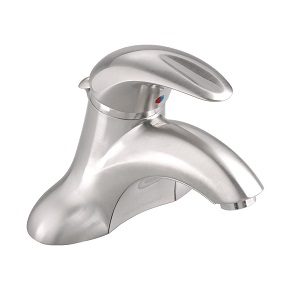 If you want a no-frills faucet that is easy to install and has modern styling, look no further. This faucet has an ergonomic design that gives it a clean, modern look that complements any décor. It is easy to install, requires just one person for installation, and simply drops into place without the need for tools, putty, and caulk.
The pre-assembled drain is also easy to install, so you can quickly install and begin using your new faucet. The ceramic disc reduces the chances of mineral buildup and line debris, which could damage your faucet, and its design prevents annoying drips that waste water.
Pros:
This faucet is ADA-certified
It can be used with a modified aerator for additional monthly savings on water
The adjustable hot water limit protects you and your family from burns
It meets all safety regulations and standards
Comes with a limited lifetime warranty on finish and function to protect your investment
Cons:
There are only two finishes available
The supply hoses have a small diameter, making them prone to kinks when installing
Feed lines are shorter than normal, so new lines may need to be purchased for installation
The faucet may stain from hard water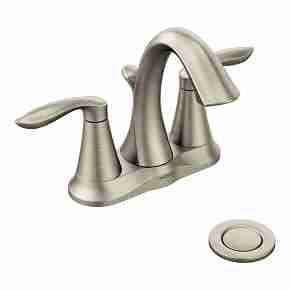 If you want to replace your old center set faucet with a modern new one, you can't go wrong with this modern faucet by Moen. Moen is a leader in bathroom faucets for performance, style, and quality, so you can rest assured you've made the right choice. Installation is easy, this faucet is ADA compliant, and it reduces your water consumption.
Your faucet will look great for years to come, as this model is backed with a lifetime warranty against tarnishing, corrosion, and flaking. The water flow is quiet, and the traditional, sophisticated style available in four different finishes will withstand the test of time.
Pros:
This faucet is ADA complaint
It meets all WaterSense standards for reduced consumption without any effect to performance
Installation is easy
Comes backed with a lifetime LifeShine finish warranty
It matches many other fixtures and products in the Moen line for easy coordination
Cons:
Some units were shipped with minor visible defects
You may want to inspect your faucet as the manufacturer will replace it but a lot of labor can be wasted if you install it first without recognizing it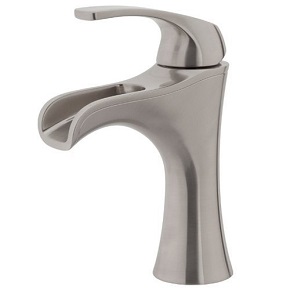 Give your bathroom a sleek and more modern look with just one faucet. This one-handled faucet has a modern trough design that's truly unmatched. It is ADA compliant and meets or exceeds all of the EPA's guidelines, which reduces your water consumption and helps you save money.
The included Push & Seal drain makes this faucet easy to install and provides you with a tight, no-leak seal. The single control makes it a breeze to adjust water temperature, and a deck plate can be used for three hole installation if needed. Without the plate, you can install this in just one hole.
Pros:
The modern trough design makes this faucet stand out when it comes to style
It has great water pressure, even with reduced water consumption
This works with under counter and flush sinks
Guaranteed to never leak
Cons:
It is a bit pricier than other faucets
The drain can only be used with an overflow sink
It sits higher than other faucets, so using it at full power may result in splashes when used with a smaller sink
All in All
Whether you're gutting your old bathroom, building a new one, or just looking to replace an outdated, broken faucet, the newest faucets feature both quality and style. To truly customize the look of your bathroom, the Pfister Jaida Bathroom Faucet rates high on function, quality, style, and price. The modern design adds a unique touch to any bathroom, while the quality construction and durable finishes are designed to keep your bathroom functional for years to come.