Some links on this page are monetized by affiliate programs - see disclosure for details.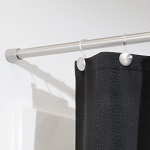 Taking a shower is a daily task that everyone has to do, and this should be a relaxing time. If you've been outdoors sweating and working, you should be able to go inside and enjoy a nice, hot shower. At the end of a long workday, a shower can be a great way to wind down before watching TV, reading, or going to bed. However, the design of some shower rods makes it almost impossible to enjoy your bathing time.
That's because most shower rods are perfectly straight. The angle in which they hang to hold the curtain and liner in place often results in a cramped feeling when taking a shower. You may even have issues with the liner and curtain blowing back on you, and this certainly can ruin your relaxing experience. Luckily, there is a quick and easy solution that not only frees up space in your shower, but also enhances the look of your bathroom, and that is a curved shower rod.
Compare: The 10 Best Shower Rods of 2020

Reviews: The Top Rated Shower Rods To Buy in 2020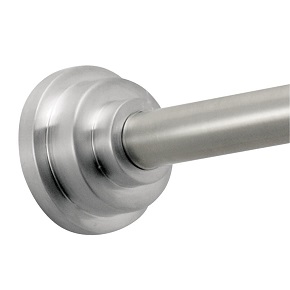 Instead of spending time and money renovating your shower for extra space, why not expand your elbow room with this affordable curved shower rod? You'll get more space and improve the look of your bathroom with this durable, brushed stainless rod that looks like it costs much more than it actually does.
You won't have to worry about difficult installation. Just adjust, twist, and it's ready to use; it's really that easy. You won't put holes in the wall, and the non-slip feet are designed to not add any damage, making it a great choice for rental properties. It is very durable, does not rust, and it's extremely secure, so you can hang your heavy shower curtain without worry.
Pros
Ssleek, modern design
It is very affordable
Installation is straightforward
It doesn't rust in most cases
Comes in three lengths
Cons
Rust may form over time with hard water
It is not as secure as a wall-mounted rod
---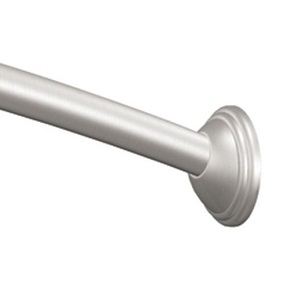 You can always expect quality products from Moen, and this curved shower rod is a great upgrade that's available at a fair price. Start off by selecting the finish that will look best in your bathroom, then use the included hardware for a safe, secure installation.
Multiple holes are drilled into this rod for ultimate security, and matching end caps are included to cover up the holes made during installation. Once installed, you'll enjoy six to seven additional inches of space in your shower.
Pros
Backed with a limited lifetime warranty against finish defects and design issues
Beautiful, classic styling
It is fairly easy to install and comes with detailed instructions
Very secure when mounted
It can be cut for smaller spaces
Cons
The decorative end caps are difficult to install
It is not adjustable and only fits 59 to 60 inch spaces
---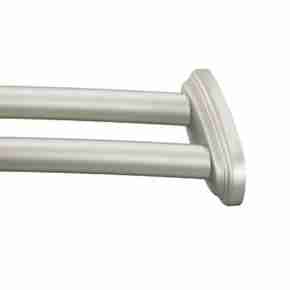 If what you're looking for is a secure rod that completely updates the look of your shower, look no further. This rod from Moen is not only designed with a modern curve that's designed to provide you with more space, but it also has a double design that allows you to hang your curtain and liner separately.
Your shower will feel roomier than ever once you install this rod, which is easy to do with the detailed instructions and sturdy hardware. You'll have your choice from three great finishes, which are all backed with Moen's limited lifetime warranty against defects. It is rust and corrosion resistant, so you don't have to worry about it losing its luster over time.
Pros
Installs securely in most standard tubs and showers
It comes backed with a lifetime warranty
Looks very modern and stylish
The rod comes fully assembled and requires no assembly
All hardware is included for a safe and secure installation
It is extremely sturdy and durable
Cons
It can be difficult to install
More expensive than other curved rods
---
Considering a Curved Shower Rod?
Because the shower rod is curved outwards, the shower curtain is not directly on your shower's border, making it feel larger and roomier. You also don't have to worry about the shower blowing against you if you have a high-pressure shower head. Curved rods also look great in any bathroom, adding a modern touch to your décor without having an expensive price tag.
Unlike a traditional shower rod, a curved shower rod isn't designed to be completely straight. One end of the shower rod is attached to the wall, while it gradually curves out wider towards the center. In the middle, it begins curving back in to the other end, which is attached to the second wall. This design allows you to hang your shower curtain and liner securely, while also providing you with more shower space.
How to Install a Curved Shower Rod
If you're familiar with basic home repair, you should have no problem installing the shower rod on your own.
Measure before mounting. If the shower rod is too long, you can cut it with a hacksaw. Subtract the length of the rod from the width of the shower. Dividing that number in half gives you the length you should cut from the rod.
Center the rod above your tub at least 74 inches above the shower floor. Standard shower curtains are 72 inches long with an extra two inches due to the hooks.
Most likely you'll need to drill the mounting holes into tile. Use a mini hole saw designed for tile. Drill slowly to avoid cracking the surface. Hold the rod in place with anchors behind the tile.
What are the best shower rod models on the market?
If you want both style and affordability, you'll find it all with this tension mounted rod, which installs in just seconds. You'll have your choice from three different sizes to ensure the perfect fit. No hardware is needed for installation, and you don't even need a single tool. You won't have to worry about putting holes in your walls, and with the non-skid, non-scratch feet, you won't have to worry about any other damage, so this is ideal for a rental home or apartment.
If you want a secure and stylish shower rod, this one is your best bet. You'll have your choice from three different finishes, and each rod is available in a standard 60-inch length. It easily holds a standard 72-inch shower curtain. The mounting posts come with multiple holes and the necessary hardware for an ultra-secure fit, and the round flange covers hide screws and holes. Best of all, this durable rod is very affordable.
Moen is known for its cutting-edge bathroom fixtures, and this double curved rod fits the bill. Instead of just one rod for your liner and curtain, you can put each on its own rod, providing you even more elbow room while showering. Three stunning finishes are available to match your bathroom perfectly, and it is resistant to rust and corrosion, so you can relax knowing your shower rod will retain its beauty for years to come. This mounts securely to your wall, and it comes with all hardware.
Choosing the Right Rod For Your Bathroom
Once you've decided between a tension mounted rod and a wall-mounted rod, you need to consider exactly what rod is right for your bathroom. You'll find that there are hundreds of rods to choose from, so use the following criteria to narrow down your purchase.
Ease of installation
If you don't want to spend time measuring, leveling, and mounting a rod, choose a tension mounted product that installs in minutes without the need for hardware or tools.
Finish
You want your shower rod to match your existing fixtures, as well as complement your shower curtain, paint, and bathroom décor.
Length
Your rod will be useless if it's not the proper length. For stable installation, make sure to measure the space between your two walls for the perfect fit.
Ease of installation
InterDesign Astor Tension Rod
In just minutes, you'll be enjoying a relaxing, refreshing shower with this tension rod, which does not require tools or hardware and does not damage your walls.
Moen CSR2155BN Inspirations Curved Shower Rod
As far as wall-mounted rods go, this one is fairly simple to install. All hardware needed for installation, including wall anchors, is included with your purchase.
Moen DN2141BN Curved Shower Rod
This secure rod is mounted into the wall easily using the included hardware.
Finish
InterDesign Astor Tension Rod
This rod is available in just one finish, brushed stainless steel, which complements a variety of color schemes and fixtures.
Moen CSR2155BN Inspirations Curved Shower Rod
You can easily match your existing fixtures with three different finishes, which are Brushed Nickel, Chrome, and Old World Bronze.
Moen DN2141BN Curved Shower Rod
Choose from three different finishes when you pick this rod, including Brushed Nickel, Chrome, and Old World Bronze.
Length
InterDesign Astor Tension Rod
You can choose from three different lengths when you purchase this rod, including 26 to 42-inch, 43 to 75-inch, and 50 to 87-inch.
Moen CSR2155BN Inspirations Curved Shower Rod
This rod is 5-feet long and it is designed to fit in standard showers and tubs.
Moen DN2141BN Curved Shower Rod
This rod is adjustable from 57 to 60 inches to fit most standard tubs and showers.
Conclusion
A quality shower rod is a great way to update your bathroom for less than $100. If you want durability, stability, and style that will last through thousands of showers, choose the Moen Double Curved Shower Rod. Even though it may be a bigger investment at first, the quality construction and unbeatable guarantee ensure this rod will enhance your bathroom for a lifetime.