Some links on this page are monetized by affiliate programs - see disclosure for details.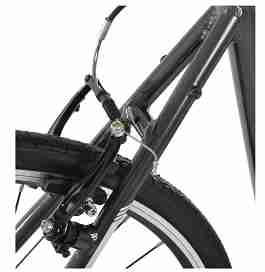 Riding a bike is an activity that is enjoyed by adults and children of all ages. Kids like it because it allows them to be outside and have fun with their friends, and it lets them travel quickly through the neighborhood or to the local park. Adults like riding a bike because it is a good way to stay in shape, it can be a very easy and affordable way to commute, and it is a great way to see nature up close and personal.
However, one problem that many people has is that they just can't figure out what type of bike to buy. If they want to ride it to work but also to explore natural bike trails, picking between a road bike and a mountain bike can be difficult. Buying multiple bikes just doesn't make sense because that would be entirely too expensive. This is why for the most versatility, many people are turning to hybrid bicycles.
See: The 10 Best Hybrid Bicycles of 2020

Introduction: What is a Hybrid Bike?
A hybrid bike combines some of the best features found on road, mountain, and touring bikes to create a model that is great for different uses. Whether you want to explore your local nature trails, hit the pavement around your city, or save money on gas by commuting to work, you can do it all with one of these bikes.
Typically, these are designed with the upright seating found on mountain bikes, the thinner wheels and rims of a street bike, and the racks or bags found on touring bikes.
What are the Different Types?
If the idea of having a bike that you can ride just about anywhere sounds appealing to you, then this would be a good investment. Before you pull out your wallet, though, you first want to identify which type of hybrid model will best fit your needs. Since these bikes are not necessarily cheap, you want to make sure that you're fully satisfied with your purchase, and knowing the different types is a great first step at making a smart purchasing decision.
Classic hybrids – These bikes are very similar to the overall design of mountain bikes, but they have road wheels. These feature lower gears and a more upright seating position. These can be used for almost any type of riding.
Performance hybrids – These are designed for speed, boasting aerodynamic designs and more lightweight components. These are great for long rides and commuting.
Comfort hybrids – These are built for comfort, and they're very similar to classics with the exception of the wheels, which have mountain bike wheels and tires. It provides the most upright riding position.
Flat foot hybrids – These are named as such because while you're seated, you can still comfortably put your flat on the ground. These are best for cruising and enjoying the scenery.
What are the Advantages of Owning a Hybrid Bicycle?
With a hybrid bike, you can hit a variety of terrains without having to change bikes. You can transition from the road to a natural bike trail with ease. These bikes are typically more comfortable than other types, and they can be used for a variety of purposes. They are great for commuting to save on expensive gas, they allow you to get outdoors and enjoy all of the beauty that nature has to offer, plus they provide a great physical workout to help you lose weight, tone up, and stay in shape.
Who are the contenders for Best Hybrid Bike on The Market?
This is a great choice if you want a nice bicycle for almost any purpose, but you don't want to spend a ton of money. This budget-friendly model has lots of features found on the best bikes around, including a durable aluminum frame, 21 gears, and the Schwinn suspension system that provides you with a smooth and safe ride.
If you're willing to spend a little extra cash for a higher performing bike, you might want to check out this model from Diamondback. It has a seven speed drive train, 700C road wheels, and a durable but lightweight aluminum frame. This complete combination results in one great bike that's ready to tackle the roads, trails, or anywhere you want to take it.
Custom bikes can cost in the thousands, and the labor of putting on upgraded parts is time-consuming. With this high-end bike, the stock parts are built to deliver great performance. This model comes in multiple sizes, Shimano components, double wall alloy rims, and a variety of other top-quality parts.
Considerations for Choosing the Right Model For You
Hybrid bikes are not cheap, so they should always be seen as an investment. Instead of just buying one because you like the color or because it's the cheapest, take the time to do a little bit of research on each model, starting with these four features.
Price
Bikes range in price from a few hundred dollars to several thousand for a completely tricked out model with all custom parts. If you are on a strict budget, a lower end bike may work for you. However, price should never be the only factor that is considered. A bike with a higher price tag that comes with more durable parts and a better warranty may be a better investment in the long run.
Warranty
It's just inevitable that with regular use, parts on your bike will need to be repaired or replaced. However, you should always expect to get several years of use out of your bike before you have to do any major repairs. If something is wrong with the bike in a short period of time that was caused by the manufacturer, you shouldn't be held responsible for the repairs, and you won't be if you purchase a product that is backed with a warranty.
Size
The size of the bike is important for a number of reasons. A bike that is tall enough for you to ride without being too tall helps you stay comfortable during the longest rides. Riding a bike that is the right size will also keep you safe, as riding one that's too large or small can result in spills that damage the bike or cause injury to yourself.
Gears
The different gears on a bike are adjusted to make your ride smoother and easier, typically when going uphill and downhill. Make sure that you choose a model that has several gears to choose from, particularly if the routes you take have lots of hills.
Price
Schwinn Men's Network 3.0 700C
This is one of the most affordable models that has a durable design.
Diamondback Bicycles Edgewood Hybrid Bike
This mid-priced model has a lot of the great features found on high-end and custom bikes.
Vilano Diverse 3.0 Performance Hybrid Road Bike
This high-end bike costs more than the above two, pushing it more towards the pricing of custom bikes.
Warranty
Schwinn Men's Network 3.0 700C
You will never have to worry about this bike breaking because of a defect, as it comes it with a limited lifetime warranty from Schwinn.
Diamondback Bicycles Edgewood Hybrid Bike
This model is protected from manufacturer's defects with a limited lifetime warranty.
Vilano Diverse 3.0 Performance Hybrid Road Bike
A 1-year warranty is included for the frame and other larger parts, while wear and tear parts come with a 30-day limited warranty.
Size
Schwinn Men's Network 3.0 700C
This bike comes in one size, 18 inches.
Diamondback Bicycles Edgewood Hybrid Bike
This model is available in four different sizes, Small, Medium, Large, and X-Large. The respective measurements are 15 inches, 17 inches, 19 inches, and 21 inches.
Vilano Diverse 3.0 Performance Hybrid Road Bike
This bike uses the metric system of measurements, and it comes in four different sizes. The 50cm size is ideal for those who are 5'2" to 5'6", the 53 cm bike works for those who stand 5'7" to 5'11", the 57 cm bike is best used for those who stand 5'11" to 6'2", while the 60cm model is great for those 6'2" to 6'4".
Gears
Schwinn Men's Network 3.0 700C
This 21 speed bike is designed to go up and down hills and different terrains with ease.
Diamondback Bicycles Edgewood Hybrid Bike
This bike features a 7-speed drivetrain that has a great range of gears for all types of terrain.
Vilano Diverse 3.0 Performance Hybrid Road Bike
This 24 speed bike has all of the gears necessary for a smooth ride uphill, on the road, or around town.
Conclusion: All Reviews Are In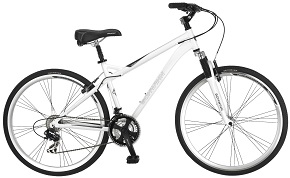 If you're looking for the best combination of great features, comfort, and a budget-friendly price, this model from Schwinn should be on your list of bikes to research. Schwinn has long been a leader in bicycles, and its hybrid models set the gold standard for affordable yet high-quality products. This 18 inch bike is a superb example.
This 21 speed model comes equipped with everything you need for a great ride, including a durable aluminum frame, a Schwinn suspension fork for a smooth ride, lightweight yet durable alloy rims, a padded seat for ultimate comfort, and a swept-back handlebar design that allows you sit upright comfortably.
Pros:
It has linear pull brakes that make sure you stop immediately
It has high-quality Shimano parts, including shifters and a rear derailleur
Wider seat for longer rides
The frame is high-quality aluminum
Backed with a limited lifetime warranty
One of the most affordable hybrid models
It is easy to assemble
Cons:
The pump is not good quality
The ball has a slight plastic smell
It may require frequent pumping as small amounts of air can escape
The bike is fairly heavy
Only comes in one (large) size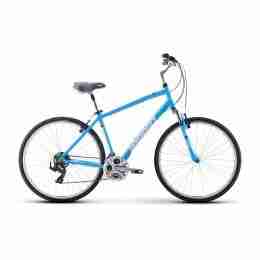 If you want a bit of extra quality and a more customized ride but you don't want to pay close to a thousand dollars or higher, this mid-priced model should be very appealing. It doesn't cost a fortune, but it does have some upgraded features that give it a better ride.
A suspension fork and seat post provide you with comfort for long or short rides, while the Shimano drive train provides you with the gears you need for even the roughest, steepest terrain. Adding to the smooth ride are the 700C road wheels. The handlebars are height-adjustable, and it comes in your choice of four different sizes for the perfect fit.
Pros:
Durable 6061-T6 aluminum frame
Comes with a lifetime warranty
Not as heavy as some hybrid bikes
Requires basic assembly that is very easy to figure out
Ideal for on and off-road use
Available at an affordable price
Cons:
The rims seem a bit low quality when compared to more expensive bikes
It does not have adjustable suspension like some of the more high-end bikes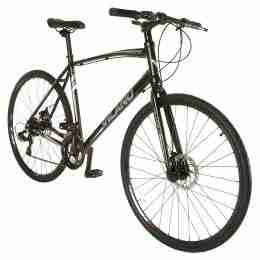 If you're a cycling enthusiast, you'll love it even more after you hope on this performance bike from Vilano. This model comes with a load of great features at a great price when compared to custom parts. Plus you won't have to worry about the time and expense needed to upgrade your components.
Some of the standout features of this model include Shimano components, 700C wheels, a Hydroformed Alloy Performance Hybrid frame that is aerodynamic to give you the speed you need when you're working out, as well as a range of gears for biking around town or hitting the bike trails. The frame is compact, fairly lightweight, and you even get high-quality pedals, so you don't have to invest any money in additional parts and the bike is ready to go right away. If you do decide that you want more parts, this bike is fully customizable.
Pros:
Offers a very smooth ride
It has a compact and lightweight frame that is extremely durable
Utilizes some of the best parts you'll find on a non-custom model
Very versatile bike that can ride smoothly in a variety of conditions and terrains
Comes in multiple sizes to give you the perfect fit
Very comfortable to ride
Attractive design
Cons:
Assembly can be a bit difficult
The seat isn't as padded and comfortable as some find on other bikes
It is a bit expensive
All in All
Whether you want to save money on gas, get into the best shape of your life, or get a new view of your local area, a hybrid bike allows you to do it all. You no longer have to choose between the many different bikes on the market. Instead you can use one of these versatile bikes for all of your outdoor adventures.
If you want the best bang for your buck, the Vilano Diverse 3.0 Performance Hybrid Road Bike is an exceptional choice. It is built with high-quality, durable parts that are ready to take on the road, your local bike trail, or even rough and tough terrain out in the wilderness, making it one of the most versatile choices you'll find.