Some links on this page are monetized by affiliate programs - see disclosure for details.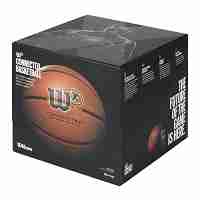 Shooting hoops has been a popular pastime since the late 1800s. Although it has certainly evolved since the days of throwing a ball into a peach basket, the rules of the game have remained essentially the same, although now, the popularity has spread to men, women, and children of all ages.
Whether it's played competitively or just for fun and fitness, this sport has taken the whole world by storm over the last century. This sport doesn't require a ton of equipment like hockey, baseball, or football, but one thing that you need in order to play is a basketball.
Introduction: Basketball Shopping Guide
A basketball is the ball that is used to play this sport. It is perfectly round and is inflated enough to make it bounce, so it's easy to dribble and toss. While the most popular and well-known balls are bright orange, they come in other colors. They also come in multiple sizes in addition to regulation size, typically for younger players.
Whether you're practicing at home for the big game, playing with your friends for fun, or you play just to stay in shape, if you want to play basketball, you have to have the right ball. If you try to play with a ball designed for other sports or other uses (such as a ball that children toss around), the game won't be as fun. This is also important if you are practicing for an upcoming game or tryout, since you need to be used to the weight and size of a regulation ball. In order to increase your skills and get the most out of your basketball game, you have to have the right type of ball.
What are the Different Types?
Whether you're playing for the first time or you're sharpening your skills on the court, a basketball is a must-have item in order to play this sport. Before you run out and make a purchase, though, make sure that you're getting a ball that works for you. There are a few different types on the market, and knowing about these types makes it easier to make a smart purchase.
Leather – These balls are designed for use on indoor wood courts. They have a 100 percent leather covering. They feel a bit tough at first, but the more you use them, the more broken in and soft they become.
Synthetic leather – These are made of a faux leather that feels much like genuine leather, but they are far less expensive since they are made with synthetic materials. The one drawback is that don't last as long as more expensive balls made with real leather.
Rubber – These are the most common used in households. The rubber is tough enough to be used on outdoor concrete surfaces, and these are a great choice for beginners. These are generally the least expensive, but they are of the lowest quality and may need to be replaced more frequently.
Which Basketballs are the Best on the Market?
Spalding NBA Street Basketball – Whether you're just getting into the game or you frequently like to play outdoors but you don't want to spend a fortune on a new ball, this one from Spalding is just what you need. It is approved for outdoor play, it is regulation size, it is extremely durable, and it's available for a very affordable price.
Wilson Evolution Indoor Game Basketball Official – This great ball has the look and feel of leather, but it's much more affordable. You'll find that this ball bounces easily on any surface, is easy to handle, and is a great value overall.
DribbleUp Smart Training Basketball – Combine a durable basketball with today's modern technology and what do you get? You get this Smart Sensor ball from DribbleUp, which looks and feels like the most expensive of balls but also has the added benefit of having a sensor that tracks player's stats.
Features to Evaluate
If you're replacing an old ball or buying one to use with your new basketball goal, you now know a little bit about what to expect when you go shopping. Now that you know the basics, it's time to hone in on the features that make each product unique. You don't want to spend your money on something you feel uncomfortable using, so before you purchase, make sure you're making a wise decision by keeping an eye on the following four features.
Price
You can expect to pay $20 or less for a basic rubber ball, while you can easily spend in the hundreds on a high-quality leather ball. If you're a beginner or you just play for fun, an inexpensive ball is a good choice. If you plan to play competitively, you might want to invest in a quality ball that is designed to last for a long time.
Material
The material of your ball is important for a few reasons. You want to make sure that the type of ball you purchase will last wherever you choose to play. Next, the material determines just how long the ball will last. A cheap rubber ball will go flat or become damaged more easily that an expensive genuine leather one.
Size
You also need to consider the size of the ball you are purchasing. Regulation balls have a diameter of 29 ½ inches. However, smaller balls designed for youth are also available and easier to handle for those with small hands.
Best Uses
You don't want to take your brand new leather ball out on hard concrete, which will lead to premature wear and tear. You don't want to use a heavier or larger training ball for your one-on-one with your friend, either. Make sure that the ball you purchase is designed for the surface you're playing on.
Price
Spalding NBA
This is a very affordable ball that is perfect for everyday play out in your yard.
Wilson Evolution
This versatile ball that works on a variety of surfaces costs right around the average when it comes to high-quality balls.
DribbleUp Smart Training Basketball
With a significantly higher price tag than the options above, this is one of the most expensive balls you'll find.
Material
Spalding NBA
This ball is covered in durable performance rubber.
Wilson Evolution
The surface of this product is made with microfiber composite leather.
DribbleUp Smart Training Basketball
This ball is made with weather-resistant microfiber material.
Size
Spalding NBA
This ball is available in a standard regulation size of 29.5 inches. Smaller sizes of 28.5 and 27.5 inches are also available.
Wilson Evolution
This ball is available in a standard regulation size of 29.5 inches. A smaller 28.5 inch ball is also available.
DribbleUp Smart Training Basketball
This ball is available in a size for men, as well as a size made for women and children.
Best Uses
Spalding NBA
This ball is best used for outdoor street ball on paved or concrete surfaces.
Wilson Evolution
This ball is best used on indoor courts. Using it on outdoor surfaces may lead to premature wear and tear.
DribbleUp Smart Training Basketball
This product can be used on both indoor and outdoor surfaces, making it one of the most versatile balls you'll find.
See Our Final Basketball Reviews
Improve your game without blowing your budget with this affordable ball from Spalding, a leader in the sporting goods industry. This is the ideal product for a game of street ball, as it is made with a high performance rubber designed to bounce easily on hard surfaces while withstanding wear and tear from heavy use.
This is an NBA-approved ball, and it comes in a standard regulation size. For smaller hands and players, a smaller version is available. This has wide channels to provide excellent grip and control of the ball, and a durable exterior that's comparable to leather, only at a fraction of the price.
Pros:
Very affordable
It is designed to be used on hard or rough surfaces outdoors
It is easy to handle
Comes in two different sizes, including regulation size
It can also be used indoors, although it is best for outdoor street ball
Cons:
The ball is very hard
Though it is affordable, it is not as durable as leather or even composite leather balls
It deflates faster than more high-quality, expensive balls
Get your game on with this ball from Wilson that is designed for indoor use on the courts. This ball is made with a core of foam and rubber to give it excellent bounce during gameplay. The microfiber composite leather looks and feels just like the real thing, only you won't pay too much for this affordable product.
Other standout features include a great grip for exceptional ball handling, and it isn't hard and rough on the hands like cheaper rubber balls. It is available at a great price point, and it offers performance and durability that can't be matched for this price.
Pros:
This is an official high-school game basketball, so it's a good choice for players who want to practice or coaches who need additional balls
It has good bounce
It is very durable
Looks and feels just like genuine leather at a fraction of the price
It is ideal for indoor use
It has great grip
Cons:
Not made to play outdoors
While it is comparable to a leather ball, it doesn't have as much longevity and may go flat or become damaged more easily than a more expensive ball
This ball is innovative in that it combines the solid quality of a traditional basketball with modern technology. The sensor built within this ball keeps track of the stats of up to four players. Each player can download a free app for iOS and keep track of their stats, making this a great ball to use for competition or just to improve skills out on the court.
This is made with a high-quality microfiber material that is soft yet durable. It offers great bounce, and it's made with weather-resistant materials that make it a good choice for indoor or outdoor use. It's easy to activate the sensor too, just by bouncing the ball four times. Once activated, it has a sleep mode when not in use, and it can be used for up to 8 hours of gameplay. A wireless charger comes with your purchase.
This ball comes in two different sizes, including 29.5 inch regulation size. It has a durable design so you can play game after game while tracking your stats and improving your skills.
Pros:
Built-in sensor that works with a free app to keep track of your stats
Made with a microfiber material that is soft, durable, and able to handle heavy use
It comes in two different sizes
It has a good grip
The app is easy to download and use
It is a great training tool
Cons:
The Bottom Line
If you're going to play basketball, whether competitively or just recreationally, you have to have a the best ball. If you really want to invest in the best, give the DribbleUp Smart Training Basketball a try. This ball combines high-quality materials with modern technology to provide you with a ball that's fun to play with, as well as one that tracks your personal stats, so you can easily see where you need to improve. This isn't just a training aid, though. The overall design, grip, and materials make this a ball that's ideal for any game or practice.