Some links on this page are monetized by affiliate programs - see disclosure for details.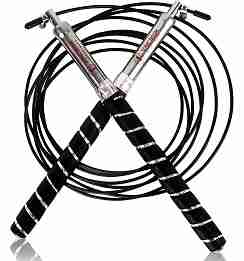 As a child, you may remember using a jump rope. Jump roping was something almost everyone did in gym class, even using it to raise money for charities and for school fundraisers, and even outside of school. Jumping rope takes skill endurance, and even though it's fun, it provides an excellent workout.
This is why jump ropes have went from the school yard to the households of many adults, as well as popular Crossfit gyms. If you want a challenging yet fun workout that doesn't require a ton of bulky, expensive equipment, read on to find out more about bringing the fun of jumping rope into your home.
Start Here: A Guide to Jump Ropes
A jump rope is a long rope that is used for fun and exercise. At each end of the rope, there is a handle that you can hold comfortably in your hand so you don't get rope burn. The length of the rope is just long enough to go over and under you as you rotate it and jump over it. Longer jump ropes are available for team efforts, like double dutch. However, individual ropes are by far the most popular and are what are used in various fitness classes around the world for toning, tightening, and burning calories.
You may be interested in: Our guide to the top olympic weight plates
What are the different types of Jump Ropes?
If you want to kick up your fitness level without investing in a ton of equipment that takes up all of your extra floor space, jump roping provides an excellent workout. Before getting started, though, you need to know the different types of ropes so you can decide which product will best help you hit your fitness goals.
Beaded jump ropes – These jump ropes are in school gymnasiums all around the world. They consist of a nylon cord with plastic beads strung from end to end. These are very durable and are effective for helping you establish a rhythm, although they are not commonly used in fitness gyms.
Nylon ropes – These are very lightweight. These are most commonly what adults use when jumping rope for health benefits.
Double dutch ropes – These are longer and come in sets of two. These are used for team sports, and there are even competitions held around the world for the fastest jumpers who integrate lots of great tricks into their routines.
Kids' ropes – These can be made of nylon, leather, or can be beaded, but they are all designed in shorter lengths for kids of all ages.
Wire ropes – These are the most lightweight and are designed for speed. These are very popular for use in gyms, and these ropes are also used in activities like MMA training and Crossfit.
What are the Advantages of Owning a Jump Rope?
Jumping rope does take skill, but with practice, almost anyone can do it. Not only is it fun, but it is a great way to burn fat and calories to lose weight, as well as to tone and tighten everything from your legs to your abs and core. You'll get in better shape and stronger just with jumping rope daily. It doesn't have to be repetitive, either. You can go to a gym where they create routines for jumping classes, DVDs that show you the moves, or you can make your own routine even more challenging by rotating the rope backwards or crossing it as you jump.
You won't have to worry about paying hundreds or thousands of dollars for huge equipment that takes over your home, and you also won't have to pay monthly gym membership fees if you opt to jump at home. Jumping rope is a fun way to stay in shape without having to make a huge investment.
Who are the contenders for Best Jump Rope?
WodFitters Jump Rope – Whether you're enjoying cardio in your own home, you're hitting the local gym, or you participate in programs like Crossfit, this is a great, inexpensive rope to add to your workout. It is made with heavy-duty wire that is thinner and more lightweight than traditional nylon ropes, allowing you to easily build up speed for the most intense workout. This affordable rope has lots of great features, including comfortable handles and a durable design that not only rotates with ease but also can take a beating.
Crux Gear Jump Rope – It doesn't matter if you're a beginner or if you've been jumping rope for some time – this rope is a great investment. It's at a mid-level price point, so you won't spend too much, but you won't get a cheap product, either. This has a wire design, so it's lightweight and designed for ultimate speed and calorie burning. This comes as a package deal, providing you with great extras like an additional wire and a carrying case for easy portability.
Sonic Boom Speed Rope – You'll have a workout like no other with this rope, which has used innovative features to create a truly superior product. The patent-pending ball bearing system and weight-balanced handles make this rope one that can go from a simple workout for a beginner to a high-speed cardio workout that really works up a sweat. This rope is lightweight, easy to use, and backed with an incredible warranty that you won't find with most other products.
Considerations for Choosing the Best Jump Rope
If all of this sounds appealing to you and you're ready to whip your body into the best shape ever, the next step is to purchase the perfect rope. However, if you're new to this activity, you might not know what to look for. Before you buy a rope that just doesn't provide what you need, keep these four things in mind while you shop.
Price
In general, these ropes aren't very expensive. However, you should expect to pay extra for ones that come with extra accessories, are made of more durable materials, and come with a better warranty. If you're a beginner and just want to try it out, a basic rope may work but if you plan to really get into this physical activity, you'll want to invest in a higher-quality rope.
Warranty
With regular use, you may find that your rope shows wear and tear. Most of the latest ropes use the best materials that can easily last for years, even with daily use. However, sometimes, you may encounter problems. A handle may break, for example, or the rope may snap. If this happens prematurely, you can get a replacement or the needed repairs if it is caused by a manufacturer's defect that is covered by a warranty.
Extras
When considering the price, you also want to see what else is included with your purchase. One rope may be very inexpensive, but a slightly more expensive product may contain workout DVDs, instructional charts, and other accessories to help you in your fitness endeavor.
Best uses
If you just want to use your rope in the comfort of your own home, just about any one will do provided it is the right length. However, if you plan to do some serious training or participate in workouts like Crossfit, you want to find a specialized rope that is designed for intensive use.
Price
WODFitters Jump Rope
This is a very affordable rope that's good for beginners and pros alike.
Crux Gear Rope
You can purchase this mid-priced rope for just a bit more than the model above.
Sonic Boom Rope
This is a high-end rope that is slightly more expensive than similar products.
Warranty
WODFitters Jump Rope
Even with its low price, it comes backed with a lifetime warranty.
Crux Gear Rope
This comes with a lifetime warranty, as well as a 100 percent satisfaction guarantee.
Sonic Boom Rope
This rope is backed with a lifetime warranty to ensure your complete satisfaction.
Extras
WODFitters Jump Rope
You'll receive a small storage bag with your purchase.
Crux Gear Rope
This package comes with everything you need, including the rope, an extra wire and screws, a carrying bag, an ebook, and video training to help you master your fitness goals.
Sonic Boom Rope
This rope doesn't come with any additional accessories or training materials.
Best use
WODFitters Jump Rope
This is ideal for most uses, including for beginners, Crossfit classes, and home workouts.
Crux Gear Rope
Good choice for any type of workout, including home cardio, MMA training, boxing training, UFC training, and Crossfit.
Sonic Boom Rope
This rope is designed for speed, and it's perfect for Crossfit WOD, MMA, UFC, boxing, or even just to use at home.
Conclusion: Our Jump Rope Reviews Are In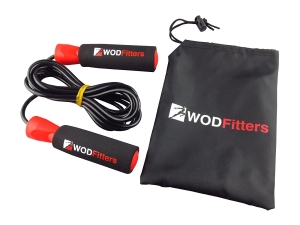 If you want to get into this fun cardio activity but you want to ease into it without spending a lot of money, this rope is great because it's priced so low. This rope is great for your home workouts, but it's heavy-duty enough to take to the gym with you, as well. It is made with lightweight wire that allows you to increase your speed for the ultimate workout.
The handles are lightweight, yet very strong and sturdy. They are also a long length, so they're comfortable to handle, even with higher speeds. It has double ball bearings for smooth, even rotations that makes this a great rope for learning, as well as for more intense workouts.
Pros:
Very affordable
It is made with durable cable
Comes backed with a lifetime warranty
It is very easy to use, even for beginners, children, and pregnant women
It is very lightweight
The handles are long, sturdy, and easy to hold during fast workouts
Cons:
It isn't ideal for those who want a heavier rope.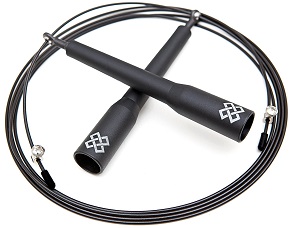 You won't have to buy multiple items separately to get your fitness on when you choose this rope from Cruz Gear, which comes as a package deal. The first thing you'll receive is a high-quality rope made of sturdy and lightweight cable. This allows you to easily pick up speed to get your heart pumping. It has internal ball bearings for smooth rotations, and sturdy handles that are easy to grip at fast speeds.
If you're a beginner and don't know how to use a jump rope for fitness or you want to amp up your current routine, this package comes with workout videos and an ebook that provides you with helpful tips to get the most from this activity. You'll also receive a carrying bag so you can take it with you while you travel or to the gym. Finally, you get a spare wire to really enhance your workout.
Pros:
The lightweight design and internal ball bearings give this a clean swing, perfect for double unders and other difficult maneuvers
It comes with multiple extras
Lifetime warranty
It has a 90-day 100 percent satisfaction guarantee
It is lightweight and very portable, especially in the carrying bag
You get two different wires to provide the ultimate workout
The length is easy to adjust
Cons:
Some jumpers may not like the design of the flared handles
The rope isn't for use on concrete or asphalt, as it may wear out quite quickly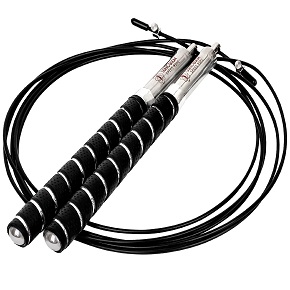 Put a little extra boom in your workout with this great rope, which was designed with speed in mind. You'll be able to nail your Crossfit WOD or work up a sweat in your living room when you use this rope, which is made with a thin nylon coated in high-quality PVC for strength and durability. It has an internal, patent-pending ball bearing system that allows you to swing the rope in a perfect arc and really gain speed for the toughest workout.
The handles are long, comfortable, and feature sweatbands that help you keep your grip, even when you're sweating through a difficult cardio workout. The handles have balanced weight, as well, for a more natural feel when you're picking up speed. Best of all, you never have to worry about something happening to this rope. It includes a no-hassle guarantee for the life of the product.
Pros:
It is made with tough steel coated in PVC so it's extremely durable
The sweatbands on the handles are easy to grip
It swings smoothly because of the ball bearing design
Handles increased speeds well
Comes with a lifetime guarantee for complete satisfaction
Easy to shorten
It is great for kids and adults of all ages
Works well for beginners or experts
Cons:
It doesn't come with any additional accessories
Some may not like the longer handles
All in All
Who says you have to lift weights, spend tedious amounts of time on a treadmill, or do a workout that's just not fun in order to get in great shape? With the best jump rope, you can tone up anywhere – from the beach to your backyard to your own living room – with just one piece of equipment.
No matter what your skill level is, the Sonic Boom rope is a great choice. It utilizes quality materials and is designed for performance so you can get a jump on a challenging workout and good health.