Some links on this page are monetized by affiliate programs - see disclosure for details.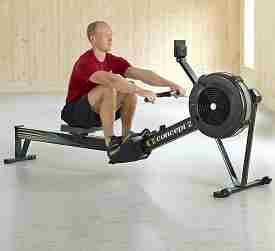 Rowing is a sport that is enjoyed by many, not just because of the scenery, but because it is an excellent way to keep in shape. When you row a boat, you work your arms, legs, core, and other areas of your body to get a total body workout. However, in many cases, rowing a boat out on the lake just isn't feasible. If a calm body of water isn't centrally located, you won't be able to go rowing often. Also, purchasing a boat and all of the gear you need can be expensive, not to mention that you can't practically do it in inclement weather.
If you want to reap all of the health and fitness benefits of rowing without having to lug a heavy, expensive boat to the lake every day, an indoor rowing machine is a great alternative.
What is a Rowing Machine?
A rowing machine is a type of workout equipment that is used to give you a total body workout. The design of these machines is meant to help emulate the motions you would use while rowing a boat, which is a surprisingly challenging and effective workout. With one of these machines, you don't have to own a boat, and you don't have to be outside in the hot or cold weather or fight with rain. These can be placed right in your own workout room or other space in your home to give you a challenging workout every day.
These machines are designed with one or two handles which are used to pull yourself forwards and backwards, bending and working your legs as you do so for a complete workout with just one piece of equipment.
What are the different types of Rowers?
Once you've decided you want to take your workout from the gym to your own home, purchasing a rower is a great way to do so. Since there are several types to choose from, though, you don't want to just purchase one without doing your research. Before you buy, take note of the four main types of machines available for home use.
• Magnetic – These use a combination of a flywheel and strong magnets to operate. These are the most popular type for household use because they are quiet and row very smoothly.
• Hydraulic – These move using hydraulic cylinders. They are small and operate quietly, but do not move as smoothly as other types of machines.
• Air – These move using air that flows over a flywheel. They generally produce a wide range of resistance for a challenging workout, but they can be quite noisy.
• Water – A water tank and a flywheel work together to power this machine, which is both smooth and very quiet. However, these are generally the most expensive, and they can be quite large, so if you purchase one, it should have its own dedicated space.
What are the Advantages of Owning a Rowing Machine?
You can pay hundred or even thousands of dollars per year on a gym membership. After you get off work, getting into your gym clothes, then driving to a different location can be a real pain, as well. Instead of paying money each month and driving miles out of your way just to get a good workout, why not do it at home with your own rower?
With just one machine, you can get a full body workout. Whether you want to lose weight or you just want to tone and tighten your problem areas, this is the right machine for you.
Which Rowers Should You Consider?
Kettler Favorit Rowing Machine – Get in the best shape ever without even leaving your home with this rower, which doesn't cost thousands of dollars, so it's great if you're on a budget. This model has a lot of extra features you'll find on much more expensive machines, including a comfortable ergonomic seat, a hydraulic system that provides you with smooth performance, and a computer display that helps you keep up with your stats to stay on top of your fitness goals.
Concept2 Model D Indoor Rowing Machine with PM5 – Quiet and smooth are just two adjectives that can be used to describe this great machine. You'll glide smoothly through your workouts and enjoy a quiet session with this innovative machine which is about average in price when compared to other high-quality household rowers. This is also an excellent choice if you have very little storage space, as it breaks into two parts for easy storage and has attached casters that make it easy to move from room to room as needed.
WaterRower Club Rowing Machine in Ash Wood with S4 Monitor – Bring the smoothness of the water inside with this machine, which utilizes a water rower design for smoothness and quiet performance that just can't be matched. You'll be able to enjoy a real rowing feel when you sit on this machine, and you can easily track your workout stats on the onboard computer. This is a high-end model that provides multiple resistance levels for continuously challenging workouts.
Considerations for Choosing the Right Rower
Drop that pricey gym membership and tighten, tone, and lose inches right at home with one of these machines. Before you dive headfirst into purchasing a rower, though, you want to make sure that the machine you buy is easy to use, performs well, and provides you with the challenge you need to whip your body into shape. This is why it's necessary to look over the specs of each machine you may want to buy to ensure you've made the right decision.
Warranty
You want to feel good about your purchase, and after doing your research, you should. However, sometimes things happen that you just can't control. A design flaw or a problem that occurred during the manufacturing process that shouldn't have happened, leading to problems with your machine. You shouldn't be liable for these flaws, and you won't be if you purchase a product backed with a warranty.
Type
As has already been mentioned, there are multiple types of machines. The type that you choose makes a difference in the noise output, the smoothness of the rowing machine, and the overall quality. It also primarily determines the price. Make sure you understand the advantages and disadvantages of each type to make the decision that's best for you.
Mobility
If you have a dedicated fitness room, the size and weight of your machine probably doesn't matter as long as it high-quality and durable. However, if you plan on moving your machine from room to room or from a room into a storage closet, look for lighter models that pull apart and come with wheels or casters for portability.
Warranty
Kettler Favorit
This is backed with a 3-year parts warranty and a limited lifetime warranty on the frame.
Concept2 Model D
A 5-year warranty covers your frame, and all other parts are backed with a 2-year manufacturer's warranty.
WaterRower Club Machine
Registering your product gives you a 5-year frame warranty and three years on all components.
Type
Kettler Favorit
Hydraulic cylinders work to create the motion that gives you a great workout on this machine.
Concept2 Model D
This has a flywheel design that provides you with a smooth and easy workout.
WaterRower Club Machine
This model has a water tank flywheel that provides you with the smoothest and most realistic rowing experience.
Mobility
Kettler Favorit
This unit weighs 250 pounds and does not come apart or have casters, so it is best for using in a dedicated space.
Concept2 Model D
This model weighs less than 100 pounds, pulls into two parts, and has casters so it's easy to move and store when not in use.
WaterRower Club Machine
This one weighs 117 pounds and the frame flips upright so you can easily store it.
Conclusion: Our Rowing Machine Reviews Are In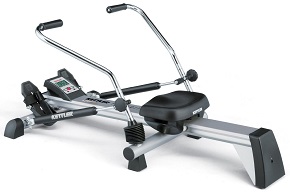 You'll be amazed at the money you save when you drop your monthly gym membership and purchase this affordable fitness machine, which is priced at less than $500. As far as more inexpensive models go, this is simply one of the best. It utilizes hydraulic chambers to provide you with smooth movements and continuous resistance so you can always challenge yourself.
You can always make sure you're working out to your limit with the onboard computer, which tracks stats including speed of strokes, number of strokes, your distance, and total time on the machine. It also comes with an earlobe clip that tracks your heart monitor so you always stay in your target zone. It has a weight limit of 285 pounds, has non-skid feet so you can use it on any surface, has a durable steel frame, and comes backed with a great warranty so you know you'll get lots of use out of this machine.
Pros:
It comes at an affordable price. It has an excellent warranty for this price point. The resistance is easy to adjust. It has an onboard computer that keeps up with all of your stats. It has a comfortable padded seat. It has foot straps for safety and comfort.
Cons:
The heartbeat clip may come off when you row back since the cord is quite short. Resistance may loosen as your work out. It isn't as smooth as other machines. It can be difficult to assemble.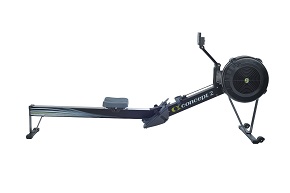 Don't avoid buying a rower because ones you've used in the past were just too noisy. With the flywheel design on this model, you'll find that it stays very quiet, even during your toughest workouts. It operates smoothly, has multiple levels of resistance, and comes with a Performance Monitor 5 for accurate tracking of distance, pace, speed, and calories burned. The display is backlit, so you can easily see it in any type of lighting, and the menus are very user-friendly.
This unit utilizes many modern features you won't find on lower-end models, including Bluetooth capability and the option to upload or download your stats using a USB drive, sold separately. This allows you to effectively track your workouts and keep up with your fitness goals. When you're finished working out for the day, this unit easily disassembles into two pieces and has casters that let you move it to a storage area.
Pros:
It comes backed with a warranty. It can be synced with a phone or USB flash drive to transfer your stats. It is very smooth. It is extremely quiet when in use. It is very portable and easy to store. The menus are easy to use. It feels stable and is very durable. It has a 500-pound capacity.
Cons:
The PM5 software may freeze from time to time. The foot straps aren't comfortable and may need to be replaced. It is priced on the higher end of the pricing scale.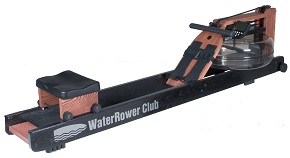 Rowers that utilize water tanks are the most expensive, but they're growing in popularity because of how closely they mimic actually rowing in water. This machine perfectly demonstrates that feature, as it utilizes a water tank and flywheel that provide you with a smooth ride and varying levels of resistance. It is also very quiet, so you can use it in high-traffic areas of your home without disturbing others.
Other notable features of this model include a solid ash frame that is not only attractive, but it also helps absorb sound, making it much more quiet in operation than lower-quality machines. The Series 4 monitor tracks your stats, including distance, speed, and time spent on the machine among other information. This handcrafted machine doesn't have multiple moving parts that can fail over time, so you know it will last through years of tough workouts. It comes backed with a warranty, and the frame folds upright for easy storage when you're finished.
Pros:
This is a high-quality machine that can be used in home or at commercial gyms. The movement is smooth, fluid, and completely outperforms many other models on the market. The oak frame is very durable and attractive. The seat is very durable and comfortable. It comes backed with a warranty. It is easy to store. It is easy to use. It self-adjusts your resistance level. It has an onboard computer for accurate tracking. It works on all flooring types.
Cons:
The software is inferior to other more popular types of software. It is quite expensive. The plastic water tank may crack over time. You have to register to get the extended manufacturer's warranty.
Contrary to popular belief, you don't have to use multiple pieces of fitness equipment to get a great full body workout. A rowing machine is the only piece that you need to get in the best shape of your life. When you purchase your own, you can work out right at home without having to drive to a gym or pay outrageous monthly dues. For a quiet and smooth workout unlike any other, invest your money in the WaterRower Club Machine.
This superior rower utilizes water and a flywheel for smooth and fluid movements that automatically adjust to give you a challenging workout. Despite its higher price, its overall performance is truly unmatched by less expensive rowers.