Some links on this page are monetized by affiliate programs - see disclosure for details.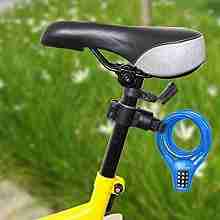 Bicycling has become a very popular pastime. No longer just reserved for children, more adults are now pulling out their bikes and using them for a variety of reasons. Whether they're preparing for a race or triathlon, reaping the health benefits that come with riding a bike, or just commuting in a more eco-friendly way, bicycles are being used more than ever.
The problem with riding a bike is that, unlike a car, you can't just hit a button on your key to lock it up and prevent theft. This doesn't mean that you should just leave your mode of transportation vulnerable to thieves. It simply means you need to invest in a highly rated bicycle lock to keep your investment safe.
Compare: The 10 Top Rated Bicycle Locks of 2017

What is a Bicycle Lock?
A bicycle lock is used to keep your bike secure when you're not around. Once you've reached your destination, whether it's your job, a store, or the park, you don't want to leave your bike behind for a thief to just take it from you. Bikes can be very expensive, and you want to protect your investment, and a bicycle lock is designed to do just that.
With one of these locks, you can securely attach your bicycle at a bicycle rack so you don't have to worry about it going missing while you're away. A good lock provides a solid design, versatility, and ease of use, in addition to a great warranty and protection in the event of a failure of the product.
What are the Advantages?
High end bikes are an investment. Even if your bike isn't terribly expensive, it's important that you can keep your property safely locked up while unattended. You won't have to worry about bringing your bike with you if you want to explore your city on foot, and you want have to spend your working hours peeking out the door or window to make sure your bike is where you left it.
You can use your lock while you're away from home, and you can also use it at home when storing your bike in your garage or shed for additional security.
What are the Different Types?
You'll find that there are a variety of different locks designed to keep your cycle secure when you're not around to guard it. Before you make your purchase, find out more about the different types to determine which is best for you.
U-Locks – These locks are horseshoe-shaped, and they are used to connect one wheel and your frame to a rack, post, or other solid object to prevent theft.
Chain – This is a small length of chain that is used to attach your bike to a stationary object. Some have the locking mechanism built in, while others require a separate padlock.
Cable – These are similar to chain locks, but they are made with a thick cable. These may have a lock that is built into the design, while others require a separate lock. These are generally the least secure, and may be used in conjunction with another more secure lock.
O-locks – These stay mounted to the bike and work much like a boot on a vehicle by disabling the wheel from moving.
Which Bike Locks are the Best on the Market in 2015?
Wheel 'N Spoke Cable Lock – If you want security for an affordable price, this lock offers everything you need for one low price. This lock is made with heavy-duty braided cable that makes it more difficult to cut through, and it comes equipped with a combination lock so you don't have to buy one separately. This lock is lightweight, easy to carry around with you when not in use, and comes backed with a fantastic guarantee to ensure your satisfaction.
Kryptonite KryptoLok Series 2 LS U-Lock – Thieves won't be able to cut through the hardened steel that makes up this lock, which is one of the most secure and top-rated on the market. This also has a high-security design that makes it a standout when compared to other U-locks.
OnGuard Double-Team PITBULL U-Lock and Cable – Get double the protection with just one lock with this OnGuard product. You'll have the security of a U-lock combined with the added protection of a cable lock all with just one unit. This is one of the strongest, most versatile locks on the market and provides security you can count on.
Features to Think About
Why put your expensive bike at risk for thieves? No matter where you go, a thief can strike and take your hard-earned belongings, but you can prevent this by simply using a lock when you aren't using your bike. Now that you know more about the types available and a few popular choices, it's time to evaluate the features that make each product stand out from the rest.
Type
As mentioned, there are multiple types of locks, and you need to consider where you will be securing your bike. A smaller U-lock won't fit around a large tree, while a long cable lock may not be required for securing to a bike rack.
Warranty
You want to make sure you're buying a great product and to do that, look for a unit that comes backed with a warranty. This ensures premature failure of your lock doesn't render it useless and leave you stuck with having to purchase a different product. A warranty protects your product from defects in craftsmanship, so you can feel confident that you have a high-quality product.
Length/Size
You have to make sure that you purchase a lock that is large enough to fit around a pole, tree, or bike rack, but you also don't want it to be so large that it doesn't work properly. Locks comes in a variety of sizes, so you can purchase the right fit for your cycle.
Type
Wheel 'N Spoke Cable
This is a self-coiling cable lock.
Kryptonite KryptoLok Series 2 LS U-Lock
This is a strong and sturdy U-lock.
OnGuard Double-Team PITBULL U-Lock and Cable
This is a combination U-lock and cable lock for added security.
Warranty
Wheel 'N Spoke Cable
This unit comes with a lifetime warranty, so you know you're buying a great product.
Kryptonite KryptoLok Series 2 LS U-Lock
With a lifetime warranty, you won't have to worry about the security of this product.
OnGuard Double-Team PITBULL U-Lock and Cable
This lock comes backed with a lifetime warranty.
Length/Size
Wheel 'N Spoke Cable
This has a length of four feet, making it the ideal solution for securing to larger items.
Kryptonite KryptoLok Series 2 LS U-Lock
This lock measures 4 by 11 ½ inches.
OnGuard Double-Team PITBULL U-Lock and Cable
This product has a 4.5 by 9 inch shackle and a cable that measure four feet.
Our Bicycle Lock Reviews
If what you want is a lock that is lightweight, affordable, but very secure, this one should be on your list. This lock is a great choice for securing your cycle while you're away. The self-coiling design expands up to four feet, so you can secure your belongings to larger stationary objects. You won't even have to invest in an additional padlock, as this one is equipped with a dial padlock that has a changeable combination, so you can make your own instead of struggling to remember a random number.
The security of this lock is incredible, as it is made with PVC-coated braided steel that is resistant to cutting or breaking. In fact, it is backed with a money back guarantee if it is ever cut or broken, so you can't go wrong with this purchase.
Pros:
It is very secure. It is available at an affordable price. You can set and reset the combination for ultimate security. It is made with high quality materials. Comes with a money back guarantee against breaking or cutting. It is long enough to fit around large objects.
Cons:
The bike mount bracket does not come with instructions, so it may be difficult to install. Since it is a cable, it is easier to break than thicker, sturdier locks.
You can ride your bike anywhere you want to go and relax knowing its safe while parked when you've locked it up with this unit from Kryptonite. This is one of the toughest locks on the market, boasting a 13mm steel shaft that is resistant to cutting, prying, twisting, or breaking.
This lock is resistant to cutting and leverage, so you can feel secure while using it. It is equipped with a dust cover that protects your cylinder, a drill-resistant cylinder, and rotates 360 degrees to make it easier to use. Two keys are included with your lock.
Pros:
It is very strong and durable. Multiple security features. Rotates 360 degrees, so it's more versatile and works with your frame.
Cons:
The mounting bracket feels low quality. It's a bit heavy.
Why rely on just one lock when you can have two? Instead of purchasing two locks, you can get the benefits of both a cable lock and a U-Lock with this product from OnGuard. You can feel safer than ever when you leave your property behind knowing that you have the security of two strong locks keeping your bike right where you left it.
With this lock, you get a U-Lock with a 14mm hardened steel shaft that is resistant to prying and cutting, along with a 4-foot braided steel cable for additional protection. This unit comes with a warranty and an anti-theft plan. It includes five keys, including one with an LED light for easy opening in the dark. The unit also includes a mounting bracket. It has keyway covers to protect your lock from the elements. It's easy to place, and it is extra secure, all for less than the cost of buying two separate locks.
Pros:
This is a very strong lock. It combines two strong locks in one convenient design. It has a lifetime warranty and anti-theft plan. Made with high quality materials. The bracket is sturdy and easy to mount.
Cons:
It is a bit large and bulky. It is quite heavy, heavier than other locks on the market.
All in All
Why put your bike at risk for theft when you can easily protect it with a bicycle lock? A high-quality lock pays for itself, as it potentially saves you hundreds or even thousands of dollars when it prevents thieves from taking your property. Even though it may be tempting to purchase a very cheap lock, you don't want to put your property at risk, which is why you should consider the OnGuard Double-Team PITBULL U-Lock and Cable. Even though it is a bit more expensive than other locks, this one combines two secure devices into one great product. This lock is easy to use, very secure, comes with multiple spare keys, and ensures your bike is exactly where you left it, no matter where you go.