Some links on this page are monetized by affiliate programs - see disclosure for details.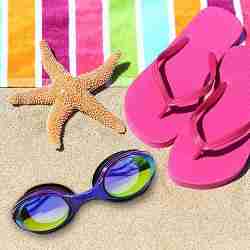 Whether you swim in the pool for fun or for sport, one thing is for sure – the chlorine and chemicals in the pool can really pull a number on your eyes. If you swim underwater, opening your eyes may result in eyes that are red and painful for the rest of the day, something you certainly don't want after enjoying a relaxing or competitive swim.
Maybe you're hitting the beach, and you want to use your snorkel to check out all of the local marine life. You can't exactly keep your eyes open in the harsh saltwater. If you plan on being in the water and you want to swim or explore without irritating your eyes, you need to invest in a pair of swim goggles.
Compare: The Top Rated Swim Goggles of 2018

A Guide To Buying The Best Swim Goggles
Swim goggles are a type of eyewear that is used when in the water. They can be used in all types of bodies of water, including lakes, oceans, and swimming pools. These are designed to form a tight seal around your eyes so that you can open your eyes without the harsh chemicals or salt burning your eyes.
You can see clearly through these goggles, so they are an excellent choice for swimming in competitions (where you need to see the finish line), as well as for underwater exploration.
What are the different types?
There are several different types of goggles available for purchase. Before you make your purchase, make sure you know what type is best for you, usually distinguished by the way you plan to use them.
Competitive goggles
If you're a competitive swimmer, there are a must for your pool bag. These are low profile and designed to fit very snugly against the face. The overall design prevents dragging in the water, which could be crucial in a competition. These can be used for practice or for recreational use. However, some swimmers find them uncomfortable to wear on a regular basis. These are typically more expensive than most other types of goggles.
Practice goggles
These are not as high-quality as competitive goggles, but that doesn't mean they're just junk. They are just designed to be more comfortable for regular wear.
Recreational goggles
These are usually far less expensive than competitive goggles, and they may come in a variety of styles, sizes, and colors. These can be worn by children or adults, and they're typically used when splashing around in the pool or ocean.
Swim masks
These go beyond just protecting your eyes – they also protect your nose, too. These are best for using when spending extended periods of time underwater exploring. They are best used for snorkeling, scuba diving, or just playing around in a lake or ocean. They are typically larger and much heavier than other types of goggles.
What are the Benefits of Having a Great Pair of Swim Goggles?
If you spend a lot of time in the water, you'll want to invest in a pair of high-quality goggles. Even if you don't have sensitive eyes, extended exposure to salt water and chlorine can lead to burning, itching, pain, or eyes that are just very red. Instead of irritating your eyes, you can wear a pair of goggles and see clearly, whether you are just looking at the fish in the ocean or competing in a race.
Think of goggles as eye protection that you wear while in the water that helps you avoid irritation and pain later. If you buy a pair with UV protection, you can also keep your eyes protected from the sun's harmful rays while you're swimming outdoors.
Who are the contenders for Best on Amazon?
This budget-friendly pair is very competitive with more expensive versions with a much lower price tag. Just because they're inexpensive doesn't mean they're cheap. You'll find a lot of great features on this affordable pair, which are perfect for competition. Standout features include anti-fog protection, UV protection, and a double strap that keeps them securely in place, even during your toughest, fastest competition races.
Explore all that the underwater environment has to offer with this swim mask, which is more lightweight and not as bulky as less expensive versions. These are designed with anti-fog properties, so you can always have a perfect view anywhere under water. They fit snugly on the face to prevent water from creeping in, but they still remain very comfortable. They even come with UV protection to protect your eyes from the sun, and they don't have a very expensive price tag, either.
These goggles comes with everything you need for all of your water activities, both indoor and out. This pair is fully adjustable to fit men, women, and kids of all ages. They are very comfortable, boast an anti-fog lining, and are designed with some of the best lenses you'll find. They also come with a guaranteed refund.
Considerations for Choosing the Best Swim Goggles
Whether you swim in competitions often or you just want to keep your pool house stocked with accessories for the kids or grandkids, swimming goggles are must-haves every time you're near the water. It doesn't matter if you're buying for the first time or you're just replacing an old pair – the buying process can get a bit overwhelming. There are so many colors, designs, sizes, and brands to choose from, and even an experienced swimmer who has made a purchase before may be stumped as to which goggles to buy. Instead of getting frustrated, keep an eye out for these four features in every pair you're considering so that you can make the best purchase.
Price
Goggles can cost anywhere from a few dollars to a cheap pair that can be used once or twice to $50 or more for a competition pair. If you just plan on using yours occasionally, a cheaper pair may do the job, but if you compete, you'll want to invest in a higher quality pair that can endure lots of use.
Warranty
If you buy a product based on its description, it's not unreasonable to expect the product to perform as promised. If you have an issue with your goggles that is due to a manufacturer's defect of some sort, a warranty makes sure that you get a pair that stands up to your expectations.
Colors
If you have a specific team color or preference, make sure that you purchase a pair in your favorite color. Goggles come in all colors, from neutral black or white to bright pink or teal.
Protection
You should expect for your goggles to protect your eyes from the water, but if you plan on being outdoors, look for goggles with UV protection. Anti-fog protection is also great to have to prevent your goggles from fogging up so that you can't see, which could be critical in a competition setting.
Price
Swimtastic Pro-X
This is an affordable, high-quality pair that you can use for recreational purposes or even for competitions or practice.
Aqua Sphere Seal Swim Mask
This mask is a bit more expensive than other masks. However, it is less bulky, more lightweight, and performs better than cheaper versions.
GDEALER Swimming Goggles
These GDEALER goggles offer superbly high value at a very reasonable price.
Warranty
Swimtastic Pro-X
A limited 1-year warranty is included with your purchase.
Aqua Sphere Seal Swim Mask
Your purchase is backed with a 1-year limited manufacturer's warranty.
GDEALER Swimming Goggles
These are backed with a guaranteed refund should you be dissatisfied with the product you receive.
Colors
Swimtastic Pro-X
You'll have your choice from Black, Purple, Red, and Blue.
Aqua Sphere Seal Swim Mask
These come in Blue/White Metallic, White/Red, Black/Tinted Lens, Transparent/Clear Lens, Silver/Black/Clear Lens, and Black/Green.
GDEALER Swimming Goggles
These goggles are available in blue only.
Protection
Swimtastic Pro-X
These goggles have fog-free lenses and come with UV protection, so they're perfect for indoor and outdoor use.
Aqua Sphere Seal Swim Mask
These are anti-scratch, anti-fog, and have 100 percent UV protection.
GDEALER Swimming Goggles
These are anti-fog and also provide UV protection for outdoor swimming.
Final Results: All Reviews Are In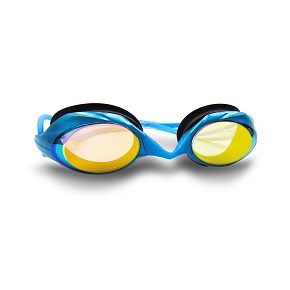 If you're looking for a pair of professional goggles without the outrageous price tag, this pair from Swimtastic offers everything you're looking for. These goggles form a tight seal so you never have to worry about water seeping in during your competition. They are anti-fog, regardless of the temperature of the environment or the water, so you can always see clearly. They also come with UV protection to keep your eyes protected while you're out in the sun.
If you've struggled with uncomfortable goggles in the past, these have interchangeable nose pieces so you can find your perfect fit. Other features that make this pair stand out from the pack include high-quality polycarbonate lenses, double straps to keep them securely in place, and an adjustable design so they can be worn by men, women, and kids. You'll also receive a free set of ear plugs with your purchase.
Pros:
The soft silicon makes them comfortable to wear
They adjust to multiple sizes
You can change the nose piece for the most comfort and protection
They block out UV rays
Anti-fog lenses
Very affordable
They come with a warranty
They come with a case
Available in multiple great colors
Cons:
They may fog up from time to time, moreso than more expensive goggles
They are too large for smaller children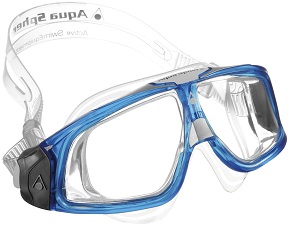 If goggles just aren't comfortable for you and you prefer to wear a mask, you'll love this mask from Aqua Sphere, which is much more lightweight and not as bulky as traditional swim masks. These have everything you could want in a mask, including high-quality anti-fog lenses that withstand log periods of being underwater, a comfortable seal that keeps water out, and lever buckles for easy adjustment for the perfect fit.
This mask has anti-scratch Plexisol lenses, a durable silicon design, and they offer 100 percent UV protection. You can choose from a variety of colors, and you can get tinted lenses for outdoor use or clear lenses that are ideal for indoor or low lighting conditions. These come backed with a 1-year limited warranty so you can feel good about your purchase.
Pros:
Comfortable
Affordable
Lightweight
Easy to adjust
Anti-scratch, anti-fog lenses
They offer UV protection
Great for swimming or for all types of sports and competitions
They offer 180 degree vision without distortion
Cons:
Lenses may pop out if they're dropped or subjected to rougher use
They may not fit wider heads
They don't offer protection for the nose, so they're not ideal for snorkeling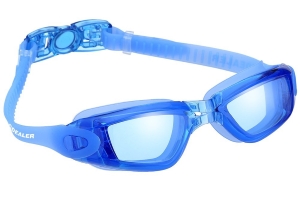 Get a pair of professional goggles without spending a fortune when you purchase this pair. These are designed for just about anything, from your upcoming competition to just splashing around in the pool with your friends and family. Despite having a lot of high-end features, these aren't as expensive as some competition goggles you'll find.
Some of the notable features of this pair include UV protection, a tight yet comfortable silicon seal, and anti-fog polycarbonate lenses. They are easy to adjust to sizes that fit men, women, and kids with ease.
With your purchase, you'll receive a pair of blue goggles as well as a durable, plastic carrying case. They are also backed with a guaranteed refund. If you're not happy with your purchase, you can return them and get all of your money back. This just goes to show what type of quality product you should expect when you purchase this pair.
Pros:
They offer anti-fog protection
They protect your eyes from UV rays
Easy to adjust
Silicon gaskets are comfortable and prevent water from leaking in
Ideal for all types of swimming, from recreational to competition
They come with a locking case for storage when not in use.
Cons:
The nose piece is difficult to switch
In Conclusion
After a fun day at the pool or after a long competition, the last thing you want to have to do is deal with eyes that are itchy, burning, or irritated, and you just can't avoid this without a pair of swimming goggles. If you want a pair that's designed to perform even through the toughest sports and competitions, the GDEALER Swimming Goggles are what you need.
These goggles stand out above the rest for their anti-fog properties, comfortable design, and satisfaction guarantee that truly can't be beat.