Some links on this page are monetized by affiliate programs - see disclosure for details.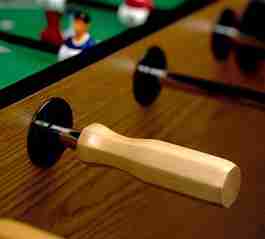 As a child, you probably spent at least some of your time in an arcade. When you're young, few things in life are more fun and exciting than playing games with your friends in an arcade. Whether it's playing air hockey or fighting the bad guys in a head-to-head battle, a video arcade is where memories are made.
If you want to bring that nostalgia to your own home with a game that's fun for your friends and family, adults and children of all ages, consider investing in a foosball table that guarantees hours of fun and friendly competition.
10 of the Best Foosball Tables of 2018

Introduction: What is a Foosball Table?
A foosball table is a tabletop soccer game. Each side of the table has handles attached to poles which rotate and move from one side to the other. Miniature plastic players are attached to each pole, and a goal is located at each end. The objective of the game is to rotate your players so that they kick a small plastic ball through the other player's figures to score goals, similar to a traditional game of soccer played on a field.
It takes timing and coordination to operate all of your poles, making it a fun challenge. This game is easy enough for children to play, but can also be difficult enough for adults as well.
What are the different types of Foosball Tables?
A foosball table is a great addition to your home for hours of fun with your friends and family. Before you make your purchase, though, make sure you know what types of tables are available, so you can make a purchase that works best for your household.
Standalone tables – These are the most common, and similar to those found in arcades, skating rinks, and bowling alleys. These are built like actual tables with legs that are used to support them. Typically, these are the largest and heaviest tables.
Tabletop tables – If you have limited space, consider a tabletop game table that doesn't have legs but instead, sits on top of a dining table, coffee table, or even the floor. These are smaller in size and portable, so you can move them around or even store them when not in use.
Multi-game tables – In addition to foosball, these tables can convert to allow you to play other games, including table tennis or air hockey. You can choose from standalone and tabletop versions.
Coin-operated tables – The other tables can be played as many times as you wish without paying a dime. With coin-operated tables, quarters are required to play each game. This type is best for businesses where customers have to pay to play.
What are the Advantages of Owning a Foosball Table?
These game tables are great for bonding with your friends and family. Hours can be spent having fun competitions, and kids can get in on the fun too. A foosball table is a great addition to a den, rec room, man cave, or other room in your home dedicated to fun, games, and entertainment. If you're a business owner, you can also pay for your machine and even begin making a small profit over time with a coin-operated machine.
You might also be interested in: Our Guide To The Best Electronic Dart Board
Who are the contenders for Best Foosball Table?
Hathaway Playoff Soccer Table – Your kids will go crazy when they see this foosball table, which is the perfect size for your little ones. This table is priced very affordably, but it's made of a combination of quality materials that make it perfect for household use. This table is easy to assemble and has the basic features you would find on high-end tables, including dual scoreboards, automatic ball return, and a bright, colorful design that will perfectly complement a playroom.
Chicago Gaming Signature Foosball Coffee Table – Get a table that's both fun and functional with this coffee table that has a built-in foosball table. Keep your remote and soda at hand during the big game on TV, then have some fun of your own with guests with this great conversation piece. The solid wood table is sturdy and makes a wonderful piece of furniture for a den or entertainment room with the added fun of a built-in game. The glass top protects the table and provides you with functional space when not in play.
Carrom 530.00 Signature Foosball Table – If you want a table that's comparable to one you'll find at the arcade, this fits the bill. It combines quality materials like hardwood handles, chrome leg levelers, and vinyl legs, you can count on it to bring you years of enjoyment. You'll also get a lot of extras, including two different sets of players, the option to pay with three goalies per side or just one, as well as manual scoring beads on each side.
Considerations for Choosing the Best Foosball Table
Since a game table is an investment, you certainly don't want to purchase the first one you find online. Instead, take the time to learn about each product in order to make a sound purchasing decision. If you've never purchased a game table before, you may not know how to differentiate a quality table between one that just won't work for your home. While you shop, keep these next few points in mind for every product you put on your wish list.
Price
A small table for kids can be purchased for less than one hundred dollars while a large, solid full-size table can cost several thousand dollars. In addition to making a purchase that fits within your own price range, you want to also make sure you choose a table that's durable and won't have to be replaced after a few months. Making a bigger investment upfront will save you money in the long run in most cases.
Size
If you don't have the space for a full-size table, look for smaller tables that fit in cramped spaces or a tabletop version that can be stored. If you do have an extra room that's exclusively for games and entertainment, a full-size table will make a great addition.
Warranty
Of course, you want to purchase a high-quality product. Sometimes, you may find that you've bought a great product but something just goes wrong, and so you can no longer use it. If your product is backed with a warranty, you don't have to worry about spending more out of your own pocket for repairs or a full replacement. This is why you should make sure the table you choose comes backed with a warranty that protects against defects that could affect the functionality of your product.
Materials
To ensure quality, you want to look for a table made with durable materials, like thick wood and stainless steel. These products may cost more, but they are usually built to withstand years of use. If you're on a budget, materials like plywood may make up a cheaper product, but the table likely will not last as long as one crafted of solid wood.
See also: The 10 Most Luxurious Air Hockey Tables of 2018
Price
Hathaway Playoff Soccer Table
This is one of the most affordable tables you'll find of this size and quality.
Chicago Gaming Signature Foosball Coffee Table
You'll pay a bit more for this combination table.
Carrom 530.00 Signature Table
The retail price of this table is the highest of the three.
Size
Hathaway Playoff Soccer Table
This table measures in at 4 feet by 2 feet, so it's best for a larger, dedicated space.
Chicago Gaming Signature Foosball Coffee Table
The measurements of this table are approximately 4 feet long, two feet wide, and 20 inches tall, about the size of any standard coffee table.
Carrom 530.00 Signature Table
At 50.3 by 36 by 55 inches, this table is great for kids and adults of all ages.
Warranty
Hathaway Playoff Soccer Table
You will be protected with a 90-day warranty with your purchase.
Chicago Gaming Signature Foosball Coffee Table
A 6-month warranty is included with your purchase to protect your investment from defects.
Carrom 530.00 Signature Table
With the purchase of this table, you'll be protected with a 1-year manufacturer's warranty.
Materials
Hathaway Playoff Soccer Table
This table is crafted from medium density fiberboard, which is strong enough to withstand a lot of use, but it may break or chip over time.
Chicago Gaming Signature Foosball Coffee Table
You won't have to worry about quality with this table. It is constructed of solid hardwoods for durability.
Carrom 530.00 Signature Table
This is made of quality materials include hardwoods, steel, and vinyl.
Our Foosball Table Reviews Are In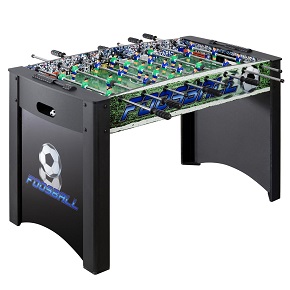 If you want to play foosball but you don't want to empty your bank account, this affordable option is a great choice for your household. At 4 feet in length, it's a great size for a playroom or den. It has many great features that make for exciting gameplay, including manual scoreboards for each side, molded durable players, and automatic ball return on each side.
The table boasts a solid construction, yet it's still lightweight enough to move around if necessary. It has reinforced legs that provide a stable playing area, and it is very easy to assemble. In just one or two hours, you can be enjoying a competitive game with your family and other loved ones.
If you think you don't have room for a foosball table, think again! You won't have to get rid of furniture to add a game table when you can get a combination piece that doubles as a fun game as well as a quality piece of furniture. The overall design of this table is stunning, crafted of solid hardwoods and showcasing hard-carved details and beautiful accents that will dress up any room.
It has a sturdy glass top as well as a bottom shelf for storage. When it's time to play, you can enjoy a rousing round of foosball using the telescopic rods to control your players.
Each side features a manual scoring system and an automatic ball return. The table top has an overhang that shields the rods and handles when not in use. This is the perfect conversation piece for your rec room, man cave, or even your living room.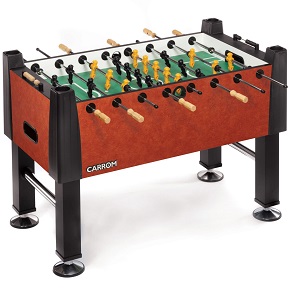 Play a game with the kids or gather your adult friends for hours of fun on this large game table. The cabinet has a 1-inch Moroccan finish and a 0.375 inch playing area. The vinyl legs are sturdy, and the chrome plated levelers give you an even playing surface for every game.
The chrome plated steel rods look attractive and with hardwood handles, they offer precise control. You can opt to play with three goalies or just one, and there are corner ramps that prevent the ball from sticking with one goalie play. The cabinet is decorated with bright graphics, it's very sturdy, easy to assemble, and is the perfect addition to any game room or man cave.
In Conclusion
If you want to bring your family together to have a great time and make memories you'll always cherish right in your own home, a foosball table is a great addition to your home. If you want the quality and size you'd find in your local arcade, bowling alley, or fun center, the Carrom 530.00 Signature Table has everything you're looking for. Even though it has a more expensive price tag, the quality of the product is truly unmatched when compared to other at-home game tables.