Some links on this page are monetized by affiliate programs - see disclosure for details.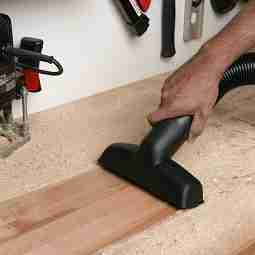 Ever since engineers in the Victorian Era learned how to connect a motor to a hose to create suction, vacuum cleaners have been an integral part of both industrial and home cleaning tasks. A shop vacuum is a specially modified vacuum cleaner, designed to apply suction to both wet and dry debris. First used in workshops and other industrial settings, today's shop vacuums are a useful and versatile appliance for cleaning and tidying any home garage, basement or workshop area.
Shop vacuums are usually designed to be rugged and durable, easily able to handle emergency flooding and other urgent clean-up situations. The best shop vacuum will keep any home workshop or garage tidy and clean, and easily help dispose of a wide variety of both wet and dry debris. Long hoses and power cords give shop vacuums far-ranging cleaning capabilities without having to reposition the unit.
Side by Side: The Top Rated Shop Vacuums of 2018

Intro: What is a Shop Vacuum?
Generally speaking, the term originated as a slang phrase used by people in workshops, service stations and repair shops to refer to a special heavy-duty vacuum cleaner that could also suction and store water or wet debris.
A shop vacuum is typically designed to handle more abuse and as such is more durable than an ordinary house vacuum cleaner, as it is engineered to be used in workshops and basements where conditions might be very wet. Shop vacuums can be used to suction water after a flood or leak, clean up mixed dry/wet debris from workshops and garages, or serve any usual role that a standard vacuum cleaner can handle. With wide hose attachments, shop vacuums can clean up both fine particles such as sawdust as well as heavier items like loose bolts and screws.
Shop vacuums combine the functionality of a powerful and mobile vacuum cleaner with the capability of suctioning and storing large quantities of water or wet debris. Most of today's shop vacuums measure their storage tanks in gallons, making them far more capacious than almost all other standard vacuum cleaners for use in the house or other indoor areas.
What are the different types?
Some shop vacuums have high-capacity motors and very large storage tanks to handle large clean-ups and debris removal jobs. Other shop vacuums are designed to be smaller and more portable, easily brought into use when needed on occasion. Extremely powerful shop vacuum models sold today can be permanently installed in a workshop, garage or basement area, using a lengthy hose to provide very efficient clean-ups and debris removal.
Different models use cords of different lengths, which determines the radius of surface area that can be cleaned before the shop vacuum has to be repositioned. Many advanced models of shop vacuums sold today feature extra safety features such as auto shut-off circuits and filter bags to provide safer, more hygienic cleaning to basements, garages and home workshops.
What are the advantages of owning a Shop Vac?
Normal home vacuum cleaners are absolutely fine for indoor jobs involving dust, dirt and other small debris particles. But for wet spills or cleaning up water, only a shop vacuum has the necessary capabilities to handle adverse conditions. Shop vacuums also come equipped with hoses with wide diameters, allowing for easy vacuuming of even bigger or heavier items. Shop vacuums were originally designed to withstand heavy industrial use, and today's models for home owners continue to be far more rugged and durable than most ordinary vacuum cleaners. Owning your own shop vacuum ensures that basements, garages, workshops and outside areas can be quickly and easily cleaned using a high-powered motor and voluminous storage tank.
Calling professional cleaners to remove water and other debris from flooding and leaks can be extremely expensive, so having your own shop vacuum can potentially save you hundreds of dollars. A good shop vacuum at home improves general tidiness and cleanliness, allowing builders, artisans and crafters to focus on their work instead of dealing with clutter, dirt and debris.
Which models are the contenders for the Top Shop Vacuum?
This robust home shop vacuum is great for any garage, workshop or basement work area. Comes with a 6-foot hose and a cord that extends 10 feet, allowing users to quickly clean very large spaces without having to reposition the shop vacuum. With a convenient auto shut-off safety feature, this attractively priced shop vacuum is an excellent addition to any garage or home work area.
This modern-looking shop vacuum from Vacmaster is designed to handle even the heaviest clean-up jobs, equipped with an extra large drain port and voluminous storage tank capacity. The Vacmaster VBV1210 uses a quick one-button release to detach the blower for quickly scouring leaves and dry debris off of driveways or other surfaces.
This professional-grade wall-mounted shop vacuum from VacuMaid provides unparalleled versatility and clean-up capabilities. With a powder-coated steel body designed to last a lifetime, the VacuMaid GV30 makes short work of cleaning up the dirtiest garages, basements and home workshops. Made entirely in the United States, the VacuMaid GV30 includes a generous 30-foot hose and four attachments.
Considerations for Choosing the Best Brand
Size of Storage Tank – The larger the size of the storage tank, the more debris the shop vacuum can hold, allowing users to complete even bigger clean-up jobs. Larger tanks, however, can sometimes be unwieldy to handle and unload.
Cord and Hose – Applying suction power with a shop vacuum is always best when the unit is stationary, so the length of both the cord and the hose determine the reach of the shop vacuum before it has to be repositioned.
Suction Power – Powerful motors and advanced designs of today's modern shop vacuums can create a strong suction power to quickly dispose of debris.
Additional Features – Some models come with a wide range of additional features, including safety switch-off valves and special ultra-pure air filters.
Size of Storage Tank
ArmorAll AA255
The ArmorAll AA255 comes equipped with a spacious 2.5 gallon storage tank that can easily handle large quantities of water and wet debris.
Vacmaster VBV1210
The Vacmaster VBV1210 comes with an extremely generous 12-gallon storage tank, able to handle large quantities of debris without having to stop and empty the unit.
VacuMaid GV30
This wall-mounted shop vacuum offers excellent stability, and can be filled with up to 7 gallons of debris.
Cord and Hose
ArmorAll AA255
With a combined 16-foot reach, the ArmorAll AA255 can be easily positioned in any large room or garage and reach almost any space using the 10-foot power cord and 6-foot hose.
Vacmaster VBV1210
This robust shop vacuum from Vacmaster comes with a 12-foot power cord and a long hose that can easily be swapped out for other wands, hoses or accessories, giving users increased flexibility when suctioning up wet and dry debris. The included hose has a generous 2.5-inch diameter, allowing users to easily vacuum up larger items.
VacuMaid GV30
With a huge 30′ hose, the VacuMaid GV30 can reach just about anywhere from its wall-mounted position. The hose includes a hanger for support when not in use. Because it is permanently mounted to the wall, the VacuMaid GV30 offers permanent and convenient connection to the house's main electrical circuits to provide nearly uninterrupted power.
Suction Power
ArmorAll AA255 Shop Vacuum
This robust home vac comes equipped with a powerful corded 2-horsepower motor, creating outstanding suction power even with heavy debris.
Vacmaster VBV1210 Shop Vacuum
With a variety of hoses and attachments available, the robust 5-horsepower motor can be used to create powerful suction to lift and remove even heavier debris.
VacuMaid GV30 Shop Vacuum
The large 5.1″ diameter Ametek Lamb Motor is designed to pull even the heaviest debris and wet loads through the 30-foot hose with ease. The Lamb Motor is specially engineered to last up to 25% longer than similar motors from other manufacturers.
Additional Features
The ArmorAll AA255
Comes equipped with an auto shut-off switch to prevent overflow, a valuable safety feature when cleaning up after floods or water leaks.
The Vacmaster VBV1210
While all vacs provide suction power, the Vacmaster VBV1210 can be quickly detached at the push of a button and converted into a blower, perfect for clearing leaves, dirt and other dry debris from outside areas and garage floors. Whether functioning as a vacuum or as a blower, the Vacmaster VBV1210 has more than enough power to handle the job.
The VacuMaid GV30
Comes with an included hanger, caddy bag, and four different attachments to make quick work out of any clean-up job. The VacuMaid GV30 uses a 5-layer HEPA filter to provide outstanding retention of dust, allergens and other fine particles. The ultra stable wall mount design means that the VacuMaid GV30 can easily handle the heaviest loads without tipping or spilling.
Conclusion: Our Final Shop Vacuum Reviews Are In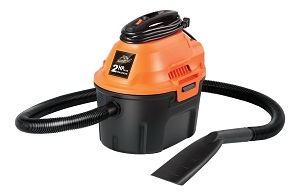 This cheerful tomato-and-black vac from ArmorAll has enough power, reach and storage tank capability to easily handle almost any clean-up or water removal job from a garage, basement or home work area. Designed to be both mobile as well as flexible enough to easily clean large areas, the ArmorAll AA255 is an outstanding shop vacuum for any home workshop, basement or garage.
Indoors or outdoors, the ArmorAll AA255 makes quick work of both wet and dry debris removal.
Pros:
The cheerful two-tone design looks great in any workshop or basement, and the extremely long power cord and wand hose give users the ability to quickly suction up debris from very large rooms or garages
The 2.5 gallon storage tank can handle large clean-up jobs with ease and the unit's safety feature prevents unpleasant overflow accidents
Cons:
The ArmorAll AA255 is strictly designed for home use and is not capable of handling high-volume industrial requirements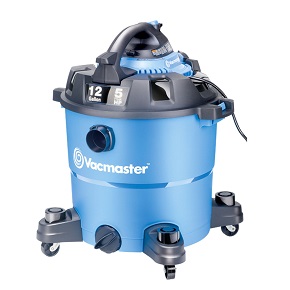 The fresh, bright blue design of the Vacmaster VBV1210 belies its ruggedness and unmatched storage tank capacity, allowing any homeowner or property manager to quickly dispose of large quantities of both wet and dry debris. With a simple one-button blower detachment option, the Vacmaster VBV1210 doubles in versatility by allowing homeowners to quickly blow off leaves, dirt and dry debris from outside areas, sidewalks, basements and garage floors.
With a 12-foot power cord and multiple accessories, the Vacmaster VBV1210 offers outstanding clean-up power to any home workshop, basement or garage.
Pros:
Huge drain port makes emptying the tank quick and easy
Accessories can be stored on board, making it super easy to swap them out
The power switch is sealed against dust intrusion so this very durable shop vacuum can provide reliable service for years
Assembly is quick and easy and a wide variety of attachments can be purchased to use with the Vacmaster VBV1210
Despite its powerful motor, the Vacmaster VBV1210 features extremely quiet operation
Cons:
For such a large-capacity and powerful shop vacuum, the power cord is relatively short at just 12 feet, as many users depend on shop vacuums to quickly clean very large areas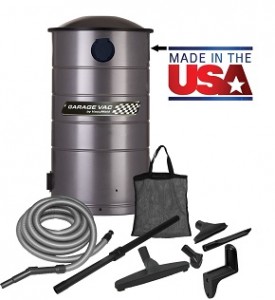 This professional-grade shop vacuum from VacuMaid is designed to easily and efficiently power through any size clean-up job without breaking a sweat. Built out of powder-coated steel and powered by a highly efficient Lamb Motor, the VacuMaid GV30 is designed to deliver reliable service for years.
With a simple and stable wall-mounting design and extra long hose, the VacuMaid GV30 offers unparalleled suction power for cleaning up any garage, basement or home workshop.
Pros:
Made in the United States out of durable and high-quality parts
The wall-mounting system takes just minutes to install and won't topple or tip even when entirely full
5-layer HEPA filter bag means every sawdust and mold particle is efficiently retained and there's never any wet and dirty cans to empty and wash
Cons:
Some users report that the hanger system for storing the hose when not in use can be difficult to use
In Conclusion
Homeowners wishing to make short work of big clean-up jobs need to assess their needs before investing in a shop vacuum. Today's models offer a range of different suction powers and storage tank capabilities, and many models are equipped to use interchangeable accessories to increase clean-up versatility. Some workshops and garage areas only require occasional tidying up while larger basements or outdoor areas may benefit more from larger and more powerful shop vacuums.
For any homeowner or property manager wanting to keep large garages, workshops and basement work areas clear of debris, the VacuMaid GV30 is easily the most powerful model available on the market today. With its stable wall-mounted design and extremely long 30-foot hose, the VacuMaid GV30 is designed to make cleaning up even large piles of debris quick, simple and highly efficient. Equipped with a 5-layer HEPA filter and big 7-gallon tank, the GV30 will allow any homeowner or property manager to rapidly suction and store large spills or volumes of dry debris.