Some links on this page are monetized by affiliate programs - see disclosure for details.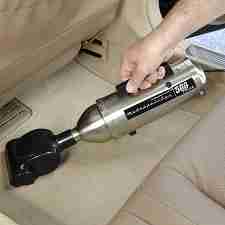 Depending on your vehicle, vacuuming out those hard-to-reach places can trigger a wide range of unpleasant sensations. After lugging your heavy vacuum down steps and to your vehicle, finding an extension cord if the outlet's too far away, and performing all sorts of painful maneuvers as you balance the heavy machine at the door of the car and stretch the hose to reach every nook and cranny, you're in no hurry to do it again anytime soon.
Enter the car vacuum. This handy invention allows you to clean with ease and finish the job with a minimum of stress.
To save you the hassle of learning the hard way, we've tried the products, created our reviews, and compiled the results to help you make an easy pick. We settled on three top-of-the-line machines: one that's a stellar entry level, low-cost car vacuum; one that's a top intermediate, wet-dry vac model; and the last is the high-end, overall best car vacuum.
What is a Car Vacuum?
In a land far away, where French fries never fall under car seats, loose bits of grass and dirt never find their way into vehicles, and floor mats stay completely spotless at all times, OCD exemplary car owners never need to vacuum their vehicles. In our world, however, messes happen even to the best of us. Whether the crumbs diabolically head for those hard-to-reach places or it's just simple gravity, there's no getting around the fact that, for your car to stay clean, you need some powerful tools.
As the name implies, a car vacuum is a small, handheld vacuum made specifically to help you easily clean those tight spots in your vehicle. It usually doesn't require wheels and can be transported easily. It requires little storage space, and it makes vacuuming your car on a whim completely within your reach.
See Also: The Most Effective Car Wash Soap to Make Your Car Beautiful Again
What are the Different Types?
Although some are battery powered or plug into cigarette lighters, the best, strongest models are electric with much stronger suction power.
Battery powered
Are completely portable
Can be frustrating when the battery gets weak
Require electricity to charge
Cigarette lighter
Don't require charging
Aren't as powerful as the other types
Are completely portable
Electric powered
Are usually the most powerful
Require an outlet
Don't require charging
Wet/Dry
Clean up liquids
Double as carpet cleaners
Aren't handheld; these often require wheels
What are the Advantages?
There's no question that it's easy to stop by a car wash and vacuum out your car – when you have the time. Unfortunately, this can get expensive in the long run. It's completely free to lug your upright or canister vacuum out to your car and vacuum it, but it's not always easy.
By owning your own car vacuum, you get to enjoy a product that's even easier than the vacuums at the car wash, and since it's yours, you don't have to pay a cent. If it's electric, there's no fear of timing out, and you can be as thorough as you please. Also, car vacuums are especially handy for those in-house projects that don't lend themselves to a heavy vacuum, like vacuuming stairs or furniture. Since car vacuums are so lightweight, they're especially useful for those who are pregnant, recovering from surgery, or elderly without the stamina to wrestle a heavy vacuum.
Read: The Top Synthetic Motor Oil to Get the Most Life From Your Vehicle
Which Products Should You Consider?
This 5.5-amp electric handheld vac combines innovation with portability, resulting in a vacuum that tackles a multitude of jobs. From vertical surfaces to hard-to-reach crevices, the makers of the Eureka EasyClean designed this sunflower yellow gem to get the job done for a "Quick-Up" that's worth every cent.
This 2.5-gallon wet/dry vac is ready for duty. Up to the challenge of conquering even the messiest jobs, the 2-horsepower motor can handle everything from wood ashes to kitchen spills. Designed for car cleanup, the compact design makes it easy to transport. A special perk of this vacuum is its blower function, making the ArmorAll Wet/Dry vac an ideal "all-in-one" cleaning tool.
This sleek, stainless steel handheld vac is lightweight and compact, so you'd never expect it to be as powerful as it is. With a full assortment of auto attachments, this Metro car vac gets the job done quickly and dependably with its 500-watt motor. It also features a five-year motor warranty.
Considerations for Choosing the Best Car Vacuum
SO, how do you determine which is the best car vac for you? That totally depends on what you need in a car vac. Are you looking for something that can be kept in the trunk as a dedicated car vacuum, or do you need a multi-purpose machine? Is price a major factor, or are you able to afford the high-end car vacuums? Is it easy for you to discern mechanical malfunctions, or do you need something that will never clog or need service?
It's important to consider the differences between machines since what may be a problem for others might not bother you at all. The five-pound machine that exhausts the elderly assisted living resident may be just the lightweight vac for you; the hose attachment problem that you're experiencing may be an easy fix for the guy that lives two doors down. As you read, decide which of these machines' features are the most important to you, and you will save yourself a ton of frustration, buyer's regret, and money.
Considerations before buying this product:
Power
No matter how well designed a product be, if it's lacking in power, all the bells and whistles in the world won't be enough to make you glad you bought it. After all, the primary function of a vacuum is to provide adequate suction to clean. Along the same lines, car vacuums that are easily clogged will reduce the suction power, even if the motor is a powerhouse. If you want to avoid frustration, make power a top priority in your vacuum search.
Portability
The whole reason for purchasing a car vacuum is portability. Simply put, a car vac must be a breeze to carry and compact enough to move about freely. If the cord is so short it requires you to stay close to a plug or if it's too bulky to reach tight crevices, you'll probably go right back to using the car wash vacuums or your heavy upright. Make sure your chosen car vac rates high in portability, or you may find that your purchase is wasted.
Maintenance
Even the best vacuum needs emptying. Although it's easy to overlook, vacuum maintenance can be a huge factor – often when you need the vacuum most. If you lead a hectic lifestyle with little time for maintenance and repair, it's important to do your homework now and settle on a vacuum that won't require tedious unclogging sessions or expensive filter replacements every few months.
Special Features
As handy as car vacuums are in their inherent compact design, many of them offer special features that make them useful in a number of applications. By considering these features carefully, you can avoid the need for several different vacuums and purchase an all-in-one car vac that handles a multitude of messes.
Power
Eureka EasyClean Corded Hand-Held
For an economical car vacuum, the Eureka hand-held vacuum is surprisingly powerful. The reason the suction never slackens is because it's powered by electricity rather than by battery. Another major reason for the Eureka's strength is that the machine has two separate motors: one for operating the vacuum, and another for turning the brush roller. This agitator brush loosens the dirt for the vacuum, which ensures that your time spent vacuuming isn't in vain. Unlike other vacuums, this dual motor allows the vacuum to perform optimally without halving its power with the other sector. Since this vacuum is so very powerful, you'll want to guard against vacuuming near anything that you don't want it to devour.
ArmorAll AA255 Utility Wet/Dry Vacuum
This Jack of all trades offers plenty of power for its size. Capable of cleaning liquids as well as dust and debris, the main beef some users have had with it is that the hoses can become loosened and allow air to escape, weakening the suction power. As long as you make sure to keep the hoses connected, the power on this machine should get the job done, and then some.
Metro Vacuum VM6BS500T MetroProfessionals
Although this beautiful, stainless steel car vac is lightweight, it's anything but a lightweight. The deceivingly compact design houses a power punch of suction that rivals full-sized versions. With wisely designed special attachments, the superpower car vac can handle even delicate cleaning tasks.
Portability
Eureka EasyClean Corded Hand-Held
Every vacuum has its trade offs. The seven-pound weight is on the heavy side, but with two motors, it's understandable. If you're in good shape, it isn't likely that the extra couple pounds will make that much of a difference, especially for small jobs. After all, it can be carried single-handedly. And just think, using it regularly could replace some trips to the gym!
ArmorAll AA255 Utility Wet/Dry Vacuum
Since this isn't a hand-held car vacuum, it can't be expected to be quite as portable as other smaller – and less utilitarian – models. Still, it's a lightweight vacuum that's easy to carry, and the hose makes it easy to reach tight spaces as well as any hand-held. After all, this vacuum was designed with car enthusiasts in mind. The cord is only 10 feet long, so you may need an extension cord.
Metro Vacuum VM6BS500T MetroProfessionals
This vacuum is super light, making this easy to carry. Since the cord isn't especially long – it's around 10 feet – you might need an extension cord with this one as well. Also, the hose is a bit stiff for maneuvering into awkward spaces.
Maintenance
Eureka EasyClean Corded Hand-Held
The whole purpose of vacuuming is to remove dirt from your floor. Naturally, this implies that all that dirt will transfer into the vacuum. We've already shown you that the Eureka is powerful. That's the good news; the bad news is that all that dirt requires frequent dumping. The dust container, which has a dependable, tight fit, is a snap to remove and empty although the clouds of dust may irritate you if you suffer from allergies. Still, you can feel good that all that dirt is no longer in your car, furniture, or stair carpet!
ArmorAll AA255 Utility Wet/Dry
Like any powerful compact vacuum cleaner, you'll notice that you'll need to make frequent trips emptying out the bin. While some view the small 2.5 gallon size as a negative, others would make it even smaller since the weight of liquids can make it a bit heavy. For most people, the compact size is the perfect balance between weight and capacity.
Metro Vacuum VM6BS500T MetroProfessionals
This vacuum requires disposable filters, so it's important to take that into account when making your decision. Also, when it clogs, the vacuum will automatically shut off. One super positive feature is its 5-year motor warranty, which suggests a responsive customer service department in this U.S.-based company.
Special Features
Eureka EasyClean Corded Hand-Held
The Eureka has several notable unique features. The powerful agitator brush has its own motor, which makes it extremely effective – so effective, in fact, that you'd want to use it with caution on upholstery. The 20-foot long cord is a good intermediate length: it's long enough to stretch a considerable distance, but it's not so long you get overwhelmed by tangled cord that must be laboriously wound after each use. The on-board crevice tool is particularly handy for small spaces, although the hose doesn't allow you to move very far at all from the main vacuum. The riser visor feature allows you to vacuum just as easily vertically as horizontally, which is great for the vertical sections of stairs that are rarely vacuumed.
ArmorAll AA255 Utility Wet/Dry
As a wet/dry vac, the ArmorAll scores huge for its inherent special nature right off the bat. As if this weren't enough, the designers threw in a boatload of special attachments. Even for those who hate to clean, the effectiveness and usability of this car vac makes vacuuming feel like playing with toys.
Metro Vacuum VM6BS500T MetroProfessionals
This vacuum features a tilt head which makes it easy to clean hard-to-reach spaces. Perhaps its best feature is its no-nonsense suction power tempered by the Pik-All nozzle, which can tone down the excessive force when necessary. A variety of special attachments make this an extremely versatile machine.
Our Car Vacuum Reviews Are In!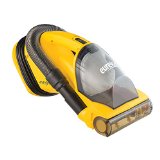 When you're in need of an economical car vac that won't skimp on the power, the Eureka hand-held is hard to beat with its super suction, compact design, and special features.
Pros:
20-foot cord
dual motors
Riser visor
Cons:
Powerful exhaust requires you to vacuum away, not toward yourself
Dust bin fills quickly
Heavy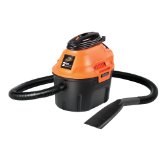 If you need a multi-purpose vacuum that effectively cleans dry particles and water and can also double as a carpet cleaner, the ArmorAll wet/dry vac deserves careful consideration.
Pros:
Cleans variety of messes
Light and portable
Plenty of special attachments
Cons:
Tank fills quickly
Short power cord
Hoses can become loosened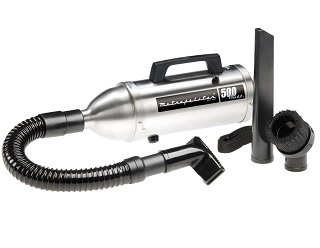 This stainless steel lightweight is incredibly powerful. Its simple attachments and 5-year motor warranty allow users to enjoy it stress-free.
Pros:
Lightweight
Extremely powerful suction
User-friendly attachments
Cons:
Short cord
No reusable filter
Hose can be inflexible
In Conclusion
As long as you carefully weigh both the pros and cons of any car vacuum you're considering purchasing, you're likely to avoid even the tiniest twinge of buyer's remorse. With many stellar products available such as our best overall pick, the Metro Vacuum, you're just a purchase away from owning a tool that makes the thought of cleaning your car exciting! Take the time to research the truth about any product claim, and the truth will set you free.